Being a lawyer is undoubtedly one of the most daunting professions in the world!
Regardless of the kind of law that's being practiced, each case a lawyer undertakes makes an impact on the world, whether on a larger scale (as in corporate, international, or environmental law, for example) or a private scale (like criminal law, where justice is served to individuals).
The environment at a law firm is so fascinating and fast-paced, and luckily we can get a glimpse into that with all of the best TV shows about law firms, as listed below!
Sure, fiction and creative license lend a lot to these shows to make them more exciting than they probably are in real life, but who's to say that they're not still inspired by the truth, the whole truth, and nothing but the truth?
Let's get started!
Suits, USA Network (2011 – 2019)
Suits is undoubtedly one of the most popular TV shows about a law firm in recent years, thanks in large part to the unique nature of one of its early protagonists, Mike Ross.
Mike has an eidetic memory, and this along with his natural intelligence has allowed him to pretty much just coast through life.
After a drug deal gone wrong, he manages to use this to land a job at a fictional New York City law firm as an associate for the firm's star closer, Harvey Specter, despite not even being a lawyer.
Suits tells the story of the cases they tackle and the personal relationships they encounter.
Bluff City Law, NBC (2019)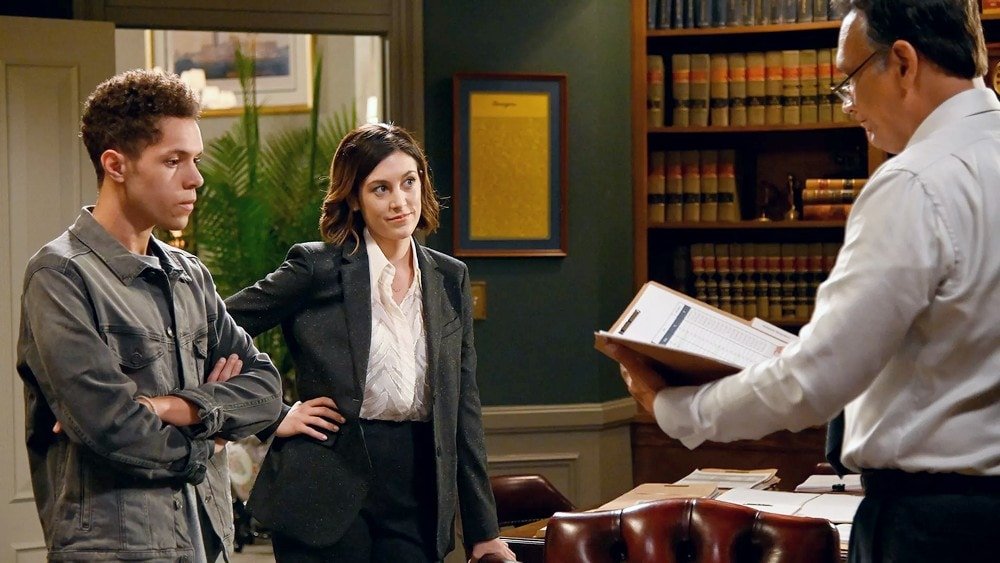 Set in Memphis, Tennessee, Bluff City Law is both legal drama and family drama as it centers on a father-daughter duo, Elijah and Sydney Strait.
Sydney used to work for her father's law firm that deals with civil rights cases, but a falling out led to her departure four years prior.
After the death of her mother, Sydney returns to the city and her father asks her to return to the firm as well.
Despite lingering tension and yet unresolved issues between the two, Sydney decides to stay to do her part in changing the lives of their clients.
The Split, BBC One/SundanceTV (2018 – 2022)
We're going across the pond with The Split, a British legal drama that (as hinted in the title) centers on divorce law.
More specifically, the series follows the Defoes, a family full of female divorce lawyers who have built a reputation around their name as the fiercest in the divorce law industry.
All of them except the eldest sister work for the Defoe family firm, and viewers are able to acquaint themselves with how the women have vastly different approaches to their field but still manage to hold their ground both professionally and personally.
Bull, CBS (2016 – 2022)
Bull has a bit of a different take from the few shows above, as it unfolds from the perspective of a jury consulting firm as opposed to a civil rights or corporate law firm.
Given that, the series provides insight into an aspect of the justice system that we rarely see: the jury.
Bull's title is a reference to Dr. Jason Bull, a psychologist who heads the firm and his team of trial-science experts.
Their job is to select the right jurors for their clients, and also consult with their lawyers on which arguments will win said jurors over during trial.
Burden of Truth, CBC (2018 – 2021)
They say corporate law is where the money is, but also where your morals often are not; that's when it lies on the lawyer to carry the burden of truth.
CBC's Burden of Truth follows Joanna Hanley, a corporate lawyer from Toronto who is forced to return to her hometown of Millwood, Manitoba when a mysterious illness seems to be targeting teenage girls.
Her job is to defend the pharmaceutical company, but she soon teams up with the girls' lawyer to uncover a bigger conspiracy surrounding the case – and the circumstances surrounding her family's departure from town when she was a teenager herself.
Family Law, Global (2021 – present)
Part legal drama and part family drama, Family Law begins by introducing Abigail Bianchi: a personal injury lawyer and alcoholic whose drunken bender one night lands her in limbo, i.e. suspended from practicing law.
There's one condition, however: find a senior lawyer willing to mentor her during her one-year probationary period.
The only lawyer who accepts is the one man she hoped never to speak to again: her estranged father.
Now, Abigail must shift to family law while working on her sobriety and the relationship with her father and his new family.
The Good Wife, CBS (2009 – 2016)
The Good Wife is part legal and part political drama, as the good wife in question is the wife of a politician whose career and reputation takes a plunge after the devastating release of his sex and political corruption scandal.
Alicia Florrick, however, is unfazed (at least in the eyes of the public) – after more than a decade of just being "the politician's wife", she grabs the reins to steer her family out of the humiliation by jumping back into her career as a litigator.
As the series progresses, so does her career and that of her now redeemed husband.
The Good Fight, CBS All Access (2017 – present)
Naturally, The Good Fight is the sequel to the previously mentioned series and picks up a year after the events in the finale.
It follows the character of Diane Lockhart, who served as Alicia's mentor when she joins Diane's firm.
However, in the pilot of The Good Fight, Diane loses all of her money in a Ponzi scheme and is forced to relocate, alongside her niece Maia who was also a victim of the scam, to Chicago.
There, they join the up-and-coming firm of Diane's former employee, Lucca Quinn, and rebuild their lives and careers.
The Practice, ABC (1997 – 2004)
According to creator David E. Kelley, The Practice was conceived as a response to another legal drama that "romanticized" the American legal system and its proceedings.
As such, viewers get a closer look at the thin line that stands between personal morals and legal ethics, and what happens when these lines begin to blur.
The Practice primarily follows Bobby Donnell, a lawyer and the only senior partner at a prestigious law firm in Boston, and it's his belief that not every case is about how much money they can make from it that keeps the firm and its associates in check.
Boston Legal, ABC (2004 – 2008)
Boston Legal adds to the list another spin-off sequel, this time to the aforementioned The Practice.
After the character of Alan Shore leaves The Practice, fans can follow his own exploits as he moves to the (fictional) Boston law firm Crane, Poole, & Schmidt.
It's a highly-priced litigation firm that deals in civil and criminal law, and Shore feels right at home.
He meets Denny Crane and despite their political and ideological differences, as well as their vastly different methods to approaching their cases, become the best of friends.
Ally McBeal, Fox (1997 – 2002)
We're staying in Boston for the classic legal comedy-drama Ally McBeal, a staple pop culture icon of the late 90s and early 00s.
The law firm in question is the fictional Cage & Fish, where the eponymous Ally McBeal joins at the onset of the series.
The firm is owned by an old law school classmate Richard Fish, but she soon finds that another man from her past will resurface: ex-boyfriend Billy Thomas.
Though Ally McBeal does deal with legal proceedings, they're mostly secondary as the plot centers on the personal lives of Ally and those around her.
L.A. Law, NBC (1986 – 1994)
L.A. Law was primarily set in the fictional Los Angeles law firm of McKenzie, Brackman, Chaney and Kuzak, and contained episodes that were both light in nature and much heavier, tackling many hot topics of the time including homophobia, HIV/AIDS, racism, abortion, sexual harassment, and many others.
The legal drama focused on the professional and personal lives of the firm's attorneys as well as their support staff, often showing the tension and social disparity between the wealthy senior partners and the associates working under them.
The Lincoln Lawyer, Netflix (2022 – present)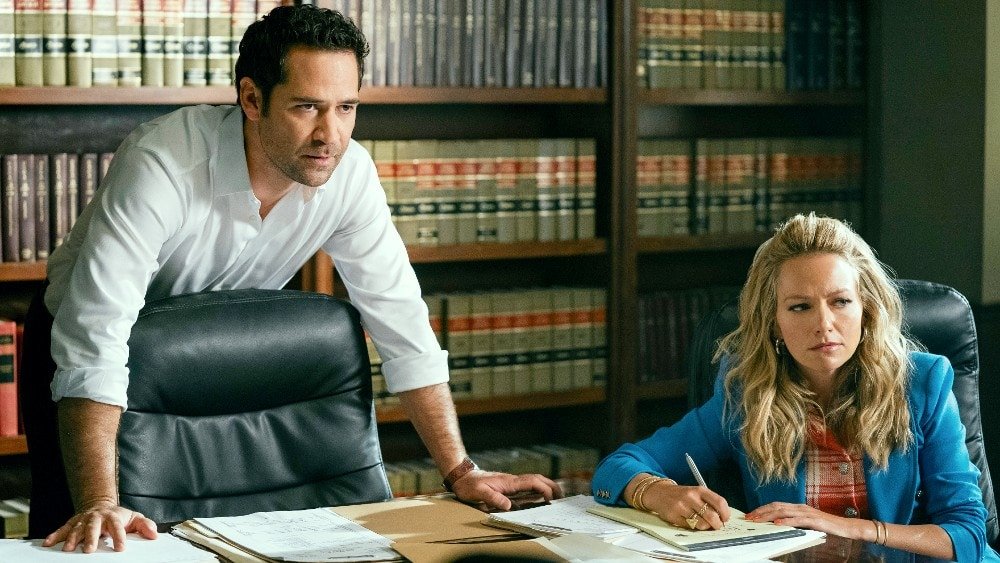 The title of this legal drama from Netflix probably draws a lot of assumptions based on the famous name, but I doubt you could've seen this one coming.
No, The Lincoln Lawyer doesn't have to do with the brand of justice of the American president; it's actually a reference to the brand of car!
That's right, the law firm setting of The Lincoln Lawyer isn't even an actual office, it's the Lincoln navigator luxury car the defense attorney Mickey Haller works out of.
With the help of his colleagues and wife, Mickey takes on cases all around L.A.
The Grinder, Fox (2015 – 2016)
After so many drama series, we're adding another comedy to the list with Fox's The Grinder.
Dean Sanderson is the show's main character, who has hit a speedbump in his career as an actor when his long-running show is suddenly canceled.
He starred as a lawyer in the show and, despite an education in law or any real-life experience, he's now convinced that he's qualified to practice law.
He moves back to his hometown in Boise, Idaho to join his brother's law firm – much to the latter's chagrin, though they end up being quite the team in the courtroom!
The Firm, Global/NBC (2012)
Fans of the original John Grisham novel and the 1993 film adaptation starring Tom Cruise will be happy to know that the story does, indeed, continue with the same-titled sequel, The Firm.
As a sequel, this legal thriller drama picks up 10 years after the events in the book and film, after Mitchell McDeere has taken down the law firm he worked for that helped protect Chicago's biggest mob syndicate.
A decade later, the McDeeres can now come out of witness protection to start a new life, but his past never fails to cast a shadow on his present.
Striking Out, RTÉ One (2017 – present)
Striking Out takes us back across the pond to Ireland, where we follow the life of Dublin-based solicitor Tara Rafferty.
On the night of her bachelorette party, she finds out that her fiance has been cheating on her with a colleague.
As a result, she decides to strike out on her own (inspiring the title), leaving the law firm she works for to become an individual barrister and leave behind the inner circle she was once a part of.
Though unsure at first, she soon finds that she thrives when on her own – professionally and personally.
Fairly Legal, USA Network (2011 – 2012)
Fairly Legal follows the career and life of Kate Reed, a lawyer who has grown tired of the ethical conflicts she experiences while working at her father's big San Francisco law firm.
Upon her father's death, she decides to shift careers to become an evaluative mediator, a major change that she slowly learns to navigate alongside dealing with not just the loss of her father, but also her stepmother becoming the head of the firm and therefore, her boss.
The two women are often seen engaging in conflicting banter but at the end of the day, are each others' strongest pillars.
Doubt, CBS (2017)
In CBS' Doubt, we explore the ethics and moral ambiguity that is present when the relationship between an attorney and their client turns from professional to personal.
The legal drama focuses on Sadie Ellis, a defense attorney at an elite New York law firm run by her foster father.
Sadie is assigned to defend Billy Brennan, a man on trial for the murder of his ex-girlfriend over two decades ago.
They develop feelings and begin a secret relationship, but it's a secret that could ruin her entire career despite having her own doubts about his innocence.
Murder One, ABC (1995 – 1997)
ABC's Murder One is a two-season legal drama that deals with – as the title suggests – murder criminal cases that fall into the laps of those working at Hoffman and Associates.
In the first season, the high-profile criminal case involves a young and arrogant Hollywood actor on trial for the murder of a 15-year-old girl.
Head of the firm Theodore Hoffman represents him with the help of his ambitious associates, who also work on their own side cases throughout the first season.
Proven Innocent, Fox (2019)
There's something extraordinarily beautiful about someone turning a wrongdoing committed against them into something good for other people.
In Proven Innocent we meet Madeline Scott, a woman who was wrongfully convicted for the murder of her best friend and spent a decade in prison for it – studying law while there and eventually graduating top of her class when released.
Afterward, she sets up her own law firm with the lawyer who proved her own innocence, and together, they take on the cases of those who have also been wrongfully convicted.
Damages, FX/Audience Network (2007 – 2012)
Damages aired over five seasons and featured a stellar ensemble cast with each one, with award-winning actress Glenn Close at the helm playing protagonist Patty Hewes.
Patty is a brilliant and formidable lawyer who takes on her newest protegee under her wing: recent law school graduate Ellen Parsons.
Every season deals with one major case that both Patty and Ellen become embroiled in, but it also deals with the increasingly complicated mentor-mentee relationship between the two women, especially as Ellen begins to venture out on her own.
Matlock, NBC/ABC (1986 – 1995)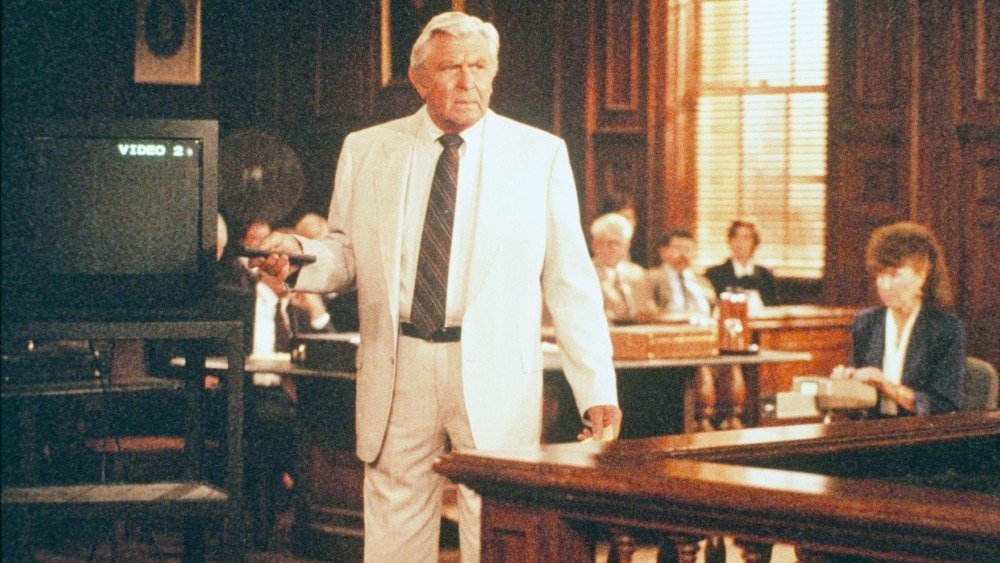 Criminal defense attorney Ben Matlock may charge an outrageous legal fee, but clients can rest assured that he's worth every penny.
He is the central figure in the eponymous legal drama Matlock, which follows his professional career as he takes on clients and secures acquittal through jury at each trial.
Oftentimes, he is also known to expose the real perpetrators during questioning on the stand, thus proving his clients' innocence.
Part of his reputation, and assurance that he'll win your case, is that he personally visits crime scenes to stake out what others might have missed!
Better Call Saul, AMC (2015 – 2022)
We first met Saul Goodman in Breaking Bad, where he was science teacher-turned-meth dealer Walter White's attorney.
Now, we meet him again before he took on that persona, back when he was still just Jimmy McGill.
Fans learn more about how he went from the underdog, small-time attorney to the egotistical criminal defense attorney we know as Saul, all in the six years prior to the events in Breaking Bad.
How did he go from con artist to public defender to a lawyer with ties to the drug trade?
Better Call Saul tells the story.
Harry's Law, NBC (2011 – 2012)
David Kelley brings yet another legal drama to the list, this time with a touch of comedy too!
Harry's Law follows Harriet Korn, a tough-talking attorney who just recently got fired from her job as a patent lawyer.
Her path crosses with two young associates who also happen to be on their own journey of figuring their lives out.
Thus Harriet, the two associates Adam and Malcolm, and her assistant Jenna come together to make their own law firm at a shoe store in Cincinnati.
Eli Stone, ABC (2008 – 2009)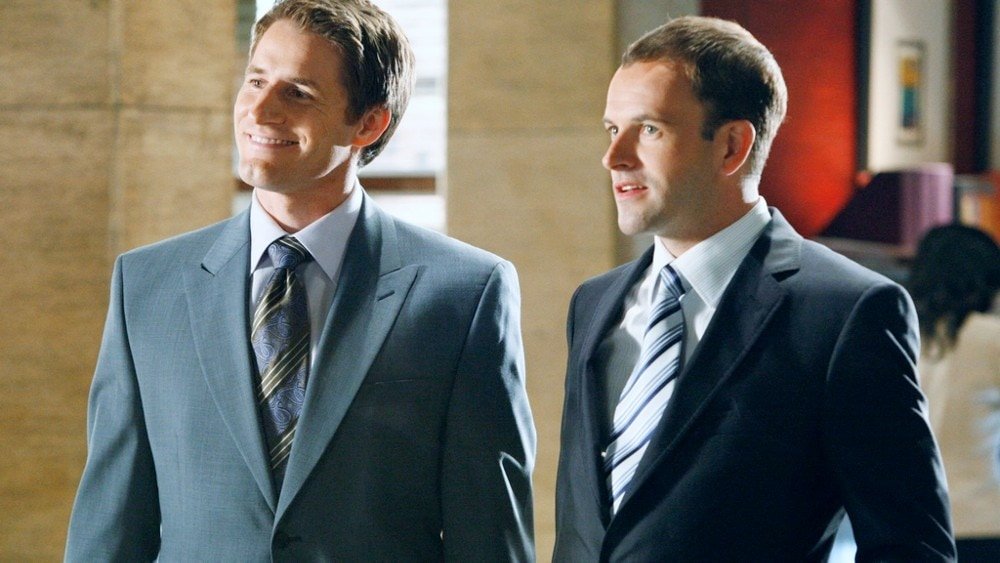 Eli Stone is another that brings a unique perspective to the legal setting.
The titular character is a successful attorney working out of a prestigious law firm in San Francisco.
He's on his way up the company's ladder when he begins to experience hallucinations.
After several consultations with doctors of both modern and traditional medicine, only two conclusions are possible: Eli has a brain condition, or he's a modern-day prophet.
His visions lead him to take on cases that are morally good, but they also begin to affect his relationships.
The Defenders, CBS (1961 – 1965)
No, we're not talking about the recent series within the Marvel Cinematic Universe! The Defenders was (first) a courtroom drama that aired over 130 episodes across four seasons in the early 1960s.
The defenders in question are Lawrence and Kenneth Preston, the father-and-son defense attorneys duo who are known to specialize in high-profile, complex cases. T
heir clients have included civil rights activists, neo-Nazis, and other individuals who have been accused of matters quite controversial back then (and some even until now!).
The Guardian, CBS (2001 – 2004)
The reason for the title of The Guardian becomes apparent when you realize what the protagonist experiences.
As a result of a drug conviction, hotshot corporate attorney Nick Fallin is charged with 1,500 hours of community service at an office for child legal services, or he risks getting disbarred.
As such, Nick often becomes the ad hoc guardian for the wards' cases that are assigned to him.
The series focuses on his journey with the community center, drug rehabilitation, and relationship with his father.
Franklin & Bash, TNT (2011 – 2014)
Franklin & Bash is a legal comedy-drama series following best friends and streetwise attorney duo, Jared Franklin and Peter Bash.
Their style is rare but effective and catches the eye of managing partner Stanton Infeld of the prestigious law firm Infeld & Daniels.
He hires them to work for his firm in the hopes that they can breathe some life into their firm.
They're guaranteed to be able to work on the same kind of cases they always have, much to the chagrin of fellow associate Damien Karp, who has no intention of making their lives at the firm easy.
Extraordinary Attorney Woo, ENA (2022 – present)
The last show on our list hails from South Korea and has since made waves since becoming available for some regions on Netflix.
Extraordinary Attorney Woo follows the life of Woo Young-Woo, the first lawyer in Korea who is on the autism spectrum.
Her neurodivergence comes with an eidetic memory, making her a brilliant attorney as she has no trouble recalling which arguments work best to support her case.
The show aims to break down the stigma and misconceptions neurodivergent people deal with on a daily basis both in their personal and professional lives.