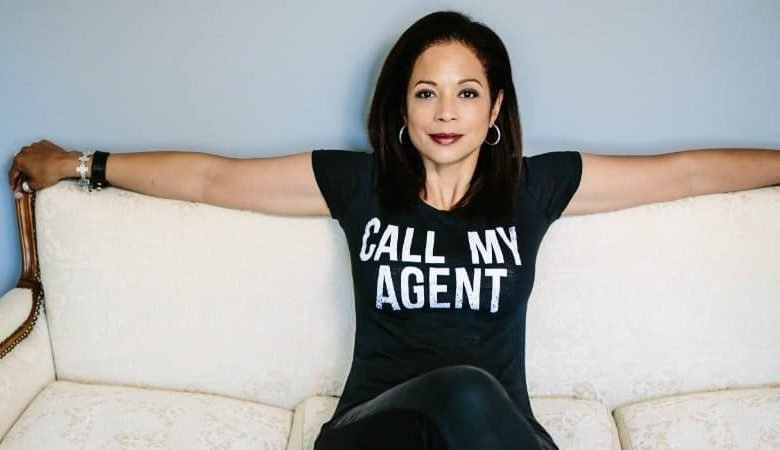 You might know her as Inspector Nora Harris on Showcase' Continuum, Dr. Mohan on ABC's The Good Doctor or Mayor Terry Sternholz on Hallmark Movies & Mysteries' Aurora Teagarden Mystery series. Or maybe from her roles in movies like Godzilla, Elysium and Fifty Shades Freed. But in real life, she's Canadian actor and entrepreneur Catherine Lough Haggquist, who just recently earned her 125th professional acting credit.
This month she has not one but two new projects coming out, both Christmas movies just in time for the festive holiday season. Christmas Pen Pals airs on Saturday, December 15 at 8/7 central on Lifetime. While Jingle Around the Clock will air on Saturday, December 22 at 8/7 central on The Hallmark Channel. And we were lucky enough to chat with Catherine about what drew her to acting, which has been her favorite TV role so far, what shows is she liking now and which is her favorite Christmas movie among other things. Check out the interview below!
Also, huge thanks to Catherine for chatting with us. And don't forget to check her out on Christmas Pen Pals and Jingle Around the Clock on December 15 and 22 respectively!
---
Tvshowpilot: First off congratulations on 125 acting credits! That's very impressive! What led you to decide that acting is something you want to pursue as a career?
Catherine Lough Haggquist: Thank you!! It has been an amazing ride and I have been fortunate to work with some amazing people!
I have always loved storytelling but as a child never considered acting as a career as living in small towns, I just didn't know any actors. As I got older, I became drawn to the arts, did some modeling and commercials and then had the opportunity to work as Holly Robinson-Peete's stand-in on 21 Jump Street where I was close enough to meet actors, get advice and explore the possibilities. I am so grateful that my first experiences in the industry were so welcoming and supportive and I try to continue that attitude and behavior in my life and to instill it in others.
Tvshowpilot: You have been on shows like The 100, iZombie, Continuum, The Good Doctor, Once Upon a Time and Supernatural to name a few. Which of your TV roles stand out to you the most?
Catherine Lough Haggquist: You have listed a few of my favorites and they each stand out for different reasons!
Continuum stands out because it was so great to follow a character through a story arc of multiple seasons. I really enjoyed Nora as she was a powerful woman with agency.
The Good Doctor was fun as it was such a treat to work with Freddie Highmore and watch his process creating one of the most unique characters ever shown on television.
Supernatural was the first time I was able to return to a show as a completely different character and the crew was as fun and professional as I had remembered from my first episode… many of the exact same people!
That said, playing Cinderella's Fairy Godmother on Once Upon a Time was when I really connected to the impact that these worlds we create have on the audiences who invite us into their lives. I was given the amazing opportunity to meet some of the fans at a convention in London and to have them express to me how important the show was to them. To hear how many of life's challenges our work as actors had helped get them through was really powerful and has stayed with me ever since.
Tvshowpilot: You have had roles on quite a few Sci-Fi shows. Do you have a preference when it comes to acting in Sci-Fi or other genre shows?
Catherine Lough Haggquist: I love that I get to play in all sorts of worlds! I don't have a preference as the variety makes every job a new adventure.
That said, the creativity of those who need to create a world from scratch is always inspiring. To get to work with cool gadgets or wear "otherworldly" fashion is always fun. And now that we see how many of the things we use today — like computers and smartphones and tablets — have origins in Sci-Fi, I am always wondering what new thing I am being introduced to on a set will ultimately be something that evolves into our everyday lives.
Tvshowpilot: Here on tvshowpilot we are all about TV shows. So what shows are you into right now?
Catherine Lough Haggquist: I am anxiously awaiting the return of Game of Thrones! I was late to the party on that one but am totally addicted!
I am also a big comedy fan — Black-ish, Modern Family and The Goldbergs are favorites there. Such great ensemble casts. And then for just pure popcorn fun… Empire! Ms. Taraji is a Queen!!
Tvshowpilot: In addition to appearing on many of our favorite TV series, you have also been in countless different movies. Do you prefer film or television acting and why?
Catherine Lough Haggquist: I love both for different reasons. TV production moves at a much faster pace, so you really need to be on your game and come to slay as you aren't guaranteed much time or many takes. Great directors and solid actors to play off of make it very exciting. Film, on the other hand, has the time and budget to really explore all the options for telling a story. There is much more opportunity to discover things along the way, so it works different acting muscles and is, in many ways, its own distinct type of adventure.
Tvshowpilot: Besides being a busy actor you're also a successful entrepreneur (she's the founder of BizBooks.net, an online store that sells books and DVDs among other things specifically tailored to the film, television, and theatre crowd). What lessons have owning a business taught you about the entertainment industry? Has it in any way helped you in pursuit of your acting career?
Catherine Lough Haggquist: The first rule of successful entrepreneurship is that you are there to be of service to your customer or client. This approach has definitely impacted my acting as we are to be of service to the story and to our audience. When that service element is put first, it makes it a bit easier to take the audition process less personally when some of them don't go your way. I also think that knowing I have my other business – BizBooks.net and my teaching/coaching practice – as a through line of my life means that I can approach auditions from a place of security and can focus solely on the work and not the financial side of things. That is freeing and keeps the focus on being creatively hungry and not actually so.
Tvshowpilot: Christmas is right around the corner! And your latest projects are Lifetime's Christmas Pen Pals (airing on Saturday, December 15th at 8/7 central) and Hallmark's Jingle Around the Clock (airing on Saturday, December 22nd at 8/7 central) which both are Christmas movies. Why do you think people love Christmas-themed movies so much?
Catherine Lough Haggquist: Christmas movies are so much fun to be a part of because they are so joyful. I think people love the fantasy elements that so many bring and they often highlight the best in people and get us in touch with how loving and kind we would like the world to be the rest of the year.
Will this holiday tradition help her find true love? 🎄📝💕 Watch @sarahdrew and @niallmatter in the premiere of #ChristmasPenPals SATURDAY at 8/7c. #ItsAWonderfulLifetime pic.twitter.com/kZSeKDukW4

— Lifetime (@lifetimetv) December 11, 2018
Tvshowpilot: Do you have a favorite Christmas movie?
Catherine Lough Haggquist: I love both Scrooged and The Muppet Christmas Carol. I also love watching A Christmas Story because I imagine Ralphie is who my husband was as a kid. The Ref and – of course – Die Hard also require a yearly Christmas season re-watch.
Tvshowpilot: Finally, what's next for you? Any new projects you can share with us?
Catherine Lough Haggquist: I just finished filming A Clue to a Kill which is another in the Aurora Teagarden Mysteries series for Hallmark Movies & Mysteries. I also have the feature films Endless – alongside Alexandra Shipp, Nicholas Hamilton, Famke Janssen and Ian Tracey – and Love and Oatmeal with Ben Platt and Lola Kirke that will be released next year.
I also go into rehearsals soon with Classic Chic Productions for a theatre staging next year of Much Ado About Nothing in Vancouver. It will be so great to start the year with such an exciting and creative project! You can keep up with my projects at @TheCatLH on Facebook, Twitter, and Instagram or at CatLH.com.
---
Hope you enjoyed our interview with the lovely and talented Catherine Lough Haggquist where we talked about acting, TV shows, movies, and, of course, Christmas! To keep up with Catherine make sure to follow her on social media. Check out all the projects she has been in on her website. And, most importantly, watch her new movies on Lifetime and The Hallmark Channel when they air. You won't regret it!