As a 90s kid who grew up surrounded by books, the classic books series of my childhood were The Baby-Sitters Club (and Baby-Sitters Little Sister when I was younger), and the Sweet Valley novels. I started with the spin-offs Sweet Valley Twins and The Unicorn Club before reading the Sweet Valley High and University novels when I got a little older.
And of course, who could forget the quintessential twins of the 90s and early 00s – Mary-Kate and Ashley Olsen? Their movies Passport to Paris and Winning London will always be some of my childhood favorites.
Because of Sweet Valley and the Olsen twins – and all the shenanigans these twin sisters got up to – I grew up wanting a twin of my own. Having an older sister is great, but a twin sister is bound to be twice the fun!
If you want to see what other adventures twin sisters could possibly get up to, well, so do we so we've put together a list of binge-worthy TV shows with twin sisters or about them! Check them out below.
Sweet Valley High, Syndication/UPN (1994 – 1997)
We're kicking it off with the Sweet Valley High series that was broadcast in syndication before moving to UPN for its fourth and final season.
It was loosely based on Francine Pascal's series of young adult novels of the same name that I mentioned earlier.
The events in the series revolve around identical twins Jessica and Elizabeth Wakefield, high school students who live in the fictional Sweet Valley, California. They're the best of friends despite their differing personalities, with Jess being more free-spirited and mischievous while Liz is studious and down to earth.
Sweet Valley High narrates their lives as they navigate friends, boyfriends, and your typical high school drama and intrigue.
Teenage Bounty Hunters, Netflix (2020)
Despite Netflix canceling the series after just one season, Teenage Bounty Hunters is a fun, kitschy show to watch when you're looking for something fun.
Fraternal twins Sterling and Blair Wesley are the stars of the show as the teenage bounty hunters – a profession they've chosen to pursue after a minor car accident that led to them accidentally taking down a criminal.
They team up with expert bounty hunter Bowser Simmons to catch criminals and earn money to repair their father's truck. Seeing as they're still high school students, though, means they need to work extra hard to keep their new career separate from academic life at their Christian high school.
Sister, Sister, ABC/The WB (1994 – 1999)
Real-life twins Tia and Tamera Mowry gained recognition with their sitcom Sister, Sister, and to this day, their acting careers have continued to flourish.
In Sister, Sister, however, the premise is that neither of them even know that they have a sister, let alone a twin! Separated at birth, Tia Landry was adopted by a single mother from inner-city Detroit while Tamera Campbell was adopted by a couple living in the suburbs (though her adoptive mother died shortly afterward).
14 years later, Tia and Tamera accidentally bump into each other while at the mall and are reunited – somewhat reluctantly, at first – through having Tia and her adoptive mother Lisa move into the Campbell household in the suburbs.
Two of a Kind, ABC (1998 – 1999)
The Olsen twins play Mary-Kate and Ashley Burke in ABC's one-season sitcom, Two of a Kind.
At 11 years old, they're constantly at odds because of their wildly different personalities. Mary-Kate is a more sporty tomboy who focuses more on perfecting her skills on the court or on the field. On the other hand, Ashley is a straight-A student who aspires to one day have a career in dancing or modeling.
They live with their widowed father Kevin, who's a college professor. When one of his 26-year-old students answers his ad looking for a babysitter, the Burke household is never the same again. Mary-Kate and Ashley put their differences aside to make their father and baby-sitter a match made in heaven!
So Little Time, Fox Family/ABC Family (2001 – 2002)
After their previous series with ABC, the Olsen twins returned to our screens in their last TV series, So Little Time, and this time slightly older as high school students.
Contrary to their clashing personalities in Two of a Kind, Riley and Chloe Carlson use their close relationship as twin sisters to help each other get through the growing pains of teenage life.
Apart from juggling their academics at Malibu High School and their relationships with friends and boys (and there's more than a few), the girls work part-time jobs and deal with family troubles between their separated parents, as well.
Oh, and their mother's male nanny rounds out their family dynamic, too!
Liv And Maddie, Disney Channel (2013 – 2017)
In the Disney Channel's Liv and Maddie, the title characters are the twin sisters at the center of the series, and both sisters are played by the same actress: Dove Cameron!
Maddie is a basketball star at their high school in Stevens Point, Wisconsin while Liv has just returned to their hometown after a four-year stint in Hollywood as an actress in a popular television series.
After being away from a normal life for so long, Liv and Maddie chronicles how Liv tries to readjust to a life in a small town with the help of her twin sister.
In the last season, their family moves to Malibu, California after Maddie enrolls in a college on the West side.
Finding Carter, MTV (2014 – 2015)
Finding Carter is, in a way, still a teen drama series but deals with slightly more mature content than the previous shows on our list.
The show starts off with delivering shocking news to the main protagonist, Carter Stevens: the single mother who raised her is actually the woman who abducted her from her real family when she was just 3 years old.
She's reunited with them but the rebellious Carter challenges her new family – especially her real mother, Elizabeth – at every turn.
Though Carter initially causes trouble and vows to be reunited with the woman who raised her, she eventually learns to navigate her new life with her parents, younger brother, and twin sister Taylor.
Twins, The WB (2005 – 2006)
The WB's sitcom Twins takes us into a slightly more mature audience, as the twins at the center of the series are already working professionals.
At the start of Twins, Mitchee and Farrah Arnold are just about to take over the parents' business: a lingerie company known for their undergarments that "make every woman look and feel like a goddess".
Mitchee and Farrah couldn't be more opposite in their personalities! Mitchee is the one with all the business acumen while Farrah has built a career out of lingerie modeling. They may seem like the perfect pair for the business, but they still definitely need a lot of help from their staff and family.
Orphan Black, Space/BBC America (2013 – 2017)
The concept of twin sisters is turned a little on its head in Orphan Black because these women would be more like quintuplets and not exactly biological, either.
Confused? Well, we first meet Sarah Manning, a con artist, who accidentally witnessed the suicide of a woman who looks exactly like her and assumes this woman's identity to escape her own problems.
However, this soon opens up a whole different can of worms when Sarah discovers that she's a clone who's part of an illegal cloning experiment – and that she has several "twin sisters" throughout North America and Europe.
She recruits the help of her fellow clones to take down the organizations that are determined to control human life.
The Lying Game, ABC Family (2011 – 2013)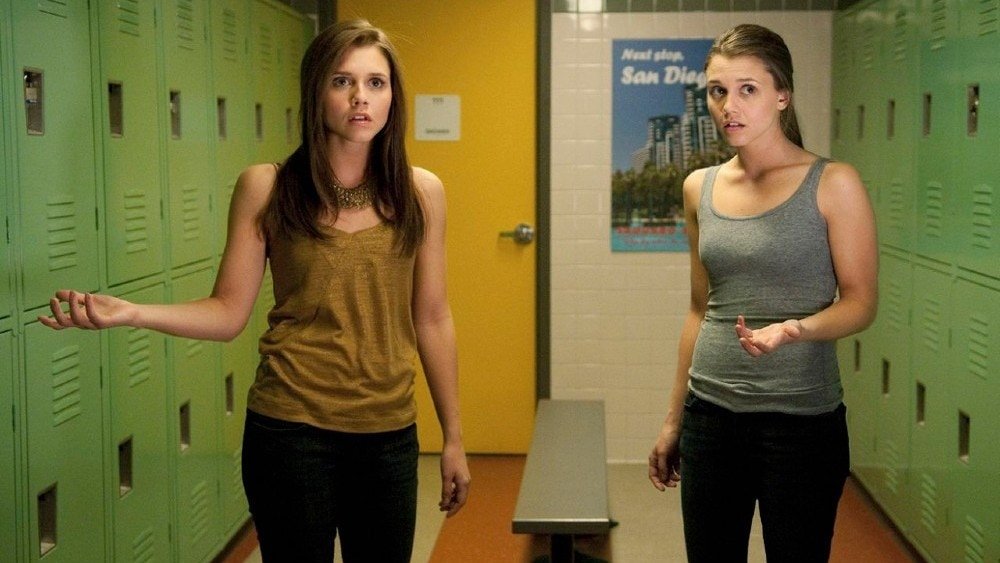 We all love a teen drama mystery, and The Lying Game is no exception.
Emma Becker, the first twin in the series, is a kind girl who grew up in the foster care system while her estranged sister, Sutton Mercer, was adopted by a wealthy family in Phoenix.
At the onset of the show, the two teenagers have already reunited and are on the path to find out more about their birth parents.
When Sutton leaves for LA to follow a lead, Emma steps in to take her place in the Mercer household. However, when Sutton doesn't return, Emma is forced to keep playing pretend while finding her sister and getting to the bottom of the truth.
Ringer, The CW (2011 – 2012)
Last but not least is The CW's Ringer, starring Sarah Michelle Gellar in the role of both twins: Bridget Kelly and Siobhan Martin.
Bridget is a recovering drug addict and stripper in Wyoming who is slowly trying to get her life together, while Siobhan is a wealthy New Yorker with a husband and stepdaughter – and whose family knows nothing about Bridget.
Bridget flees her town to ask Siobhan for help when she fears for her life after witnessing a murder. Not long after the sisters are reunited, Siobhan seemingly commits suicide and Bridget assumes her identity.
Though she tries to fit into the wealthy lifestyle, she discovers that her sister was hiding her own secrets and that she may be in even graver danger than she was before.