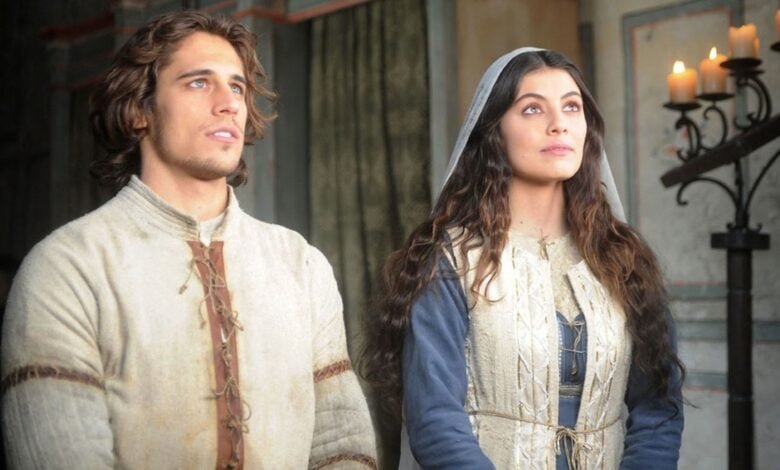 Ah, Romeo and Juliet. One of the most iconic – and tragic – love stories of all time (it didn't have to be quite as tragic as it was if everyone was just left alone to make their own decisions, but we don't talk about that).
Thia William Shakespeare's story of the star-crossed lovers has become so iconic that even centuries later, adaptations of it are constantly coming out across all forms of media: film, TV, and even print!
While some adaptations have been changed to reflect modern times (like the iconic 1996 film Romeo + Juliet with Leonardo DiCaprio and Claire Danes), some have chosen to stick to the original setting, and others still have produced brand new stories simply based on the classic.
The TV shows based on Romeo and Juliet below span the spectrum and are sure to satisfy the tragic romantics in all of us!
The best Romeo and Juliet TV series
Romeo e Giulietta (2014)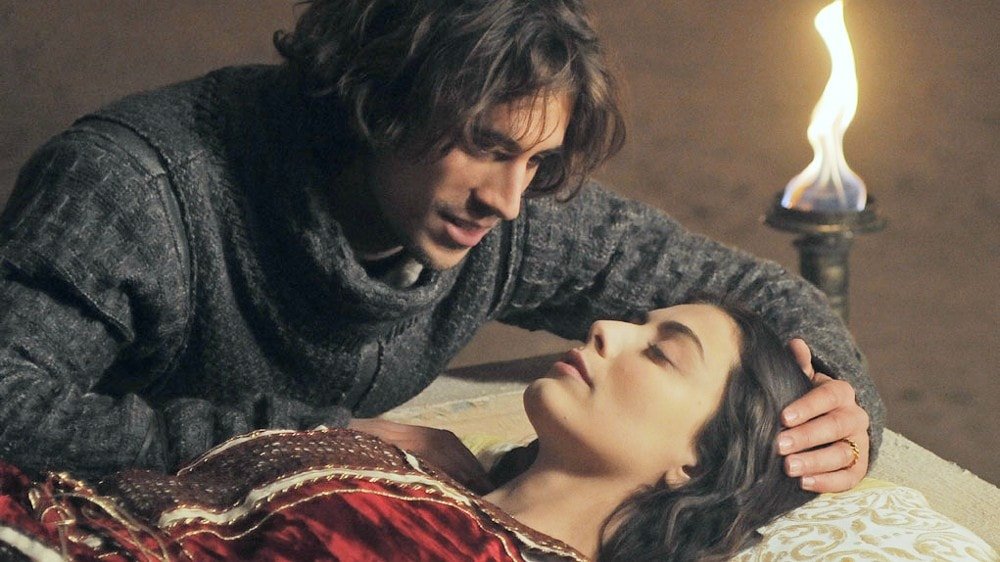 The first series on the list comes from Italy, though it is a joint production between Italy, Spain, and Germany.
Romeo e Giulietta is a two-episode miniseries starring Martiño Rivas and Alessandra Mastronardi in the leading roles – two devastatingly beautiful actors who are perfectly fit for the parts!
The Italian miniseries tells the story of the two teenagers falling in love and their brief romance ending in tragedy, although the adaptation does not borrow much dialogue from Shakespeare's original.
Still, the production and costumes set the stage for the 13th-century setting that most of us have imagined the story to be set in.
Romeo y Julieta, Azul TV (2007)
Yet another non-English production is the Argentine Romeo y Julieta, a soap opera with a whopping 150 episodes in total!
The drama borrows its storyline from the original material but takes it into a modern setting where Romeo Montero and Julieta Caporale are students who meet and fall in love in the beautiful Verona.
The teenagers are hoping to find true love but are not in the right relationship until they meet each other and believe they are each other's greatest loves.
However, the decades-long tension between their families also begins to divide their friends and classmates.
Saints & Sinners, Bounce TV (2016 – 2022)
Saints & Sinners was Bounce TV's first original drama series, and it was certainly successful enough to run for a total of 6 seasons that ended in 2022.
The series is set against the backdrop of a church community that is run by African-Americans and thus has often drawn comparisons against Greenleaf, the drama produced by the Oprah Winfrey Network.
However, Saints & Sinners follows the lives of those at a Baptist church in a small Georgia town, which plays host to "greed, corruption, and murder".
In particular, we follow the life of Lady Ella Johnson as it crosses with the pastor and the choir director.
Still Star-Crossed, ABC (2017)
ABC's Still Star-Crossed is based on Melinda Taub's 2013 novel of the same name, which takes the creative license to continue the story of Romeo and Juliet after their deaths.
This time, the Montagues and Capulets aim to end the perpetual dispute between their families by arranging a marriage between Rosaline Capulet and Benvolio Montague, Juliet and Romeo's cousins, respectively.
However, the two want to bridge the warring families without going through with the marriage amidst a secret society's attempts to further the negative tension between them and subsequently depose the current Prince of Verona.
Star-Crossed, The CW (2014)
Star-Crossed may be similar in title to the previous show, but don't be mistaken because they're really not related in the least!
The CW's Star-Crossed is a mix of science fiction and teen drama, as it takes the title of "star-crossed" quite literally.
Set in the (very) near future of 2024, we meet human Emery as she begins her high school journey, right as the government is starting an integration program with an alien race that landed on Earth ten years prior.
As she begins to form a romance with an alien named Roman, they discover he was the young alien she had saved as kids.
Romeo x Juliet, Animax Asia (2007)
Romeo x Juliet is a Japanese-language anime that aired over 24 episodes.
Though the cartoon borrows heavily from the source material and even some of Shakespeare's other plays in terms of minor characters, the original manga actually differs quite vastly!
In this anime, the Montague family has murdered the entire Capulet clan with Juliet as the only survivor.
After 14 years, Juliet is posing as a masked vigilante exacting revenge against House Montague – until she meets and falls in love with the young Romeo, who shares her ideals against his father.
Boarding School Juliet, JNN (2018)
Another Japanese anime is JNN's Boarding School Juliet, a 12-episode series based on the original manga's 16 volumes that were published between 2015 and 2019.
Boarding School Juliet takes place at the Dahlia Academy, a boarding school that houses students from two opposing countries and divides them into houses in the academy: the Black Dogs and the White Cats.
Romio and Juliet are leaders of their respective houses when they fall in love.
Despite the troubles and difficulties, they fight to keep the relationship a secret from their warring friends and student houses.
Skin, Fox (2003 – 2005)
Skin is a modern take on the classic story but really takes it to a setting that most fans of the play would never expect!
The drama unfolds within the world of the adult film industry, though this theme is secondary to the character arcs.
Jewel is the Jewish daughter of Los Angeles' porn industry magnate while Adam is the Catholic son of the LA County district attorney.
The teenagers are from completely opposite worlds but still meet and fall in love despite their fathers trying to bring each other down.
Noughts + Crosses, BBC One (2020 – present)
Malorie Blackman's series of novels of the same name are brought to life (albeit with just a few small changes) in BBC One's Noughts + Crosses, an alternative history drama series.
In this world, present-day society was formed after a Great World War 700 years ago saw the formation of the Aprican Empire and its colonization of Europe.
Now, in the primary setting of Albion where racial segregation still dominates, Sephy and Callum form a friendship as children that blossoms into love as they grow older.
However, Sephy is a wealthy Aprican Cross whilst Callum is a poor native European or a Nought.
First Kill, Netflix (2022)
First Kill was based on the series creator Victoria Schwab's short story of the same name and puts a real supernatural twist on the tale of star-crossed lovers.
Juliette Fairmont is a vampire on the cusp of adulthood – all she has to do is feed on a human and complete her first kill in order to take her rightful place amongst her powerful family.
She sets her sights on Calliope Burns but ends up falling in love.
However, Calliope is from a family of monster hunters and she's on her own rite of passage to kill her first monster.
Slings & Arrows (Season 2), Movie Central/The Movie Network (2003 – 2006)
Slings & Arrows was a Canadian dark comedy series with all things Shakespeare at its core!
It followed events at the fictional New Burbage Festival, which is very similar to the real-life Stratford Festival that produces Shakespeare's plays.
In the second season of Slings & Arrows, it's Macbeth that's at the center, but Darren Nichols (a fellow theater actor/director who rivals the protagonist Geoffrey) sets about to direct a unique adaptation of Romeo and Juliet wherein the actors don't even touch or look at each other!
Skam (Season 3), NRK1 (2015 – 2017)
Another foreign language series is Skam, which hails from Norway and is set in a real-life preparatory high school in Oslo: Hartvig Nissen School.
Each season focused on one main character who was a student at the school, and the airing of episodes was even complemented with real-time clips and social media posts on the network's website!
Season 3 centered on Isak Valtersen and tells a story of a young man's relationship and coming out, while also coming to terms with his sexual identity.
TV episodes inspired by Romeo and Juliet
As a bonus, we've included a few single TV episodes inspired by the play as well!
Sex Education: Season 2 Episode 8, Netflix (2019 – present)
Netflix's Sex Education is a teen dramedy series that focuses on the lives of the students at the fictional Moordale Secondary School as they learn to navigate sexual intimacy.
At the center is Otis, a "socially awkward" teenager who isn't quite sure yet how he feels about sex despite advising his friends about it on the reg.
In season 2, episode 8, Otis has a challenging conversation with his first (ex)girlfriend while a Romeo and Juliet production is ongoing at the school, but one that's filled with erotic messages in the dialogue and lyrics!
Legends of Tomorrow: Season 5 Episode 8, The CW (2016 – 2022)
Legends of Tomorrow is a spin-off series that's part of The CW's Arrowverse, which is the superhero universe of characters from DC Comics, and focuses on the theme of time travel!
In this season 5 episode, the protagonists meet Shakespeare and through a hilarious and complex turn of events, he attempts to turn it into a superhero version of the classic!
In the end, the protagonists end up having to perform Romeo and Juliet to make sure it stays the way we know it today.
The Brady Bunch: Season 3 Episode 7, ABC (1969 – 1974)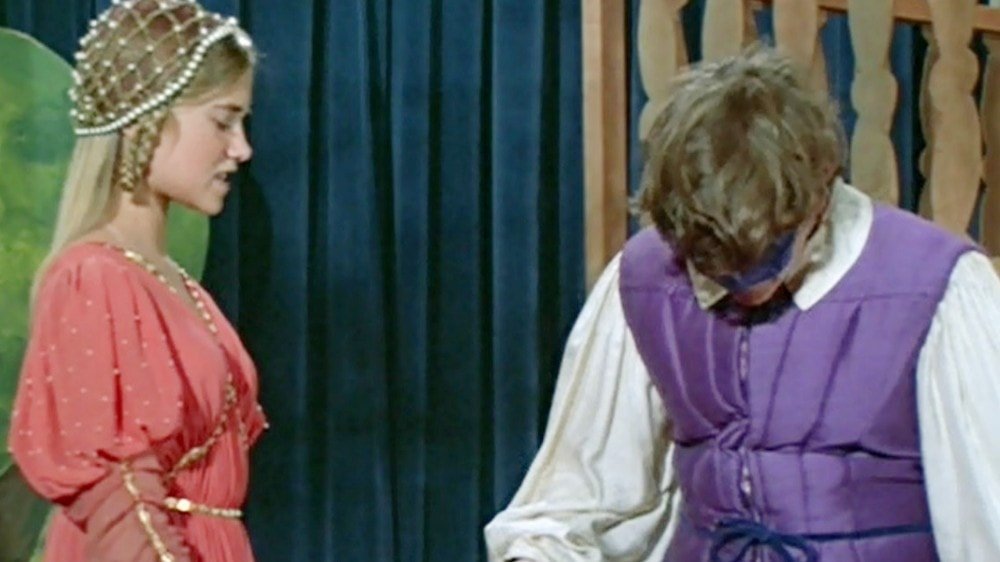 Inarguably, The Brady Bunch is an icon in American pop culture.
It centers on the eponymous Brady family, a blended family with 6 children!
The Romeo and Juliet-inspired episode comes in season 3 when Marcia, the eldest of the Brady daughters, is cast as Juliet in the school play.
At first, she doesn't see herself as beautiful or confident enough for the role. However, after encouragement from her family boosts her confidence, her ego turns her into an unbearable diva.