Nowadays we have more content to watch than ever. Yet, for many of us, the regular streaming services just don't cut it anymore. After all, there are only so many times you can watch The Office from front to end until you start looking for something new to stream.
That's where Topic comes in.
It's a flagship streaming service from First Look Media that has a vast list of original and exclusive programming that you won't find anywhere else. I'm talking meaningful, engaging, and often provocative shows and movies from all over the world that are shown in North America for the first time right there on Topic.
So, to learn more about this relatively new steamer, we talked to Topic's General Manager Ryan Chanatry.
During our interview, we chatted about everything from how Topic came to be and what are the unique selling points of the service to Ryan's recommendations of what you should absolutely check out on Topic, and much more.
A big thank you to Ryan for speaking with us and let's get into it!
---
Tvshowpilot: How did Topic come about?
Ryan Chanatry: Topic launched in 2017 as a digital magazine with a focus on short-form video filmmaking, conceived of by Anna Holmes. We created a wide range of award-winning work while experimenting to better understand what our intended audience was interested in.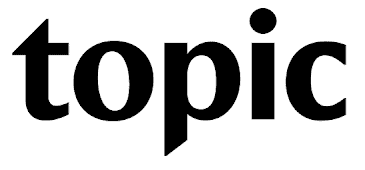 In November of 2019, we evolved Topic into a streaming service. As part of that, we incorporated longer-form programming to super-serve a niche audience who are looking to engage with series and films that haven't had the opportunity to be seen in North America.
Tvshowpilot: You're the General Manager of Topic. What does that entail? How does your day-to-day look like?
Ryan Chanatry: Every day is a little different, which keeps it interesting!
The majority of my time is spent making sure we create and identify programming we feel our audience will love by working with the teams who develop, produce, and acquire everything we release.
Additionally, I interact closely with our marketing, press, product/tech, and creative departments to ensure we're all working towards our common strategic business goals, serving our subscribers, and staying focused.
Tvshowpilot: In the last few years, streaming services have become the hot new thing when it comes to the entertainment industry. How does Topic differ from many of the other streaming services currently available?
Ryan Chanatry: While we program both scripted and unscripted films and series across a variety of genres, we feel we are strongest and most differentiated in our selection of suspense, mystery, crime, thriller, and justice-related programming.
Crime and justice are universally appealing ways into storytelling and we focus on taking an elevated global lens, surfacing both old and new titles from across the world that will surprise and hook our audience.
Our Topic is Criminal marketing campaign started in early March and showcases the quality of programming we offer in a fun and creative way.
Tvshowpilot: What do you think is the biggest selling point of Topic?
Ryan Chanatry: Our uniqueness is in our highly curated selections existing outside what mainstream services are showcasing.
As we are independent, we can program more provocatively, champion voices that hold the powerful accountable, and use our platform for emerging and established award-winning filmmakers that take chances and make statements.
Tvshowpilot: What do you look for when acquiring new shows and movies to stream on the platform?
Ryan Chanatry: Our goal is for everything we premiere to be smart, meaningful, and most importantly, engaging and entertaining.
Presenting narratives, characters, and experiences that are not frequently found on screen is also critical, pushing forward where we can overtime to combat past stereotyping and build an inclusive as possible catalog.
We aim to take our audience to unexpected places and bring them perspectives they may have not considered before subscribing to Topic.
We program across genres and formats while aiming for a tonal red-thread that keeps it all feeling connected, no matter what you select to watch.
Tvshowpilot: Are there any standout films or shows on Topic that you would recommend as a must-watch for anyone and everyone?
Ryan Chanatry: We've released such an amazing selection of series and films since we launched, it's incredibly hard to choose at this point!
One major highlight of ours is the Topic Original thriller The Accidental Wolf, which is in its first season from director Arian Moyed, with season 2 to come later this year.
As mentioned, we showcase the voices of artists that deserve recognition.
We have two films with female directors that are Academy Awards shortlisted – Geeta Gandbhir's Call Center Blues, and Abortion Helpline: This is Lisa by Barbara Attie, Janet Goldwater, and Mike Attie.
And we couldn't be more excited to release Elvira Lind's The Letter Room this month because the short starring Oscar Isaac and Alia Shawkat just received an Oscar nomination in the Live Action Short Film category.
If you love crime, suspense, and thrillers we have plenty, with Arctic Circle, Pagan Peak, Soul City, Lambs of God starring Ann Dowd, Sunshine Kings starring Anthony LaPaglia, and Melanie Lynskey, and the BAFTA Award nominee The Virtues starring Stephen Graham being just a few.
We have the moving documentary Once Upon a Time in Venezuela which offers such a unique look at a part of the world that most of us will never experience firsthand.
Our Topic Original short doc series The Ascendants brings you on stage and into the lives of four rising musicians from Chicago.
Nehama, from Israel, is unlike anything I've watched before. I was hooked from the very first scenes. It's a dark comedy wrapped around a family drama. Co-creator and lead Reshef Levi is unbelievably riveting as he attempts to reignite his standup comedy dream later in life.
Tvshowpilot: Lastly, Topic not only has a curated list of exclusive programming from around the world but also a diverse slate of Topic Originals. What are the newest titles that users can look forward to seeing on Topic soon?
Ryan Chanatry: Just over the next few months we have a wide range of new exclusive shows and Originals that we're launching, some of which we can't announce just yet, but we're really looking forward to doing so soon.
We're excited to have exclusively premiered season 3 of the French political thriller, Baron Noir on March 4th.
We have the hilarious Belgian comedy about the European Union, Parlement on March 18th.
From Denmark, we have the relationship dramedy Anne+ on March 25th.
An Ordinary Woman from Russia arrives on April 1 and The Wordmaker from Israel follows on April 15th.
We also have our unique Topic Original dance reality series, Best Walk in April, and also new episodes of our collaboration with Academy Award winner Roger Ross Williams, One Story Up.
To continue our Topic is Criminal campaign we have the incredible crime thrillers Dark Woods from Germany and Beau Sejour season 2 from France in June.
In July, we have our series, Philly D.A., which premiered at Sundance 2021.
As mentioned, that's not even scratching the surface of what we're releasing between March and June as well as some exciting plans we have for the summer to be announced soon!
---
So there you have it, our interview with the General Manager of Topic, Ryan Chanatry. That might as well serve as a list of not only all the great content that's about to drop on Topic but also some truly great recommendations of shows and movies that you should check out if you're done with Netflix, Hulu, or any of the other mainstream streaming services available today.
You can keep up with Ryan on Twitter, and with Topic on Twitter, Facebook and Instagram.
And make sure to check out Topic and everything it has to offer by visiting topic.com (it's just $5.99 a month!).