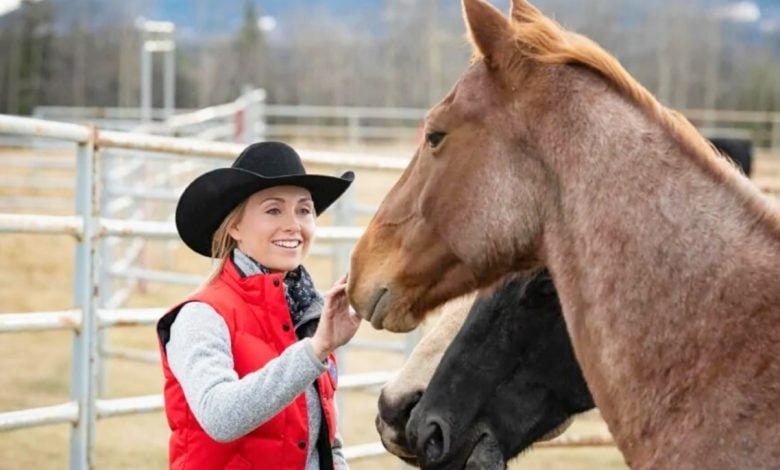 Rumors have been swirling for a while now that Heartland might be coming back for season 15, but nothing has been official. Until now that is because Heartland has been officially renewed for season 15.
That's right, the longest-running one-hour scripted drama in Canadian television history will continue its record-breaking run because Heartland will be back for season 15. And sooner than you think, too.
Keep reading for more on the season 15 renewal announcement and what we know about the new season so far!
The Heartland season 15 announcement
The announcement that Heartland will return for season 15 was made by Heartland's own Amy Amber Marshall who announced the season 15 renewal to Heartland fans via a video posted to Heartland's official social media channels.
In the video Amber let us know that Heartland will, in fact, be back for season 15. As well as expressed her excitement for the stories that the new season will bring:
Hey, guys! Amber Marshall here and, of course, my friend Phoenix, with some very exciting news. Now, I think many of you have been anticipating this so I'm just going to say it. Season 15 of Heartland is a go! And we couldn't be happier. I want to thank all of you for being so supportive over this last year of uncertainties and I can't wait for you to see the stories we have to come. Take care, everyone, and stay safe!
Heartland season 15 premiere date
In addition to announcing that the show will be back for another season, CBC also announced the premiere date for season 15.
So, without further ado, Heartland season 15 will premiere on Sunday, October 17th. Which means that we're literally months away from seeing an all-new season of Heartland.
Usually, premiere dates aren't announced this early. But we're in luck because CBC decided to treat us with not only a renewal but also a premiere date announcement.
What's more, this year we also won't have to wait until winter for the new season like it was for season 14. Which is great, because many of you who've watched the show from the start are used to the new season airing in the fall rather than winter. And this year, Heartland will be back to that schedule, airing on Sunday nights at 7 pm.
How many episodes will Heartland season 15 have?
Although Heartland used to have 18 episodes each season (except the first one that had 13 episodes), the last several years, Heartland seasons have been shorter. Season 12 had 11 episodes, with seasons 13 and 14 being 10 episodes long.
Well, it looks like that trend will be continuing in season 15 as well. Because according to CBC's official press release, Heartland season 15 will have 10 episodes.
That's 10 hour-long episodes of everyone's favorite horse TV show for us to enjoy.
What's more, the first episode of season 15 will be the 225th episode of the series. So, we can probably expect it to be a pretty great episode because it's not often a TV show hits this type of milestone.
What will Heartland season 15 be about?
Heartland's official page on CBC's media center website also provided some insight into what we can expect to see on Heartland season 15.
The official synopsis for season 15 reads:
The Bartlett-Fleming family has learned a hard lesson: life is short and you have to live each day to the fullest. In season 15 of HEARTLAND, they will put what they learned into practice. Last season, Amy said goodbye to the past. This season, she embraces the future – raising her daughter, working with the horses who continue to heal her, branching out into a new phase of her life and profession. She is moving forward and feels determined to leave a legacy. In fact, Jack, Lisa, Lou, and Tim have all decided that now is not the time to pull back, but to ramp up, to create new dreams and fulfill old ones. And, as they always do, the family will pull together to help each other… and will ultimately end up stronger than ever.
So, it looks like season 15 of Heartland will be all about new adventures and new endeavors. And the Bartlett-Fleming clan will be taking on new challenges and doing everything they can to make their dreams come true.
Heartland season 15 filming schedule
And thanks Alliance of Canadian Cinema, Television and Radio Artists (ACTRA) Alberta website we even have start and end dates for the filming of season 15.
According to ACTRA's "What's Shooting in Alberta" list, Heartland season 15 began production on Moday, June 7th, and will wrap the filming of the upcoming season on Tuesday, September 21st.
This means that all throughout the summer we can look forward to on-set updates and behind-the-scenes tidbits from the Heartland cast and crew. So, be sure to follow the official Heartland Twitter account because that's usually the first place all the latest updates are posted to.
Are you excited that Heartland will be back for season 15? And what do you want to see happen in the new season? Sound off in the comments below and see you soon with more content on all your favorite shows!