This article contains affiliate links. We may earn a small commission from qualifying purchases.
There's just something magical about horses. Not only they look majestic and downright regal but they are also very smart animals. They are able to follow complicated directions even under duress and are often used in therapy to help treat both physical and mental health conditions.
So, really it's no wonder that horses have been the main focus of many different TV shows and movies. Which is why I thought that it would be great to list some of the best TV series about horses out there so you can enjoy the magic that is horses as well.
---
No time to read the whole article? Then check out the short version in the form of our video on the top 7 TV shows about horses:
---
Some of the TV shows that are featured on this list are older, and some newer. And I've included both sitcoms and dramas. But horses and people's love for them play a big part in all of these horse TV shows.
Without further ado, here are the best TV shows about horses.
Heartland, CBC (2007 – present)
When it comes to TV shows about horses, the first series that comes to mind is CBC's Heartland. And for good reason. With 14 seasons under its belt and being broadcast all over the world, this family drama has captured a lot of people's hearts.
Heartland follows the Bartlett-Fleming clan as they manage their family's horse and cattle ranch in the foothills of the Rocky Mountains. At the forefront of the series is Amy Fleming, a gifted horse trainer whose passion and care for horses help her treat even the most challenging of client horses.
Over the course of the series, we see Amy grow up and mature into a confident young woman who's deserving of her horse whisperer title. As well as see the rest of the family, including Amy's grandfather and the family's patriarch Jack, dad Tim, and sister Lou, go through the ups and downs of life.
Where to watch Heartland:
Wildfire, ABC Family (2005 – 2008)
A show that in some aspects is similar to Heartland yet in others is nothing like Canada's longest-running family drama is ABC Family's (now Freeform) Wildfire.
Wildfire centers on Kris Frillo, a young woman who is fresh out of a teen correctional facility and starting a new life working at the Raintree ranch. She shares a special connection with Wildfire, a horse she rescues from the slaughterhouse. And soon enough she is working with Wildfire to turn him into a champion racehorse.
Along the way we see Kris learning the trials and tribulations of being a jockey. And balancing her romantic life and other friendships with working at the ranch and helping save it from financial ruin.
Where to watch Wildfire:
Mystic, CBBC (2020 – present)
The newest series on this list of best TV series about horses is Mystic.
Based on the first book in Stacy Gregg's Pony Club Secrets novel series, Mystic centers on Londoner Issie Brown who moves to Kauri Point, New Zealand after her father's death. But missing London and struggling to fit in among her peers are the least of Issie's problems when she starts seeing a horse that seemingly nobody else can see.
Over the course of the series, we see Issie finding her place among the other town's teen horse riders as well as helping them stop an industrial development that threatens the town of Kauri Point.
Where to watch Mystic:
Caitlin's Way, Nickolodeon (2000 – 2002)
When it comes to the fish out of water trope, another TV series that uses it and uses it smartly is Caitlin's Way.
The show aired on Nickelodeon from 2000 to 2002 and tells the tale of Caitlin Seeger, a street-smart teenage girl, who after getting arrested is sent to her mother's cousin's horse ranch in Montana.
During the three seasons that the show was on the air, we see Caitlin hone her photography skills in hopes of one day becoming a professional photographer, figuring out herself and her relationship with those around her as well as getting close to Bandit, a wild horse that she rescues from wranglers.
Where to watch Caitlin's Way:
Rough Diamond, BBC One (2007)
Another show that depicts the horse racing world, but that fundamentally and visually is very different from Wildfire is Rough Diamond.
This series depicts the relationship between Aidan Doherty, a disgraced racehorse trainer, and Jonah Price, his teenage son whom he never knew existed.
After Jonah enters Aidan's life with a young colt and argument not to sell Aidan's late father's stables to his rich neighbor, Aidan's life is turned upside down. Together the two of them try to rebuild Aidan's good name and their lives as father and son.
Despite this series having only six episodes, it is definitely worth your time. Filmed in Ireland, the show offers beautiful scenery, heartfelt stories, and a look at the horse racing business from a different perspective. On top of that, the short length means that you can binge-watch this show in a day.
Where to watch Rough Diamond:
Ride, YTV (2016)
A more teen-friendly option for a horse TV show is Ride, another Canadian TV series set in one of the most elite equestrian boarding schools in England called Covington Academy.
Ride tells the story of Kit Bridges, whose father takes a job as a riding instructor at the boarding, relocating them from America all the way to England. Over the course of the show, we see Kit overcome her fears of horses and bond with the other students of the prestigious school.
Similarly to Rough Dimond, Ride is shot on location in Ireland, which means that Ride will also offer some stunning scenery shots. But unlike the previous show, this equestrian TV show is all about a mix of high school and horseback riding. So if you like teen dramas, are into horses or both, which you probably are if you clicked on this article, then go ahead and give Ride a shot.
Where to watch Ride:
Free Rein, Netflix (2017 – 2019)
Before we move over to horse-riding TV shows that are not from this century, we also have to mention Netflix's Free Rein which ran for three seasons and also had two special feature-length episodes.
This Netflix horse series follows Zoe, a 15-year-old LA girl as she spends her summer at her grandfather's house on an island off the coast of England.
While there she forms an undeniable bond with a wild horse named Raven. And this new connection helps Zoe find new friends and resolve issues that she has been facing all her life.
Where to watch Free Rein:
The Adventures of the Black Stallion, The Family Channel/YTV (1990 – 1993)
If all of the previously mentioned shows aired during the 21st century, these last few shows are a bit older. Yet they are still cult-classic horse TV shows that will feed your love for the equestrian world nicely.
First up we got The Adventures of the Black Stallion.
This TV show is about Alec Ramsay, an up-and-coming horse racer, who after his father's death has to help his mother run their ranch called Hopeful Farm. While also realizing his dreams of becoming a professional horse racer alongside his horse The Black and trainer Henry.
Although The Adventures of the Black Stallion mostly focuses on the horse racing circuit, there also are family rach and underdog aspects of it, which have become a staple when it comes to TV shows about horses. Therefore, if you want to see one of the shows that began this TV trope, check out The Adventures of the Black Stallion.
Where to watch The Adventures of the Black Stallion:
The Adventures of Black Beauty, ITV (1972 – 1974)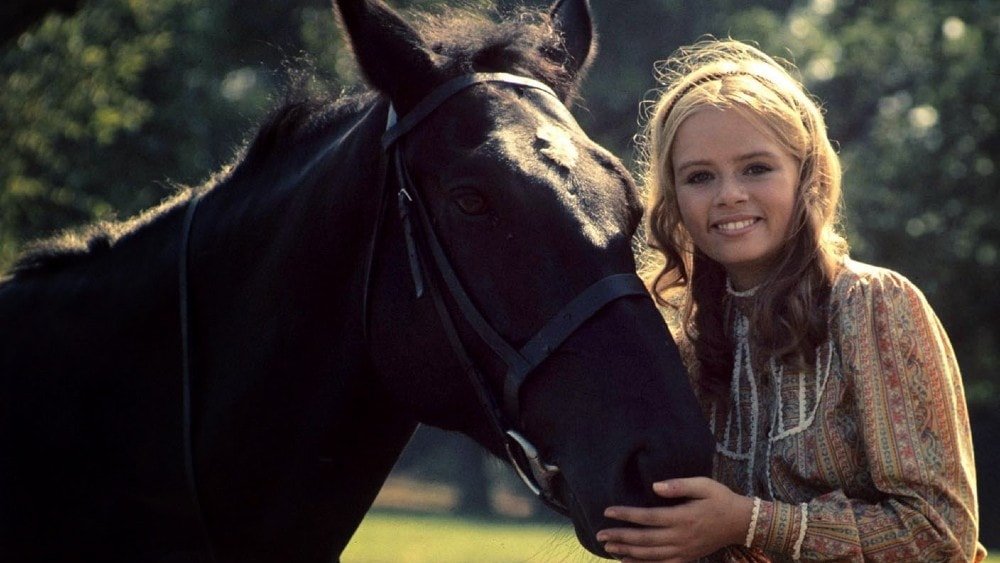 Next on the list is The Adventures of Black Beauty, a series that aired in the 1970s but that's set in late 19th-century rural England.
The Adventures of Black Beauty follows a local doctor James Gordon and his children Vicky (and Jenny in season 2), and Kevin who adopt a pure black, thoroughbred horse Black Beauty into their household.
In each new episode, we see the Gordon kids along with their friends get into various shenanigans and meet both friends and foes. But throughout all of their adventures one constant remains – Black Beauty is there to help save the day.
Where to watch The Adventures of the Black Stallion:
The New Adventures of Black Beauty, ITV (1990 – 1993)
Following a successful 52-episode run in the 1970s, ITV brought back the series in the 1990s via a sequel titled The New Adventures of Black Beauty.
Now set 20 years after the original series, at the start of the 20th century, The New Adventures of Black Beauty focuses on Jenny, all grown up and married now, who travels to New Zealand with her stepdaughter Vicky to meet her new husband Nigel there. But upon arrival, the two discover that Nigel is missing and the farm they were supposed to live on is deserted.
With help from a young German called Manfred the two make a home for themselves and meet a beautiful black stallion. And since the horse reminds Jenny of the one she left behind in England, she names it Black Beauty.
Season 2 of the show is set in Australia and features a completely new set of characters. The only link season 2 has to the original series and the first season of this show is Black Beauty.
Where to watch The New Adventures of Black Beauty:
Mister Ed, Syndication/CBS (1958 – 1966)
And last but not least we have Mister Ed, which is probably one of the most famous horse TV shows.
This series, which aired during the first half of the 1960s, centers on architect Wilbur Post and his wife Carol as they move to a new house and discover that the previous owner had felt a horse behind in the house's barn.
But the horse isn't just your typical stallion. It turns out that the horse, whose name is Mister Ed, is able to talk, but only Wilbur. Which leads the architect on many amusing adventures.
Although Mister Ed is a black-and-white television show and is more than half a century old, the show is enjoyable and fun all the same. And thanks to the recognizable speech of Mr. Ed, voiced by Allan "Rocky" Lane, the show's theme song, and the story in general, Mister Ed truly is an iconic TV show that any horse lover should see at least once.
Where to watch Mister Ed: