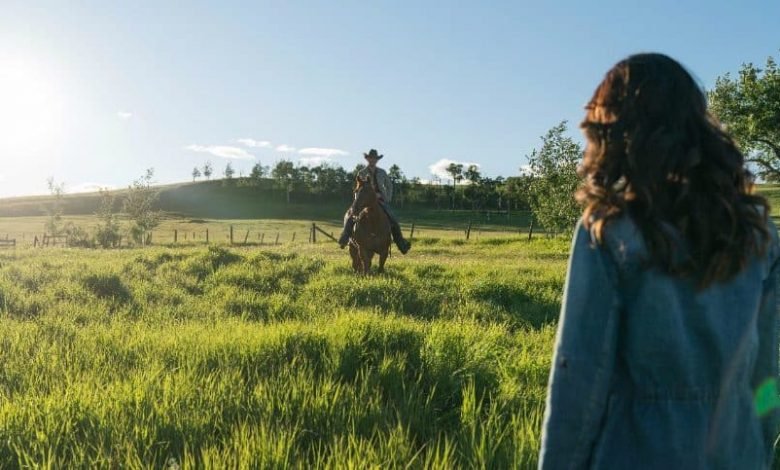 The latest Heartland episode saw Lou finally returning to the ranch. However, with her she brought a slew of new problems that everybody had to deal with. On top of that, Caleb's little misunderstanding turned out to be a blessing in disguise. While Jack and Lisa were adjusting to living together. Here is my recap of Heartland season 11 episode 5.
Warning, spoilers ahead!
Lou's back
Probably the biggest storyline of Heartland season 11 episode 5 was the fact that Lou and Katie finally returned from New York. Yet, the joyous homecoming quickly turned into something else with Lou's announcement that she is planning to spend all summer in New York. And that she wants Georgie to join her and Katie.
The episode began with Lou coming back to Heartland and finding out about all the changes that have happened while she was gone. Lisa moved in. Mitch is back and business partners with Jack. And Ty is in BC helping injured wolves. On top of that Tim has neglected the Dude ranch and is barely holding down the forth at Maggie's. Which kicked Lou in high gear.
Not even being back a day she was trying to spruce up the Dude ranch, find a manager for Maggie's, be a mom to Georgie and avoid running into Mitch. But, unfortunately, she didn't do so well in any of these areas. The Dude ranch was still a mess. Finding a new manager for Maggie's proved to be difficult. Georgie wasn't on board with Lou's plan to spend the summer in New York. And Lou definitely ran into Mitch. More than once.
Rocky beginnings, happy endings
Luckily, by the time Heartland season 11 episode 5 was over, things were looking up. After multiple false starts, Lou managed to find a new manager for Maggie's and the Dude ranch in Jen, Casey's sister-in-law. Lou and Georgie had a talk and they decided that Georgie will not join her and Katie in New York. But most importantly, Lou and Mitch rekindled their romance.
Yes, you read that right. At the very end of this Heartland episode, we saw Lou tell Mitch that she lied earlier when she said that she is over him. And she proceeded to express her hope that he isn't quite over her either. Fortunately for Lou and all you Mitch and Lou fans out there, Mitch kissed her, which should be an indication enough of where they sand in their relationship. I guess this means that we will be seeing much more of Lou and Mitch on the rest of the Heartland season 11 episodes.

Horsy misunderstanding
While Lou was trying to be a super-mom, Caleb was dealing with his own problem. And, since it involved six horses and an angry Tim, Caleb did not have the easiest of times on Heartland season 11 episode 5.
Last week's episode was the first to show Tim struggling with Caleb being his business partner. And on this week's episode that only continued. Caleb, wanting to prove himself to Tim, bought 6 broncos. Only to discover that the horses were so cheap because they were miniature broncos. Meaning that they now had to deal with having six mini horses. Which Tim was not happy about since he already had a lot on his plate.
Caleb being Caleb decided to solve the mini horse problem by organizing a bronc riding clinic for younger kids. Yet, as good of an idea that it was, things did not go smoothly for Caleb. Firstly, Amy, who Caleb asked to help him with the kids, didn't show up on time (which really was understandable with Ty being away and she having to care of Lyndy alone). And secondly, Caleb, lacking the confidence and experience in working with kids, did not handle the first day of the clinic well.
Fortunately, the second day was much better. All Amy had to do was be there for Caleb, and he fell into his element as a capable teacher. The kids were happy and learning. And by the end of the episode, even Tim seemed to change his mind about Caleb as his business partner.
I love these storylines of Caleb trying to prove himself to Tim and his plants going terribly wrong. They not only provide an amazing comic relief, but they also highlight a bit less-explored topic of Tim being Caleb's idol and mentor.
Marital troubles
While the third big storyline of Heartland season 11 episode 5 was Jack and Lisa learning to live together.
Although Jack and Lisa have been married for a while now, they haven't really lived together. So, since Lisa moved in with Jack at the end of the last episode, on this one, they finally had to learn how to co-exist in one space on daily basis. And it was a struggle.
Jack was frustrated about everything Lisa did from leaving one unwashed dish in the sink to Lisa packing up his fly-fishing stuff and turning the table that previously was dedicated to Jack's hobby into her little home office. And it obviously got to Lisa, because she did not feel welcome by Jack.
Thankfully, at the end portion of the episode, we saw Lisa finally expressing her feelings to Jack, which made him rethink his actions. However, I am not quite sure that this will be the end of it. I just hope that Lisa moving in with Jack won't destroy their relationship. Because, as hard as it is to live with someone else when you have spent most of your life living alone if you love someone, you will compromise your habits for them.
Last thoughts on Heartland season 11 episode 5
Remember how in my episode 2 review I mentioned that I am not looking forward to the scene of Lou and Mitch meeting again because it is going to be awkward? Well, I was right, because the scene was awkward and then some. Yet, at the same time, I also am glad that the show decided to have those awkward moments because they are so true to reality. Meeting your ex is indeed very awkward. And, since Lou and Mitch split on not the best of terms, I can imagine their reunion was even trickier.
Secondly, I also have to mention the obvious sparks that the show is trying to convey between Georgie and Wyatt. It was well established last season that Wyatt likes Georgie very much. And it looks like that is not going away anytime soon. I just wonder how long we will have to wait until they move past friendship and into a romantic relationship territory.
Thirdly, compliments to the Heartland team for that beautiful end sequence of Lou walking to Mitch. It was visually stunning. Made me feel like it was summer again. As well as perfectly complimented the scene between Lou and Mitch.
And lastly, Ty indeed was gone on Heartland season 11 episode 5. And, again we were left with only video calls between Amy and Ty. I am just wondering how many episodes Ty will be gone this time. I hope less than on last season!
Episode highlights:
• Lou and Katie finally being back on Heartland
• Casey telling Tim that he might have too much on his plate
• Lou finding out all the news of what has happened on Heartland while she was away
• Caleb and Tim's faces when they realized that the six broncos are miniature broncos
• Georgie and Casey's reaction to Caleb buying miniature horses
• Lou seeing the state of dude ranch
• Amy and Ty video chatting
• Tim's opinion on kids
• Lou and Mitch's first meeting since the season 10 finale
• Lou's new manager interviews
• Caleb asking Amy for help with the clinic
• Amy supporting Caleb as Tim's business partner
• Caleb's clinic going terribly wrong
• Lou asking Jen to be Maggie's new manager
• Caleb turning out to be a great teacher, even when teaching younger kids
• Wyatt flirting with Georgie
• Lou apologizing to Amy
• Georgie and Lou's talk
• that end sequence with Lou walking to Mitch
• Lou and Mitch's kiss
Episode low points:
• Ty being gone
• Lou wanting for Georgie to go to New York with her
• Amy and Lou's fight
• Jack nagging Lisa about everything she did
Quote of the episode:
Lou: "I promise to try and be less judgmental."
Amy: "You? Judgmental? I can't picture it."
Promo for Heartland season 11 episode 6: