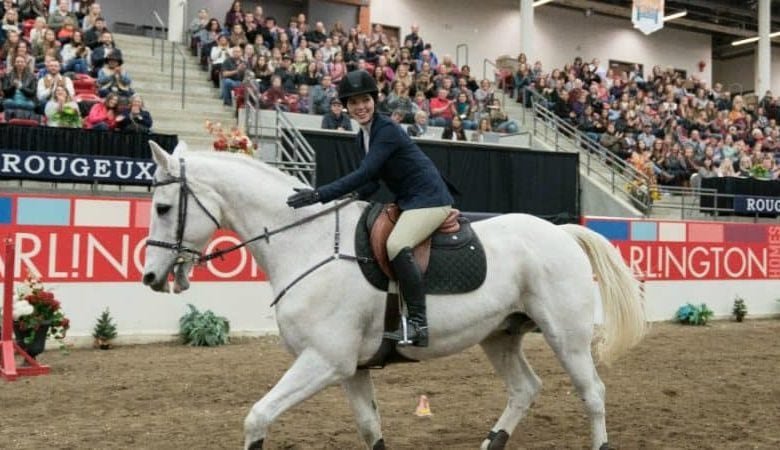 Another season of Heartland has passed. And what a season it has been! So much happened in Heartland season 11. And although we don't know yet if there will be a season 12, we can still celebrate the season that was. And what better way to do it than to find out what happened on the Heartland season 11 finale. So without further ado, here is my Heartland season 11 episode 18 recap.
Warning, spoilers ahead!
Fall finale
All through this season, we have watched Georgie going through ups and downs of showjumping. And despite the last few episodes being extra hard on the teen both when it comes to jumping and her personal life, on Heartland season 11 episode 18 we saw Georgie raise above all her hardships and go for the gold.
That's right, the Heartland season 11 finale brought us the final jumping competition for Georgie. In which she won first place. However, before that, she still had a few things to overcome. Because at the start of the episode we saw Georgie still thinking of moving to New York with Lou thanks to people talking behind her back and her complicated relationship with both Wyatt and Dylan.
On top of that, when she and Amy went to Westfield stables to retrieve some equipment of theirs that still was at the stables, she saw Dylan fall and tear a ligament in his leg. Which could not have been easy to see this close to competition day. And Val subsequently offered Georgie to ride Flame in the Fall Finale, now that Dylan wasn't able to anymore. And everybody had an opinion on that, especially Tim.
---
RELATED: 7 TV Shows About Horses
---
Fortunately, Georgie stood her ground on refusing to ride Flame in the competition. And with the support of Amy and her whole family, Georgie was victorious. Raiding Heartland's own Phoenix Rising no less. And the victory not only guaranteed that Georgie showed Peyton and all those who doubted her what she is capable of. But it also made Georgie herself realize what she can accomplish.
So moving forward I would like to see Georgie believe in herself more. And maybe even reach for the stars by trying out for the Olympics. That would definitely be an interesting storyline for the show.
The switcheroo
Although Ty was absent for a few episodes in the middle of the season, this episode, same as in the last one, we saw a lot of Ty. In fact, one of the bigger storylines was dedicated to Ty, Caleb and the shenanigans they are bound to get into when they are together.
For Ty's storyline Heartland season 11 episode 18 did a nice callback to the very first episode of Heartland season 11. Remember how in episode 1 Ty bought a truck from a guy named Dave on a whim, only for the truck to break down? And how Jack then managed to get back Ty's money by giving the guy one of his longhorns? Well, in this episode Ty made it his mission to get Jack his cattle back. And he needed Caleb's help to do that.
At the start of the episode, we saw Ty and Caleb drive past Dave's house. So Ty decided to stop by and try to buy the longhorn back. However, Dave wasn't having any of it, so Ty needed another plan. Luckily, Caleb had one. When he was at the rodeo grounds Caleb spotted an animal that looked eerily similar to Jack's longhorn, bought it and decided to switch it with Jack's cattle. So when the night fell the two men drove to Dave's house, did the switcheroo and surprised Jack with his longhorn.
It was a super funny sequence on its own. But more than that it also both showcased Ty and Caleb's bromance. As well as how much Ty respects Jack. So much so that he committed a felony just to get Jack his longhorn back. Which warms my heart and makes me wish for more Ty and Jack and Ty and Caleb scenes.

The naming ceremony
While the third big storyline of Heartland season 11 episode 18 was all about Lyndy and her naming ceremony. Because as we all know, each Heartland family member has their own fireplace stone. And it was time Lyndy got hers as well.
The ceremony itself was beautiful and the perfect way to end the season. Because it featured all of Heartland's family members together in one place, happily celebrating each other and their family. However, the events that happened during and around it made even more special.
Before the ceremony, we saw Amy doing liberty work with Spartan, trying to teach the horse a new trick for Lyndy's naming ceremony. Because she remembered her mom doing a trick for her own naming day as well. And Amy ended up showing the trick to her daughter and the rest of the Bartlett-Fleming-Morris-Borden clan, making the occasion that much more meaningful and memorable.
We also saw Tim finally getting the all clear from his doctor, because the shadow on his brain was officially gone. And he shared that news right after the ceremony. Which gave the family one more thing to celebrate.
Georgie's win, of course, also wasn't forgotten. And Jack and the rest of the family honored her with a toast, congratulating her on her perseverance which led Georgie to her win.
But probably my favorite part of the whole thing was the fact that Lisa finally got her family stone as well. Which truly fortified Lisa's place in the Heartland family. And which frankly was long overdue.
Last thoughts on Heartland season 11 episode 18
This Heartland season 11 finale truly felt like a win for the whole Heartland family. Because all the challenges that the characters faced this season and all the things that happened seemed to culminate in this episode. And I am so glad that they decided not to finish off the season with a cliffhanger, but with a beautiful moment with the whole family being together and celebrating.
Mainly because a show like Heartland doesn't need cliffhangers to keep its fans engaged and watching the show. Every Heartland fan knows how special this show is. And no matter if there is another season or not, we will still keep loving Heartland for the show that it is.
---
RELATED: Heartland Season 12 Episode 1 Review
---
That being said, I really do hope that there is a season 12. Because still to this day Heartland writers manage to come up with new storylines for us to connect to and enjoy. Which is why there needs to be a twelfth season, so Heartland can bring us even more heartfelt and beautiful stories. And even more family-friendly content.
But while we wait for season 12 news, let me know what you liked about the Heartland season 11 finale the most! Which was your favorite moment of the episode and of the season? And what do you want to see happen in season 12? Let's get the conversation going. It might just bring us one step closer to season 12!
Episode highlights:
• Amy doing liberty work with Spartan
• Ty and Caleb's friendship
• Georgie rushing to Dylan after his fall
• Ty trying to get Jack his longhorn back
• Amy saying that she's going to miss Georgie if she moves to New York
• Lou and Mitch flirting
• Caleb and Ty hatching a plan to get back Jack's cattle
• Georgie turning down Val's offer of riding Flame in the Fall Finale
• Amy explaining to Ty what she remembers about her naming ceremony and Ty teasing her about it
• Jack's pep talk to Georgie
• the scene with Ty and Caleb switching the longhorns
• Tim finding out that the shadow is gone and he's healthy
• Ty surprising Jack with his longhorn
• the whole family gathering to support Georgie in the Fall Finale
• Wyatt calling to wish Georgie good luck
• Georgie winning the Fall Finale
• Wyatt saying that he shouldn't have given Georgie the ultimatum and shouldn't have driven away
• Georgie deciding to stay in Heartland
• Jack's speech at the start of the naming ceremony and the ceremony itself
Episode low points:
• Tim pushing Georgie to take Val up on her offer
• Amy being apprehensive about Lisa getting her stone on the same day that Lyndy will get hers
Quote of the episode:
Caleb: "You're crazy!"
Ty: "Maybe. Are you in?"
Caleb: "Absolutely."

---

Jack: "This year has been a pretty crazy ride for all of us. It's been a year of some huge highs and some deep lows. It's a year that threatened to tear us all apart. But instead, I believe it brought us together. And we're here today to celebrate family. It's a family that continues to grow. We're all gathered here to officially welcome Amy and Ty's daughter. Now, what started out as a Bartlett tradition has, well, it has become a Bartlett-Fleming-Morris-Borden tradition. And it is as unique as the child we're celebrating. So now, let's welcome this beautiful baby and bless her with her name and a stone of her own."