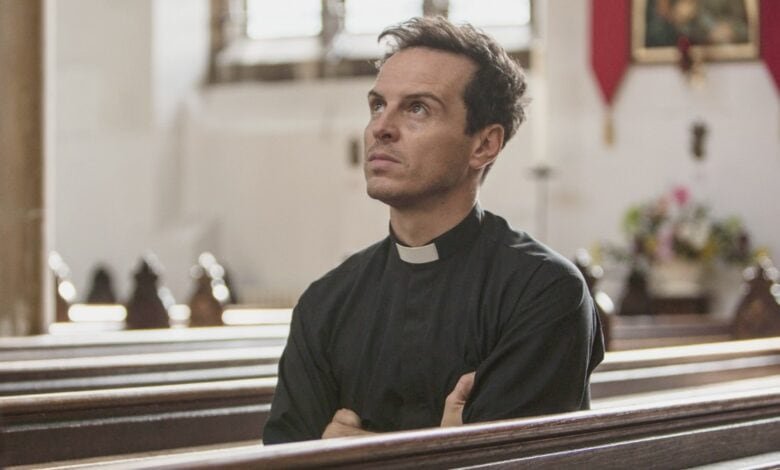 If you were raised as – or still are a practicing Catholic, you'll be all too familiar with how central the role of a priest is in shaping your faith.
You can learn so much about religion in what you read or study in classes and Sunday school, but it's the priests who drive the point home during their sermons (at least, that was the case for the younger me who was surrounded by religion).
There are many aspects of religion that a priest dabbles in.
Most of the time, we see them in the context of holding Mass, but there are a lot of other rituals that a priest can be part of.
In this list of the best TV shows about priests, we'll catch a glimpse of some of these roles – from community leader to crime investigator and even as an exorcist!
So sit back, grab that bread and wine (if you know, you know!), and let's get cracking on these TV shows about priests.
Father Brown, BBC One (2013 – present)
We mentioned priests acting as crime investigators as well, and we're starting off this list with just that!
BBC One's Father Brown is loosely based on G. K. Chesterton's short stories; it has the eponymous main character, a Roman Catholic priest, as a crime-solver as well!
Set in the 1950s as England fights to recover from the war, Father Brown assists the local police – much to their chagrin – in solving the murder cases that occur within his parish, with the help of his own parish secretary.
Using his experience as both a priest and a veteran in the war, he leans more towards compassion and rehabilitation instead of punishment in strict accordance with the law.
Grantchester, ITV (2014 – present)
ITV's Grantchester is quite similar to the aforementioned Father Brown in many ways, most notably in its early 1950s period setting and its mystery, crime thriller genre.
The show's title is a reference to the real-life Cambridgeshire village where the series is set.
It follows the Anglican vicar Sidney Chambers, who was also a member of the Scots Guard during WW2, as he teams up with Detective Inspector Geordie Keating (himself a WW2 veteran) to solve crimes in the eponymous Grantchester.
Their methods are different but complementary, as Keating's methodical training is softened by Chambers' more intuitive approach.
In later seasons, Chambers is replaced by his successor, Reverend William Davenport.
The Young Pope, Sky Atlantic/HBO/Canal+ (2016)
Who is the Pope but a priest on a larger scale, right?
Instead of just one parish, the pope is basically charged with all of the believers across the world. Essentially, he is the figurehead of Catholicism.
The Italian-produced series The Young Pope follows Lenny Belardo, the former Archbishop of New York, right as he becomes the newly elected Pope Pius XIII.
As soon as he comes into the Papal Office, he begins to challenge the long since established traditions of the church, which have always been notoriously set in their ways, causing a mess both within the Vatican and outside it.
The New Pope, Sky Atlantic/HBO/Canal+ (2020)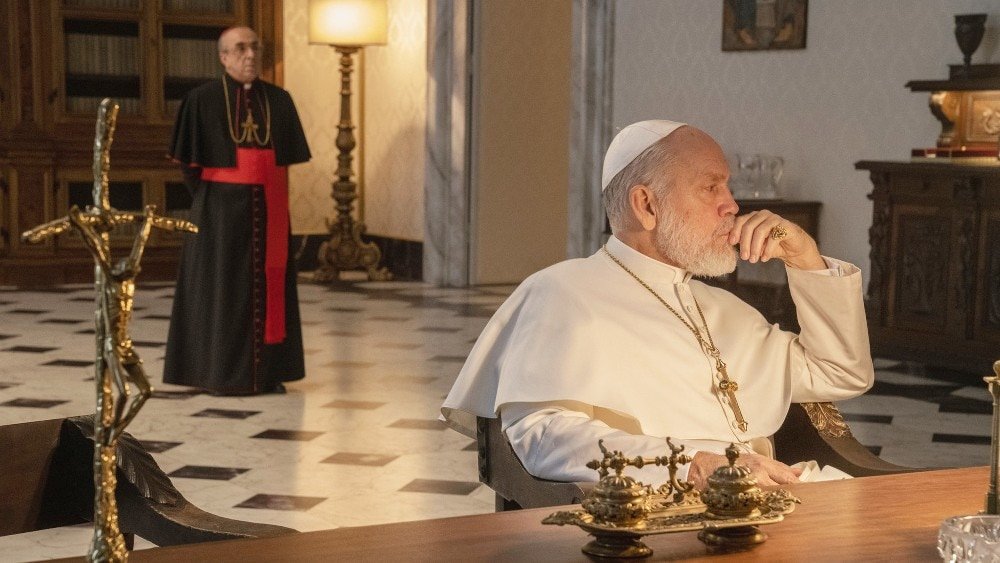 The previously mentioned The Young Pope was originally envisioned as a limited series, but news came a few years after its release of a sequel series that would continue the storyline.
In 2020, The New Pope premiered with 9 episodes, with Jude Law returning to reprise his role as Pope Pius XIII.
However, the series starts off with him still in a coma after months of failed heart transplants. This leaves a power vacuum in the Vatican that desperately needs to be filled in.
The Holy See is not immune to the drama of politics, and it's this transition between the "new pope" and those that seek the position that is laid out in The New Pope.
Broken, BBC One (2017)
Priests are often seen in the role of community leaders within their parish, and it's certainly no different with BBC One's six-episode drama series, Broken.
The series follows Michael Kerrigan, a local priest from a northern English city, who is determined to guide his parishioners along the right path despite having to deal with his own demons.
The troubling events throughout the six episodes are triggered at the onset of the series when Father Michael discovers the secret of Christina Fitzsimmons, a mother of three who lies about her mother's death in order to continue collecting welfare.
The Exorcist, Fox (2016 – 2017)
Fans of the classic horror genre may love this one; the title is a clear indication that it's part of the infamous The Exorcist franchise, and it's a direct sequel to the first movie (meanwhile ignoring all the other movie sequels).
It follows a young woman, Angela Rance, who fears that something more sinister than your average spirit is plaguing her home as well as her family.
She turns to her parish priest, a progressive leader named Father Tomas Ortega, for help, and this eventually leads to a partnership with Vatican priest Father Marcus Brennan as they purge the evil from Angela's home.
Evil, CBS/Paramount+ (2019 – present)
This supernatural drama toes the line between faith and science but strikes a balance between both that makes it hard to look away – making fans even more excited for the premiere of its third season in June 2022.
Evil follows David Acosta, a journalist studying to become a Catholic priest. Acosta is tasked with investigating the church's mysteries, including miracles, visions and sightings, and of course, demonic possessions.
To help him separate cases with a logical explanation and those with real supernatural indications, he has enlisted the assistance of Dr. Kristen Bouchard, a forensic psychologist whose natural skepticism is frequently tested in the cases they investigate.
Rev., BBC Two (2010 – 2014)
Most people from small towns and villages would be ecstatic to have the opportunity to move to a big city, but that wasn't necessarily the case for Reverend Adam Smallbone, the protagonist in the BBC Two sitcom, Rev..
He has no experience with big-city life, and this quickly becomes glaringly obvious with his new, more demanding, and problematic parishioners at St. Saviour in Hackney, East London.
No matter how annoyed he gets by those who either ignore or deride him, his doors are always open and he tries his best to guide them whenever it's needed through whatever moral dilemma they face.
The Soul Man, TV Land (2012 – 2016)
Actor and comedian Cedric the Entertainer created and starred in the sitcom The Soul Man, which aired over five seasons.
He plays the main character Sherman Boyce Ballantine, previously known as "The Voice", and he is a famous R&B superstar in Las Vegas. That is until he heard 'the calling' to become a minister!
This leads him to relocate himself and his entire family to the Midwest so he could become a preacher at his father's church in St. Louis.
Reverend Boyce is excited to start a humble life saving souls, but his wife and daughter struggle to adjust to this huge change in lifestyle.
The Fiery Priest, SBS TV (2019)
Our first international series on the list hails from South Korea.
The Fiery Priest (or, if literally translated from the Korean title, Hot Blooded Priest) is a mix of comedy and crime action and was one of the most popular series of that year thanks to various pop culture references and a stunning performance by Kim Nam-gil.
He played Kim Hae-il, a former National Intelligence Service agent turned priest who, contrary to the soft nature we expect from priests, has a short temper that he loses all the time.
After the mysterious death of his mentor Father Lee, Kim Hae-il embarks on a hilarious journey to bring down those who caused it.
Fleabag season 2, BBC Three/BBC One (2016 – 2019)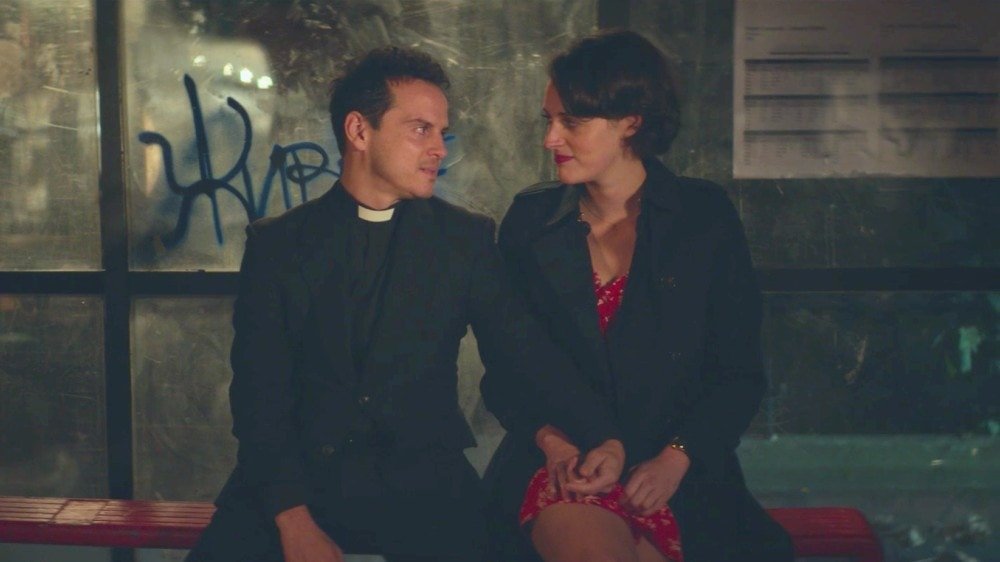 While the previous shows have put priests at the front and center, BBC's black comedy-drama series Fleabag takes a different path; in fact, the priest is a supporting character who appears in the second season.
Fleabag is the name of the title character (yes, we never actually find out her real name), who is a young woman living in London.
She's described as free-spirited and sexually active but also angry and confused – a combination that would often lead to misadventures!
The series follows her unfiltered take on life and coping with its ups and downs, which includes falling in love with a priest.
God Friended Me, CBS (2018 – 2020)
Imagine waking up one day, opening your social media accounts, and seeing a friend request from someone named "God". You'd probably think it was some sort of prank, right?
In the CBS comedy-drama God Friended Me, a friend request like this is the premise of the show.
Miles Finer was just living his life as an atheist (with a podcast about his atheism) when it's suddenly changed by a Facebook friend request from 'God' – or someone posing as him, at least.
"God" begins sending him friend suggestions of people around him who need help, which sets him on an unexpected path of changing people's lives.
Blood & Treasure, CBS (2019 – 2022)
CBS brings a little action and adventure to our list with Blood & Treasure, which takes its main characters and viewers on a trip around the world.
The series first introduces Danny McNamara, an antiquities expert and former FBI agent who now works with the law in repatriating stolen art.
When a priceless artifact and his mentor, Dr. Ana Castillo, are taken by an international smuggler and terrorist, Danny knows he can't catch him on his own.
That's when he recruits the help of renowned art thief Lexi Vaziri and the two are thrown into a whirlwind of history and intrigue – helped along by Father Chuck, a priest in the Vatican foreign ministry.
V, ABC (2009 – 2011)
One thing that you don't seem to hear about often is a priest who leaves the faith, whether of his own accord or because he's been forced to.
Though the ABC series V is science fiction at its core, Father Jack Landry is a central figure in the show's characters' efforts to bring down the Visitors, the alien species that have come to Earth to take over.
They originally came under the guise of peace, but their ulterior motives were soon revealed by FBI counter-terrorism agent Erika Evans.
Father Jack joins her alliance but this causes him to lose his status as part of the church – which they find has been infiltrated from within.
Older Priest TV Series
Father Ted, Channel 4 (1995 – 1998)
Channel 4's sitcom Father Ted ran for three seasons back in the 90s and followed the hilarious misadventures of three Roman Catholic priests who were stuck together in isolation on a fictional island off the west coast of Ireland, Craggy Island.
Viewers first meet the titular Father Ted Crilly, who has been sent to Craggy Island as punishment for misusing his church's funds (to pay for a holiday to Sin City, no less!).
The isolation is punishment enough in his eyes, but it's made even harder when he finds he has to spend it with the naive Father Dougl Maguire and the angry alcoholic, Father Jack Hackett.
Soul Man, ABC (1997 – 1998)
ABC's Soul Man is not to be confused with the previously mentioned The Soul Man, though this family sitcom does also follow a minister and family man as its main character.
In Soul Man, we meet the widowed Reverend Mike Weber, an Episcopal priest from Royal Oak, Michigan.
Reverend Mike had some hiccups of his own in his youth but now, he deals with his quirky parishioners with the (relatively pointless) assistance of his rookie curate Father Todd Tucker – who is also the bishop's nephew.
On top of that, he has four children that he's attempting to raise on his own.
Ballykissangel, BBC One (1996 – 2001)
You're probably wondering about that title, right?
Ballykissangel takes its name from the fictional setting of this BBC One drama series, which is a small and remote village in Ireland.
It does, however, have its origins in a real-life Irish townland called Ballykissane! In a town this small, everyone knows everyone and everyday life unfolds between either the church or the pub.
The series follows Father Peter Clifford, who has just arrived at Ballykissangel from Manchester and knows that there will be challenges to adjusting to rural life.
Though seemingly unwelcome, Father Peter immediately sets about to get to know his eccentric parishioners.
Father Dowling Mysteries, NBC/ABC (1989 – 1991)
Similar to BBC's Father Brown (and in fact heavily influenced by the novels it's based on) is the American crime drama series Father Dowling Mysteries, though this came years before and ran for just three seasons.
The title character Father Dowling is a Catholic priest who, apart from providing guidance to his Chicago community, also assists its local law enforcement in solving crimes and mysteries in the area.
Helping Father Dowling is the streetwise nun Sister Steve, whose knowledge of the language and culture on the streets is integral to their investigations.
Cadfael, ITV (1994 – 1998)
The shows on this list so far have been concerning priests in the modern era, but ITV's Cadfael takes its viewers back to the 12th century in England!
The show's title is a reference to its main character Brother Cadfael, a monk and detective living in Shrewsbury's Benedictine Abbey.
The characters and stories in the series are based on The Cadfael Chronicles, a series of books written by Ellis Peters.
Though there are some departures from this source material, each episode of Cadfael shows Brother Cadfael investigating and solving a local mystery.
In the Beginning, CBS (1978)
This American sitcom from CBS premiered in the tail-end of the 70s but sadly, was canceled after just five of its original nine episodes had aired.
Like many of the shows on our list, In The Beginning follows a duo composed of a priest, Father Cleary, and a nun, Sister Agnes – the former of whom is described as conservative while the latter is streetwise and much more liberal.
This contrast in personalities may cause disagreements between them, but they still made a good team in running the mission in Baltimore that they opened up together.
Paradise Postponed, ITV (1968)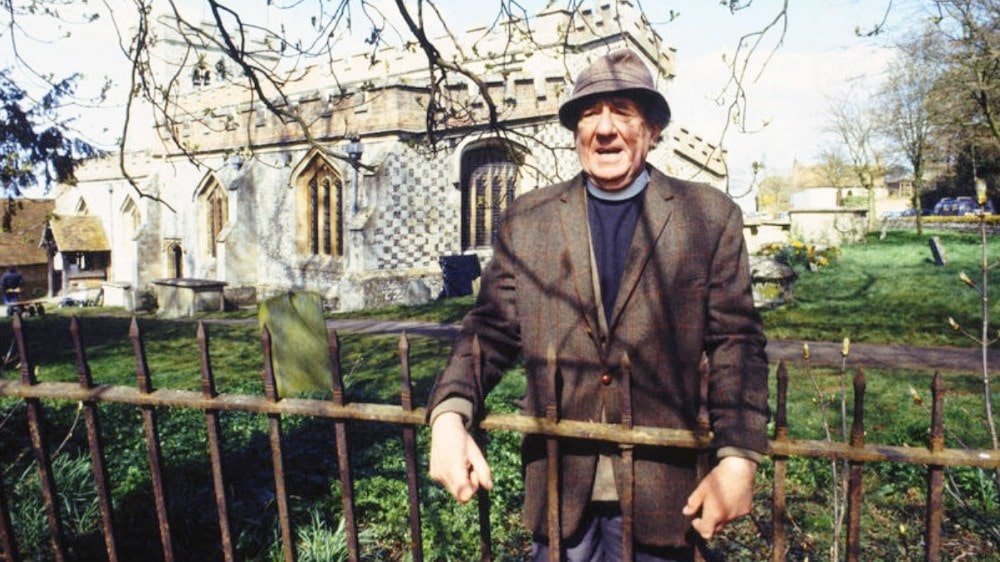 ITV's Paradise Postponed is another that is based on a novel, this time John Mortimer's 1985 book of the same name.
It also brings another perspective as it puts the priest, its central character, more under the spotlight of his life as a regular man as told by others.
Reverend Simeon Simcox is known for supporting Socialist, left-wing causes so it comes as a great surprise when, upon his death, his family learns that his estate was bequeathed to his accountant's son, a conservative cabinet member.
Paradise Postponed thus narrates this mystery as it's investigated by the Reverend's two remaining sons.
The Vicar of Dibley, BBC One (1994 – 2020)
The Vicar of Dibley is a unique series in more ways than one.
Firstly, the available seasons are structured quite differently; there are only three full seasons that ran from 1994 to 2000 but in between those and well after, several special episodes were released that include a four-episode 'lockdown' special in 2020!
Secondly, The Vicar of Dibley follows a female vicar in the fictional town of Dibley!
Reverend Geraldine Granger is lively and outgoing, and she's determined to win over her very traditional parishioners while remaining true to her beliefs.
Hell Town, NBC (1985)
Some neighborhoods just need guidance from priests with a certain kind of personality and grit, someone who can handle the tough stuff without batting an eyelid.
In NBC's Hell Town, Father Noah Rivers is sometimes referred to as "Hardstep" – and with good reason.
Not only had Father Noah grown up in this East Los Angeles neighborhood that he was now in charge of, but he also had his own history of hardships as a former criminal that allowed him to connect with his more troubled community members.
The Thorn Birds, ABC (1983)
The Australian four-episode miniseries The Thorn Birds is Colleen McCullough's 1977 novel of the same name.
It's set in the early 1900s, at a sheep station in the Australian outback.
When Meggie Cleary and her family move in, an attraction develops between her and Father Ralph that forces the latter to make a tough decision: either leave the church and his ambition to rise in its ranks or leave Meggie.
Though he seems to have made his choice, this is one that he finds himself needing to make time and time again over the years.
Nothing Sacred, ABC (1997 – 1998)
Despite criticism for favoring a more liberal portrayal of the church, the ABC drama Nothing Sacred won several awards and praise for truthfully portraying how complex the modern faith actually is.
Though with a penchant for gambling and alcohol, Father Francis Xavier "Ray" Reyneaux strives to guide his church despite his own shortcomings.
Occasionally, this includes a hiccup in his own faith, but he himself is also guided by the fellow men and women of faith around him.
Going My Way, ABC (1962 – 1963)
Going My Way is based on the 1944 film of the same name, with both old characters and new ones appearing in the series adaptation.
Gene Kelly, in his first and only foray into television, plays the protagonist Father Chuck O'Malley, a Roman Catholic priest who has just been transferred into the St. Dominic's Parish in a less privileged neighborhood of New York City.
His unconventional ways are not immediately accepted, but the episodes cover his efforts to not only connect with the congregation but also with Father Fitzgibbon, the elderly and traditional pastor.
Sarge, NBC (1971 – 1972)
We're capping off our list with another crime drama series from NBC, Sarge.
This time, we're at the St. Aloysius Parish in San Diego, California and we follow Father Samuel Cavanaugh, who is also known as the titular Sarge.
In his youth, he had studied to become a priest but had to leave for military service in WWII. He then served as a homicide detective for nine years but returned to the priesthood after his wife's murder.
Now, he uses his experience to guide the congregation to deal with the troubles of living in a big city.