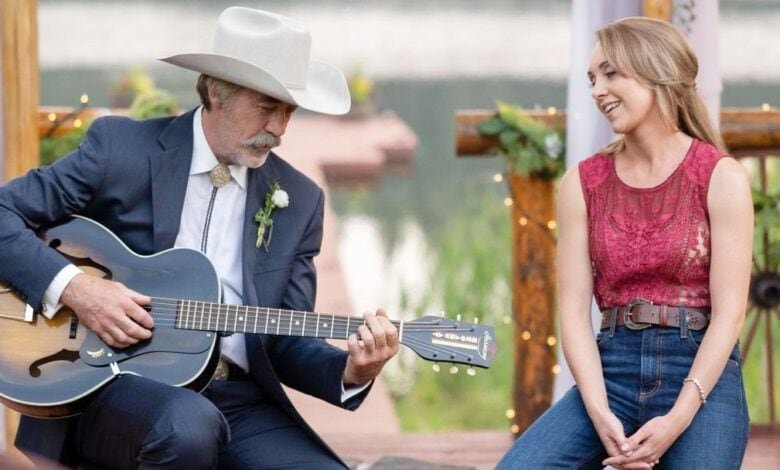 In this episode of Heartland, we finally got to witness the long-awaited wedding party for Tim and Jessica that saw the return of some old friends and the family coming together to celebrate the new couple.
But, of course, it wasn't without its difficulties.
What hurdles did Tim and Jessica have to overcome to get to their big day? And how did the celebration turn out?
Keep on reading this recap of Heartland season 15 episode 6 and find out!
There will be spoilers in this summary, so consider yourself warned!
Tim the bridezilla
The main storyline of this episode revolved around the party Tim and Jessica decided to throw to celebrate their marriage with the whole Bartlett-Fleming clan.
In the last episode, we saw that Jessica was reluctant to have this party in the first place. But she eventually agreed to it. Yet, as this episode went on, Tim's plans for the party got bigger and bigger, but Jessica's hesitation towards the party grew as well.
Everything started out fine – Tim was planning a small get-together for just the family where they would eat, drink and have good conversation. Yet while passing a jewelry store in town, Tim bought Jessica an engagement ring and wedding bands for the two of them.
So, with the engagement ring in hand, Tim made a grand gesture and proposed to Jessica again, in front of the whole family. And things only snowballed from there.
Then Tim asked Jack to be his best man. Which turned into Tim asking Jack to write him and Jessica a song from the melody that's been running around Tim's head.
Jack, of course, tried to let Tim know that his plans are starting to slowly get out of hand. And that Jessica, being that she didn't want to make a big deal out of this party in the first place, might not want all the fanfare that Tim's planning.
Jack: "As your best man, I feel I need to share something with you. It's not always time for Tim. This party is not all about you and neither is marriage. Marriage is a compromise, it's meeting your wife halfway. I think you need to have a refresher course on that."

But Jack's wisdom fell on deaf ears. So, when Katie and Lyndy asked to be their bridesmaid and flower girl respectively, effectively letting Jessica know that the small party is quickly turning into an actual wedding, Jessica snapped.
Back in their loft Jessica asked Tim to call off the party entirely.
A family affair
Luckily, Jack came to the rescue. And after a conversation with Jessica where Jack convinced her that Tim is doing all this because he loves her, Jessica decided that a small family wedding wouldn't be so bad after all.
Jessica: "I'm a little overwhelmed, Jack."
Jack: "Yeah, I know. But I gotta say, I've never seen Tim so happy, and that's because of you. He just wants everyone else to know, too. Yes, he has his failings and his weaknesses but, you know, when it matters, he's all in and this matters to him a great deal. See, Tim didn't come from a big family. He married into this one, and despite a tonne of things he's become a very important part of it."
Jessica: "I'm an only child so I don't have a lot of family either. My parents split when I was pretty young so I saw first-hand how a marriage can go south and this is all just a little new to me and scary."
Jack: "Well, the good news is, you're not alone. You got the entire clan in your corner now. And Tim. Always"

So, Jessica bought herself a white dress and asked Lou to be her maid of honor.
The two newlyweds talked it out and the wedding was officially a go.
Tim: "Let me make something clear. The reason that I've gone so overboard… With the exception of Lou and Amy's mother, Marion, I have never, ever truly wanted to wear another wedding band. And now I really wanna wear a wedding band. I can't wait to wear a wedding band. And I just wanna tell everybody important to us. Everybody I love. I want them to know it, I want them to see it."
Jessica: "I can't wait to marry you again."

It was a small but beautiful affair at the Dude Ranch. Even Jade and Caleb came out for the celebration and after the wedding vows everybody danced the night away.
Tim gave Jessica her wedding present – the horse Amy and Logan gentled for Jessica.
And the night ended with Jack and Amy singing the song Tim asked Jack to write for him and Jessica.
You belong, too
On top of everything Tim was doing while planning the wedding party, he was also bugging Amy to finish working with the wild horse she was gentling for Jessica so Tim could give it to Jessica as a wedding present.
That, of course, was a tall order, since gentling a wildy is a slow process that can't be rushed. But, as Tim said, he had faith in Amy that Amy could do it.
And she did. With the help of Logan, of course.
Right from the beginning of Heartland season 15 episode 6, we saw Amy working with Jessica's wildy, and she was making good progress.
From getting the horse to trust her and Logan to putting on the saddle pad, saddling the horse, and finally riding it, the wildy was doing better and better with each new element Amy and Logan introduced the horse to.
And during Tim and Jessica's wedding, we saw Amy riding the wild stallion to the Dude Ranch and officially handing it over to Jessica.
However, the end of the process of gentling the wildy doesn't mean that the blooming partnership between Amy and Logan is done, too.
Logan: "Look at this guy. Loving his new family, his new home. He belongs."
Amy: "Logan, hey… you belong, too. You really think I'm just gonna let a great horse trainer walk away?"
Logan: "Well, I mean, if you're smart, you won't."

It seems like it's the opposite, actually, because at the end of the episode we saw Amy letting Logan ride Jessica's wildy back to the horse's new home – Heartland. Which seemed pretty symbolic and, hopefully, means that eventually, Heartland will become Logan's home as well.
Making the right choice for everyone
Tim and Jessica weren't the only ones who were feeling all lovey-dovey in this episode. In fact, it was Lou and Peter, not the newlyweds, whose rekindled romance was shining the brightest in Heartland season 15 episode 6.
At the start of the episode, we saw Lou go to the Dude Ranch to visit Peter only to find the cabin empty. After the kiss they shared at the end of the last episode, they still hadn't properly talked. So, Lou was fearing the worst – that Peter changed his mind and took off.
But that couldn't be further from the truth.
Peter just went on a Maggie's run and the two had all intentions of talking through their feelings right then and there. However, they got distracted by each other.
And it continued like that for the whole episode.
Whether it was Jessica interrupting them at Lou's office or the two getting carried away by their resurfaced feelings, Lou and Peter didn't seem to manage to have the conversation they desperately needed to have.
And each time their talk got postponed, Lou grew warier of just jumping into a relationship with Peter again without considering the repercussions. Both of her own volition and because Amy warned her to know what she's doing before taking things any further.
So, by the time Lou and Peter did have their much-needed talk, Lou had ample time to think things over. And she admitted to Peter that she needs time to figure out if getting back together is, indeed, the right step for not just her, but also for their daughters.
And despite Peter still being in love with Lou and wanting to be with her, he respected Lou's stance and promised her that he will be there the second she decides on what she wants to do.
Lou: "I just have to make sure it's the right choice for everyone, not just me. That I'm not just being selfish."
Peter: "Okay, well, I just need you to know that I am a hundred percent certain that this is the right choice for everyone involved. Because we've been through that, right? We're not gonna make the same mistakes twice. I know this is gonna work. I'm just not sure that you do, yet."
Lou: "I don't. I'm sorry."
Peter: "Okay, when you're ready, you just let me know and I'll be with you in a heartbeat."

I really hope that by the time this season is over, Peter and Lou will officially be back together. But I also understand where Lou is coming from.
I mean, their marriage failed once, so, this time around, Lou has to be smarter and really see it working out before she commits to Peter again. Because if not, they risk hurting Katie and Georgie by getting back together and breaking up again.
What do you think? Do you want to see Lou and Peter get back together this season?
Caleb's wise words
I really loved that they brought Caleb back for Tim's wedding to Jessica. I mean, it would be a bit weird that he wasn't there. After all, Caleb is Tim's business partner.
But it was really nice to see him there. First of all, being there for Amy who was attending her first wedding after Ty's death. But also dishing out some great advice to Peter and Jade, who was also in attendance.
First, Caleb chatted up Peter and told him that he can see something being there between Peter and Lou and that Peter should just go for it.
After all, that time they babysat their kids together (on Heartland season 14 episode 6) Peter had said to Caleb that he hopes Caleb will never have to share his kids with another guy. And now Peter has a chance to have that.
And then Caleb helped out Jade who was struggling with something, too.
When Caleb asked Jade why she wasn't enjoying the festivities, Jade admitted that she feels like a stranger there. That she doesn't really has a life outside the rodeo and doesn't quite know what to do with that.
Jade: "I feel like a stranger. Obviously, I've been on the circuit for way too long and all I gave to show for it are a few buckles. I'm the only woman competing against the boys, and I'm winning. It's just, it's tough. None of the guys will talk to me. It's like I'm operating on the edge."

On top of that, Tim's wedding also made Jade feel lonely because it seemed like everybody's in love except her.
Fortunately, Caleb decided to cheer Jade up by dancing with her. And not only promised that the right partner will come along eventually but also showed that she does have way more to show than just some belt buckles – she has her found family.
Caleb: "Alright, let's you and I dance. Just until the right partner comes along. And you know what? He will. Look around you for a minute. See all this? This is your clan. You have a lot more to show than just a few buckles."

Does that mean that Jade might be coming back to Hudson, soon, and integrating herself back into the lives of her Heartland clan?
I sure hope so, because she has always been a fun character to have around.
Last thoughts on Heartland season 15 episode 6
For those of you wondering where Georgie was on Tim's big day, Lou provided another update on her eldest daughter's whereabouts during family dinner.
It turns out, Georgie wasn't present for Tim's nuptials because she couldn't get out of a jumping competition. Meaning that Georgie is still in Florida training and competing.
---
---
Lastly, it was also cute to watch Parker's crush on Logan still going strong.
From talking to him while Logan and Amy worked on the wildy to dancing with him after Jade turned Logan down and asked him to dance with Parker, it was really sweet for Parker to pine after the older boy.
First crushes can be so all-consuming, so it will be interesting to see where Parker's crush will take her now that it looks like Logan is staying around.
Promo for Heartland season 15 episode 7
And here's the promo for the next episode:
Heartland episode 1507, titled "Bluebird", is directed by Lou Fleming herself Michelle Morgan and will see Amy and the rest of the family deal with the man who shot Ty coming back to town. As well as Lou being away and Jessica picking up the slack at the Dude Ranch only to have to deal with a difficult guest and enlisting Katie and Parker to assist her.