Foreign language television is a territory that's largely unexplored, regardless of genre.
It's really a shame when you consider how many great TV shows are non-English!
In this list, we're tapping into the dramatics of the Italians in their crime and detective series!
Gomorrah, Sky Atlantic (2014 – 2021)
Would it really surprise anyone that the first show is centered on a mafia-type criminal organization, called the Camorra?
Gomorrah (Gamorra – La serie in its original Italian), a crime drama that aired over five seasons, is loosely based on Roberto Saviano's book of the same name.
While a film was also made, the two are not related.
The series revolves around Ciro Di Marzio from the Camorra's Savastano clan, who finds himself in the middle of a war between their clan's families, other criminal groups, and their rivals in Naples when the patriarch is arrested.
Thou Shalt Not Kill, Rai 3 (2017 – 2018)
Detective drama Thou Shalt Not Kill (Non Uccidere) is a two-season series starring beauty queen and model Miriam Leone in the leading role of Inspector Valeria Ferro.
Valeria and her team investigate murder cases in Turin that center on family crimes, which is often a trigger for her to recall her own troubled family past.
Her mother was convicted of murder when she was a child by the very same police department she works in now, and this often causes lines to blur between her personal and professional relationships.
ZeroZeroZero, Sky Atlantic (2020)
Roberto Saviano adds another to the list with the TV adaptation of his novel, ZeroZeroZero, with the series airing with just eight episodes.
The crime drama is a fictional study of the cocaine business and tracks a particular drug shipment across continents, mapping out the people and organizations involved along the way.
The 'Ndrangheta, a powerful Italian mafia crime organization, is the buyer of a shipment from Mexico that is delayed and rerouted due to internal power struggles within the syndicate, which have more far-reaching consequences than they expected.
Suburra: Blood on Rome, Netflix (2017 – 2020)
Suburra: Blood on Rome (Suburra – La serie) was based on the 2015 film Suburra, which also took its inspiration from Giancarlo De Cataldo and Carlo Bonini's novel of the same name.
It was Netflix's first Italian-language original series, and it ran for three successful seasons.
Taking place in Rome, Suburra: Blood on Rome maps out the underground relationships between the heads of organized crime syndicates, politicians, and even members of the church.
It explores the corruption between them that fuels the crime industry further, based on real-life events surrounding the Mafia Capitale investigation.
Inspector Montalbano, RAI 1/RAI 2 (1999 – 2021)
The first long-running series on the list is the police procedural Inspector Montalbano (Il commissario Montalbano), starring Luca Zingaretti in the eponymous lead role.
The series ran for 15 seasons before ending in 2021, and even spurred its own spin-off!
Of course, it follows Inspector Salvo Montalbano as he solves crimes as the police chief of the local station in the fictional town of Vigàta, Montelusa located in Sicily.
Alongside his team and external help from a journalist, a friend from a neighboring town, and even personal relationships, Montalbano is able to reconstruct crimes and solve them.
The Young Montalbano, Rai 1 (2012 – 2015)
As previously mentioned, The Young Montalbano (Il giovane Montalbano) is the spin-off from the series Inspector Montalbano, both of which were based on Andrea Camilleri's series of detective novels, although at two seasons it was much more short-lived than its predecessor.
It is a prequel series and begins when Montalbano is still a deputy inspector in the Sicilian mountains taking on tough cases left and right.
After he is promoted and transferred back to his hometown of (fictional) Vigàta, we meet several characters who remain throughout Inspector Montalbano as well!
Inspector Nardone, Rai 1 (2012)
Inspector Nardone (Il commissario Nardone) is a miniseries that aired over just 12 episodes back in 2012.
Locals may be familiar with the name as it is, indeed, based on the real-life events in the life of Mario Nardone, a public figure and police officer known for solving Milan's high-profile cases.
Thus, the series follows how he was transferred to Milan, a move that began the rise in his career.
Many of the violent crimes throughout the city in the 1950s fall into the lap of Nardone and his team, and it's up to them to clean up the streets.
Inspector De Luca, RAI (2008)
Inspector De Luca (Il commissario De Luca) is another show based on a series of novels, this time Carlo Lucarelli's trilogy surrounding the titular main character, Inspector Achille De Luca.
Though fairly recently aired, the series is set between 1938 and 1948 in Bologna, against the background of Italy's Fascist and post-World War II era.
In such a difficult and political period in their history, Inspector De Luca is known to be of upright morals, determined, and principled, with a goal of seeking only the truth without bias for either side of the political spectrum.
Donna Detective, RAI (2007 – 2010)
Sometimes, being too good at your job can lead to consequences that you simply weren't prepared for.
Senior Detective Lisa Milani learns this the hard way in Donna Detective, after she requests to be transferred to a smaller town to spend time with her family.
However, her reputation of skill and competence follows her and she is instead put in charge of an entire investigative squad charged with solving cases of murder and serious crimes.
Now, she must juggle the hardships of her career with being a wife and mother.
Commissioner Manara, Rai 1 (2009 – 2011)
Commissioner Manara (Il commissario Manara) is a spin-off of the popular Italian series Una famiglia in giallo, where the now titular main character Luca Manara appeared in a small role through his interpreter!
Now, Commissioner Manara is placed at the center, where viewers get to know him further as the unorthodox playboy of a detective, whose charm and flirty ways may be the cause of trouble at the police station, but they can't deny that it also comes in handy quite often when solving a case!
Rocco Schiavone: Ice Cold Murders, Rai (2016 – 2021)
We've got another unorthodox detective at the center of Rocco Schiavone: Ice Cold Murders, a four-season crime drama.
State Police deputy commissioner Rocco Schiavone is cranky and foulmouthed, which has led the higher-ups to take disciplinary action by moving him from Rome to a remote Alpine town called Aosta.
It doesn't help his personality that he already hates the cold and snowy mountains, but that doesn't prevent him from solving every case that drops into his lap – and being damn good at it, to boot.
Maltese: The Mafia Detective, Amazon Prime Video (2017)
Another running theme in many of the Italian crime shows on this list is the transfer – whether voluntary or involuntary – from the police force in Rome to another town or city.
In Maltese: The Mafia Detective (Komisario Maltese), it's a case of the former; police chief Dario Maltese decides to leave Rome for his hometown of Sicily after a tragedy involving his best friend and current commissioner of the local force.
This leads to Maltese diving into an investigation of the Mafia and how deeply rooted their influences truly lie.
Inspector Rex, ORF/RAI (1994 – 2015)
Inspector Rex (Il commissario Rex) is a joint Austrian-Italian production that features a main character you probably wouldn't expect – a German Shepherd police dog!
It's originally set in Vienna, Austria before moving to Rome in the later seasons, and it follows the adorable and intelligent Rex, whose function is a cadaver and sniffer dog that helps the team solve crimes involving murder, drugs, and other forms of contraband.
Despite many changes in the team, Inspector Rex remains the loyal and reliable eyes and ears of the police force.
Inspector Coliandro, RAI 2 (2006 – 2021)
Though having run over many, many years and eight seasons, the black comedy crime series Inspector Coliandro (L'ispettore Coliandro) has just little over 30 episodes, so it's an easy binge!
The titular Coliandro is stubborn and not very well-liked at the local station, which often leads to his superiors disciplining him or brushing off his real efforts to solve cases.
This is especially the case when he (often) oversteps into his colleagues' cases, even when he is the one to solve them successfully!
Bang Bang Baby, Amazon Prime Video (2022 – present)
Marisa Merico's novel L'intoccabile has been adapted into the Amazon Prime Video crime drama series Bang Bang Baby!
At the center of the series, set in the 1980s, is a teenage girl named Alice, who has been nothing but a shy and awkward small-town girl her entire life.
That is until she is overcome with determination to win the love of her father.
Suddenly, Alice becomes embroiled with one of the most dangerous criminal organizations in the world and uses her love for pop culture, music, and imagination to cope with her new life.
Carlo & Malik, Rai 1 (2018 – present)
Inspector Carlo Guerrieri is a hardened policeman whose upbringing and experience in the industry has caused him to become rebellious, prejudiced, and downright stubborn.
Malik Soprani, on the other hand, is an immigrant from Ivory Coast who was adopted and raised in Italy; now, he has joined the police force and is known to be both ambitious and brilliant.
Carlo & Malik is a gripping crime drama that shows how people can change and get over biases when they learn there's more to a person beneath the surface.
Don't Leave Me, Rai (2022)
From the creators of the previously mentioned Gomorra and ZeroZeroZero comes another spectacular crime drama, Don't Leave Me (Non mi lasciare).
The eight-episode series is set in Vienna, where a young boy's body is found in a local lagoon.
The discovery prompts Elena Zonin, a police officer with expertise in cybercrime and crimes against minors, to return to the hometown she had left twenty years ago.
While confronting her past and trying to move on in the present, Elena races to find the monster before they strike again.
The Silence Of Water, Canale 5 (2019 – 2020)
The popular Italian crime drama series The Silence of Water (Il silenzio dell'acqua) was also picked up for distribution in France thanks to its large viewership in the millions within just its first episode!
It's a series showing that just because a small town seems peaceful to outsiders, that doesn't mean it isn't hiding its own dark mysteries beneath the surface.
In this small seaside village near Trieste, a young teenage girl suddenly disappears. Thus begins an investigation that slowly begins to uncover the secrets the community has been hiding.
Blanca, RAI-1 (2021)
Blanca is certainly a series set much apart from the others, if only because of the rare choice of skills that the protagonist holds!
The eponymous Blanca Ferrando lost her eyesight when she was just a child, but that doesn't deter her eventual dream to become a police woman after an abusive boyfriend kills her sister.
Now, she has fully claimed her loss of sight as a power that she uses to solve cases, instead utilizing an 'analytical listening technique' that allows her to decode clues from audio.
Fog and Crimes, Rai Uno (2005 – 2009)
Fog and Crimes (Nebbie e delitti) is inspired by Valerio Valesi's best-selling crime novels and aired over just two seasons.
The series follows Inspector Franco Soneri, whose reputation and passion for the job make him well-equipped to lead a team in solving complex cases.
However, his brusque and frankly rude personality also makes him one of the most difficult to work with.
While this helps his team get to the hard-buried truth, it also sows discord with external parties that may be detrimental to the case.
Zen, BBC One (2011)
BBC One's Zen is the first English-language series on the list, although the series is filmed on location in Italy (as the primary setting of the novels by Michael Dibdin it is based on).
Each of the miniseries' three episodes is about 90 minutes long and together, weaves a compelling story about Detective Zen's thorough investigation of a murder, a mysterious death, and a kidnapping while battling pressure from his boss, politicians, and his personal life.
Criminal Novel – The Series, Sky Cinema 1 (2008 – 2010)
Criminal Novel – The Series (Romanzo criminale – La serie) is originally based on Judge Giancarlo de Cataldo's novel of the same name, and was also an adaptation of the 2005 film Romanzo Criminale.
At its core, however, it is still based on real-life events and people: the Banda della Magliana (and its three leaders).
This was a criminal organization active in the 1970s that was a combination of local gangs into one mafia-like group, and their exploits are explored further in this drama series.
Anti-Drug Squad, RAI 1 (2011)
Revenge can be a powerful motivator for success, and this is something viewers will see clearly in the crime drama Anti-Drug Squad (Caccia al re – La narcotici).
Here, we meet Detective Daniele Piazza, who is newly put in charge of the agency's narcotics division.
13 years prior to this, we learn that his wife was killed in a hit-and-run that ties back to one of the country's biggest bank heists.
Piazza discovers the organization that was behind it and vows retribution for his wife's death.
The Miracle, Sky Italia (2018)
The Miracle (Il Miracolo) is deeply shrouded in mystery, and the religious undertones adds that additional touch of drama and intrigue.
In the hideout of a mob boss lies a statue of the Virgin Mary that ceaselessly weeps blood.
Four individuals have discovered its existence and their lives are changed forever.
Even those involved in the case and are trying to gain answers soon find their lives flipped on its head in the wake of the miracle.
The Mafia Kills Only in Summer, RAI (2016)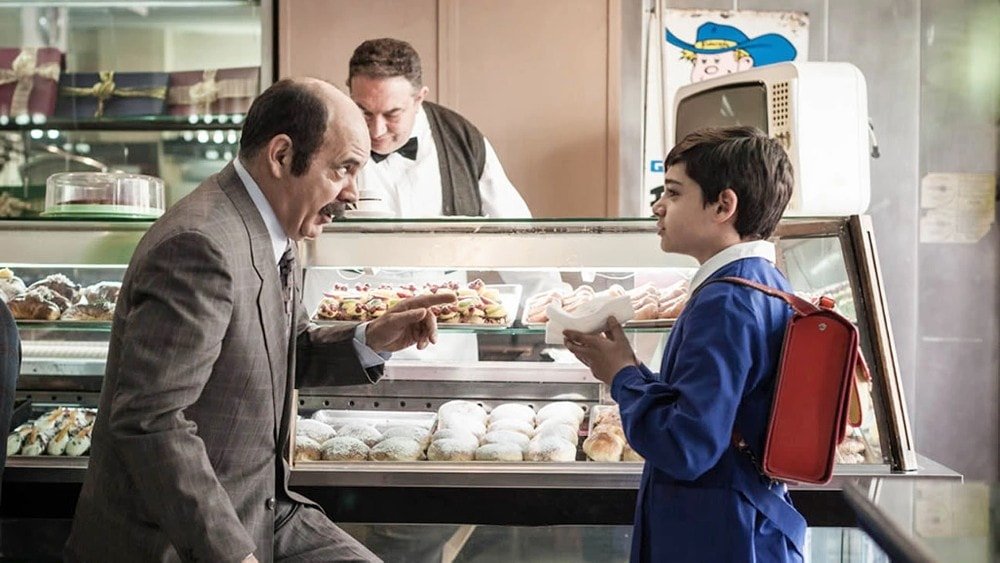 The Mafia Kills Only in Summer (La mafia uccide solo d'estate) is a series adaptation of the 2013 film of the same name.
Being set over the span of just two years, the series begins in the late 1970s and is told from the perspective of a 10-year-old boy from an ordinary family in Palermo.
Amidst the narration of his life, stitches of real-life history are seen in the development of Palermo and the fall of the Sicilian Mafia.
The Boss of the Bosses, Canale 5 (2007)
The Italian six-part crime miniseries The Boss of the Bosses (Il Capo dei Capi) tells the story of Salvatore Riina, a mob boss and ruthless head of the Sicilian Mafia in the 90s known for his brutal and violent murder campaign.
But how much do we know of the circumstances that led to this?
The series begins with Salvatore's poverty-ridden childhood in the 1940s and eventual rise through crime and finally ends with his arrest in 1993.
The Octopus, RAI (1984 – 2001)
The Octopus (La piovra) continued over almost 20 years, airing 10 seasons in that span of time.
It was widely praised and is considered one of the most well-known Italian series in the world!
This political drama is a deeply intricate, and more importantly, realistic depiction of the roots of organized crime throughout the country and the world.
The title is apt, as it evokes an image of multiple tentacles tying together politics, crime, history, corruption, and the mafia.
One Step From Heaven, Rai 1 (2011 – 2015)
Italy's State Forestry Corps is a police agency similar to park rangers, and are charged with protecting the country's natural resources, particularly surrounding their national parks and forests.
One Step From Heaven (Un passo dal cielo) follows many criminal investigations in this context, primarily in the village of San Candido.
Heading these investigations is Pietro, the agency's commander, and Enrico Ianniello, the local State Police commissioner.
Nero Wolfe, RAI (2012)
The eponymous character of Nero Wolfe was created by American mystery author Rex Stout back in the 1930s.
This mystery series features the very same detective adapted into an Italian setting, though the premise remains the same.
Detective Wolfe is an armchair detective, so he solves his cases from the comfort of his home and, well, armchair simply by reading about them in the newspaper or being told about them by his assistant.
True to that, he simply hates anything that will have him leaving his home.
Father Matthew, Rai 1 (2000 – present)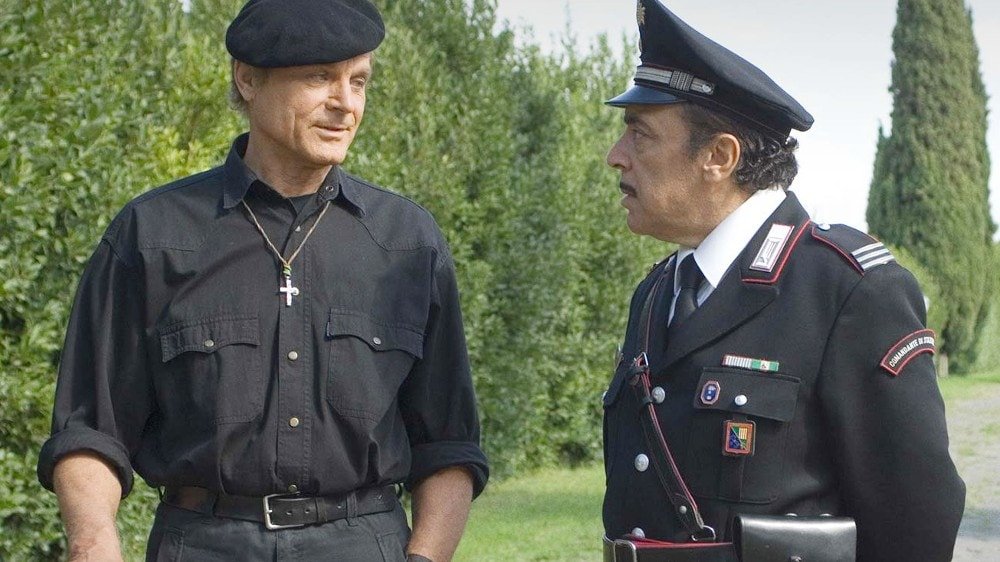 With a new season coming out just almost every two to three years, Father Matthew (Don Matteo) has premiered 13 episodes over the past two decades.
The comedy crime drama follows the titular Father Matthew, a Catholic priest who also has an uncanny ability to truly know a person due to his insight into human nature.
Because of this, he is able to help out a lot with local police cases; while his assistance is respected, there are those who are reluctant to always bring him into the fold.
Murders at Barlume, Amazon Prime Video (2013 – 2016)
Though with just six episodes over the several years it aired, Murders at Barlume take inspiration from the series of novels by Marco Malvaldi and tells several quirky mystery stories.
Travel down the idyllic Tuscan coast and you might stumble upon Barlume, the favorite local watering hole for the neighborhood's elderly citizens which is owned by the charming and recently-divorced Massimo Viviani.
Framed! A Sicilian Murder Mystery, Netflix (2022 – 2023)
Finally, the last show on the list is the newest of the bunch and features the comedy duo Ficarra and Picone in the comedy-crime series Framed! A Sicilian Murder Mystery (Incastrati).
With just eight episodes over two seasons, the show is exactly what it sounds like!
It follows the duo as TV technicians who have accidentally stumbled upon a murder scene.
Clueless and fumbling, they want to make sure they don't end up as suspects but everything they do just ends up making them look even more guilty.