There's a new Batman movie looming in the near horizon, and fans are both excited and nervous to see how Robert Pattinson is going to match up to the amazing actors who portrayed the dark knight before him.
The excitement only continues to be further compounded as various "first look" teaser trailers have been recently released to showcase Pattinson in the Batsuit. As well as what the Batmobile is set to look like. Of course, we're all waiting with bated breaths for the official trailer, while the movie itself is scheduled to release on June 25, 2021.
Now, while we're waiting for Batman to grace the big screen next year, wouldn't it be great to round out our understanding of the world he's likely to be moving around? Who are the important people in his life? Who are the other superheroes – and supervillains – that he's likely to encounter? What's Gotham City like with and without him? Well, these five shows below are perfect to help with that!
Gotham
A lot of what we know about Batman revolves around his crime-fighting sprees around the city, usually whenever the Bat-Signal lights up the sky as a call for help from James Gordon, the police commissioner of the Gotham City Police Department (GCPD).
Gordon has always been an ally of Batman's since his first debut in the comics, bonded by their shared passion for freeing Gotham City of crime. However, how much do we really know about Gordon and his career in the GCPD?
Well, Gotham was created to tell that story.
Here, Gordon starts as a detective recruit and is tasked to solve crimes with his partner, Detective Harvey Bullock. The first season revolves around them solving the murder of Bruce Wayne's parents, indicating that the timeline starts as Bruce is still a young teen.
Alongside that, we still see some familiar villain's faces and their origin stories, like the Penguin, Ra's al Ghul, Poison Ivy, Riddler, and the Joker, among others.
Gotham wrapped up its fifth and final season on Fox in April 2019 with an older Bruce Wayne returning to Gotham City and donning the Batsuit. But you can still watch all the seasons on Netflix as well as on Amazon.
Batwoman
Currently a little over halfway through its first season, it was recently announced that Batwoman had already been renewed by The CW for a second season.
We first heard of Batwoman's appearance with a May 2018 announcement that she would be appearing the 2018 Arrowverse crossover event, Elseworlds.
DC fans originally thought it would simply be a recurring appearance but a few months later, it was confirmed that she would be getting her own series production.
As the story goes, it's been three years since Bruce Wayne disappeared from Gotham City and with him, the vigilante superhero Batman. In his stead comes Kate Kane, his fierce and straightforward cousin who has an equal passion for fighting social justice. She dons the crown as the caped crusader and is determined to protect Gotham at all costs.
Producers always intended to cast an out lesbian to play the titular Batwoman. And Ruby Rose seems to be the perfect actress to play the part. Though that casting decision was initially met with backlash, Rose seems to be doing a great job with the character so far!
Pennyworth
One could rightfully argue that Bruce Wayne wouldn't be who he is if it wasn't for Alfred Pennyworth, the Wayne family's butler. After Bruce's parents were murdered, Alfred was not just the loyal butler anymore. He became a sort of surrogate father figure as well.
The character of Alfred has been played by a multitude of notable actors including Michael Caine, Jeremy Irons, and Andy Serkis, and now Jack Bannon is joining the list.
Pennyworth is Alfred's story.
Starting in the 1960s, before he came to work for the Waynes. How many of us actually knew that he was a former British SAS soldier?
When he first met Thomas Wayne, Bruce's father, Alfred was working as security at an exclusive London club and was on the path to start his own security firm. Wayne, impressed with his skills and working in secret for the CIA, hopes to work with Alfred. How does that lead to Alfred becoming the Waynes' butler? Find out on Epix's Pennyworth!
Titans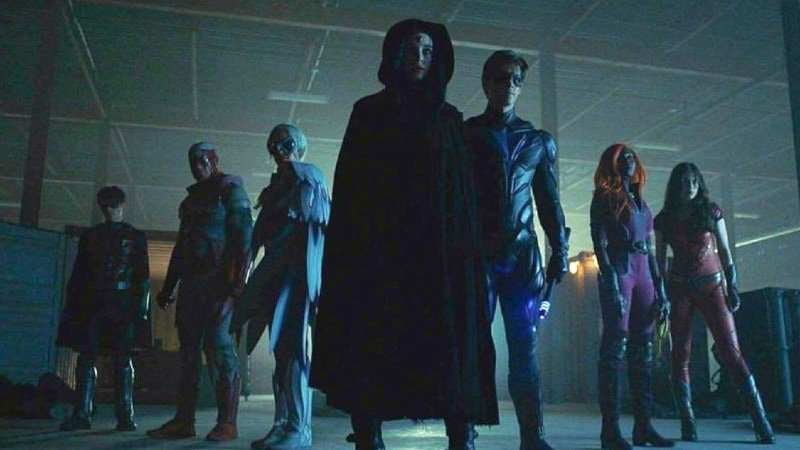 You might be familiar with the Teen Titans comics, the resulting animated adaptation from Cartoon Network, and even the TV movie that was the series' finale. This current live-action reboot first came into development back in 2014, but the original network put the brakes on the project in 2016.
Thankfully, the newly-minted DC Universe streaming service picked it up for redevelopment and released the first season in October 2018. Its third season is set to premiere in 2020.
Titans follows the superheroes in the titular Titans team as they rejoin forces – with both old members and new – to fight the forces of evil.
Though their missions take them to various locations, they're primarily based out of San Francisco. It primarily follows Dick Grayson (Robin/Nightwing) as the leader of the Titans, as he fights crime with Beast Boy, Wonder Girl, Starfire, Raven, Hawk and Dove, and the new Robin.
You can catch the first two seasons of Titans on DC Universe as well as Netflix.
Arrow
Arrow was so instrumental in setting up the TV version of the DC Universe, the Arrowverse, where all the other DC series', including Batwoman, were spun off from and experience crossovers multiple times during their respective shows and timelines.
Green Arrow, a.k.a. Oliver Queen returns to Starling City at the onset of the series after having suddenly disappeared five years prior.
The billionaire playboys claimed to have been shipwrecked on Lian Yu, a mysterious island in the North China Sea. Unbeknownst to the friends and family that he has re-established ties with, he has also assumed the role of the city's vigilante crime fighter at night.
Arrow wrapped up in January 2020 after eight seasons, but it left behind one heck of a legacy. Including multiple spin-offs that have further expanded the Arrowverse. The latest being Green Arrow and the Canaries featuring Mia Smoak, Oliver's daughter.
You can binge-watch Arrow on Netflix or on Amazon.
If you're through binge-watching these Batman-parallel series' and it still isn't time for the new The Batman movie, well, there's always the multitude of movies that have been released until now! And TechRadar even has a helpful article where they suggest chronological order for the Batman movies. So get comfy and have fun!