Miami, Florida is a major US city that's just filled to the brim with hustle and bustle. It's a hub for business, commerce, culture, politics, and tourism – the latter is thanks in large part to PortMiami being one of the busiest cruise ports in the world! You've got lakes and you've got beaches, but you've also got skyscrapers that make up the country's third tallest skyline!
All in all, there's no denying that Miami is high up on the list of places to be in the US. In a city that's so diverse in terms of economy, geography, and even demographics, you know there's always something interesting happening.
That might explain why there are just so many movies and TV shows based out of Miami – with such a vast and colorful backdrop to work off of, a storyline could take off in so many directions.
---
Want the short version of this article? Then check out our video on the top 10 TV shows set in Miami:
---
While there are a multitude of Miami-based TV shows that cater to the city's Spanish-speaking population, in this article, we're going to hone in specifically on the English-language TV shows that are set in Miami.
Let's dive in!
CSI: Miami, CBS (2002 – 2012)
The entire CSI franchise is a classic with the police/crime drama fans, and they're lucky to be blessed with four series and a whopping 36 seasons in total to binge!
The first show in the CBS franchise, CSI: Crime Scene Investigation, was set in Las Vegas, while the other spin-offs CSI: NY and CSI: Cyber were set in New York and Washington, D.C., respectively.
CSI: Miami was the first direct spin-off in the franchise and follows the CSI unit of the fictional Miami-Dade police headquarters.
They are led by Lieutenant Horatio Cane, an expert in explosive forensics, and his partner Detective Calleigh Duquesne, the team's ballistics specialist.
With the help of their team, they work to investigate the evidence and solve crimes all across the city.
The Baker and the Beauty, ABC (2020)
The excitement was abound as news spread of the American adaptation of this hit Israeli series, as the original is credited to be one of the best-scripted series in Israel!
However, despite the show's feel-good vibe and focus on Latin-American family and culture, the show was canceled just this June 2020 after one season. And even though fans fought to reverse the decision, no other network has picked it up for renewal yet.
The ABC adaptation follows Daniel Garcia, a Miami local of Cuban descent who works in his family's bakery and lives within his family's rules and expectations.
His life gets turned on its head when he meets Noa Hamilton, an "international superstar, and fashion mogul".
When their relationship turns romantic, however, their clashing cultures and lifestyles may start getting in the way.
Miami Vice, NBC (1984 – 1990)
NBC's Miami Vice is one of the oldest shows on this list, having aired between the mid to late 80s, but its impact is still felt to this day, especially in terms of the fashion styles it popularized.
Not only is it referenced in recent pop culture mediums to allude to the iconic 1980s, but it has also served as inspiration for video games, e-sports teams, and even a change in county name.
Miami Vice followed Metro-Dade Police Department detectives Sonny Crockett and Rico Tubbs from the "vice squad" as they fought to end the growing industry of drug trafficking and prostitution.
The drug game was never-ending during those times, and these vice cops would stop at nothing to apprehend those behind it.
Jane the Virgin, The CW (2014 – 2019)
There are so many amazing things to love about The CW's Jane the Virgin!
Gina Rodriguez, first of all, along with the rest of the amazing cast.
Secondly, the way the show tackles so many complex yet timely and relevant issues, and lastly, the hilarious way that it intentionally uses and pokes fun at the typical Spanish telenovela tropes.
Jane Villanueva is a young and religious Venezuelan-American woman who has vowed to remain a virgin until marriage.
She had no problems until her gynecologist accidentally artificially inseminates her during a routine checkup, effectively impregnating her.
As Jane adjusts to pregnancy and then motherhood, she must choose what's best for her and her growing son.
Ballers, HBO (2015 – 2019)
Over the past several years or so, Dwayne "The Rock" Johnson has successfully molded his career as an actor not just within the action genre, but more so now in comedic roles.
One of his most recent projects was the HBO original comedy/drama series, Ballers, which ran for five seasons from 2015 to 2019.
Set in the action-filled world of American football, Johnson plays Spencer Strasmore, a former NFL superstar who is in the midst of switching careers post-retirement.
While he used to play for the Miami Dolphins, he's now a financial advisor who just wants to help sign his friends who are still in the league.
It's not always easy in this competitive industry, but Spencer is determined to achieve success off the field as he did on it.
Dexter, Showtime (2006 – 2013)
If you're a fan of the psychological crime thriller genre, Showtime's Dexter is probably one of your favorite series of all time.
Despite being set in the sunny and vibrant city of Miami, it's got a pretty dark undertone throughout.
The eponymous character, Dexter Morgan, is harboring a pretty dark secret.
During the day, he's a mild-mannered forensics expert specializing in blood spatter pattern analysis but at night, he's a vigilante serial killer whose only victims are the criminals who have escaped the justice of the Miami Metro Police Department.
His murderous compulsion may have (somewhat) good intentions, but Dexter has to constantly struggle with the dark and light side of himself throughout the show's eight seasons.
Grand Hotel, ABC (2019)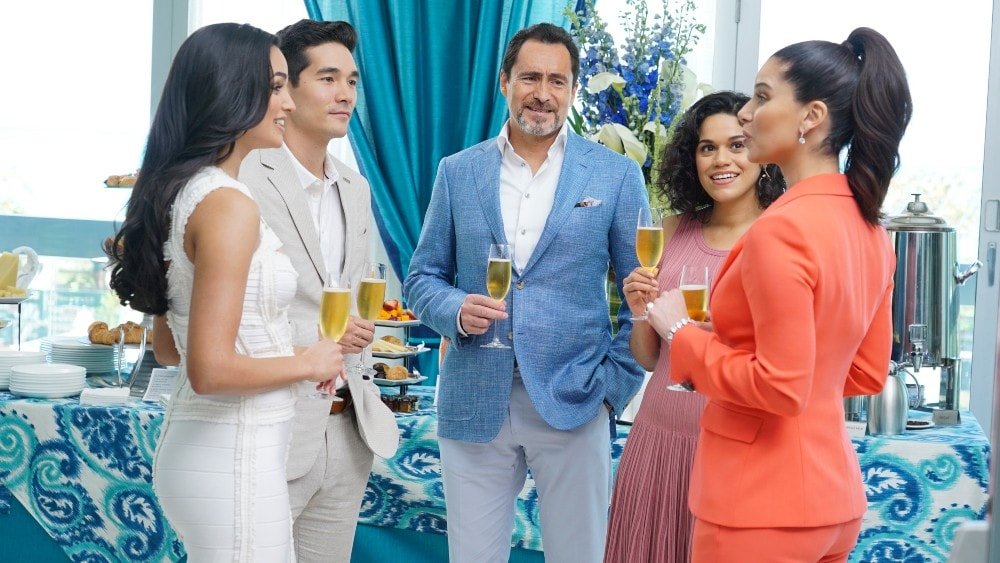 Based on the Spanish TV show Gran Hotel, the American adaptation titled Grand Hotel was hailed as "an easy, breezy summer watch" by Variety's critic, Caroline Framke.
Despite this, it received low ratings and viewership, leading to its cancellation from ABC after just one season in October 2019.
The Riviera Grand Hotel is the last family-owned hotel in Miami Beach, owned by the Mendoza family's patriarch, Santiago.
He inherited the hotel from his late wife and now he, his family, and his second wife Gigi – his late wife's best friend – help him manage the hotel and keep it afloat.
Everything may look perfect on the surface, with rich guests and a facade of luxury, but lying just underneath is a tangled web of scandals, secrets, and lies.
Burn Notice, USA Network (2007 – 2013)
For those of us uninitiated in the language of espionage, a "burn notice" is essentially a document that informs intelligence agencies that a certain source or agent has been, in layman's terms, fired.
When this person has been "burned", they are no longer affiliated with their organization and lose access to whatever resources and protection were previously available to them.
In USA Network's Burn Notice, Michael Westen is unexpectedly "burned" in the middle of an operation and is subsequently forced to return to his Miami hometown to pick up the pieces of his life.
Using his special training and the skills he's picked up along the way, he works as a private investigator to help clients with their issues while trying to figure out why he was even burned in the first place.
Rosewood, Fox (2015 – 2017)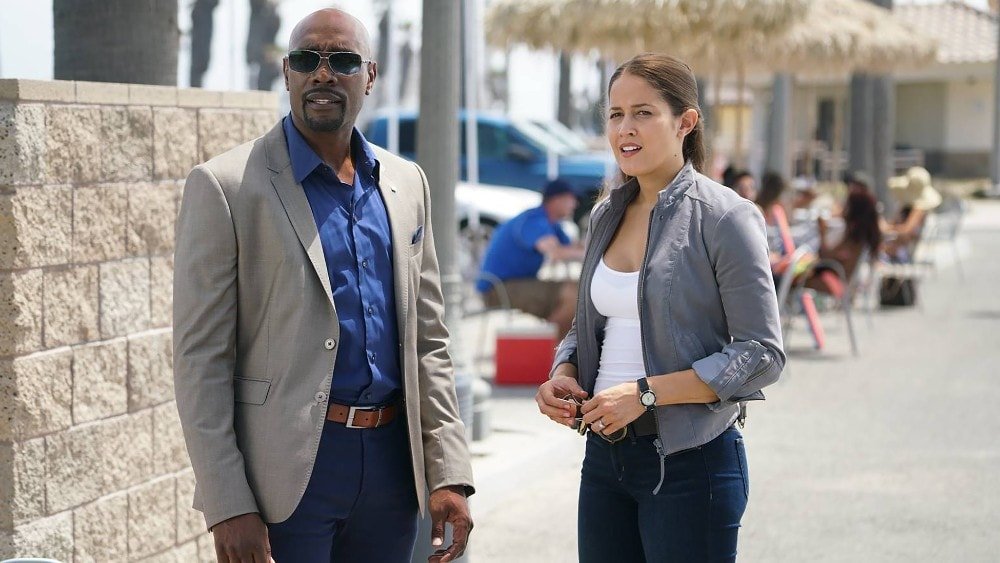 Fox's Rosewood is yet another police/medical procedural drama on the list, but with a slight twist as it takes its primary setting outside the confines of an official law enforcement organization.
It gained a pretty solid following in its first season but due to declining viewership and ratings, Fox canceled the show after two seasons.
Rosewood takes its title from the main protagonist, Dr. Beaumont Rosewood Jr., a private forensic pathologist.
Although he works out of his own firm in Miami, he also works closely with Detective Annalise Villa of the Miami PD to help solve their most complex crimes.
Rosewood's personal battles with illness allow him to approach his cases with heightened observational skills and a "live life to the fullest" attitude.
Nip/Tuck, FX (2003 – 2010)
Ryan Murphy has a slew of amazing shows under his belt across various genres, including Glee, American Horror Story, and Pose, among others.
What a lot of people don't know, however, is that he also created Nip/Tuck, a pretty popular medical drama that aired throughout the 2000s.
FX's Nip/Tuck centers primarily around the events in McNamara/Troy, a popular plastic surgery center based in Miami (though the fourth season sees its relocation to Los Angeles).
This includes the professional and personal lives of its owners, Dr. Sean McNamara – a man struggling to keep his family intact – and Dr. Christian Troy – a serial womanizer who uses his charm to bring in more clients for their business.
The Golden Girls, NBC (1985 – 1992)
Yet another Miami-central TV show set in the late 80s, NBC's The Golden Girls has also cemented its reputation as a cult classic.
Even after 35 years, it's still being referenced in many other pop culture mediums, it spawned a few spin-offs, and even led to international adaptations in Russia, Greece, the Philippines, the UK, Turkey, and many other countries!
The show portrays the personal lives and friendships of four older women living together under one roof in Miami.
Blanche Devereaux and Rose Nylund are widows while Dorothy Zbornak is a divorcee, the latter two of whom moved into Blanche's home.
They are joined by fellow widow Sophia Petrillo, Dorothy's mother.
Their iconic friendship unfolds mostly in the kitchen of their shared home, where they share stories and conversations of their lives and exploits.
Magic City, Starz (2012 – 2013)
We all love a period drama set in the 1950s, right? And who doesn't love the ever-dashing Jeffrey Dean Morgan in a spiffy coat and tie ensemble?
Morgan starred in the Starz series Magic City for its two-season run, where he played Ike Evans, the majority owner and boss of a high-end resort hotel in Miami Beach called Miramar Playa.
Amidst all the glitz and glamor of his establishment and its patrons, Ike makes a deal with the wrong people to keep it all afloat.
In an effort to ensure Miramar Playa's continued success, Ike gets involved with Ben Diamond, a boss in Miami's Jewish mob.
Things get even more complicated, however, when Ike discovers that Ben's not the big guy at the top of the food chain.
Charlie's Angels, ABC (2011)
You may be familiar with – or at least heard of – the original Charlie's Angels series that ran from the late 70s to early 80s.
If not the series, then you've definitely watched at least one of the three feature films that were released in 2000, 2003, and 2019!
In 2011, ABC aired a reboot of the original series but sadly, it didn't gain enough traction.
After just one season, the show was canceled, and with all but the last remaining episodes aired.
Each episode featured a new case that the new angels were tasked to solve and bring the criminal to justice, including a child slavery ring, cruise ship disappearance, and family kidnapping, among others.
Good Morning, Miami, NBC (2002 – 2003)
NBC's sitcom Good Morning, Miami was part of the network's "Must See TV" block when it began airing in 2002.
It primarily followed Jake Silver, an executive producer of the "lowest-rated morning show in Miami".
Working at the station alongside him are the arrogant on-air host Gavin, Jake's assistant Penny, the station manager Frank, the hairdresser Dylan, and a slew of other oddball characters moving in and out.
Despite the comedic potential of the show, it struggled to compete with others in the primetime TV block.
Not only that but the first few episodes were aired out of order, thus falling behind in airing the Christmas-themed episode in season one.
It was renewed for a second season but was pulled about halfway through. The remaining nine unaired episodes were eventually broadcast in Ireland and the UK.