With the spooky season right around the corner and Halloween slowly dawning on us, aren't we all looking for that dose of the supernatural in our daily lives?
Maybe you're binge-listening to your favorite horror podcasts, obsessively streaming every scary movie on Netflix, or shopping online for crossbones- and pumpkin-printed clothes for the entire month of October – all of which I am unashamedly guilty of, by the way! When you're done with all that, we here at TV Show Pilot are ready to keep the supernatural coming.
In this list, we're putting the spotlight on a supernatural creature that's significantly less human (as most are) and much more, well, animal. That's right, we're talking about werewolves!
More specifically, we've put together a list of TV shows about werewolves – whether as central or supporting characters.
---
Want the quick version of this article? Then check out our YouTube video on the top 10 TV shows about werewolves:
---
And after you're done watching these werewolf shows, keep the spooky vibes coming with our list of shows about vampires, about witches, about zombies, or even about cults (because sometimes, humans can be just as creepy as the supernatural)!
Teen Wolf, MTV (2011 – 2017)
Beacon Hills, California – an appropriate name for a town that's literally a beacon for all kinds of supernatural creatures.
That's the setting for MTV's Teen Wolf, a show inspired by the 1985 film of the same name but shares no continuity with them.
Scott McCall is a lacrosse-playing high school student who gets bitten by an Alpha werewolf while out on a misadventure with his best friend, Stiles, right at the series premiere.
Under the guidance of Derek Hale, a Beta-turned-Alpha from a prominent werewolf family that is born with the wolf gene, Scott learns to control his strength and newfound power.
Eventually, Scott makes it his mission to protect his friends, loved ones, and Beacon Hills residents from shapeshifters, nogitsune, kanimas, lampreys, Garuda, fellow werewolves, and all other creatures that find their way into his territory.
Where to watch Teen Wolf:
Bitten, Space (2014 – 2016)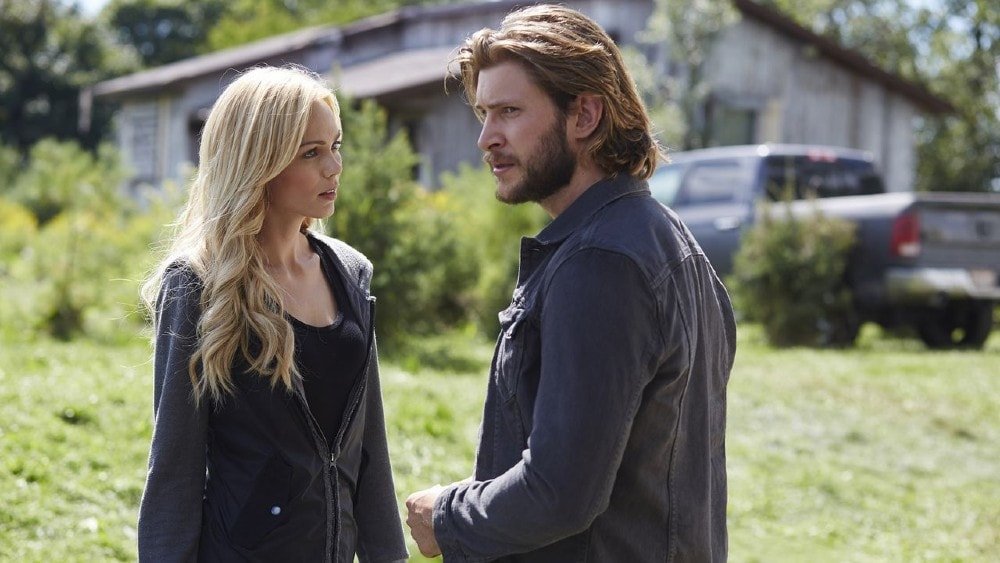 Bitten is a Canadian supernatural fantasy series based on the Women of the Otherworld book series by Kelley Armstrong, which features various supernatural beings and is told from the perspective of a woman.
As such, Bitten was titled after the first novel in the series and tells the story of Elena Michaels, a werewolf.
Not only is she a female werewolf, but she is the only known female werewolf in existence.
She was turned by her former fiancé and now she wants nothing to do with him or the world he threw her in.
She attempts to start a new life in Toronto and a new relationship with a human, but when something threatens her family and her former pack, Elena is torn between helping them and living a normal life.
Where to watch Bitten:
Wolf Pack, Paramount+ (2023 – present)
The newest show on this list of werewolf series is Paramount+'s Wolf Pack.
Based on an Edo van Belkom book of the same name, Wolf Pack follows Everett and Blake, two teenagers who become werewolves after getting bitten by a werewolf during a highway traffic jam caused by a mysterious wildfire.
They team up with two other teenagers who were turned into werewolves sixteen years ago during a similar wildfire to find out more about these strange wildfires and unravel the secret that connects them.
Also starring Buffy the Vampire Slayer vet Sarah Michelle Gellar as an arson investigator who gets caught up in supernatural activities, Wolf Pack is a must-watch show if you like all things werewolves.
Where to watch Wolf Pack:
Wolf Like Me, Stan/ Peacock (2022)
Another newer series is the Australian werewolf drama Wolf Like Me.
The series follows Gary a single father who's still recovering from the death of his wife Lisa 7 years earlier.
One day Gary meets Mary, an advice columnist also dealing with emotional baggage. And despite Mary's best efforts to stay away, the two keep running into each other.
Mary has no problem with connecting with Gary's 11-year-old daughter Emma, something Gary struggles with, so the become close.
However, Mary is hiding a dark secret – she is a werewolf. Will Gary finally be the one person Mary can share her secret with?
Where to watch Wolf Like Me:
The Vampire Diaries, The CW (2009 – 2017)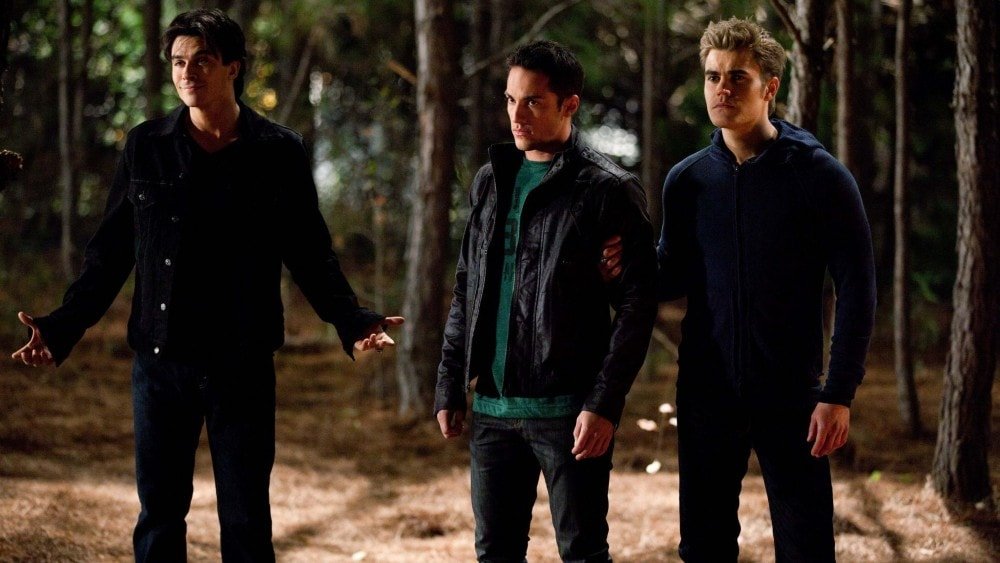 The Vampire Diaries is based on the YA book series of the same name written by L. J. Smith and it gained such a following that it eventually led to a large franchise of connected works including spin-offs, a web series, and even a DC comic book series!
Set in Mystic Falls (yet another sleepy town with a telling name), The Vampire Diaries starts out focusing primarily on vampire lore and the budding love triangle between two vampire brothers, Damon and Stefan Salvatore, and a human, Elena Gilbert.
However, it soon evolves to include werewolf mythology where it's revealed that some families, like the Lockwoods, are born with the gene and trigger it when they kill for the first time, whether accidental or not.
It's even possible for a vampire and werewolf hybrid to come into power!
Where to watch The Vampire Diaries:
The Originals, The CW (2013 – 2018)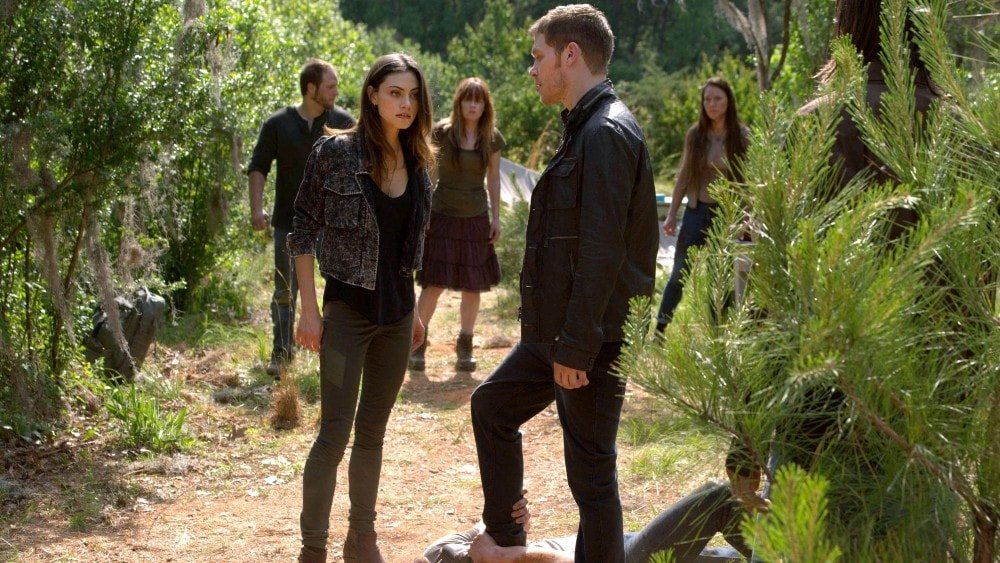 The Originals was the first spin-off from the preceding show on our list, thus setting off the franchise's expansion.
Departing from the teen drama setting of Mystic Falls, The Originals follows the political turmoil between supernatural creatures in the French Quarter of New Orleans.
The Originals is the name given to the very first family of vampires in existence: the Mikaelsons.
When they first show up (and high-key wreak havoc) in Mystic Falls, it's revealed that Klaus, middle child but de facto head of the Original family, is actually a kind of vampire-witch-werewolf hybrid.
The backdoor pilot of The Originals revealed that Klaus' werewolf side allowed him to impregnate fellow werewolf Hayley, who he finds again after he and his siblings return to New Orleans to attempt to reclaim the city.
Where to watch The Originals:
Legacies, The CW (2018 – 2022)
The third series now in the parent The Vampire Diaries franchise and a direct spin-off of The Originals, Legacies picks up two years after the events in its preceding series.
True to its title, it follows the next generation of supernaturals as they continue the legacy their parents left to them – not to mention that it's primarily set in the Salvatore brothers' legacy: the Salvatore School for the Young and Gifted.
Hybrid Klaus Mikaelson and werewolf Hayley Marshall welcomed a child into the supernatural world in The Originals and made sure to keep her protected from threats to their family.
By the time Legacies premiered, their daughter Hope is 17 years old and ready to grow into the powers she was born with. After all, she's a direct descendant of a powerful witch, vampire, and werewolf bloodlines.
Where to watch Legacies:
Shadowhunters, Freeform (2016 – 2019)
Shadowhunters was also based on a series of books, titled The Mortal Instruments by Cassandra Clare.
Though it was first adapted into a movie, there was no sequel, and fans were left to wonder what the future held for the main characters, Clary and Jace.
Thankfully, the series adaptation continued the story for us.
Shadowhunters are half-angels who are tasked with protecting the world of humans – what they call 'mundanes' – from the demons.
The other supernatural creatures make up the 'Downworld', which includes fair folk, warlocks, vampires, and werewolves.
The werewolves are under the leadership of their alpha Luke Garroway, who also conveniently happens to be an NYPD cop.
Though previously unheard of and thought to be highly unlikely, the Shadowhunters and some members of the Downworld work together to keep the mundanes safe.
Where to watch Shadowhunters:
The Order, Netflix (2019 – 2020)
Netflix joins the shows about werewolves party with an original series that premiered in 2019.
Set against the backdrop of a prestigious university campus, The Order is an exciting show in that unlike many others of the fantasy genre, it has so far left out anything to do with vampire mythology (Teen Wolf does that, too).
Jack Morton is a freshman at Belgrave University, but he isn't there to just study. He's seeking answers to the mystery surrounding his mother's death and that involves getting close to his estranged father, who also happens to be the leader of The Hermetic Order of the Blue Rose, a secret society of magic practitioners based out of Belgrave.
As Jack becomes more involved with the organization, he finds that they are at war with The Knights of Saint Christopher, yet another secret society – this time, of werewolves.
Where to watch The Order:
Hemlock Grove, Netflix (2013 – 2015)
The Netflix team made quick work producing a series adaptation of Hemlock Grove, which had its origins in a novel of the same name written by Brian McGreevy.
McGreevy himself developed and wrote the series, serving as producer alongside a household name in the horror genre: Eli Roth.
Hemlock Grove is a fictional town in Pennsylvania where its residents live on opposing ends of the social class spectrum: either in extreme poverty or extreme wealth.
When two young girls are brutally killed and unceremoniously dumped, a young Romani boy named Peter Rumancek is instantly cast as a suspect on top of being rumored to be a werewolf.
He is, of course, but he's determined to at least clear his name of the murders and gets some unexpected help from the heir of one of the town's most prominent families.
Where to watch Hemlock Grove:
Wolfblood, CBBC (2012 – 2017)
While CBBC's Wolfblood is technically categorized as a teen drama, the show's target audience is more geared toward the younger end of that age group.
What sets Wolfblood apart is that in between each of its regular seasons, supplementary webisodes (some in the form of animated motion comics) are also released to provide background or context for characters and to further expand the existing storylines.
The werewolf mythology used here is more or less what we're familiar with: they're shapeshifters who live as humans and can transform into wolves at will, though the full moon compels them to change with no control.
These creatures, called wolfbloods, struggle to hide their secret every day.
Where to watch Wolfblood:
Being Human, BBC Three (2008 – 2013)
BBC Three's Being Human is a supernatural drama series that follows the lives of three supernatural beings – a 200-year-old vampire named Aidan, a werewolf named Josh, and a ghost named Sally – who become unlikely housemates in an attempt to live a "normal" life.
Together, they navigate the challenges of blending into society, dealing with their own inner struggles, and facing various supernatural threats.
The series beautifully combines elements of horror, comedy, and drama to explore themes of friendship, redemption, and what it means to be human.
Where to watch Being Human:
Being Human, Syfy/Space (2011 – 2014)
The British series Being Human was so successful that SyFy decided to produce its own version of the series.
Now set in Boston instead of Bristol, the North American version of Being Human once again follows our three main characters – vampire Aidan, werewolf Josh and a ghost named Sally – as they learn to coexist as roommates.
Together they learn to navigate the complexities that come with living double lives as well as figure out who they are as people.
Where to watch Being Human:
The Gates, ABC (2010)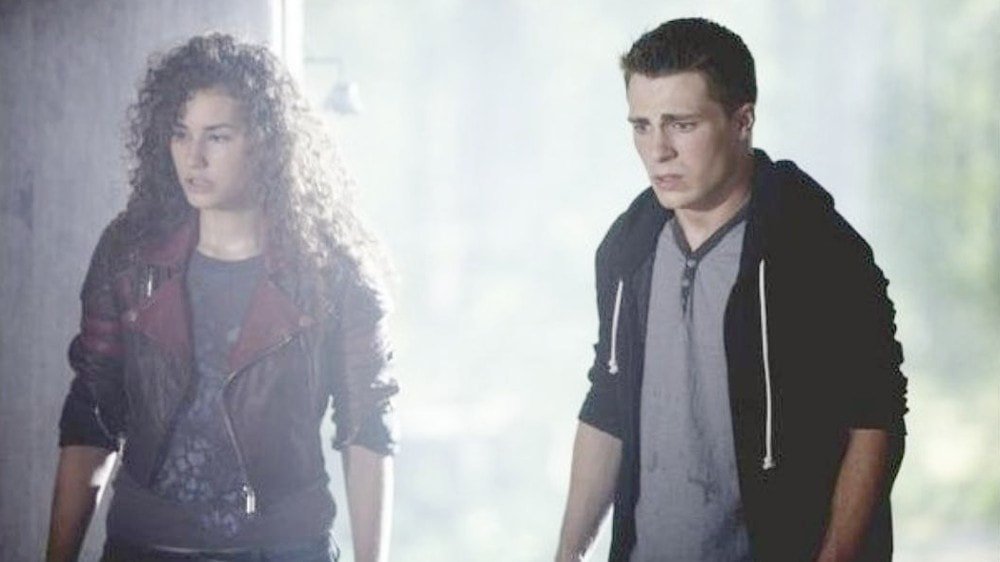 And we also have to mention ABC's short-lived supernatural drama The Gates.
The show revolves around a gated community called The Gates, where seemingly perfect families reside.
However, beneath the surface, the community harbors supernatural beings such as werewolves, vampires, witches, succubus, and more.
The arrival of a new family, the Monohans, unravels the secrets of The Gates, exposing the intricate web of supernatural politics, forbidden romances, and dark mysteries that exist within the community.
Where to watch The Gates:
OLDER WEREWOLF TV SHOWS
The next few shows on our list are going to be quite a trip to the past, so buckle up!
If you've ever wondered how (and if!) TV shows from decades ago were able to achieve the supernatural effects that are so seamlessly done now, then these shows are for you.
She-Wolf of London (1990 – 1991)
She-Wolf of London had its first run under syndication in the USA and aired for just one season with 20 one-hour episodes – still plenty enough for a few days' worth of binge-watching!
Strangely, the last six episodes of the season were aired under the title Love and Curses, a change that was brought about by a move in production location (i.e. London to LA).
The show follows an American grad student, Randi Wallace, as she moves to London to study mythology under the tutelage of Professor Ian Matheson.
During a night out on the moors, Randi is attacked by a werewolf and after she survives, she's determined to find a cure for her lycanthropy.
Matheson uses his expertise to help her investigate other supernatural phenomena and take care of her during her transformations, leading to a romantic relationship to develop between them as well.
Where to watch She-Wolf of London:
Werewolf, Fox (1987 – 1988)
Though Werewolf only ran for one full season, it was still pretty jam-packed with 29 episodes – including a two-hour pilot!
It was also one of the first original shows on the Fox line-up, as it aired during the network's inaugural broadcast season.
Werewolf follows the story of Eric Cord, a pretty average college student.
His life gets turned on its head when he witnesses his roommate Ted transform into a werewolf.
Eric shoots him with a gun loaded with silver bullets, given to him by Ted himself for that exact purpose, but he manages to get a bit into Eric before dying.
Now, not only is he a giant werewolf but he's also wanted for his roommate's murder. Desperate to break the curse, he sets out to find the source of his bloodline.
Where to watch Werewolf:
Wolf Lake, CBS (2001)
So not a lot of people know this but before Paul Wesley was the charming vampire Stefan Salvatore in The Vampire Diaries, he played the bad boy werewolf Luke Cates in CBS' short-lived werewolf series, Wolf Lake.
Granted, he was much younger and was credited under his original Polish surname Wasilewski.
When you live in a place called Wolf Lake, you'd expect there to be stories about packs of (regular) wolves roaming the surrounding areas.
In this Seattle suburb, however, it's the werewolves that its human inhabitants are keeping an eye on.
When a Seattle policeman turns up in Wolf Lake looking for answers to his fiancee's murder, the suspicion immediately falls on the pack of werewolves living on the "Hill" away from the regular humans.
Where to watch Wolf Lake:
Big Wolf on Campus, YTV/Fox Family (1999 – 2002)
You'd think that a town called Pleasantville would be full of all things, well, pleasant, but that's not exactly the case in Big Wolf on Campus.
In fact, Pleasantville soon finds itself hosting a whole slew of supernatural beings: vampires, zombies, ghosts, and of course, werewolves.
The show's protagonist is Tommy Dawkins, an incoming high school senior and the son of the mayor.
While on a camping trip, Tommy is attacked by a werewolf and soon becomes one himself.
His best friend discovers his secret and together, they fight the other supernatural creatures that come to their town – as well as the Pleasantville residents who believe that the 'Pleasantville Werewolf' is just as dangerous as the monsters he is protecting them from.
Where to watch Big Wolf on Campus: