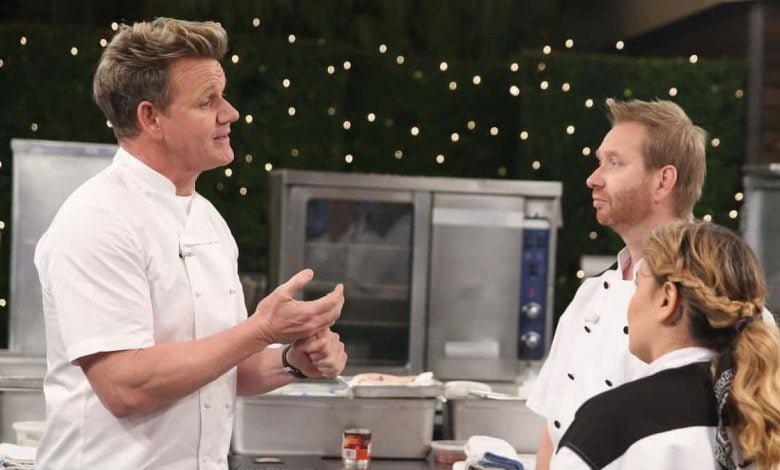 We all have a little bit of a foodie in us, regardless of whether it's for home-cooked meals, pastries, desserts, or even specialty cocktails.
Some of us prefer to be on the receiving end of the gastronomical experience. That is, we can't cook but we'll definitely lick your plates clean! While on the other hand, there are those of us who spend hours upon hours looking for brand new and creative ways to cook.
Whether you're of the cooking or eating variety of foodie, this article is for you! We've handpicked a list of the best, most interesting cooking shows currently available to watch, both on streaming channels and your favorite TV networks.
These shows are guaranteed to tease your taste buds, inspire you with exotic cuisine, and have you drool over delicious delights. So, grab your favorite snack and dig into our list of the best cooking shows currently on the air!
Girl Meets Farm
You know you can never go wrong with a cooking show from the Food Network, especially not one that features an amazing host with a slew of awards under her belt! That's what we get in Girl Meets Farm, where we meet Molly Yeh: a chef, lifestyle blogger, and award-winning cookbook author.
Molly gave up her life as a Juilliard-trained musician in New York to live with her husband (and now daughter, Bernadette Rosemary) on his farm in the Minnesota/North Dakota region. That's where Girl Meets Farm is set, where she uses her love for food to create dishes with a taste of the Midwest coupled with both her Chinese and Jewish heritage.
What sets Girl Meets Farm apart from other food TV shows is just how relatable it is. It's perfect for those who want to make home0cooked meals for their family and friends, without the fancy techniques that you see in restaurants. It shows Molly cooking at home, with ingredients that you can find at your local market and grocery.
Catch Season 5 on Food Network this December!
America's Test Kitchen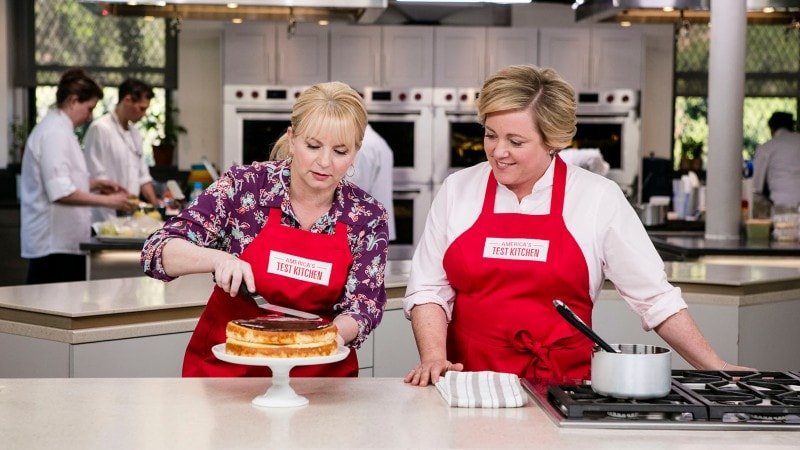 Sometimes, we don't need all the production value and celebrity guests to enjoy a sensational cooking show. America's Test Kitchen is one of those shows that provides less entertainment value but an infinite amount of informational value that you just don't often get from the big productions (which, to be honest, we still love regardless).
Though episodes are just a half-hour long, each one is packed with all the facts and figures that you could need to continue – and even start – on your culinary journey. Hosts Julia Collin Davison and Bridget Lancaster, along with a variety of test cooks, go through a few recipes and its steps, the discoveries made while preparing it and the science behind them, and even have an equipment and gadget testing segment.
The fact that America's Test Kitchen is celebrating its 20th anniversary is a testament to its value as one of the best cooking shows on TV!
The Great American Baking Show
The Great American Baking Show is the second American adaptation of the famous British baking competition The Great British Bake Off and aims to find the best amateur baker in America.
Unlike the previous shows on the list, the competitive format of the show means that while we do see a lot of the preparation in terms of the challenges the contestants face each week, what it really focuses on is the end result. The bakers are tasked with creating a few different kinds of dessert or pastry, but always with very particular specifications that they need to adhere to: a filled and frosted Bundt cake, for example, or a three-dimensional cookie scene.
Aspiring bakers can get all sorts of ideas and inspiration from The Great American Baking Show, as each contestant flexes their creativity in completing the signature back, technical, and showstopper challenges. Watch out for Season 5, coming this December!
Hell's Kitchen
No best cooking TV show list is complete without one involving Gordon Ramsey, and this is arguably one of the most entertaining ones that he's on! Of course, there's MasterChef and MasterChef Junior, not to mention the new 24 Hours to Hell and Back. However, Hell's Kitchen has had such a successful 18 seasons thus far, that it just had to be on this list.
Also set in a reality show format that features progressive individual elimination, with contestants split into two teams. Each episode features a different type of challenge including designing a menu, blindfolded taste tests, and full-on dinner services. At the end of the challenge, one contestant from the losing team is eliminated.
Consistent with Ramsey's fiery and erratic temper, the elimination process changes from time to time. That makes Hell's Kitchen not only consistently entertaining but also unpredictable, not to mention a good laugh whenever Ramsey spews off a unique criticism that could only come from him.
Nailed It!
Nailed It! is a baking show that airs in the reality competition format as well, though with a bit of a unique twist. Where we usually see the competition running the course of a full season, Nailed It! features a winner in every episode!
Three amateur bakers compete each week in two challenges: the first involves picking one of three presented treats to recreate, and the second involves the recreation of an entire, complicated cake from scratch. At the end of the episode, the judges decide who was able to replicate the desserts best – based on both taste and presentation – and award the baker with a trophy and a $10,000 cash prize!
Nailed It! has a lot of comedic value to it, as host and comedian Nicole Byer sets about to annoy the contestants when the worst-performing baker uses the "panic button" feature to distract their competitors. Catch this hilarious cooking competition show on Netflix, with the second holiday season (and fifth overall) landing on Netflix on November 22!