Mixed martial arts, or MMA, is definitely quite a niche sport both for the athletes themselves and the viewers. After all, how often are you going to find someone 100% willing to walk into a physical fight 'for fun', or someone who has a stomach strong enough to watch it? The same can be said about boxing, too!
You might be wondering (if you're new to either or both of these contact sports) what the difference is between the two. Sure, they're both combative in the sense that you're actually fighting to win, but how do they differ?
Well, boxing is limited to throwing punches; boxers cannot execute any kind of fighting technique on the floor.
On the other hand, MMA uses a combination of various fighting techniques, whether on the ground or standing. Additionally, boxing uses equipment like gloves whereas MMA is primarily bare-handed.
Both are interesting sports to watch – if you don't get squeamish at the sounds of fighting and the sight of blood, that is.
You can learn more about them with this list of the best TV shows about boxing and MMA – from the perspective of fiction, anime, and reality!
Live-action scripted TV series about boxing and MMA
Lights Out, FX (2011)
FX's drama series Lights Out ran for one season.
The series title is possibly a reference to the protagonist's current life situation: retired but considering a comeback, a man on the brink of turning the lights out on his lifelong career.
Patrick "Lights" Leary is a former world heavyweight champion boxer whose extensive career has led to his being diagnosed with a neurological disorder called pugilistic dementia, which causes headaches and memory loss.
Struggling now to support his wife and three kids, he must choose between a job as a debt collector or staging a comeback in the ring.
Kingdom, Audience Network (2014 – 2017)
Kingdom is a three-season drama series that centers on a man and his family as they navigate being surrounded by fighting both inside and outside of the ring.
Alvey Kulina and his girlfriend Lisa run a mixed martial arts gym in California called Navy St. Gym, where he spends his time training fighters – including his two sons Nate and Jay.
However, both young men are dealing with personal problems that interfere with their training and on top of that, people from both Alvey and Lisa's pasts are back in the picture.
On the Ropes, SBS (2018)
Many sports to this day remain inherently male-centric, and boxing is just one of many like this.
The Australian series On the Ropes does its part to break that stigma as it tells the story of Amirah Al-Amir, who aims to become an elite women's boxing trainer.
The Iraqi-Australian is constantly surrounded by misogyny in her field, especially working in their family training gym with her father, a former champion, and her two brothers.
Amirah experiences success in booking a match for one of her fighters, but must face her father when he sees it as an act of betrayal.
Mike, Hulu (2022)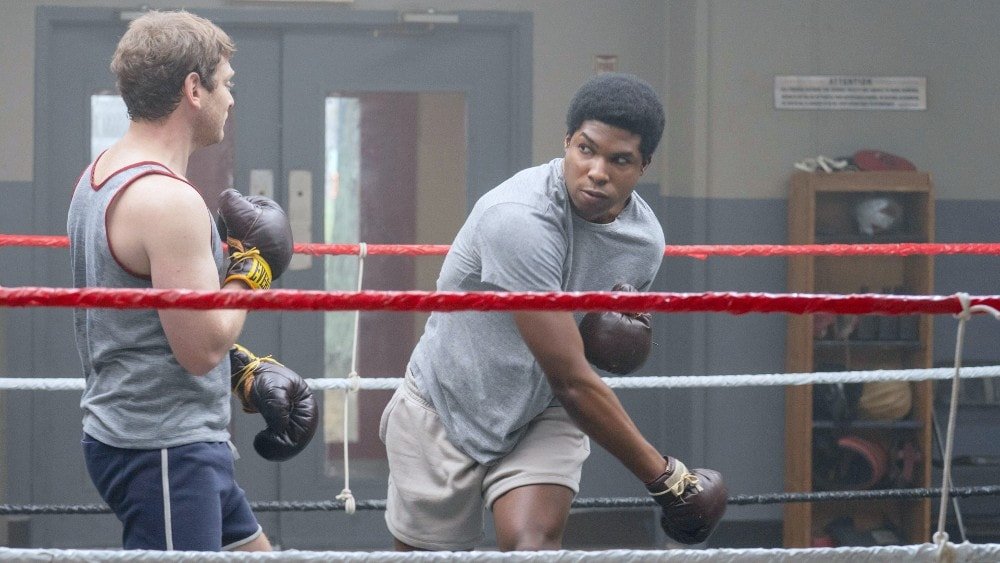 Undoubtedly, one of the most prominent names in the world of boxing is Mike Tyson; he was known as "Iron Mike" and is still considered one of the greatest heavyweight boxers in history.
Many may know of his successes in the ring, but not enough know of the struggles he endured to achieve them.
Some might say that Iron Mike is "polarizing", and the eight-episode Hulu miniseries Mike sets out to show all sides of his life: the highs, lows, tragedies, and wild controversies.
After all, there are two sides to every person and every story.
Monzón: A Knockout Blow, Space/Telefe/Netflix (2019)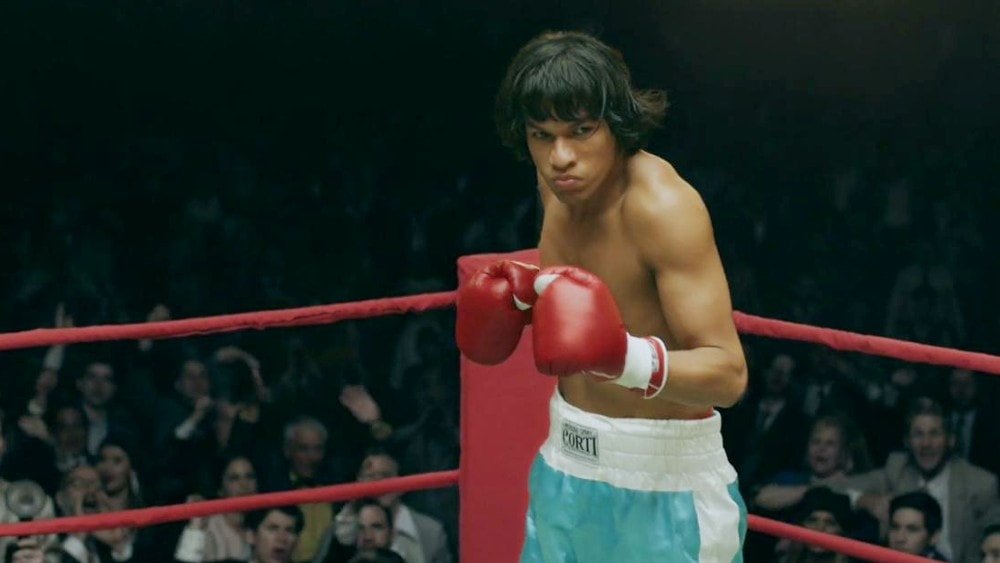 The Spanish-language drama series Monzón: A Knockout Blow is a mix of sports and true crime drama.
While boxing does play a central part to it as well, it primarily focuses on the life of the Argentine boxing champion Carlos Monzón and the death of his wife, Alicia Muñiz.
The series goes back and forth to show details of his early life (a tumultuous one, indeed) and the present, where he is in prison for his wife's murder.
Through these 13 episodes, viewers get a glimpse into his rise to the top and the troubles in his marriage that were hiding in the shadows.
Jab, Tubi TV (2016)
Jab is another series that puts a female boxer at the forefront!
The one-season drama tells the story of Bee Sondio, a 19-year-old boxing enthusiast who prefers to be private and alone.
She lives with her mother and disabled older brother – until they suddenly lose their family home.
The threat of losing it forever forces Bee to break out of her introverted shell and venture further into the world of boxing to make money.
Not only she but those around her are surprised by the skill and ferocity she shows in the ring, which is just a testament to her desire to protect her own family.
Resurrection Blvd., Showtime (2000 – 2002)
If you're looking for a raw and realistic look into a family drama series, Resurrection Blvd. may be the series that's right up your family.
The Showtime drama follows the Santiagos, a Latino family living in East Los Angeles, California, with three generations of boxers flowing through their blood.
Despite the struggles of daily life – sick family members, working to survive, and breaking free from tradition among some of them, the Santiagos continue to fight to become boxing champions.
Cloroformo, Televisa Deportes Network (2012)
Cloroformo is another Spanish-language series but this time hailing from Mexico.
The first season was completed with 13 episodes but despite being renewed for a second season, sadly production was never completed.
Cloroformo explores the ins and outs of boxing in Mexico City, showcasing the love and deception, courage and determination, and the crime and underground betting that surrounds those that are deeply entrenched in the sport whether as professionals or amateurs punching their way to the top.
Gloves Come Off, TVB Jade (2012)
Gloves Come Off adds another foreign language series to the list as it originates from Hong Kong and as a break from boxing, centers on the art of Muay Thai instead.
The series follows Tong Shap Yat, a devoted practitioner of Muay Thai until he lands in jail for accidentally killing his opponent during a match in Thailand.
Upon his release, he returns to Hong Kong but swears off the sport.
However, he is convinced to come back to the ring for a chance at a better life for himself and his son.
The Joe Palooka Story, syndication (1954 – 1956)
Joe Palooka originated as a comic strip that debuted in the 1930s and was carried by hundreds of newspapers around America. It centered on a heavyweight boxing champion after whom the comic strip was titled.
Its popularity led to it being adapted into a radio show and then later, several films and finally, the two-season TV series.
The Joe Palooka Story simply tells of the life of the titular boxer, who goes about his life exploring his passion for both boxing and his love interest, Anne.
Anime shows about boxing and MMA
Fighting Spirit, Nippon TV (2000 – 2014)
Fighting Spirit, or Hajime no Ippo in the original Japanese, is a manga series that currently has 135 volumes.
Since it was first published in 1989, the manga has been adapted into a television anime series that has aired 3 seasons since 2000.
It follows Makunouchi Ippo, a regular high school student who's very shy and thus have difficulty making friends.
Because of this, he gets bullied often and one day is saved by a professional boxer.
This leads to Ippo's hidden talent in boxing being revealed, which changes his life forever.
Ring ni Kakero, TV Asahi/Animax (2004 – 2011)
Ring ni Kakero is another Japanese anime that has its origins in a manga.
This adaptation came a whopping 27 years after the first chapter of the manga was released!
It centers on the Takane siblings Ryuuji and Kiku, who have both inherited their late father's skill in the ring – Ryuuji for his strength and Kiku for her strategy.
To honor their father's final wish, Kiku takes on the role of Ryuuji's boxing trainer to build his reputation and career in the ring, beginning with a battle against his arch-rival.
Megalo Box, Tokyo MX/BS11 (2018 – 2021)
Megalo Box takes place in the near future of the late 21st century where Japan is divided into the Administrative Area (for those with citizenship) and the outskirts called the Restricted Area (for those without citizenship).
Junk Dog is a fighter in fight clubs within the Restricted Area and an accident one night leads him to be invited into Megalonia, a huge megaloboxing (like boxing but with metal exoskeletons, making it more fatal) tournament in the Administrative Area.
Thus begins his 3-month journey to make it to the top.
Levius, Netflix (2019)
Levius was a manga originally published between 2012 and 2014 before the anime was produced for Netflix.
The anime introduces "metalboxing", which is a combination of traditional boxing and robotics, sometime in the 19th century.
Society has been ravaged by war and young Levius has lost both his parents to it.
He's taken in by his uncle Zack, which allows him to further his training and skills as a budding metalboxer so he can rise to the top ranking.
Tomorrow's Joe, Nippon TV (1970 – 1971)
Tomorrow's Joe, or Ashita no Joe in the original Japanese title, follows the story of a young man named Joe Yabuki, who chances upon the world of boxing when he runs into a man who would become his boxing rival while he's in jail for fraud.
Though the two fight it out behind bars, they vow to find each other upon their release in order to fight again but this time, as professional boxers.
Joe vs. Joe, direct to video (2003)
Some fans refer to Joe vs. Joe as a descendant of the previously mentioned Tomorrow's Joe, in that the former was the first dramatic animation made to air globally.
In Joe vs. Joe, viewers meet Joe Akamine and Joe Yuuki, two young men from distinctly opposite lifestyles.
Whale Akamine is from a middle-class family and uses boxing for survival, Yuuki is from a rich family and simply wants to be the best at everything he comes across – including boxing.
Documentary and reality TV shows about boxing and MMA
The Contender, NBC/ESPN/NBCSN/Epix (2005 – 2009, 2018)
In The Contender, viewers meet a new group of 16 aspiring professional boxers who are set to compete against each other in an elimination-style competition.
The boxers are divided into the East and West Coast teams but placed within one residence where they undergo training before deciding which team member will represent them in the week's fight (usually the latter half of each episode).
At the end of it, the loser of the fight is eliminated.
It's a fascinating look into the depth of training boxers must endure to be ready, as well as how their careers affect their loved ones.
Knockout (2014 – 2015)
Knockout is a reality competition show that follows the lives of nine boxers who dream of one day fighting against the greats.
Unlike most competitive reality shows, participants are not eliminated on a weekly basis.
Instead, the nine chosen boxers are divided into three weight classes and undergo training under the tutelage of the best trainers in the world.
Their goal is to prepare for the final, ultimate boxing match wherein the winner is given the chance to go against the greats.
Shaq Vs., ABC (2009 – 2010)
The ABC reality series Shaq Vs. isn't entirely about boxing per se, as it's really about all sports.
In the series, basketball star Shaquille O'Neal spends each episode of its two seasons exploring a different sport, from baseball to swimming to motorsports and of course, boxing.
Shaq begins by negotiating a handicap with a professional in the sport so he's at less of a disadvantage, then would train for a week and then face the pros in their own sport!
For the boxing match, he went up against Shane Mosley.
Broken Knuckles, Amazon Prime Video (2020)
Bare knuckles boxing is no joke; it really takes the combat sport up a notch as the fighters have essentially no protective gear as they would in regular boxing, making them just as likely to injure themselves as they would injure their opponents.
Broken Knuckles is a documentary that follows bare-knuckle boxers through their rigorous training and preparation process, but also allows an avenue for viewers to get to know them personally.
Muhammad Ali, PBS (2021)
We mentioned Mike Tyson earlier, and Muhammad Ali is another household name in the boxing world.
In 2021, PBS released a four-episode biographical miniseries detailing the life of the famed boxer both inside and outside of the ring.
Yes, he may have been a powerhouse in the sport, but Ali was also an activist and philanthropist, and Muhammad Ali is the perfect documentary to provide that perspective into who he was as a boxer and a human.