There's been a rising interest in the true crime genre lately and luckily for us fans, there are so many documentary movies and series' out there that delve into various cases.
It's sort of a chicken-or-egg argument as to which came first: the interest in true crime or the multitude of media surrounding it. Either way, there's always a new show to pique our interest and keep us informed.
Sometimes, a two-hour-long documentary movie just isn't enough to comprehensively cover a case, and that's where the docuseries' come in.
Most true crime docuseries that dissect a single case have just a few episodes, but each one uncovers every detail and perspective that viewers need to get the whole story.
The best part is: you're always left wanting more at the end of each episode. We always want to know who did it. Why did they do it? How are they being punished for their crime? And if it's unsolved, why?
Sure, the true crime genre isn't for everyone. Depending on the nature of the crime, it can be very triggering. There are graphic retellings or descriptions, crime scene or victim photographs, interviews with victims, and even interviews with the perpetrators themselves. Sometimes it's just purely informational, other times it can set off powerful bouts of sadness and anger.
With that in mind, we've put together a list of recommendations for the best true crime docuseries to watch.
Just a fair warning, some of these fairly recent true crime documentary series can get quite heavy, so I definitely suggest sprinkling some Brooklyn Nine-Nine or Modern Family in between episodes for some comic relief.
The Trials of Gabriel Fernandez (2020)
The Trials of Gabriel Fernandez is a difficult one to get through, but one that is so important to watch as it shines a light on what happens when victims of child abuse don't get the protection that they need from the state. This recommendation comes with a heavy trigger warning – the statements and photographs are truly heartbreaking.
It tells the story of Gabriel Fernandez, an eight-year-old boy who was systematically abused and tortured over the span of eight months while under the care of his mother and her boyfriend. The abuse escalated and eventually ended in his death in May 2013.
The six-part Netflix documentary miniseries covers the progression of Gabriel's abuse through witness accounts of friends, family, and teacher, medical records, and photographs. It also covers the criminal trials of his mother and her boyfriend, as well as the case filed against the social workers who were deemed negligent on Gabriel's case.
Don't F**k with Cats: Hunting an Internet Killer (2019)
Don't let the title turn you off – if you think it's just a funny title about a cat committing a murder, think again. Whether or not you're a cat person, the story does start with animal abuse, but it escalates to human murder real quick.
What sets Netflix's Don't F**k with Cats apart from other documentaries is the perspective it's told from. Where others are usually heavily dependent on statements from law enforcement, lawyers, and family, this relies on the narrative of a completely unexpected group: internet detectives.
Yes, it was a group of Facebook investigators who played the biggest role in identifying and finding the man who went viral for posting videos of him torturing and killing kittens, and then brutally murdering a man. How they meticulously pieced the clues together is astounding, and really sheds light on how important the public can be in apprehending criminals.
The Jinx: The Life and Deaths of Robert Durst (2015)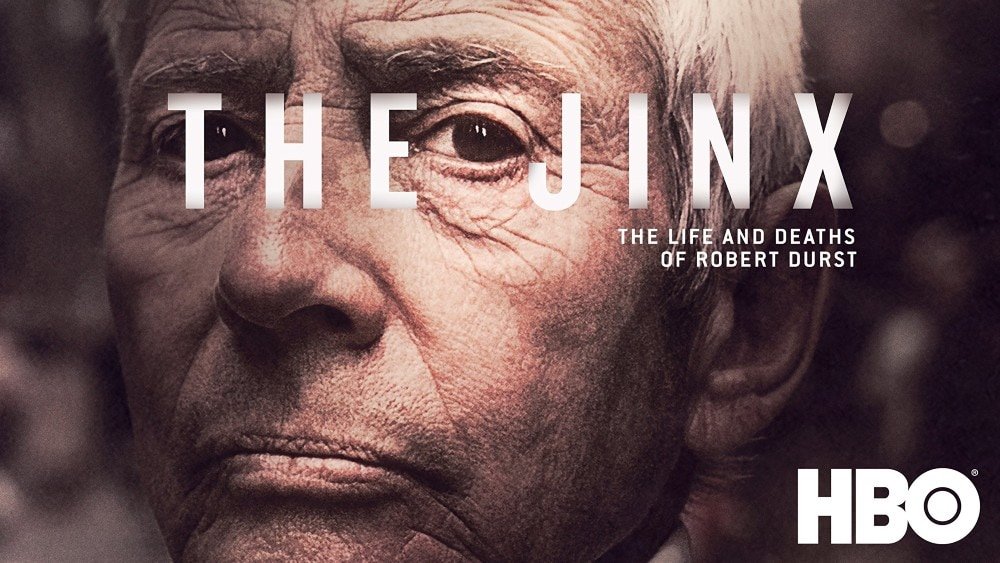 Over the span of four decades, real estate mogul and millionaire Robert Durst became the talk of the town in connection to three mysterious crimes: the disappearance of his first wife Kathie, the execution-style murder of his friend and confidante Susan Berman, and the killing and dismemberment of his neighbor Morris Black just one year later. Durst maintained his innocence on all three counts and although he did admit to killing Black, he was acquitted on the grounds of self-defense.
The Jinx is HBO's six-part miniseries that covers the investigation into these events through video footage, reenactments, police evidence, and even interviews with Durst himself. The latter half of the series, however, sets in motion a dramatic turn of events that – without revealing any spoilers – involves an anonymous letter with matching handwriting and an accidental confession.
The Case of: JonBenét Ramsey (2016)
JonBenét Ramsey's death in 1996 is undoubtedly one of the most notorious unsolved cases, with discussions and speculations abound even today, more than two decades later. The beautiful six-year-old was a child beauty queen who was initially reported missing but was found by her father eight hours later in the basement of their home, dead from a broken skill and strangulation.
The CBS two-part docuseries features an investigative team comprised of experts from various fields who embarked on a reexamination of the case from previous footage, reenactments, and independent experiments.
The Case of: JonBenét Ramsey is just one of many tv series' and even movies that have been made on the case, and it's made in a way that presents pretty damning evidence against her older brother, Burke. However, it has been largely criticized for that reason as well, so take the evidence presented with a grain of salt!
Unabomber: In His Own Words (2020)
You may have already seen the 2017 scripted drama miniseries Manhunt: Unabomber depicting a fictionalized version of the FBI's hunt for the Unabomber, Ted Kaczynski. Despite the artistic license it took in some areas, it was pretty successful and has since spawned into an anthology series.
This 2020 four-part Netflix docuseries pretty much explains itself in the title Unabomber: In His Own Words. If you've ever wondered why this genius and mathematics prodigy would ever kill three people and injure 23 more, then this is the best docuseries for you to watch. It's a collection of audio clips and interview tapes of Ted, as well his brother David and the neighbors who knew him for many years.
To make things even more interesting, the last episodes of this true crime docuseries takes a dive into possible theories as to what may have caused Ted to venture down this destructive, sociopathic life.
Wild Wild Country (2018)
We venture away from the crimes of an individual and move into the story of an entire group: the Rajneeshees. These were the loyal followers of Bhagwan Shree Rajneesh (later known as Osho), the leader of the Rajneeshpuram religious community (which, for all intents and purposes, was basically a cult) in Oregon.
While the Rajneeshpuram community is an interesting story on its own when it comes to their practices and beliefs, Netflix's Wild Wild Country doesn't focus too much on that. Instead, it details the external conflicts that the group experienced as they were setting up their commune in the Oregon desert.
In particular, it chronicles their clash against the local ranchers that led to the 1984 bioterrorism attack that involved deliberately infecting ten local restaurants with salmonella, leading to the food poisoning of 751 people. It's an unbelievable part of American history that we all just need to know more about.
Tiger King: Murder, Mayhem and Madness (2020)
One could argue that Joseph Maldonado-Passage, a.k.a Joe Exotic really is the Tiger King. As a tiger breeder and former owner of an exotic animal zoo, it's kind of a fitting nickname.
Netflix's Tiger King is a seven-part miniseries centered on the community of big cat conservationists and collectors. While viewers get to meet a couple of unconventional characters, the main emphasis of the docuseries is the rivalry between Joe Exotic and Carole Baskin, an animal rights activist and owner of Big Cat Rescue.
Tiger King chronicles the back-and-forth between these two as Baskin accuses Joe of animal abuse, and it eventually escalates to the former allegedly hiring someone to murder Baskin.
Conversations with a Killer: The Ted Bundy Tapes (2019)
Ah, Ted Bundy. A household name now when it comes to true crime, thanks in large part to the multiple documentaries about him and the feature film (where Zac Efron was perfectly cast to play Bundy) Extremely Wicked, Shockingly Evil and Vile.
Bundy is known for having wit and charm – so much so that many people doubted his guilt despite the mounds of evidence against him. Conversations with a Killer helps use to reconcile this charismatic man with the sociopathic tendencies beneath the façade.
On the 30th anniversary of Bundy's execution, Netflix premiered this four-part miniseries that put together over a hundred hours of audio interviews and video footage of his family, friends, those involved in his case, and Bundy himself after he was finally caught, imprisoned and sentenced to death. From his earliest crimes to his death row execution in 1989, Conversations with a Killer very clearly goes through the chronology of Bundy's crime spree to give the viewers a better idea of the extent of his evil.
Ted Bundy: Falling for a Killer (2020)
As previously mentioned, there are several reference points for anyone interested to really get to know the story of Ted Bundy and his crimes. Just this year, Amazon released a five-part documentary that tells the story from a completely different perspective than what we've become accustomed to.
While previous documentaries, podcasts, and movies have focused on Bundy himself, Falling for a Killer tells the story from a female perspective – more specifically, those of his surviving victims, their family members, and Elizabeth and Molly Kendall, Bundy's longtime girlfriend and her daughter.
Here, she reveals how his charm made him seem like the perfect family man, which was the inspiration behind the portrayal of Bundy in the previously mentioned feature film above. However, we finally get an insider view of the many red flags in their relationship that may have hinted at Bundy's deep-seated pathological hatred for women.
The Keepers (2017)
The case of Sister Cathy Cesnik isn't quite as well-known as the cases covered in the list, but it's definitely no less riveting. In 1970, Sister Cathy was found murdered in a garbage dump in Lansdowne, Baltimore, Maryland. Prior to her death, she was an English and drama teacher at Archbishop Keough High School in Baltimore.
The Keepers is a collection of interviews from her former students, law enforcement, family, friends, and acquaintances. Throughout the seven episodes, the investigative team aims to delve deeper into a possible cover-up by legal and religious authorities of allegations of sexual abuse by a priest at their school.
There may be parts of this Netflix documentary that are harder to watch than others as certain elements of sexual abuse on minors is discussed. It may even trigger anger in some, especially since the archdiocese of Baltimore has denied knowledge of the abuse (though they've also stated that they do not outrightly deny these allegations). However, find comfort in knowing that many victims have spoken out since the docuseries' release and the police are finally investigating the case further.
The Confession Tapes (2017 – 2019)
The last show on our list is a little bit different from the others, both in terms of format as well as the content. While the previous shows focus on one case in particular and cover all aspects from interviews, victims, history of the criminal, and in some cases even the trial proceedings, Netflix's The Confession Tapes go through one case per episode.
What sets it even further apart from other true-crime series is what it further focuses on in each episode: instances where those convicted of the crimes possible gave false confessions under pressure, coercion, intimidation, or other means. Instead of the focal point being the crimes themselves, each episode is a frustratingly clear dissection of the criminal justice system and how it often falls short.
Vice describes it perfectly: "…what makes it so hard to watch is exactly why you should watch it." There are two seasons available at the moment, with no news yet as to a renewal for a third season.