I don't know about you guys but I, for one, truly think that Christmas is the most wonderful time of the year. What's not to love about gingerbread cookies and eggnog, the scent of a fresh Christmas tree, tinsel and mistletoe, Christmas carols, and best of all: gifts and the spirit of giving!
In this article, we have a collection of the best TV show Christmas episodes from both new shows and old, comedies and dramas, and even a few sci-fi action series. Don't be deceived though, even the comedies have a tear-jerking moment or two, so make sure you have a large box of tissues handy!
Whether you're spending the holidays with family, friends, your special someone, or enjoying the company of yourself, you're going to want to have these TV Christmas specials lined up to get right into the holiday spirit.
Friends Season 4 Episode 10 "The One with the Girl From Poughkeepsie"
There are a few plotlines running through this particular episode, with Ross trying to figure out his dating life, Chandler and Rachel doing the same for her, and Monica and Joey working together at her new job.
The best plotline, however, and probably some of the funniest moments in the whole episode, comes from Central Perk's favorite musician. Phoebe is trying to write a Christmas song for her friends, but her creativity seems to be coming up short. Hanukkah rhymes with Monica, Joey rhymes with snowy, floss rhymes with Ross, Rachel rhymes with…dreidel? And what even rhymes with Chandler? Yeah, Phoebe's last song of the episode has that all figured out.
Community Season 2 Episode 11 "Abed's Uncontrollable Christmas"
Ask any fan of Community their list of best episodes, and I guarantee this one will make the list not just for Christmas episodes, but of the whole show. What makes this episode an absolute classic is the fact that the whole thing is shot in stop motion animation – with all of the characters' animated models looking so perfectly like their real-life counterparts.
The episode runs primarily from Abed's perspective as he has slipped into the animated delusion, further prompted by the Greendale Seven to find out the true meaning of Christmas. While the reason for his delusion unravels in a heartbreaking reveal involving his mother, it ends with a highlight on friendship and this gem: "The meaning of Christmas is the idea that Christmas has meaning, and it can mean whatever we want."
This Is Us Season 1 Episode 10 "Last Christmas"
Christmas specials aren't a regular on NBC's This Is Us and in fact, this is the only one in its current four seasons. However, this one makes the list because of the separate storylines that play out throughout the episode – each with an onslaught of emotions that really highlights the importance of family during the holidays.
In the midst of revelations about William's past romance and Kevin's holiday celebrations with Sloane, especially poignant is the relationship between Kate and Rebecca as the latter faces issues with her health (and weight) both in the present and in the 1989 flashbacks. Rippling through the episode is Rebecca's claim that "nothing bad ever happens on Christmas Eve" – but we heartbreakingly find that that may not always be true.
Glee Season 2 Episode 10 "A Very Glee Christmas"
Say what you will about what went wrong as Glee progressed – there's no better show to watch on Christmas as you sing along to all the covers of Christmas carols. Season 2's holiday special was the best that Glee had to offer, particularly in the form of a duet rendition of "Baby, It's Cold Outside" between Kurt and Blaine.
Even with the lack of Christmas cheer in Finn and Rachel's relationship, the episode certainly makes up for it with the beautiful plotline between Brittany – who apparently still believes in Santa, her boyfriend Artie, and Coach Beiste. The cherry on the cake (or should I say, the star on the Christmas tree?) was the overarching How the Grinch Stole Christmas plot with Sue stealing the Secret Santa gifts then having a change of heart.
Lost Season 4 Episode 5 "The Constant"
Yeah, a sci-fi drama series isn't the first show that would pop into my head when talking about the best TV show Christmas episodes, either. And well, this one from Lost isn't exactly holiday-themed but more, Christmas-adjacent.
Amongst all the weird, sci-fi-ish stuff that has already happened on the show thus far, "The Constant" is only the second episode that features time travel. In it, Desmond Hume loses his memory after his consciousness travels back and forth between 1996 and 2004. In order to avoid death as a result of the time warp, he needs to find a "constant": something present in both times to root his mental stability.
He decides on Penny, his ex-girlfriend and the love of his life. Back in 1996, Desmond needs to find and convince her to pick up his call on Christmas Eve of 2004. When the call does come and she answers, it pretty much is a Christmas miracle – after all, it's a holiday meant for reconciling with those who mean the most to you.
The Big Bang Theory Season 6 Episode 11 "The Santa Simulation"
Going back to sitcoms, The Big Bang Theory has always done an excellent job with holiday-themed episodes. When it comes to Christmas, it's a pretty solid toss-up between "The Santa Simulation" and "The Bath Item Gift Hypothesis" – the latter also being a favorite simply for the last few minutes of a heartwarming gift exchange between Penny and Sheldon.
"The Santa Simulation", however, zeroes in so perfectly on Sheldon's relationship with the holiday. Not only does the episode strongly feature a Christmas-themed Dungeons & Dragons, but it also unravels to reveal Sheldon's less-than-delightful view of Santa and his odd, in-game revenge plot for a mall Santa's slight when he was five years old. Typical Sheldon, I guess?
To top it all off, the outro features the D&D Santa, who Sheldon left to be eaten by ogres, exacting his own revenge in Sheldon's nightmare.
The Office Season 2 Episode 10 "Christmas Party"
The Office is another classic sitcom that does their holiday episodes RIGHT. Just check out the Halloween episode from the same season and you'll know exactly what we're talking about!
The second season's Christmas special is the first of the series and sets the standard really high for the remaining seasons. After organizing a Secret Santa for their annual Christmas party, Michael proposes they turn it into a Yankee Swap after he's disappointed with the gift he receives. Of course, this sets the party on the road to a complete disaster, with everyone fighting over the $400 iPod video and Jim's well-thought-out gift for Pam ending up with Dwight.
To compensate for everyone's grumpiness after the swap, Michael buys alcohol for the party despite it being against company policy, and that just brings about a whole new slew of problems.
Modern Family Season 10 Episode 10 "Stuck in a Moment"
"Stuck in a Moment" is Modern Family's penultimate Christmas special, and it was indeed a very special one.
For one, an unexpected spider infestation at the Pritchett's cause them to celebrate the holiday at the Dunphy's, which is already a sign that there will definitely be chaos. Secondly, Phil is up to his usual antics while showing a house – he actually goes so far as to steal the family Christmas tree for his open house! Naturally, that didn't go over so well with Claire.
The most joyful and exciting part of the episode comes in Haley and Dylan's announcement (one that didn't happen without its fair share of obstacles, of course) that they were expecting a baby. Adorable!
Brooklyn Nine-Nine Season 3 Episode 10 "Yippie Kayak"
Fans of Brooklyn Nine-Nine all know that Jake Peralta is madly in love with two things: Amy Santiago and Die Hard. So you know a Die Hard-themed episode has all the makings of a comedic gold mine, and "Yippie Kayak" didn't disappoint. From its hilarious cold open, it just keeps getting funnier and funnier.
When Jake forgets to buy Charles a gift, he organizes a last-minute shopping trip with Gina and, in an unfortunate twist of fate, Charles himself. While in the department store, they end up in a robbery and hostage situation that Jake describes so perfectly as "real-life Die Hard! I mean, oh no, crime!" Terry is forced to step away from his family time to deal with the Vulture and his incompetent handling of the situation, while Amy joins in to help him after backing out of the Polar Club swim in the "freezing, filthy ocean" with Rosa and Holt.
No tissues needed for this episode, folks! Unless, of course, you need it to wipe your tears from laughing too darn hard.
Black Mirror Christmas Special "White Christmas"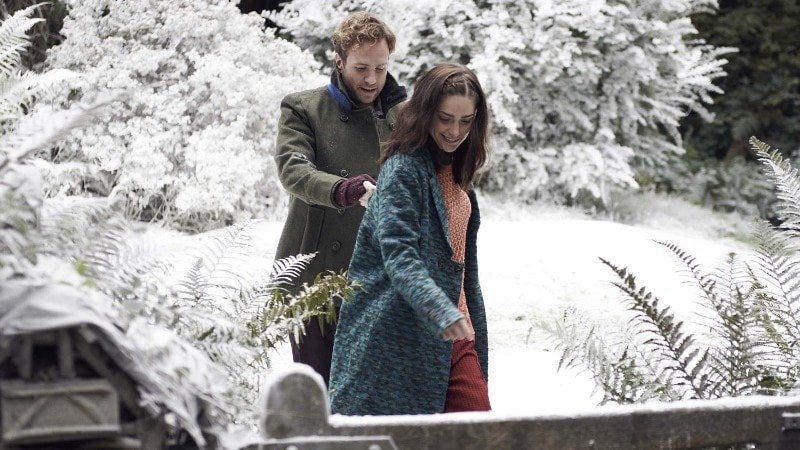 Given the anthological nature of Black Mirror, its episodes can be viewed in any order and you'll still have your sanity slowly fade away and your fear of technology seep in. But it's precisely this disturbing quality to the series that makes it so good and luckily for us, it was good enough for a single production of a Christmas episode in 2014.
Set with two men, Joe and Matt, in a random cabin on a snowy Christmas Day, it starts out as Matt's narration of why he ended up where they were. In all their five years of working together in that remote outpost, this was the first time the two had ever spoken at length. Though reluctant, Joe begins to talk as well.
Both stories are compelling and draw you in from start to finish. But it's the ending, that intense, jaw-dropping, ending that you just never saw coming, that really seals the deal on this being one of the best Christmas episodes of modern TV.</p
Leverage: Redemption Season 1 Episode 9 "The Bucket Job"
Next up we have one of the newest entries on this list – Leverage: Redemption's Christmas episode titled "The Bucket Job".
After almost 10 year break, 2021 brought us a revival of TNT's fan-favorite series Leverage. The first half of season 1 of Leverage: Redemption debuted on Freevee (previously IMDb TV) in the summer of 2021 but it was the back half of the season 1 episodes that premiered in October that gave us an episode that was definitely deserving to be on this list!
During the episode, the Leverage team decided to help out a young man who wants to surprise his mentor, Mr. Blanche, with an adventure worthy of the spy-thrillers that Mr. Blanche loves to read.
But little does the team knows is that the small-town librarian is an actual spy, so the team's Holiday good deed is quickly interrupted by a shadowy organization that wants the ledger that Mr. Blanche supposedly had on him when he went into hiding.
Legacies Season 2 Episode 8 "This Christmas Was Surprisingly Violent"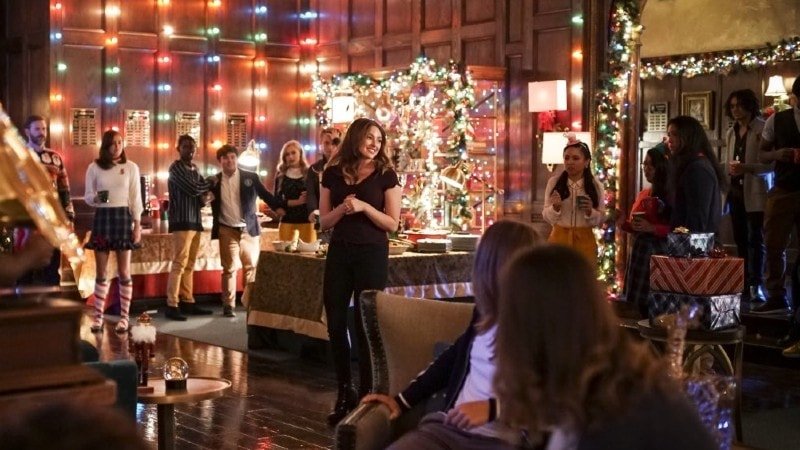 And last but not least on this list of the very best TV show Christmas episodes we have this Legacies episode that not only was extra Christmassy but also served as the mid-season finale for season 2. So, you can bet a lot happened during the episode.
The episode starts with snow falling outside and everybody getting into that Christmas cheer. Yet one student of the Salvatore School isn't feeling the festivities. After all, as Hope points out to Kaleb, it's only October. Which can mean only one thing – a new monster has come to Mystic Falls.
And we proceed to see such moments as Hope teaming up with Clark to take down the Krampus. A fight between Santa and Krampus. Rafael meeting his father. And Lizzie and Sebastian taking a road trip in Damon's old car to find Landon that may or may not end up in some much-needed relief of sexual tension. As well as Landon finally choosing between Hope and Josie. It's truly a fantastic episode. And it will definitely help you feel that Christmas spirit.
We hope you enjoy these awesome Christmas episodes, and you've got just enough time to binge-watch them all before Christmas officially arrives. Happy holidays!