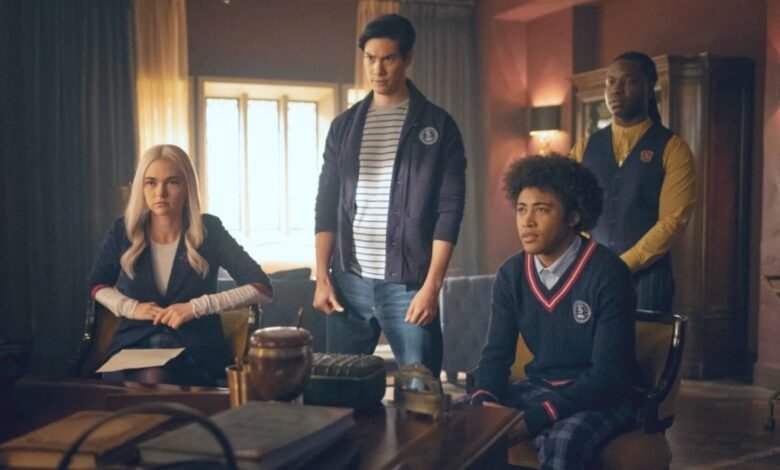 When I was growing up, I used to think that going to a boarding school was so cool. Just based on what I knew about them from the shows and movies I'd watched, boarding school meant you were going off to live at and learn from a prestigious school.
It would be sad to be away from family, sure, but you'd be living with your friends and classmates and that would mean more freedom (at least, I thought so). The structure of a boarding school institution just fascinated me.
The thing about boarding schools, though, is that their purpose and reputation really differ depending on where you are.
In some places, they're a place for students to get the most elite education and prepare them for a future in high society. In other places, however, boarding school is where parents will ship their kids off to when they're 'problematic' (for lack of a better term) and need the strict structure and discipline.
Regardless, movies like Wild Child and the Harry Potter franchise (and even Dead Poets Society, despite its dark undertones) made the idea of boarding schools seem like a great idea for me.
In this list, we're taking a look at some of the best TV shows about boarding schools, whether they're schools for magic or other "specialized" training, or simply elite institutions for regular humans.
For those of us who have never experienced it, we'll get a glimpse of what boarding school life could be like – the good, the bad, and everything in between.
Elite, Netflix (2018 – present)
We're getting the ball rolling with Netflix's Elite, a Spanish teen thriller drama that definitely gives off Gossip Girl vibes with the amount of drama, intrigue, and clashing of social classes.
The thing with Elite is, there's a whole lot more crime and death. That, and the main story each season plays out over two timelines: the present that shows a major event, and the past that shows how the characters got there.
The show takes place in Las Encinas, an elite secondary boarding school comprised of mostly wealthy students. However, the arrival of three new working-class students (who were given scholarships after their own school collapsed) brings an unexpected rush of jealousy, sexual tension, resentment, and clashing lifestyles.
Young Royals, Netflix (2021 – present)
In a similar vein, in that the show takes place in an elite boarding school, is Netflix's hit series Young Royals.
Hillerska Boarding School is a fictional boarding school attended by children of Sweden's rich and powerful.
Among them is Prince Wilhelm of Sweden, who lands at the school after a video of Wille fighting at a party is posted online.
Simon Eriksson, a scholarship and non-boarding student who's a soloist at the Hillerska's choir, catches Wilhelm's eye, and the two begin an unlikely romance. But when Wilhelm's brother dies in a car accident, he's declared Crown Prince of Sweden which put's his relationship with Simon in jeopardy.
Zoey 101, Nickelodeon (2005 – 2008)
We're going a little more light-hearted with a Nickelodeon classic, Zoey 101.
Considered one of the best shows from the network that decade, the show has even evolved to soundtracks and video games, as well as 10-year anniversary specials and even talks of a possible reunion!
Zoey 101 followed teenager Zoey Brooks and her friends at the Pacific Coast Academy, a fictional boarding school located in Southern California.
PCA was formerly an exclusive all-boys school but now that they've opened their doors to providing a co-ed environment, Zoey and other female students have arrived on campus.
This change brings more drama and more romance, and these young teenagers are just trying to navigate their way through it all.
Greenhouse Academy, Netflix (2017 – 2020)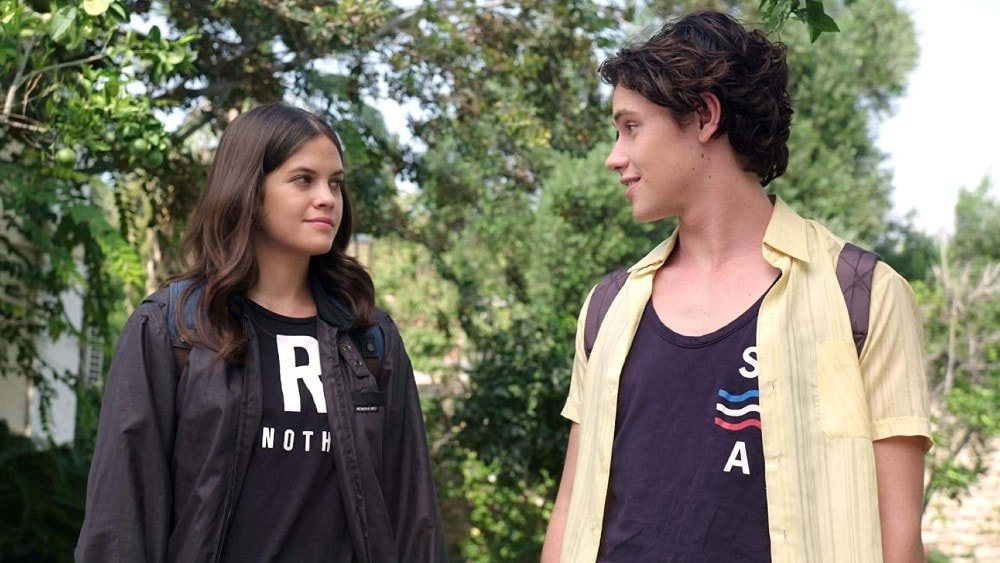 Netflix's Greenhouse Academy was based on the Israeli series of the same name (originally Ha-Hamama) and later adapted for an international audience.
The series, which was catered towards a younger, pre-teen to teenaged audience, wrapped up its fourth and final season in 2020.
It revolves primarily around siblings Alex and Hayley Woods who, after the heartbreaking loss of their astronaut mother, are newcomers to the Greenhouse Academy, a private boarding school in Southern California aimed at shaping gifted future leaders.
They initially join opposing houses within the school and become rivals on school grounds. However, when they and their friends discover a sinister plot involving natural disasters, the two houses come together to uncover the scheme and prevent it from ever happening.
Fate: The Winx Saga, Netflix (2021 – 2022)
Though Fate: The Winx Saga is a Netflix production, it's based on an animated series from Nickelodeon called Winx Club and features many characters from the original animated show.
Fate: The Winx Saga takes place at Alfea College, a magical boarding school in the Otherworld. At this school, fairies with magical gifts are educated and trained in the elements they are born with: fire, light, water, earth, and mind.
Among them is newcomer Bloom Peters, who was raised on Earth by human parents and is just coming to terms with her abilities.
Learning about her past in the Otherworld, she and her new friends learn of monsters that threaten the existence of their kind.
Legacies, The CW (2018 – 2022)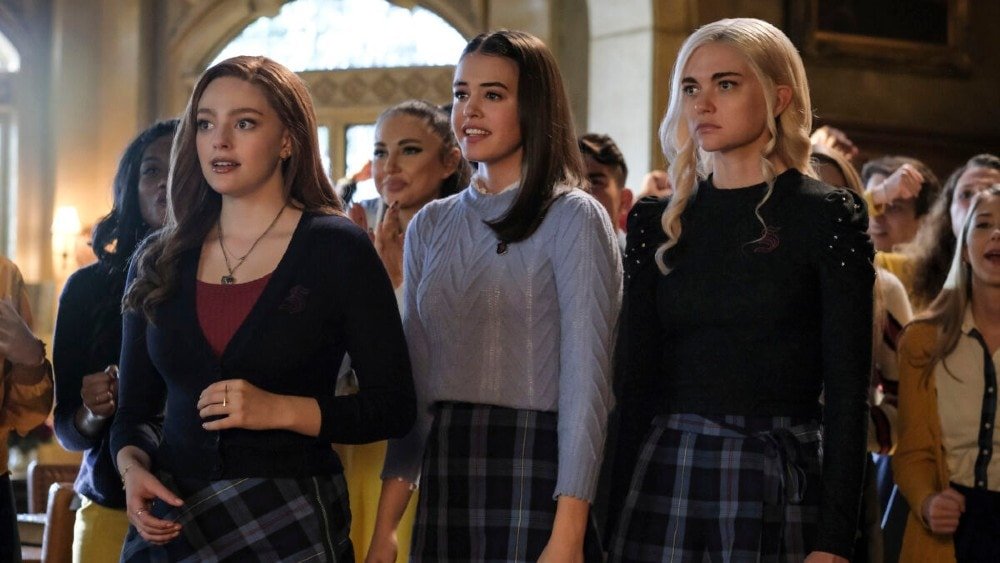 The Vampire Diaries really left its mark on the world of supernatural teen dramas, forming a universe of its own in which two spin-offs now exist.
After the era of the Salvatore brothers, the spin-offs shifted focus to the Mikaelsons – the original vampire family – and their relationship with the werewolves. That's where we find Legacies, which has the Salvatore School for the Young and Gifted as one of its primary settings.
The school is a tribute to the original main characters and is a boarding school that helps supernatural beings train in controlling their abilities.
At the center of Legacies is Hope Mikaelson, a werewolf-witch-vampire hybrid who is orphaned and finds a safe haven at the Salvatore School.
Vampire Academy, Peacock (2022 – present)
Speaking of The Vampire Diaries, we also have to mention the recently-released Vampire Academy series.
Developed by Julie Plec (co-creator of TVD) and Marguerite MacIntyre (who played Sheriff Forbes on the same show and was a writer on both The Originals and Legacies) and based on the Vampire Academy YA novel series by Richelle Mead, Peacock's Vampire Academy tells the story of two unlikely best friends who might just end up changing the royal vampire society forever.
In this series, we focus on Rose Hathaway, a Dhampir (half vampire, half human) guardian-in-training, who's finishing up her education at the St. Vladimir's Academy to take her place as the official guardian for her best friend Lissa Dragomir, a royal Moroi princess studying at the same boarding school.
But a deadly car crash changes their lives forever, setting the two women on a new path – one that's full of dirty politics, intrigue, and love.
Wednesday, Netflix (2022 – present)
Another new series that's set in a boarding school is Netflix's recent hit Wednesday.
The show takes place in Nevermore Academy and follows none other than Wednesday Addams, the deadpan daughter of Gomez and Morticia Addams, who's sent to Nevermore after getting expelled from her previous school.
Going to a boarding school filled with werewolves, vampires, sirens, gorgons, and other outcasts who possess powers such as telekinesis and shapeshifting is not easy. But when Wednesday's own psychic abilities start to emerge, she becomes involved in a local murder mystery that might just be more than her emotionless self can handle.
Hex, Sky One (2004 – 2005)
In Sky One's supernatural drama Hex, the main character Cassie Hughes is descended from a powerful line of witches, the Medenham Witches, who were tried and executed in the 18th century.
The site of this controversy is now home to Medenham Hall, a remote English boarding school that Cassie finds herself enrolled in when her latent supernatural powers are accidentally activated.
She struggles to fit in with her peers at her new magic school but this ends up being the least of her worries when she crosses paths with Azazeal.
He's the leader of the Fallen Angels and claims to be in love with her – only for this to lead to chaos and destruction, not just for Cassie but possibly the entire human world.
Deadly Class, Syfy (2019)
Imagine a boarding school like Hogwarts or several of those mentioned previously – schools that train its students in particular supernatural skills and abilities.
Now, imagine a school exactly like that but for regular people, just your run-of-the-mill teenagers with no supernatural abilities. That's what King's Dominion is: a secret institution in San Francisco for the Deadly Arts, as well as the main setting for Syfy's 1980s-set series Deadly Class.
The students aren't supernatural, sure, but they're far from ordinary: they're the next generation of ruthless fighters from the world's top crime families, sent to be trained into the best assassins.
Marcus Lopez Arguello is the newest addition to the student body and tries to find his place amongst the crowd despite not having the same crime family background.
House Of Anubis, Nickelodeon (2011 – 2013)
House of Anubis is based on a Dutch-Belgian series named Het Huis Anubis, later developed for an American and international audience for Nickelodeon.
The boarding school, Anubis House, is an English residence with a mysterious past linked to Egyptian mythology.
When Nina Marton comes to take her place at the school, another student named Joy mysteriously vanishes. Her friends are immediately suspicious of the new girl, especially when the school itself seems bent on brushing off Joy's disappearance. However, it's soon revealed that Nina is in fact the key to finding out the truth about both Joy and the Anubis House.
With the help of her newfound friends and strange Egyptian artifacts passed onto her, Nina attempts to uncover the house's secrets.
Looking for Alaska, Hulu (2019)
John Green's YA novel Looking for Alaska is truly an amazing one and thankfully, the Hulu miniseries adaptation followed in its footsteps with praises from fans for its loyalty to the original material.
Miles "Pudge" Halter is determined to find his "Great Perhaps", and he figured enrolling at the Culver Creek Academy boarding school was the way to do it.
While there, he makes friends with Chip "The Colonel" Martin, Takumi Hikohito, and a girl named Alaska Young.
So begins Pudge's journey into gaining a deeper perspective on his purpose in life, and one that continues in the face of a tragic accident that will change their lives forever.
Ride, YTV/Nickelodeon (2016 – 2017)
Ride is another series on our list that targets a bit of a younger audience, having aired on YTV in Canada and Nickelodeon in the US.
The series tackles typical issues that a migrating teenager might face: leaving behind friends, overcoming the culture shock of an entirely different country, and struggling to fit in at a new school.
Kit Bridges is forced to pack up her life in Canada to move across seas to England, where her father has gotten a new job at the prestigious equestrian school, Covington Academy.
Being the new girl is never easy, but Kit is determined to power through her fear of horseback riding and in the process, finds an unexpected companion in the school's most stubborn horse, TK.
Higher Ground, Fox Family (2000)
Some boarding schools are catered towards troubled youth, with the goal of providing a safe place for rehabilitation.
In the case of Mount Horizon High School, the setting in Fox Family's Higher Ground, the teens are sent here in order to help them overcome the demons in their personal lives. With the school situated up in the mountains and miles away from the nearest town, it's the ideal environment.
Higher Ground focuses on a group of young teenagers who have been through all sorts of traumatic experiences at home – sexual, emotional, and verbal abuse, neglect, death of a loved one, depression, drug use and alcoholism, and so many others.
At Mount Horizon, they're given not just a proper education but also the opportunity and the tools to face their personal struggles.
Tower Prep, Cartoon Network (2010)
Tower Prep is a live-action series created for Cartoon Network; thus catering again towards a slightly younger audience.
The titular Tower Prep school is an institution aimed at helping its students to better hone their special abilities. The thing is, this isn't a place where the kids went willingly, nor are they there because their parents sent them.
No, the students of Tower Prep just mysteriously wake up there with no memory of how they got there or where the school is located.
Ian Archer is one of these students. Though he initially tries (and fails) to find a way to escape, he instead bands with fellow students to discover Tower Prep's dark secrets and get back to their normal lives.
Vampire High, YTV (2001 – 2002)
No, Vampire High is not the name of the boarding school in the eponymous Vampire High series from YTV. It's actually called Mansbridge Academy and on the surface, it looks like your regular ol' private boarding school for troubled rich kids.
Look a little more closely, however, and you'll find that its night students are, well, not quite so ordinary.
Vampire High follows a small group of five teenage vampires who have been sent by their leaders, the 'Elders', to be part of a social experiment.
That is, they need to attend a human boarding school and learn how to control their vampiric instincts so they can live amidst human society – all while dealing with the regular teen drama that us, humans, go through, too.
Young Americans, The WB (2000)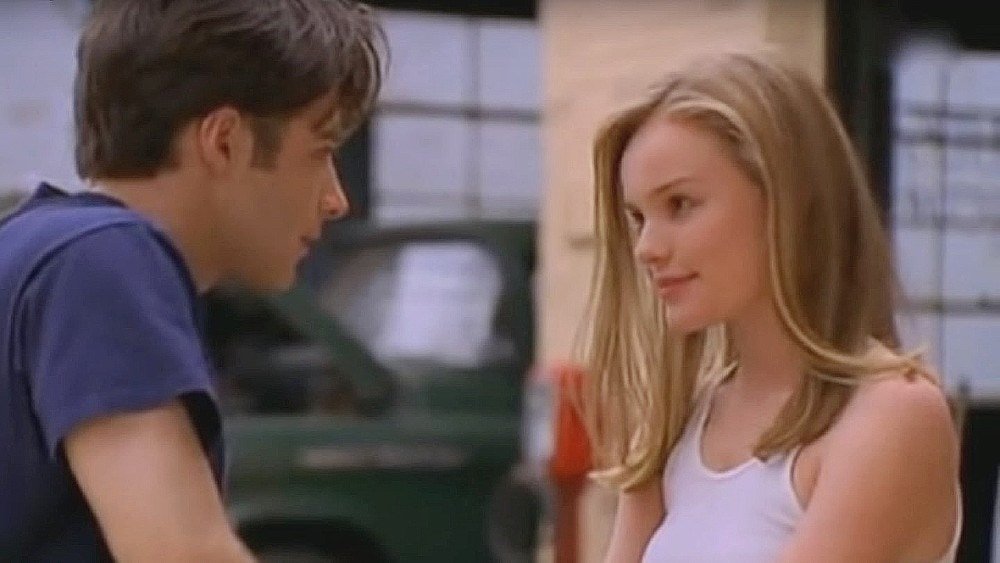 Children of the 80s and 90s have all heard of Dawson's Creek, right? What most of us probably don't realize is that this classic teen drama actually had a spin-off: Young Americans.
The main character, Will Krudski, was introduced in the third season of the parent series as an old friend of the gang that they've kept in touch with; now, Young Americans follows his personal journey as a working-class student newly enrolled at an exclusive, prestigious boarding school in town, Rawley Academy.
Struggling to fit into the norms of the posh institution while sticking to his humble roots, Will walks on a path of self-discovery.
Other subplots in the series explore themes of love, gender and sexuality, and morality.
Strange Days at Blake Holsey High, Global TV (2002 – 2006)
Part teen/family dramedy and part science fiction, Strange Days at Blake Holsey High was a Canadian series that mixed both coming-of-age themes of young teenagers with actual scientific principles.
The eponymous Blake Holsey High is a fictional boarding school located in southern Ontario, and the series revolves around a group of students in the institution's Science Club and their teacher.
Though they're just trying to have a normal experience in school, they often find themselves investigating strange preternatural phenomena that pop up around the school in order to get to its origins.
From wormholes to disappearing science labs, the Science Club never runs out of scientific adventures. Seems appropriate, as the name of the school itself is a wordplay on the concept of a black hole!
The Facts of Life, NBC (1979 – 1988)
Yet another series on our list that comes as a spin-off from a very popular series of the time, The Facts of Life branches out from its parent series Diff'rent Strokes to take us all the way back to what boarding schools were like in the 1980s.
Unsurprisingly, considering the time the show was set in, the boarding school in question is exclusive only for girls – no co-ed boarding schools here!
Eastland School is a fictional institution in Peekskill, New York, and The Facts of Life primarily focuses on Edna Garrett, who has recently become the housemother.
Once there, she meets a slew of young women who, more often than not, really do need her guidance as they deal with themes of gender and sexuality, eating disorders, drug use, peer pressure, and other socially relevant themes.
The Boarding School: Las Cumbres, Amazon Prime Video (2021)
The next two shows on the list are Spanish-language originals and are also connected, as The Boarding School: Las Cumbres is a reboot of El Internado.
The show takes place in a remote boarding school next to a monastery between the mountains – a location suitable for isolating the problematic youth that are sent through its doors.
Because of their troubled pasts, the students are made to endure intense disciplinary measures under teachers who sometimes border on being almost too harsh.
On top of these threats from within the school, their surroundings are also home to forests that hold mysterious supernatural secrets.
The Boarding School: Las Cumbres is filled with dark, eerie horror that will slowly creep its way down your spine – a theme this reboot elevated further than its original.
El Internado, Antena 3 (2007 – 2010)
El Internado is the original series upon which the preceding show is based; it aired for seven seasons and was broadcast both locally and internationally on Netflix.
In El Internado, we meet Marcos and Paula Novoa Pazos, siblings who recently lost their parents at sea. Now orphaned, they are shipped off to a boarding school and left under the guardianship of its director.
Soon they are warned that the school is dangerous and that they must find a way to leave, but not before they are caught up in investigating the disappearance – and murder of former students.
Rebelde, Canal de las Estrellas (2004 – 2006) & Rebelde, Netflix (2022)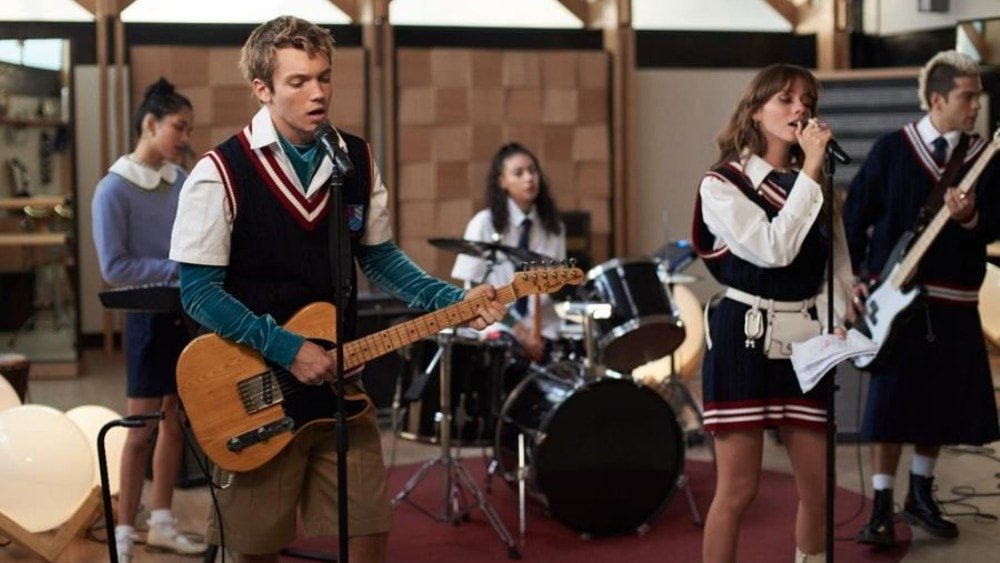 Another original and reboot combo is the Mexican musical telenovela Rebelde and its Netflix reboot of the same name.
The original 2004 Rebelde (or Rebel in English) series was set in Elite Way School, a prestigious private boarding in Mexico City. And it followed a group of six students who come together to form a band.
Now, 8 years later, a new term has begun in the Elite Way School and once again a group of first-year students find themselves united thanks to their love for music.
However, much like in the OG show, the secret society called La Logia (or the Lodge), which aims to keep the purity of the privileged class that the school was created for, is still active and threatens to ruin the musical aspirations of the new hopefuls.