This article contains affiliate links. We may earn a small commission from qualifying purchases.
When you're watching the ballerinas gracefully glide and leap across the stage, it's hard to fathom the hard work that went into them perfecting their craft.
They make it look so easy! However, understanding the discipline and physical training a ballerina undergoes only serves to heighten the appreciation for their skill when watching them perform.
---
Want the shorter version of this article? Then check out our YouTube video of the top 7 TV shows about ballet:
---
That's why we decided to put together a list of both scripted and reality TV shows about ballet – so we all know that behind all that gracefulness and beauty are dozens of pairs of pointe shoes, several blocks of rosin, and hours upon hours of strict, non-stop training.
THE BEST SCRIPTED BALLET TV SHOWS
These scripted shows may be fictionalized versions of the everyday life of a ballerina, but that doesn't make them any less realistic! From teenagers who are developing their skills to adults living in the world of professional ballet, these shows cover them all.
Most of the scripted shows on the list have either already wrapped up or are currently airing with a few seasons under its belt already. However, the last one is a show that's still currently in production, so there's definitely something to look forward to for your ballet-themed TV show binge marathon!
Tiny Pretty Things, Netflix (2020)
Back in August 2019, it was confirmed that Netflix had issued an official 10-episode order for a new ballet TV series titled Tiny Pretty Things, which is based on the YA book of the same name written by Dhonielle Clayton and Sona Charaipotra. The series premiered at the end of 2020.
Following the plot of the novel, Tiny Pretty Things tells the story of a group of aspiring ballerinas at the Archer School of Ballet, the elite company school for Chicago's more renowned ballet company, City Works Ballet. At ASB, where you come from doesn't matter, what matters is your drive to succeed, and your passion for dance.
With an ensemble cast of talented actors and dancers themselves, Tiny Pretty Things will chronicle each characters' journey through the school as they strive to earn their way to the top as principal dancers with the company – or their figurative fall from grace.
Where to watch Tiny Pretty Things:
Bunheads, Freeform (2012 – 2013)
Starring Broadway veteran Sutton Foster in the lead role, Bunheads tells her character Michelle Simms' story as a former ballerina turned Vegas showgirl. Having grown tired of that life and yearning to return to her roots in ballet, Michelle spontaneously accepts a marriage proposal from a long-time admirer and moves to his hometown: a fictional town called Paradise in Southern California.
When tragedy strikes, however, Michelle must adjust to her small-town life following the sudden death of her husband. As a way to cope, she teaches at her mother-in-law's ballet school, the Paradise Dance Academy.
Sadly, Freeform (then ABC Family) canceled the series after just one season and the fans' appeals to renew the show were unsuccessful. However, Bunheads is still a great show to watch for all who love ballet or dance in general.
Where to watch Bunheads:
Flesh and Bone, Starz (2015)
Flesh and Bone dives into the world of professional ballet in the setting of an established ballet company, the fictional American Ballet Company in New York.
The company's artistic director Paul Grayson is a creative but temperamental genius who is determined to elevate their company to worldwide status. His hope lies in Claire Robbins (played by Sarah Hay), an incredibly talented, but troubled, ballerina. Claire's past is full of emotional and physical trauma that has sown self-destructive tendencies but has also driven her ambitions to succeed as a prima ballerina.
Starz describes it as a "dark, gritty, complex series [that] unflinchingly explores the dysfunction and glamour of the ballet world and New York's inherent drama". Flesh and Bone was nominated at the 73rd Golden Globes for Best Limited Series or Motion Picture Made for Television, and Hay was nominated for Best Actress in the same category.
Where to watch Flesh and Bone:
Navillera, tvN (2021)
Our next show takes us into the world of classical ballet in South Korea.
Navillera (나빌레라 in the original Korean and also known as Like a Butterfly in English) is a twelve-episode drama series that follows two different men on their journey to discover the joys of dancing ballet.
First is Shim Deok-chul, a newly retired 70-year-old mailman who has chosen to fulfill his dream of learning ballet and dancing in Swan Lake despite his medical condition.
On the other hand, there's Lee Chae-rok, a talented 23-year-old who is on the verge of giving up ballet when meeting Deok-chul inspires him to do otherwise.
Together, the two men lift each other out of the difficulties of their realities in order to achieve their dreams.
Where to watch Navillera:
Find Me in Paris, Hulu (2018 – 2020)
Decider describes Hulu's Find Me in Paris as "what would happen if Center Stage and Doctor Who had a baby" – a description that is both hilarious and absolutely accurate. There's dancing, drama, and yes: time travel.
The show is a modern teen drama about Lena Grisky, a Russian princess and the best ballerina at the Opéra de Paris school…in 1905. Her life is seemingly perfect, with the cherry on top being a handsome boyfriend named Henri. Unaware that he's from a family of time travelers, he gives Lena a necklace that ends up being a time-traveling device that portals Lena to the Opéra de Paris in 2018.
Henri is doing everything that he can in their timeline to get her back home. However, Lena has started to form relationships – both in friendships and romance – and has even embraced contemporary dance forms like hip-hop. As a result, she starts to question whether she really wants to go back or remain in the present.
Where to watch Find Me in Paris:
Spellbound, Hulu (2023 – present)
Speaking of Find Me in Paris, in 2023, a new series came out that's set in the same universe.
This time around, we follow Cece Parker-Jones, a 15-year-old ballerina who leaves her small town in the US to study ballet at the Paris Opera Ballet School.
However, her life takes a magical turn when she finds a book of spells in the back room of her aunt's apothecary that accidentally unleashes a host of magical mysteries into her life.
Where to watch Spellbound:
Dance Academy, ABC1 / ABC3 (2010 – 2013)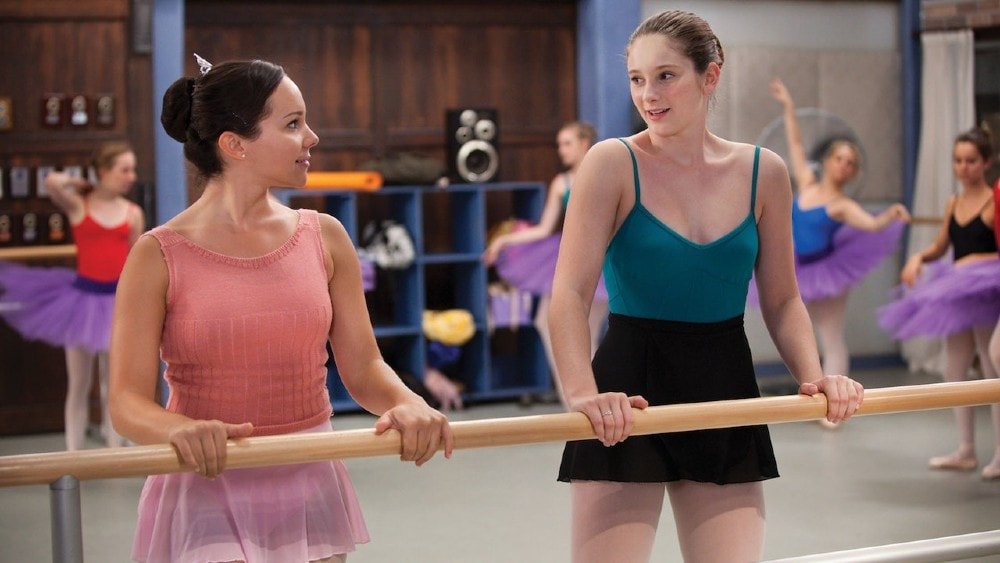 Dance Academy is an Australian teen drama focused mainly on Tara Webster (played by Xenia Goodwin), a fifteen-year-old dancer from the countryside whose dreams have come true as she starts her first year at the National Academy of Dance. While there, she learns to fine-tune her ballet technique while learning other dance forms to further expand her skills. At the same time, she builds bonds with classmates to help through this phase of her high school life.
Throughout the three seasons, Tara and her friends must also compete against each other to participate in international competitions as well as to secure permanent contracts to become principal dancers at the Academy's company.
Dance Academy ran for three seasons and a movie was released as a sequel in 2017, following Tara's pursuit of her dream of a career in ballet.
Where to watch Dance Academy:
Ballet Shoes, BBC One (1975)
BBC One's Ballet Shoes is a British children's drama series that ran for one season of six episodes and was also aired in the United States via PBS.
It's the series adaptation of the 1936 children's novel of the same name by Noel Streatfeild.
It follows the story of three young adopted siblings who are sent to a boarding school to be cared for by their adoptive father's niece, Sylvia, and her childhood nanny, referred to as Nana.
While there, the three sisters Pauline, Posy, and Petrova are helped by Sylivia, Nana, and some of their other boarders to develop their individual skills in their chosen craft: Pauline as an actress, Petrova as an engineer, and Posy as a dancer.
Where to watch Ballet Shoes:
Anna, SF DRS/ZDF (1987)
Anna is a German miniseries aimed towards children that premiered on Christmas Day in 1987.
Throughout its six episodes, the series tells the story of the eponymous Anna, a young teenager with a passion and talent for ballet.
However, her ballerina dreams are derailed when she is seriously injured in a car accident, and she loses her motivation to recover as she believes her dreams are crushed for good.
While in physical rehab she meets Rainer, who brings positivity and optimism into her life despite himself being paralyzed and confined to a wheelchair.
With his help, Anna regains her will to live and makes a full recovery, allowing her to dance again.
Anna was so popular that a film sequel was produced, following her story as she journeys to become a professional ballerina in Munich, and then New York.
THE BEST BALLET REALITY SHOWS
If the fictional world of ballerinas has piqued your interest enough, then watching these ballet-themed reality TV shows should just boost it even further!
On Pointe, Disney+ (2020)
Described as real-life Center Stage (one of the most popular movies about ballet) the Disney+ ballet docuseries On Pointe, follows the students of the famed School of American Ballet (SAB) as they train, audition, and later rehearse for the New York City Ballet's performance of the holiday classic George Balanchine's The Nutcracker at Lincoln Center.
During the miniseries, we will see SAB students as young as 8 all the way through 18 following rigorous training schedules and shaping their skills in hopes of becoming professional ballet dancers.
All set against the backdrop of New York City where the school is located, the young dancers will try to fulfill their potential and show that they have what it takes to one day be among the principal dancers of the New York City Ballet ballet company.
Where to watch On Pointe:
Breaking Pointe, The CW (2012 – 2013)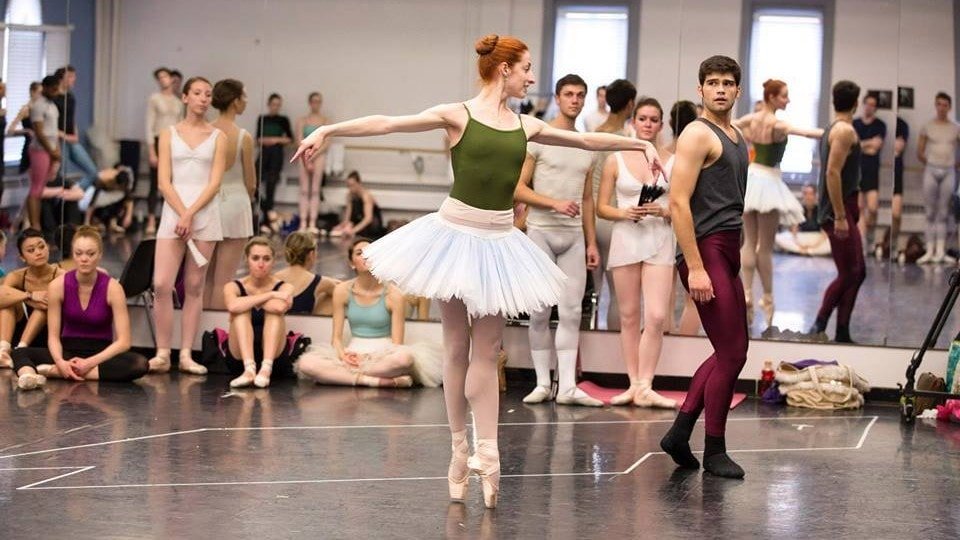 The CW takes us to Utah in Breaking Pointe, a reality show that goes behind the scenes of Ballet West, a notable ballet company based in Salt Lake City that is also known to be one of the most competitive ballet companies in the country.
Because of the company's high standards, viewers of Breaking Pointe get a glimpse into the dog-eat-dog, ultra-competitive nature of real-life competitive ballet.
Many of the people we meet throughout the show are apprentices, soloists, and principal dancers with the company, and it's a pleasant surprise to discover personal relationships between them: brothers, fiancées, and a husband/wife principal dancer power couple!
However, we also meet some former dancers and follow their journey after their time with Ballet West as they attempt to continue their ballet careers.
Where to watch Breaking Pointe:
Agony and Ecstasy: A Year with English National Ballet, BBC Four (2011)
The world of professional ballet is a tough one filled with intense competition and much blood, sweat, and tears spilled. However, to the audience who only see the finished product, all we see is grace and beauty.
BBC Four's Agony and Ecstasy: A year with English National Ballet changes that as they give us a raw look into what it really takes to put on a ballet production.
The series was produced for the prestigious ballet company's 60th anniversary and goes behind the curtains during what was one of their most challenging and dramatic years.
From the practice room to the stage, the dancers to the directors and management, we get a glimpse of the reality of professional ballet, beginning with their production of Swan Lake.
Where to watch Agony and Ecstasy:
Big Ballet, Channel 4 (2014)
"Have you ever dreamt of being a ballet dancer but feel your size holds you back?"
This was the big question the advert for Channel 4's Big Ballet posed for ballerina hopefuls who had always felt limited because they didn't fit into the typical "slim" physique that you normally see in ballerinas.
Over 500 people responded to the advert (considering they also made it clear that prior dance experience was not required), but the final auditionees were eventually narrowed down to just 18 men and women to form an amateur dance troupe.
Choreographer and ballet legend Wayne Sleep and Irish prima ballerina Monica Loughman are at the helm of this dance troupe. Their goal is to help these dancers realize their dreams with a production of Swan Lake.
That means taking these dancers from zero to dance floor hero – all in just five months.
Strictly Ballet, Teen Vogue (2014 – 2015)
Our last show on the list follows a slightly different format from the others – and most other shows regardless of genre, to be honest.
That's because instead of full-length episodes to play out a story, Teen Vogue's YouTube series Strictly Ballet instead provides short video snippets following the lives of six young ballet students who have moved to New York to study at the School of American Ballet.
In the second season, the show moves to Miami where we meet a new set of students at the Miami City Ballet School.
Each video covers topics like the experience of moving away from home, overcoming injuries, audition season, and preparing for performances.
It's a quick watch for those of you who are 'testing the waters', so to speak, of their interest in the art of ballet. After all, each video is only less than 10 minutes!
Where to watch Strictly Ballet: