The recent news of the Friends reunion special being delayed due to the current pandemic sweeping the globe has certainly put a damper on our already gloomy, self-isolated spirits.
Filming was scheduled to begin this last week of March back at the show's old home in Stage 24 of the Warner Bros. Studio lot in Burbank, but production was halted after several other current productions were shut down to prepare for community quarantine and self-isolation. Considering there are always at least a hundred other people on set for any show, temporarily stopping production makes complete sense as social distancing and safety becomes a top priority.
The Friends reunion was intended as the headliner for WarnerMedia Entertainment's new streaming service, HBO Max when it launches in May 2020. However, since filming is now reported to resume in May at the earliest, fans are going to have to wait until further announcements on production and release date are officially made.
In the interim, however, we thought this might be a good time to look back and really get to know the characters of one of the most iconic sitcoms of our generation. More specifically, we wanted to learn what the cast members have been up to since the last episodes of Friends aired almost 16 years ago in May 2004.
Friends may have shot them to superstardom and pop culture cult classic status, but we're here to give you the facts on what other small-screen projects they've been part of.
Could we be any more excited? Let's kick it off!
Lisa Kudrow aka Phoebe Buffay
Phoebe Buffay has been hailed as one of the best female characters in television, being an outspoken environmentalist way back when that wasn't even a thing yet. Kudrow's portrayal was so sensational that she was the first of her castmates to win an Emmy Award for the show, for Outstanding Supporting Actress in a Comedy Series.
During Friends' ten-year run, she also appeared in guest roles on animated shows The Simpsons, Duckman: Private Dick/Family Man, Dr. Katz, Blue's Clues and King of the Hill, became a host on Saturday Night Live, and even portrayed Phoebe as a guest on Hope and Gloria!
After Friends, not only did she go on to star in more TV shows, but she also expanded her portfolio to include writing, creating, and producing.
In 2005, and again when it was rehashed for a second season in 2014, she partnered with Michael Patrick (Sex and the City) to create, write, and produce The Comeback, a comedy-drama series in the "found footage" format intended to relay a satirical look into the television industry. Kudrow stars in the series as well, where she was nominated at the Emmy Awards and the Critics' Choice and won at the Dorian Awards.
In 2008, she again created and produced a new series for Showtime titled Web Therapy, where Kudrow herself stars as a therapist who works with her patients over the internet (we'll see later on that she had a habit of casting her former Friends co-stars!). Her credits as an executive producer also include Who Do You Think You Are?, an interesting docuseries that follows a celebrity every episode as they try and trace their genealogy.
Kudrow has also had smaller guest roles in a number of popular series' like Scandal, Angie Tribeca, Unbreakable Kimmy Schmidt, Grace and Frankie, and The Good Place. And she made a guest appearance on the ninth season of RuPaul's Drag Race as a friend of Mama Ru's who had just some words of advice for the competing queens.
Matt LeBlanc aka Joey Tribbiani
"How you doin'?"
Joey's signature line has probably been used as a pick-up line a thousand times since he first used it in season 4 but hopefully, it's had a better success rate in the real world than Joey had on the show! Regardless, the charmingly dim but lovable character was played perfectly by Matt LeBlanc, earning him three nominations in both the Emmy Awards and the Golden Globes, as well as one nomination in the Screen Actors Guild Awards.
Even after Friends ended, both LeBlanc and the fans just weren't ready to say goodbye to the beloved character. Thus, Joey was born. A direct spin-off sequel where Joey has moved to Hollywood to further pursue his ever-struggling acting career. There, he reunites with his headstrong sister and literal genius of a nephew. Unfortunately, the show was canceled after just two seasons.
After Joey, LeBlanc decided to take a one-year hiatus from TV acting – which eventually turned into five years. He came back to the small screen in 2011 with Episodes, a sitcom on a fictional American reboot of another fictional British sitcom. When the show started production, they receive increasing pressure to cast Matt LeBlanc, who subsequently plays a fictional version of himself! LeBlanc won the Best Actor Award at the Golden Globes for his performance and also received four Emmy nominations.
He appeared in guest roles in Kudrow's show Web Therapy before becoming the host of Top Gear from 2016 to 2019. Alongside that, he's been producing and starring in Man with a Plan, where he plays a businessman and father who's struggling to juggle the responsibilities of both. The fourth season is set to premiere this April!
Courteney Cox aka Monica Geller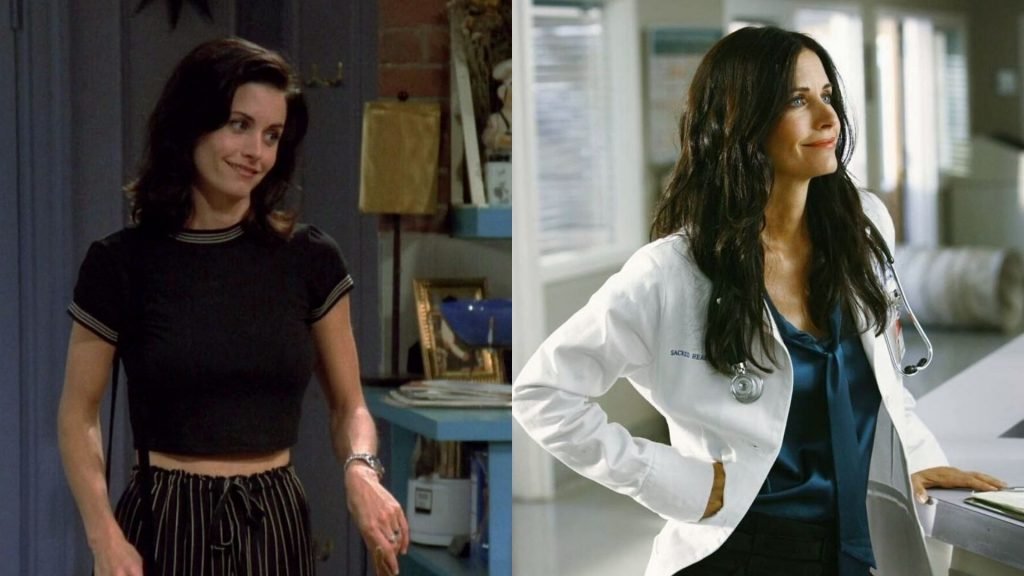 Courteney Cox has also amassed more than acting credits to her name, adding producer and director onto it as well. As a matter of fact, she and her then-husband David Arquette established their own production company called Coquette (a blending of their last names) in 2004. I suppose when you become one of the highest-paid TV actresses of all time – getting paid $1 million dollars per episode for the last two seasons of Friends – you can afford to put up your own production company!
Fresh off the heels of Friends, Cox was first choice to play the role of Susan Meyer in Desperate Housewives. Due to her pregnancy, however, she was unavailable, and Teri Hatcher got the role instead. In 2007, Coquette Productions produced Dirt, a serial drama focused on the lives of those involved in the publication of DirtNow, a "glossy tabloid" magazine. Cox herself played the lead role: the magazine's editor-in-chief.
Cougar Town is yet another show produced under their company and starring Cox in the leading role. Here, she plays a recently divorced 40-something who's trying to get back into the dating game. While she at first tries her hand with younger men, she soon finds that she's really more well-suited to men her age.
In between the six seasons of Cougar Town, she made guest appearances in several popular shows like Scrubs, Private Practice, and Kudrow's Web Therapy. After this, she has had limited appearances as a character and instead often appears as herself, such as in Shameless and Modern Family. As well as in reality shows like Who Do You Think You Are? and Running Wild with Bear Grylls.
Apart from the upcoming Friends special, she is credited in the main role for two new series': Shining Vale and a scripted series based on Netflix's Last Chance U character Brittany Wagner.
David Schwimmer aka Ross Geller
A lot of us Friends fans are probably wondering what happened to David Schwimmer after the show ended. After all, even with Matt LeBlanc's five-year hiatus, he seems to be the one who disappeared almost completely from our screens. Well, there's an incredible reason for that!
Schwimmer actually went on to explore other acting mediums, like indie movies, theatre plays, and even – wait for it – Broadway! He also made his directorial debut with a feature film called Run Fatboy Run in 2007, followed by segments of Little Britain USA, a spin-off of a British sketch show of the same name.
That doesn't mean he wasn't making the occasional TV appearance at all during his directorial stint, though. His appearances were just short and sweet, and he mostly appeared as himself. Some examples of that include three episodes of Curb Your Enthusiasm in 2004, as well as in Entourage in 2009.
Schwimmer's full return to the TV industry came with a guest-starring credit in 2011 – albeit still as himself – in Come Fly With Me, a British mockumentary series. He played himself opposite former co-star LeBlanc in the latter's series Episodes and had a small recurring role in Kudrow's Web Therapy. We finally see Schwimmer in a main role in 2016, where he played Robert Kardashian in The People v. O.J. Simpson: American Crime Story. This got him an Emmy nomination for Outstanding Supporting Actor in a Limited Series or Movie.
Since then, he has been a regular in Feed the Beast and season ten of Will & Grace. His newest series, Intelligence, premiered just this past February 2020 and he plays an NSA agent working from within a new cyber-crimes unit in the Government Communications Headquarters in the UK.
Jennifer Aniston aka Rachel Green
Fun fact: Aniston was originally slated to audition for the role of Monica, and vice versa for Cox and Rachel! However, producers decided that Cox was more suitable as Monica, so Aniston was instead cast as the iconic Rachel Green. One thing that has stood the test of time with Rachel's character is her sense of style, which Aniston carried with perfection throughout all ten seasons.
Both during and after her role in Friends, Aniston continued to receive praise for her performances in many successful feature films such as Picture Perfect, The Good Girl, Bruce Almighty, Along Came Polly, Derailed, Horrible Bosses, Cake, The Yellow Birds, and Just Go With It – to name a very few amongst her successes.
She has remained largely a film actress after Friends, but she has had the occasional TV appearance. In 2007, she guest-starred opposite Cox in the latter's show Dirt where unlike their amicable relationship in Friends, she played Cox's rival. The two obviously enjoyed working together, as Aniston again made a short, one-episode appearance in Cougar Town.
She also appeared in 30 Rock in the role of a stalker for Jack Donaghy, Alec Baldwin's character. Although that was also just one episode, she was nominated for an Emmy Award as Outstanding Guest Actress in a Comedy Series!
After more than a decade of critically acclaimed success in film, Aniston made her official return to television in November 2019 not just as a star but as a producer as well. She partnered with Reese Witherspoon to create the Apple TV+ drama The Morning Show and as a testament to her talent, has been nominated for two Golden Globe Awards as the series' producer and won the SAG Award for Outstanding Performance by a Female Actor in a Drama Series.
Matthew Perry aka Chandler Bing
Before we end, take a second to try and imagine a show where Matthew Perry doesn't play Chandler. I mean, could that be any more absurd? Well, that was actually almost a reality! Though he had every intention to audition for the show, he wasn't initially considered because he had a previous commitment to LAX 2194. Thankfully, he successfully got a reading and was cast as Chandler Bing.
He had many successful TV roles prior to Friends, like in Sydney, Second Chance, Home Free, and Growing Pains. His talent was reflected not only in his portrayal of Chandler but also in his other TV roles such as Joe Quincy in The West Wing, which led to two Emmy nominations for Outstanding Guest Actor in a Drama Series despite only appearing three times throughout the entire series.
Perry also made his directorial debut for an episode of Scrubs after the end of Friends, in which he also guest-starred alongside his real-life father! In 2006, he was cast as a series regular on Studio 60 on the Sunset Strip, a show about producing a live comedy series similar to SNL. His next regular TV casting was in 2011 in Mr. Sunshine and he also served as creator, writer, and executive producer.
Between 2012 to 2015, he had a recurring role in The Good Wife (one that he reprised for three episodes in 2017 for The Good Fight) and made several guest appearances opposite former co-stars like Cox in Cougar Town and Kudrow in Web Therapy. He starred and executive produced Go On in 2012 – a sitcom about a radio talk show host trying to move on from the death of his wife.
His latest castings as a regular character was in The Odd Couple opposite Thomas Lennon, and as Ted Kennedy in the miniseries, The Kennedys After Camelot.
Well folks, there you have it! If you just couldn't get enough of our six TV faves after binge-watching and can't wait for the reunion special, check out some of their other TV shows, too!