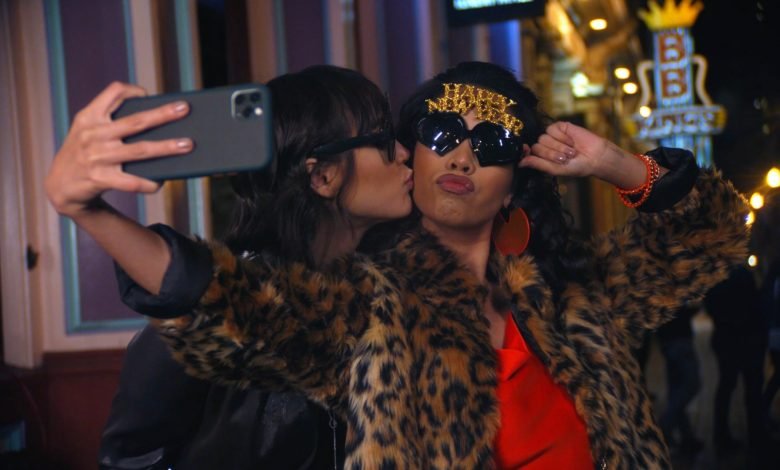 The holiday season really is the most wonderful time of the year. And no holiday season is complete with a few new holiday romcoms. One such movie is queer women-focused I Hate New Year's from Tello Films and DASH Productions.
I Hate New Year's tells the story of Layne Price (Dia Frampton), an up-and-coming singer-songwriter who returns to her hometown of Nashville on New Year's Eve. Thinking that reuniting with her ex-girlfriend Caroline will help break her writer's block Layne enlists her best friend, county music star Cassie Holmes (Ashley Argota), to hit the town with hopes of bumping into Caroline at one of the NYE parties they crash. Little does Layne know, Cassie is in love with her. So now Layne has to race against the clock and confess her feelings to Cassie before it's too late.
I had a chance to chat with one of the lead actresses Ashley Argota about I Hate New Year's as well as her career, holiday traditions, and much more.
So, make sure to check out I Hate New Year's when it starts streaming on Tello Films as well as on demand (including iTunes and Amazon) on Friday, December 4th. And let's get into the interview!
---
Tvshowpilot: I Hate New Year's was so fun. How did you get involved with the project?
Ashley Argota: Thanks! My manager sent me an audition notice for I Hate New Year's and I sent in a couple of scenes and a video of me singing at a piano at a performance I did the year prior.
Tvshowpilot: On I Hate New Year's you play country music superstar Cassie Holmes who's ready to finally admit her feelings to her best friend Layne. What drew you to the character?
Ashley Argota: I loved her story. So many people can relate to being in love with someone and that person not realizing what they have right in front of them. I hadn't gotten the opportunity to tell that story yet, and I'm excited this movie allowed me to do so.
Tvshowpilot: Speaking of music, you absolutely rocked the song ("Hours of the Night") you sang in the movie! Might we be hearing any new music from you anytime soon?
Ashley Argota: Thank you so much! I loved getting to perform that song. I have an entire catalog of songs I wrote that I haven't released and would love to do so one day.
My songwriting partner, Rebekah, actually lives in Nashville and we wrote together on my days off from filming I Hate New Years.
Tvshowpilot: I Hate New Year's in one of the few lesbian holiday movies out there. Why is it important to have that representation in a genre like holiday movies?
Ashley Argota: So many holiday rom-coms show heterosexual relationships, which is wonderful, but what about the LGBTQIA community? A straight couple can see a love story reminiscent to theirs represented on screen in plenty of movies and TV shows, but it's important that if art really imitates life, it imitates all aspects of it, which means including more gay and lesbian stories on screen.
Tvshowpilot: The city of Nashville really is like was another character in the movie. How was it to film in Nashville? And to film a New Year's movie in March?
Ashley Argota: Nashville is one of my favorite cities in the world, so to be able to film a movie there was a dream come true. We had our fair share of challenges while filming: a tornado that tore through the city after the first day of filming, losing some sleep to Daylight Savings Time, and of course COVID-19 was getting worse as we wrapped up filming. Thankfully, we had an incredible crew and finished filming safely and on time.
As for celebrating New Year's in March, it was really funny filming in the city and getting plenty of looks like, "Do they know New Year's was a couple of months ago?"
Tvshowpilot: From True Jackson, VP, and Lab Rats to The Fosters and Liberty Crossing, you've been a part of many projects over the years. Which has stood out to you the most and why?
Ashley Argota: It's tough to say that only one project stood out. All of the projects I've done hold a special place in my heart.
But I think True Jackson was one of the most special and incredible experiences. It was my first time as a series regular on a television show. It changed my life forever and gave me so many opportunities afterward that I never would have gotten if I hadn't been on the show. I'll always be grateful for it.
Tvshowpilot: In the movie, Cassie and Layne go on an epic party-hopping adventure to track down Layne's ex-girlfriend despite the fact that Layne hates the holiday. What are your feelings on New Year's? And do you have any New Year's traditions?
Ashley Argota: I used to not be a big New Year's person, but since I met my now fiancé, we have a tradition of going to the rooftop of our building and slow dancing to a romantic song when the clock strikes twelve.
I see it now as less of a party day and more of a reset and reevaluation of my goals and intentions for the year.
Tvshowpilot: Since here on the blog, we're all about TV shows, what is your current TV obsession or a TV series you think everybody should be watching right now?
Ashley Argota: I am definitely someone who is always late to the party when it comes to television shows, which is ironic given the career I've chosen. But we are finally watching It's Always Sunny In Philadelphia and it's so brilliant.
The show I'm most obsessed with is New Girl. I'm the real-life Jessica Day.
Tvshowpilot: Finally, what's next for you? Any new or ongoing projects you can share with us?
Ashley Argota: I am so lucky to say that I filmed a project during quarantine that should be out soon called Don't Log Off. It was shot completely socially distant and safely, and I can't wait for everyone to see it.
My fiancé and I also host a podcast together called Mismo, where we interview actors and fellow creatives about what it's really like day to day in our business.
No matter how much success someone has had (or not yet had) we're all going through the same things. It's been so inspiring to hear others' stories and feel a little less lonely in a business that can feel very isolating.
We've been conducting interviews via Zoom during the pandemic and are coming up on one year of hosting the show!
We also just finished writing a screenplay together and are busy writing another.
---
So there you have it, our interview with I Hate New Year's star Ashley Argota where we touch on everything from what drew her to the project and why queer holiday movies are so important to her time on True Jackson, VP, and current TV obsession.
Make sure to follow Ashley on Twitter, Instagram, and Facebook for updates on all her latest projects as well as check out her podcast Mismo. And don't forget to catch I Hate New Year's starting December 4th on demand everywhere or on Tello!