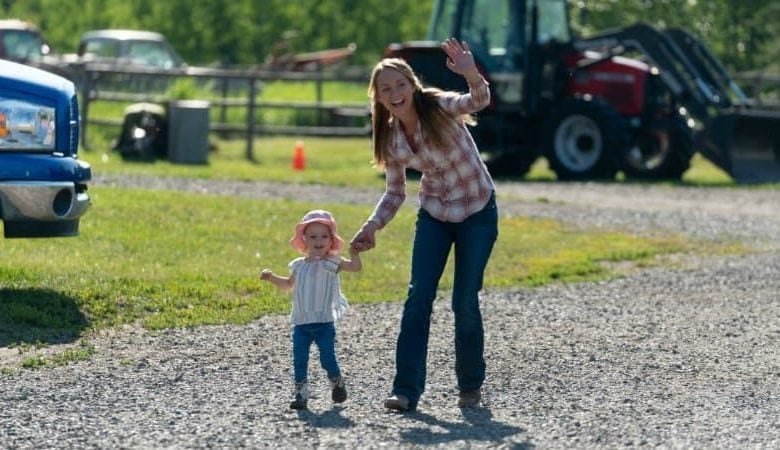 There isn't a show that has more heart than Heartland. So it is no wonder that Heartland currently holds the title of Canada's longest-running one-hour dramatic series. And since some time has passed since our previous Heartland-related articles on the fact that the filming for Heartland season 12 has begun and that there is going to be a short digital series titled Hudson which will be set in the world of Heartland we thought it is time for a new one. So here it goes, a Heartland season 12 update.
Season 12 premiere date
The first update regarding Heartland season 12 is that we finally know the premiere month for the new season of Heartland. And that is, drum roll, please… January! Which sadly means that we still have to wait a bit to see what happens during the 11 episodes of Heartland season 12. However, once January 6 does arrive, we will get to watch the twelfth season of Heartland in 11 near consecutive weeks. Which in our opinion is a pretty good reward for having to wait until January to enjoy Heartland season 12!
Hey Fans… Missing Heartland? Don't worry! An ALL-NEW season of your favourite family drama is coming to @CBCTelevision in January 2019! #iloveheartland #cbc pic.twitter.com/ndsgOmr33v

— Heartland (@HeartlandOnCBC) September 23, 2018
Another good news for those who live in Canada or can view CBC some other way besides being able to watch Heartland season 12 come January is that CBC is now showing returns of Heartland's eleventh season. So although you won't get to watch the new Heartland season until January, Sundays in Canada are still Heartland Sundays and starting September 30th you can watch the previous season of Heartland on Sundays at 6.
Heartland season 12 filming has wrapped
The second major update we have to share with you is the fact that the filming for Heartland season 12 has officially wrapped. Which means that all 11 episodes of Heartland season 12 have been filmed. And the cast and crew can now enjoy their time off while the editors are hard at work actually putting together the episodes.
View this post on Instagram
Usually, the filming of Heartland seasons doesn't end until December. But, since Heartland season 12 will consist of only 11 episodes, instead of 18 as all other Heartland seasons save the first one have, the filming time of the new season is shorter as well. So it looks like we won't be seeing any snow on Heartland season 12. But to be honest with you we are completely fine with that since it means that the actors, crew, and animals didn't have to film outdoors during the cold Alberta winter.
Heartland season 11 DVD
And as a side note to this Heartland season 12 update article I can happily announce that the Heartland season 11 DVD is officially available on Amazon! So whether you weren't able to watch season 11 while it aired on CBC or just want to to be able to rewatch the past season over and over again, you can do that now by owning the Heartland season 11 DVD.

What does the season 11 DVD contain? Well, it is comprised of all 18 episodes of season 11 of Heartland. And on top of that, usually, the DVDs also have extras in the form of cast interviews, which is quite a nice perk if you ask us!
So what do you think of the fact that the filming of Heartland season 12 is already complete? Are you as excited as we are for January when we will get to finally experience season 12 of Heartland? And will you be getting the Heartland season 11 DVD to be able to binge-watch the season anytime you want? Let us know in the comments below! Until then keep being the passionate Heartland fan that you are, and follow your heart home to Heartland!