The fun and drama don't end just because you've hit a certain age. In fact, you could even argue that senior age is when life really begins.
At this point, if you've got kids, they have probably all left the nest and started families of their own; maybe you've retired from your career or at least are close to it.
This freedom allows you to finally do whatever you want, whether that's traveling the world or learning the things you never had time for.
In this list of the best TV shows about seniors, these characters get caught up in all kinds of different adventures.
We've heard the saying "Life begins at 40", but these shows might just prove that actually, life begins at 60!
Grace and Frankie, Netflix (2015 – 2022)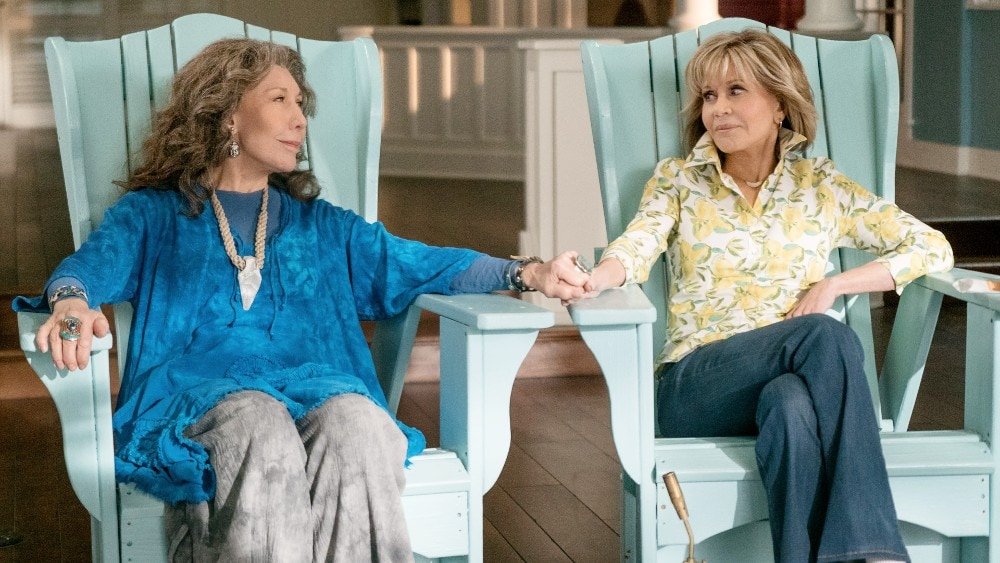 We're starting off with Netflix's Grace & Frankie, which may have been off to a rough start with mixed reviews but has since become a fan favorite with several nominations under its belt.
The comedy series follows two long-time rivals – Grace Hanson, a rigid, hard-drinking cosmetics mogul, and Frankie Bergstein, a weed-smoking, free-spirited art teacher.
They are unexpectedly thrown into each other's lives when their husbands, Robert and Sol respectively, fall in love with each other and announce that they're getting married.
Grace and Frankie then turn to each other to navigate this major change and more adventures as they slowly become best friends.
The Golden Girls, NBC (1985 – 1992)
If we're talking about seniors and cult classics, there's no way that Golden Girls wouldn't be a part of this list.
During its run, the series garnered numerous awards and to this day is a favorite of many.
Golden Girls chronicles the everyday life of four women sharing a house in Miami, Florida.
The house's owner, the widowed Blanche, opened her doors to Rose (now also widowed) and Dorothy (a divorcee).
They're then joined by Dorothy's (also widowed) mother Sophia when a fire destroys her retirement home.
Though the women often butt heads, living together has also led to them forming a friendship unlike any other.
The Golden Palace, CBS (1992 – 1993)
The Golden Girls ended when Dorothy remarried and moved to Atlanta with her new husband. Her mother, Sophia, stayed behind with Rose and Blanche; thus, the spin-off The Golden Palace came to be!
After selling the Miami house, the women have bought the titular hotel, The Golden Palace. However, they've belatedly come to realize that it only has two employees left: the manager, and the chef.
This means that they have to step in to run operations themselves!
The Golden Palace follows their interactions amongst themselves, with the hotel staff, and guests – oftentimes with their celebrity guests, too.
Dorothy even returns for a few episodes to check in on her mother!
The Cool Kids, Fox (2018 – 2019)
When we said the fun doesn't stop just because you've reached your senior years, this is precisely what we meant!
Fox's The Cool Kids encapsulates exactly what it means to have life begin at 60.
The "cool kids" in question in this sitcom are Hank, Charlie, and Sid: three male residents at the Shady Meadow Retirement Community who, often led by Hank, get into all sorts of schemes to have a good time.
Their dynamic is thrown for a loop when the rebellious Margaret joins their community – and their group because all she wants is to have a little fun with her retirement, too.
Me and My Grandma, YouTube Red/ABC (2017)
If you're looking for a quick, feel-good, and easy watch, the original program from YouTube, Me and My Grandma is just right.
Janey Skalecki is a recent college grad stuck between several options: staying home to watch reality show with her grandmother, pursue the accounting career her mother wants, or chase her real dream: to become an actress.
Janey's grandmother encourages the latter and even offers to accompany her when she decides to move to Hollywood.
It turns out the Grandma Skalecki has Hollywood ambitions of her own, however, and the two embark on their own journeys through the city of stars.
Murder, She Wrote, CBS (1984 – 1996)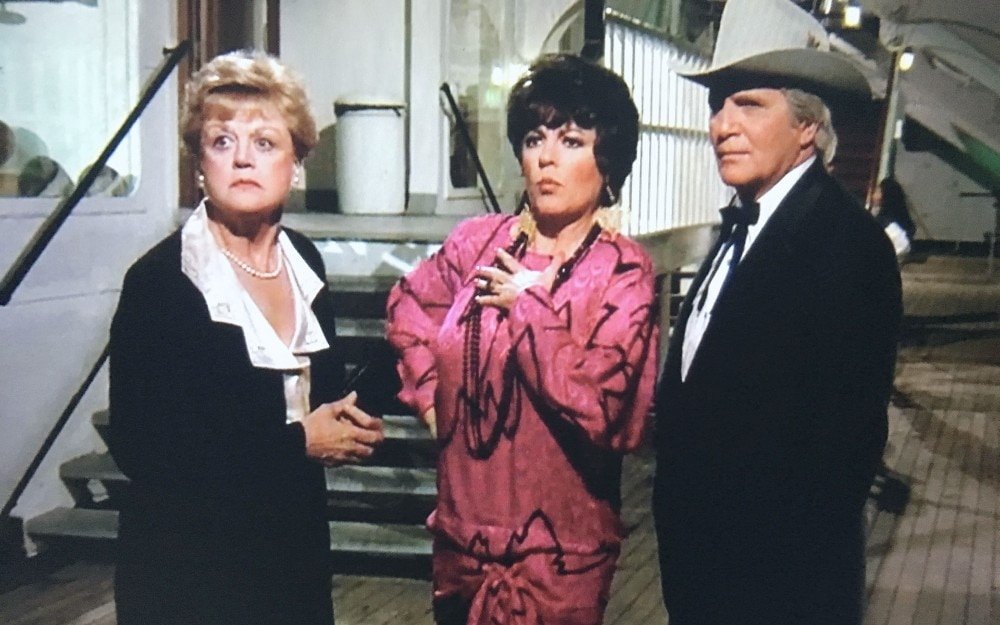 Murder, She Wrote is, to this day, one of the most popular crime dramas in TV history, as evidenced by its numerous accolades, films, video games, and even a book series that continues to the present.
The original series follows Jessica Fletcher, a highly successful mystery writer who continues to live in the small, remote (and fictional) town of Cabot Cove in Maine.
Using her astute perception and logical reasoning, Jessica proves to be an invaluable asset to law enforcement – both in Cabot Cove and eventually, around the country and the world – in finding the perpetrators of the crime they're investigating.
Her help is often welcomed, thanks to her fame and reputation, but she's also met with cold shoulders until her knowledge can no longer be ignored.
Hot in Cleveland, TV Land (2010 – 2015)
After The Golden Girls and The Golden Palace, the absolute icon of an actress Betty White, makes another appearance on this list with TV Land's Hot in Cleveland!
The sitcom follows Joy, Melanie, and Victoria, three friends from Los Angeles and the entertainment industry who, out of fear that they've "aged" too much for Hollywood, have decided to leave the city for Paris.
However, their plane experiences trouble mid-flight and makes an emergency landing in Cleveland, Ohio.
The community is much less age-obsessed than they're used to so they decide to lease a house and settle down there, under the watchful eye of their sassy caretaker, Elka (played by White!).
Tyler Perry's Assisted Living, BET (2020 – present)
As a follow up to Tyler Perry's sitcom Meet the Browns that concluded in 2011 comes another titled Tyler Perry's Assisted Living, where David and Tamela Mann return to reprise their roles as Mr. Brown and Cora Simmons-Brown, respectively.
However, this spin-off follows a freshly-laid off man named Jeremy, who decides to relocate back to Georgia with his wife and two teenage children after losing his job.
This move back was so that Jeremy could help his grandfather Vinny, who had just purchased a rundown home for the elderly, to renovate and run the facility.
That's when Mr. Brown and Cora step in to help as investors!
Retired at 35, TV Land (2011 – 2012)
Wouldn't it be such a dream for us all to be able to retire by the age of 35?
In TV Land's Retired at 35, protagonist David Robbins is a successful man from New York who suddenly decides to leave the big city and head to Florida, where his parents Alan and Elaine are living in a retirement community.
Hoping that this trip will help him gain a better perspective on his life and reconnect with his parents, David decides to relocate to Florida entirely and kickstart his early retirement.
However, things hit a snag when he discovers his parents are well on their way to separation.
The Kominsky Method, Netflix (2018 – 2021)
Sadly, Hollywood truly is a place that puts a lot of value on age – more particularly on youth.
The Kominsky Method follows the eponymous Sandy Kominsky, a fictional actor who had a brief encounter with Hollywood success in his younger years but now, uses his knowledge and experience as a revered acting coach.
Together with his longtime agent and friend Norman Newlander, the two navigate the "aged" years in the city of stars while fighting to stay afloat and relevant in an industry that insists on putting the young ones at the forefront.
Only Murders in the Building, Hulu (2021 – present)
When you're a true crime enthusiast, it's pretty common to think you'd be able to solve a case should you ever (but hopefully not) find yourself close to a real-life crime.
That was certainly the case with young Mabel and two older gentlemen, Charles and Oliver, the main characters of Hulu's comedy-crime fiction series, Only Murders in the Building.
When a suspicious death occurs in their swanky Upper West Side apartment and is officially ruled a suicide, these three true crime fans come together under a shared suspicion: it wasn't suicide, it was murder.
Every step of their investigation is documented in a podcast they start together, too.
Hacks, HBO Max (2021 – present)
With an award-winning, immediate fan-favorite series like HBO Max's Hacks, it should come as no surprise that it was renewed for a second season so quickly.
Hacks is a story of an unexpected, but necessary, relationship that forms between Deborah Vance and Ava Daniels.
Deborah is a veteran stand-up comedian who has reached legendary status across Las Vegas. However, her shows are in danger of being cut down – unless she finds a way to stay relevant.
That's when she meets and partners up with Ava, herself a struggling comedy writer who is the key to sprucing up Deborah's material for a modern crowd.
Last Tango in Halifax, BBC One (2012 – 2020)
Last Tango in Halifax is a beautiful story of a love that transcends time, showing all of us hopeless romantics that if two people are meant to be, they'll eventually find a way back to each other in the end.
The comedy drama series follows Alan Buttershaw and Celia Dawson, a pair now in their 70s who used to be in love some 50-odd years ago.
After they were separated in their youths and went on to have lives – and families – of their own, they're reunited when their grandkids put them on Facebook.
However, even their relationship at this age goes through its share of troubles when their daughters don't immediately jump on board.
Waiting for God, BBC1 (1990 – 1994)
Waiting for God is a BBC1 sitcom that ran for 5 seasons in the early 1990s.
It takes place in the strict and boring Bayview Retirement Home and primarily follows the relationship between Tom Ballard, a retired accountant, and Diana Trent, a former photojournalist.
Tom is described as "kindly but deluded" while Diana is cynical – even more so now that she thinks of herself as stuck in this boring retirement home after a career of documenting dangerous events.
Diana therefore decides to spice things up herself, constantly undermining the institution's "corrupt" management and staff, giving them a run for their money.
Tom, on the other hand, is her unwavering support system.
One Day at a Time, CBS (1975 – 1984)
Some of you may be familiar with the 2017 remake of One Day at a Time with the same title, but that is set in modern times and with much younger main characters.
On this list, we're focusing on the nine-season original run that aired in the 70s and 80s.
One Day at a Time follows newly-divorced mother Ann Romano as she moves herself and her two daughters to a new city.
Throughout the nine seasons, viewers witness her daughters grow from teenagers to mothers themselves, while Ann pushes to balance her role as a mother with her own personal journey through life.
$h*! My Dad Says, CBS (2010 – 2011)
$h*! My Dad Says is a CBS sitcom based on a collection of tweets from Justin Halpern that documented, well, all the $h*! his dad said.
The series follows brothers Henry and Vince Goodson, who have a 72-year-old father, Ed – a highly opinionated, thrice-divorced man whose rants can get borderline offensive.
As Henry, a writer struggling to land a stable job, moves back home with his father, his potential new boss sparks an interest after overhearing one of Ed's rants.
Thus, Henry is forced to stay with his dad so he has a constant flow of writing material from all the $h*! his dad says.
The Crown, Netflix (2016 – present)
For too many reasons to count, the UK's Queen Elizabeth II is one of the most well-known figures in modern history – regardless of age.
We're capping off our list with Netflix's The Crown, which chronicles her lifetime and career as England's reigning monarch.
The later seasons, in particular, cover Queen Elizabeth's reign in her older years and the way she handled every crisis that dropped into her lap.
With the release of the fifth season expected to come in November 2022, this and the final sixth season will cover up to the 21st century!