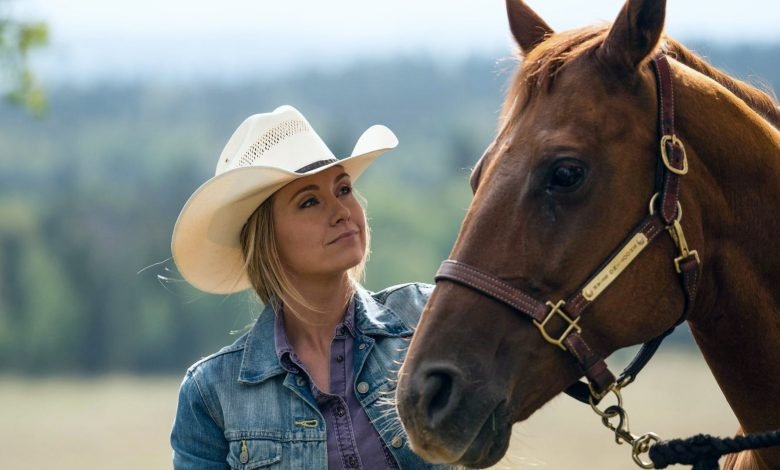 It's been a longer wait than usual to start receiving production news on the latest season of Heartland. However, that day is finally here, Heartland season 14 is officially in production. And here's everything we know so far about the new season!
Production on Heartland season 14 begins
If you follow us or the official Heartland accounts on social media then you probably already know this. But just in case you don't, I'm here to tell you that the production on Heartland season had officially begun.
Wednesday, September 9th was the first day of filming the new season.
However, the show has been in pre-production for some time now. Which among other things included writing the scripts, scouting locations (which this season includes High River, Calgary, Longview, and Millarville) as well as developing increased health protocols and production practices to keep everybody safe on set. One such practice was to create a new role on set – Senior COVID Advisor. Looks like the Heartland team isn't taking any chances when it comes to the health of their cast and crew!
When will Heartland season 14 premiere?
First things first, when will season 14 of Heartland air.
And as of yesterday, we have the official Heartland season 14 premiere date!
So, Heartland season 14 will premiere on CBC on Sunday, January 10th! This means that we're only a little over a month away from the premiere of the new season! Are you as excited as we are for season 14?
How many episodes will there be in Heartland season 14?
Every year, after it's announced that Heartland will be back for another season, fans want to know how many episodes will be in the new season. And this year, the episode count was announced along with CBC's official press release on season 14 being in production.
So, the 14th season of Heartland will have 10 one-hour episodes. Same as it was for season 13. Which nowadays seems to be the norm for many TV shows including Heartland.
---
Where you can currenly watch Heartland season 13:
---
Who's behind the new season?
This new season is produced by Dean Bennett and executive produced by Tom Cox, Michael Weinberg, Jordy Randall, and Heather Conkie, who's also the showrunner and head writer for Heartland. Alexandra Clarke, Ken Craw, and Mark Haroun are writers on the show alongside Conkie.
On the production companies' side, SEVEN24 Films and Dynamo Films are producing Heartland season 14 alongside CBC and with the financial support of the Government of Alberta, Canada Media Fund, Ontario Film, and Television Tax Credit, and the Canadian Film or Video Production Tax Credit.
Who will return for Heartland season 14?
Thanks to social media, we know that most of the regular and recurring cast of Heartland will be back for the new season.
Actors such as Amber Marshall (Amy), Michelle Morgan (Lou), Shaun Johnston (Grandpa Jack), Chris Potter (Tim), who will also be directing some episodes this season, Alisha Newton (Georgie), Ziya Matheson (Katie), Ruby and Emmanuella Spencer (Lyndy), Madison Cheeatow (Jade), Kerry James (Caleb), Kevin McGarry (Mitch), Gabriel Hogan (Peter) and Jessica Steen (Lisa) have all been spotted on the Alberta set. So, don't you worry, you will see all your favorites this upcoming season!
On top of that, Megan Follows (Ty's mom Lily) and Jordan Burtchett (Quinn) have also posted images on their socials from the Heartland set. So that's two more (of probably many) familiar faces that you will be seeing in season 14.
And thanks to Michelle Morgan's Instagram we also know that this season Heartland will have a new cast member. Actor Aidan Moreno is joining the cast and will be working closely with Lou who (SPOILER ALERT!) now (since the season 13 finale) is the Mayor of Hudson.
Will Graham Wardle be back for Heartland season 14?
This was the question on many fans' minds ever since the first photos of the cast and crew filming season 14 appeared. Many cast members were spotted back on set but one actor was missing from them – Heartland's leading man Graham Wardle. So, speculation began that Ty will be killed off and won't be featured in season 14.
Well, I'm here to put those rumors to rest and tell you that Graham Wardle and therefore Ty Borden will be back for the newest season of Heartland.
View this post on Instagram
As per the latest Heartland blog entry, Graham has, indeed been back filming Heartland episodes in Calgary. And as he explained in his latest podcast episode, due to the pandemic, he actually took a road trip from his home in Vancouver to Calgary where a big portion of Heartland is filmed.
UPDATE [Jan. 11th]: Now that season 14 has officially premiered we know that although Graham Wardle was back on set during the filming of Heartland season 14, it was for flashback scenes, as Graham's character Ty sadly passed away in the opening moments of Heartland season 14 episode 1 and the rest of season 14 is set one year later. You can hear Graham talk about his final chapter on Heartland in the video below!
Let me know how if you're as excited to see Heartland season 14 this winter as I am in the comments below! And I'll catch you in our next post!