Fans of Heartland have waited a long time for Heartland season 14. But we're finally almost there. This means that it's time to look at what we know about the new season so far and what we can expect to see during the 10 episodes of Heartland season 14.
Quick warning, there will be spoilers in this article, so if you don't want to know what will happen during season 14, click out of this article now!
Now that that's out of the way, let's get into it.
Heartland season 14 premiere date
In case you didn't know yet, Heartland Season 14 launches on CBC on January 10th at 7 pm (7:30 pm for Newfoundland). So set your reminders because we're just a few short days away from the Sunday premiere of the new season of Heartland.
And if you're in Canada (or know how to use a VPN) and aren't able to watch the new episodes live, don't forget that all of them will be available to stream for free on CBC Gem!
Heartland season 14 synopsis and the official trailer
Now that we know when the new season premieres, we can move on to looking at what we can expect to see during the season. And one of the best ways to do that is to look at the official synopsis for the season that was posted on Heartland's CBC Gem page.
And it reads:
"While Amy struggles with a life-changing challenge in season 14, the entire town of Hudson will have to deal with an unexpected disaster that threatens to derail Lou's first term as mayor. But, the family will pull through together and be stronger as a result."
So it looks like the season will heavily focus on the Fleming sisters and their struggles. For Amy, it will be some sudden and unexpected changes. While Lou will have to learn how to juggle being a mom, a business owner, and now the mayor of Hudson.
On top of that, we also have the official trailer for season 14 that just premiered during the Heartland Virtual Fan Day event (more on that at the end of this article) to help us figure out what we might see during the new season.
In it, we see glimpses of the new season including the "unexpected disaster" that the season synopsis mentioned in the form of an explosion. As well as Lou in her element as the mayor of Hudson, Caleb potentially getting hurt while training for a rodeo, Tim taking part in a baseball game, Amy and Jack having a heart to heart and so much more.
So check out the trailer above and let me know what your favorite part was in the comments!
Season 14 episode titles and synopses
Now that we know what the overall themes for the new season are, we can also look more specifically at what each episode will be about.
Here are the titles, airdates, and synopses for all of the Heartland season 14 episodes (a quick shout out to the Heartlandians Heartland fan account (@heartlandianlive) who first posted about the episode descriptions being available on Google):
Episode 1401 "Keep Me in Your Heart" (airing on January 10th): The past year has brought unexpected change to the Heartland family; Amy deals with a major upheaval in her life; Lou copes with the reality of being the mayor of Hudson; Georgie revisits her dream of the Olympics.
Episode 1402 "The Last Goodbye" (airing on January 17th): Amy must face a difficult truth when her efforts to help a young girl form a connection with her new horse takes an unexpected turn; Lou faces harsh criticism as mayor; a cattle drive brings up difficult memories for Jack.
Episode 1403 "Making Amends" (airing on January 24th): Amy grudgingly helps Ty's mother, Lily, with a traumatized racehorse; Lou gets into even more hot water when she tries to sell Hudson as a "must-see" tourist destination.
Episode 1404 "Through the Smoke" (airing on January 31st): Disaster strikes Hudson when a train derails and causes an explosion that threatens the town and the surrounding area. A wildfire quickly spreads towards the rodeo grounds and Amy rushes to save the abandoned horses there.
Episode 1405 "Outsiders" (airing on February 14th): The wild, black stallion that Amy rehomed from Will's ranch is brutally forced out of the herd by the new leader, leaving Amy to track down the injured horse and nurse him back to health.
Episode 1406 "The New Normal" (airing February 21st): A group of wild horses needs new homes Amy must get back to her Miracle Girl roots and host her first horse clinic in over a year.
Episode 1407 "Courage" (airing February 28th): Tim seeks out help from an unlikely person when he finds himself competing in a polo match. And Amy is concerned her daughter isn't adjusting to her new reality, so she makes a decision that worries Jack.
Episode 1408 "Changing Gears" (airing on March 7th): Caleb finds a moment from the past that he thinks will have special meaning for Amy. But surprisingly, it's Jack who has some mixed emotions stirred up by the gift.
Episode 1409 "Find Me in the Dark" (airing on March 14th): Quinn's wealthy father arrives at Heartland with a life-changing proposition for both Amy and his son.
Episode 1410 "Staying the Course" (airing on March 21st): While Amy works with a challenging horse to help a friend of Clint's, she also revives a dream to rebuild the jumping course that she and Spartan practiced on so many years ago. Meanwhile, Lou learns that Peter won't attend her upcoming wedding, and, surprised by her emotional reaction, she is forced to face a realization about their relationship."
And thanks to Graham Wardle and Michelle Morgan's Instagram stories, we know that block 5, episodes 1409 and 1410 will be directed by Michelle Morgan and Dean Bennett.
And this story also makes me hopeful that if Graham has the scripts from these episodes, he might be in them as well in one way or another. But nothing's for sure. And the fact that we saw Ty say "you'll never be alone" in the season 14 trailer (that you can check out above) is a little worrisome. So, really, the only sure way of finding out how many episodes Graham is in this season is by watching season 14 on CBC.
AUTHOR'S NOTE: This article was written and posted on January 6th, before episode 1 of season 14 aired, so all the opinions about Graham Wardle's future on the show were formed from what little information could be gathered on the internet on what MIGHT happen in season 14 and were pure speculation. You can read what actually happened in my episode 1401 recap.
No mentions of the pandemic on season 14
This year, many TV shows have included the worldwide pandemic in their storylines be it in passing or as one of the main plot points. But what about Heartland? Will the show be set in COVID world?
Well, according to the show's star Amber Marshal, there won't be any mentions of the virus in season 14.
Megan Marie (@lifes_a_trip_take_a_ride) asked Amber this question on one of Amber's Instagram post. And Amber replied that there will be "no mention of the pandemic on Heartland. The last thing everyone needs is more virus reference."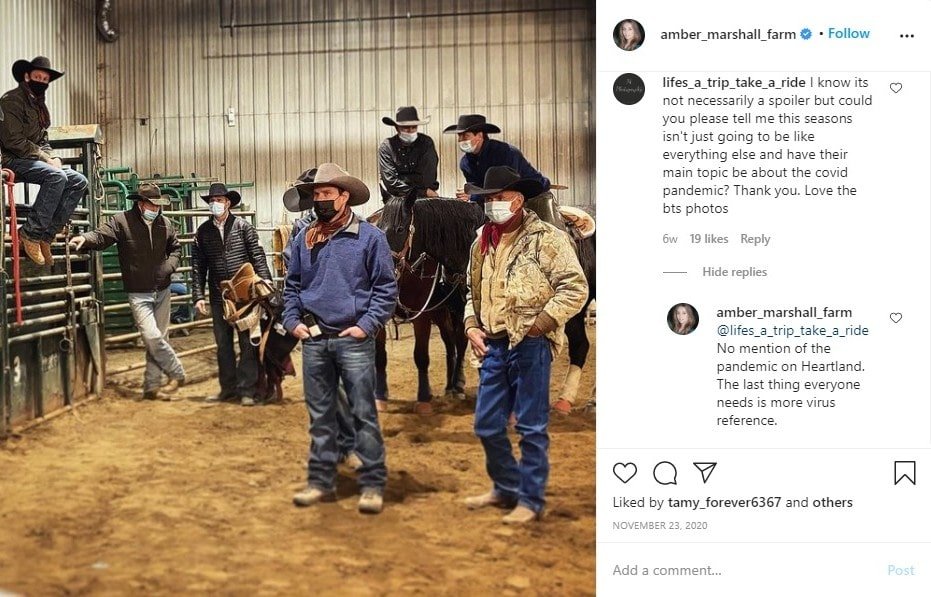 And it makes sense, Heartland has always been a wholesome, pure show that many watch to escape the real world for a moment or two. So I am glad that Heartland will be able to continue to be a source of comfort for many.
New and returning cast members
In our article on the beginning of production for season 14, we already mentioned that many of the cast members we know and love will be back for the new season.
That includes Amber Marshall, Graham Wardle, Alisha Newton, Chris Potter, Shaun Johnston, Jessica Steen, Michelle Morgan, Kevin McGarry, Gabriel Hogan, Lisa Durupt, Ruby and Emmanuella Spencer, Ziya Matheson, Kerry James, and Madison Cheeatow. As well as recurring cast members Jordan Burtchett and Megan Follows.
But this season there will also be some new actors joining the cast of Heartland. One of the new additions will be Aidan Moreno as Lou's Chief Administrative Officer Rick who will be working closely with Lou as she settles in her role as Hudson's new mayor.
Another actor joining the cast this season is Ava Tran. She will be playing Parker on Heartland season 14. And what we could glimpse from the trailer and teaser of the new season, she might be another kid the Bartlett-Fleming-Borden-Morris clan decides to foster this season. Or at least have a close relationship with, since we saw Jack hugging Parker in the trailer.
And Adrian Spencer and Mara Stevens will also be part of this upcoming season of Heartland. And although we don't know much about Aidan or Mara's characters, they will surely be welcome additions to the ever-expanding cast of Heartland.
Season 14 production has concluded
In this article, I also wanted to let you know that the filming of Heartland season 14 has officially finished.
The final day of filming for the new season of Heartland was December 21st. Meaning that it took the cast and crew close to 4 months to shoot the 10 episodes of Heartland season 14 since production began on September 9th.
What does this mean for us, the fans?
It means that all the episodes have officially been filmed. And since Michelle Morgan shared on her Instagram account that she's about to start editing the episode that she directed this season (which is the 9th episode of this season), the editing of the episodes is also nearing the end.
So, hopefully, we can expect a quick roll-out of all 10 episodes over the next few months with little to no breaks.
The Heartland Virtual Fan Day
Finally, don't forget to check out the Heartland Virtual Fan Day video that aired on January 5th.
During the event, we not only got to hear Amber Marshall, Michelle Morgan, and Shaun Johnston answer fan questions but also got to see a tour of Heartland's studio set courtesy of Michelle and see Amber and Shaun visit their horse co-stars in the barn.
And of course, we also got to see the official Heartland season 14 trailer that I shared at the start of this post.
In conclusion
Like Heartland producer Tom Cox said during an interview with the Calgary Herald when asked about Heartland season 14, "it's going to be fantastic." And from all the information gathered in this article, I'm inclined to agree! It's shaping up to be another great season of Heartland!
Are you excited for Heartland season 14? Did I cover everything regarding the new season? Let me know in the comments below or on social media!
And as always, I will be doing a recap of each of the 10 episodes of Heartland season 14. So, look for them here on the blog on Mondays, following each new episode!