Okay, let's be honest here, everyone. When you think about going on a cross-country tour of America, how high on your "must-visit cities" list is Austin?
Sure it's the Texas state capital but it's definitely not one of the more well-known cities in the country.
You might know what Austin is known for if you're a local, but as a tourist, it's hard to think of landmarks in the city right off the top of your head. However, there are actually so many places that one could visit in Austin, regardless of what area your interests lie in.
History buff? Visit the Texas Capitol or the Bullock Texas State History Museum for its interactive exhibits.
Music lover? Austin is known as the Live Music Capital of the world, boasting various music venues of all sizes scattered across the city. If you're lucky, you might even catch a music festival while you're there!
Prefer the quiet sounds of nature instead? Stop by the 351-acre Zilker Park, go on the hike-and-bike trail around Lady Bird Lake, or take a boat tour under Congress Avenue Bridge to watch its famed humongous bat colony take flight at dusk.
Foodies will be living their best life, too, what with all the barbecue, Latino cuisines, and even the fusion tex-mex.
If all that information isn't enough to convince you to add Austin to your road trip pit stops, maybe you need to see a little of what life is like – maybe not in person but instead, through your TV screens.
With that being said, here is a list of TV shows set in Austin, Texas!
9-1-1: Lone Star, Fox (2020 – present)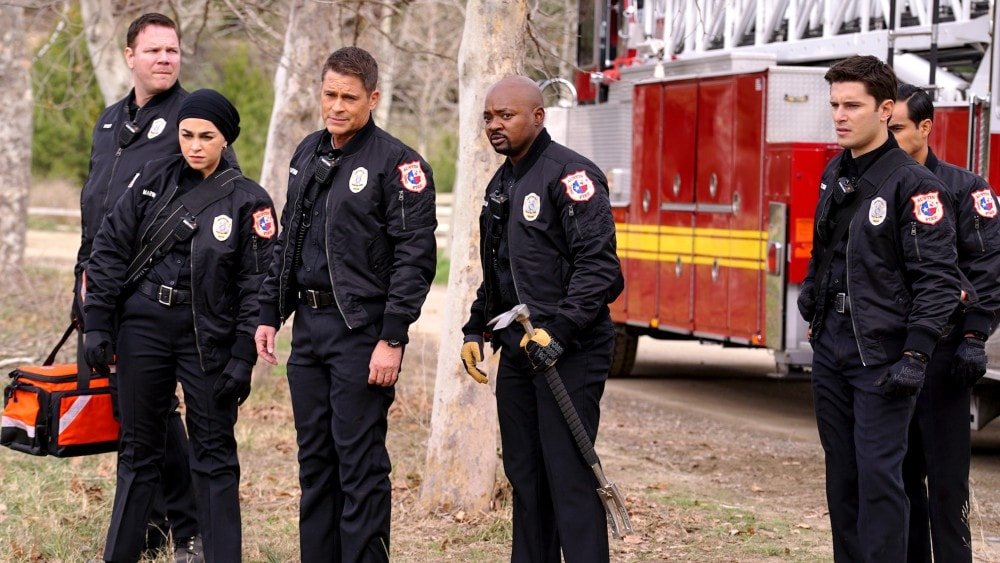 The first show on our list is Fox's 9-1-1: Lone Star, the first spin-off of the 9-1-1 parent series that began airing in 2018.
Lone Star, a reference to the nickname of Texas, follows the story of Owen Strand, a captain firefighter who relocates with his fellow firefighter son from New York to Austin.
He was the only survivor from his firehouse unit after 9/11 and helped to rebuild the team in the aftermath. Because of this, he was tasked to do the same after a similar tragedy struck a firehouse in Austin.
The series chronicles Owen's fight to help his troubled son, deal with the trauma from 9/11, and the damaging long-term health effects that he has been keeping a secret from his loved ones and colleagues.
Walker, The CW (2021 – present)
Fresh off of his longtime show Supernatural, Jared Padalecki jumps right back onto our screens as the lead character in The CW's Walker.
The action crime-drama series is a reboot of the classic 90s western drama Walker, Texas Ranger which starred bigshot action star Chuck Norris.
Now, Padalecki stars in the titular role of Cordell Walker, a Texas Ranger who has just returned to his hometown of Austin, Texas after an almost two-year undercover mission.
He took on the assignment as a means of coping with the sudden murder of his wife but in his absence, has become estranged from his teenage son and daughter.
Not only does Walker have to fix his relationship with his kids, his brother, and his parents, but also further investigate the circumstances surrounding his wife's murder.
Faking It, MTV (2014 – 2016)
MTV's Faking It is a romantic comedy-drama series that is targeted towards a slightly younger audience, having followed the life of teenage high school students.
In particular, viewers meet Karma Ashcroft and Amy Raudenfeld, best friends studying at Hester High School in Austin.
At their school, being different is your ticket to popularity and both Karma and Amy will go to any length to get there.
They finally get their wish when they are mistaken for the school's first openly lesbian couple, and they decided to keep up the fake relationship for the sake of their now-popular reputation.
However, things begin to get more complicated when Amy begins to question whether she really is faking it or not, and Karma enters a secret relationship with the school's most popular boy. Will Karma and Amy be able to keep faking it?
The Mentalist: Season 6, CBS (2008 – 2015)
We've seen plenty of shows where the lead character begins as a criminal, or at the very least has some sort of criminal background, but switches sides to work with or for law enforcement to solve crimes.
CBS' The Mentalist was one such series!
Prior to the start of the show, Patrick Jane was a con artist posing as a psychic medium; one of his cons involved a fake claim about profiling prolific serial killer Red John, who exacts his revenge on Jane by murdering his wife and daughter.
Because of this, Jane leaves the con life behind and uses the skills he has as a "successful yet fraudulent" medium to work with the California Bureau of Investigation.
In season 6, the central story involving Red John is wrapped up, and seeking to start a fresh life, Jane moves to work with the FBI in their Austin field office.
A Teacher, FX on Hulu (2020)
Though the 10-episode miniseries A Teacher is a fictional story, it's one that is likely to be true but in some cases, we might never know about it.
The forbidden love between a teacher and their student is an incredibly slippery slope in terms of morality; even if it's consensual on both ends, even if the student is no longer a minor, the power balance still makes the entire thing questionable at best.
This story is told in A Teacher – Claire Wilson, an English teacher at an Austin high school who has become disenchanted with married life, begins a sexual relationship with one of her 18-year-old students, Eric Walker.
They fight to keep their affair a secret, but the truth always comes out.
A Teacher explores how this kind of relationship can become increasingly complex and deeply affect the lives of those around them.
Austin Stories, MTV (1997 – 1998)
Most major cities that are full of life have a sitcom coming out of it, simply because the culture and environment provide an unending source of potential material.
Austin is no exception, as evidenced by MTV's 1990s sitcom Austin Stories.
Comedians Laura House, Brad "Chip" Pope, and Howard Kremer were brought onto the show to play fictionalized versions of themselves as friends who experienced all sorts of misadventures around Austin.
Laura plays a newspaper columnist, Howard a "homeless slacker", and Chip a "misdirected career-vagabond".
Sadly, the series was canceled after just one season. However, if you'd still like to explore the locale seen in the show's first episode, check out these recommendations!
They may not be exactly the same some 20 years after the show, but film tourism is always a fun dose of nostalgia!
My Generation, ABC (2010)
We love a good mockumentary-style series and following both versions of The Office, there was also ABC's My Generation.
Ten years prior to the start of the series, way back at the turn of the century in 2000, a documentary crew followed a group of students in the weeks leading up to their graduation from Greenbelt High School.
They were your typical students: the jock, the nerd, the quiet kid, the beautiful popular girl, the smart one, the punk, the overachiever, the rich kid, and the rock star.
Now, the documentary picks up to show them meeting up a decade later to see how their lives have turned out – is it anything like the dreams they voiced on camera all those years ago?
SKAM Austin, Facebook Watch (2018 – 2019)
SKAM Austin is a teen drama series based on the Norwegian series titled Skam; its format is also one that we really don't see very often as it feels almost…interactive.
As a web series that aired on Facebook Watch, it unfolds in real-time through the videos posted on the platform – meaning a 20-minute clip reflects 20 actual minutes in the characters' lives.
These were complemented by screenshots of texts between the characters as well as fictional social media accounts to provide depth to the story!
Each season focuses on a different character and group of friends from Bouldin High School in Austin, exploring themes of love, friendship, and loss through the eyes of teenagers.
I Hate My Teenage Daughter, Fox (2011 – 2012)
The last show on our list is a sitcom from Fox that aired for one season and follows best friend duo Annie Watson and Nikki Miller as they struggle to raise their teenage daughters as single mothers.
Apart from having to deal with the complicated relationships they have with their ex-husbands, both Annie and Nikki have one big, shared fear: that their daughters are growing up to become exactly the kind of girls they themselves grew up fearing in high school: the "mean girls"!
Annie's daughter Sophie has begun to think she can do whatever she wants and get away with it, while Nikki's daughter Mackenzie is starting to show her manipulative side.
They rely on each other to help set their daughters on the right path, as their exes prove to be of no help at all.