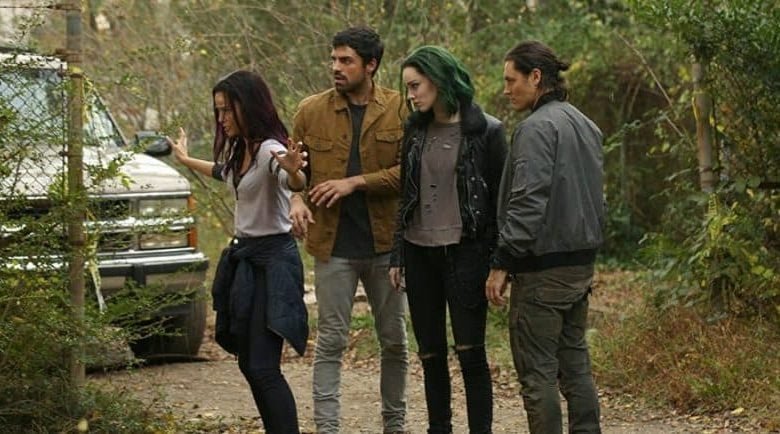 The Gifted was one of the breakout shows of the last TV season. And how could it not be? The X-Man drama details the lives of a group of mutants post-X-men disappearance and the fight that's still raging on between mutants and humans. And earned not only an average of 2.0 in live + 7 rating and 8.3 million total viewers, but also the number 3 new drama spot among all the freshman shows premiering in the 2017/2018 TV season. So it came as no surprise that Fox gave a season 2 order for their newbie show ahead of the series two-hour season 1 finale on January 15. And now that the show has started production on their second season (filming began on May 30), we have some early The Gifted season 2 scoop to share with you!
The Gifted season 2 scoop
First and foremost we finally know the length of the sophomore season of the series. Because thanks to the panel the show's stars Emma Dumont, who plays Lorna Dane aka Polaris, and Blair Redford, who plays John Proudstar aka Thunderbird, did during the Heroes & Villains Fan Fest in London on Saturday, May 26 we learned that The Gifted season 2 will consist of 16 episodes. Which is 3 episodes more than the series first season. And means that the show's writers, cast, and crew will have more time to tell the stories they want to tell.
Additionally, during their panel, Dumont and Redford also revealed that timeline-wise The Gifted season 2 will pick up 6 months after the season 1 finale. So it seems that quite some time will have passed after the events of season 1. Which could mean a few things…
It could mean that we will see The Mutant Underground already partly rebuilt. Or it could mean that we will be seeing The Mutant Underground at full-on war with The Hellfire Club. Which Polaris and a few other characters joined at the end of season 1. But to know for sure, as this all is just a speculation at this point, you will just have to tune in on Tuesdays at 8/7 central. Because the show's timeslot was moved from Monday to Tuesday evenings.

Scoop on episode 1
But that's not all. Thanks to one of the show's executive producers Derek Hoffman, we have a few more tidbits to share with you. Because two days ago Hoffman shared a picture from the first day of filming. And it was quite revealing.
Awww yeah!! Rolling on Season 2 Ep 1 of @thegiftedonfox with Robert Duncan McNeil and @MattNixTV #TheGifted #mutantsunite pic.twitter.com/0YcPWwfYyK

— Derek Hoffman (@brghtidea) May 31, 2018
The picture not only shows Hoffman and The Gifted showrunner Matt Nix. But also features the cover of the script for The Gifted season 2 episode 1. Which holds quite a lot of information.
For example, the script cover divulged that the first episode of The Gifted season 2 is written by Matt Nix. And will be directed by Robert Duncan McNeill. Who most recently directed the pilot episodes of shows like The Orville and Salvation.
But, most importantly, the picture gave away the title for The Gifted episode 201. It will be called "eMergence". And, yes, the letter 'M' is capitalized on purpose. As last season all episode titles included the letter 'X' (for X-Men) which also was capitalized. Looks like for season 2 they are going with 'M' for mutant.
New and returning cast
In terms of the cast, all your favorites are returning for The Gifted season 2. Everyone from Jamie Chung, Blair Redford, Sean Teale, Emma Dumont, Hayley Lovitt and Jermaine Rivers to Stephen Moyer, Amy Acker, Natalie Alyn Lind, Percy Hynes White and Coby Bell will be back reprising their roles once the new season airs. On top of that, Skyler Samuels will also be back playing the Frost sisters, but this time around already as series regular.
New picture of #TheGifted family last night ✖ #TheGiftedSeason2 pic.twitter.com/F4dlGGmGDh

— Blair Redford US (@BlairRedfordUS) May 24, 2018
And it looks like we are also getting some new characters this season. It was announced that Grace Byers has been cast as series regular Reeva Payge. She's a charming yet ruthless leader of The Hellfire Club's Inner Circle with the ability to produce mid-scrambling sonic blasts. Additionally, just recently multiple casting calls were issued for Atlanta-based actors to play extras on The Gifted season 2. One was for people with a unique look who are comfortable with special effects make-up and prosthetics. Which obviously sounds like they are casting new mutants. And the other was for people with run-down cars, which sounds like some scenes of the upcoming season might take place in not-so-good of a neighborhood.
What we can expect to see on The Gifted season 2
And lastly, we just wanted to mention a few things that the series showrunner Matt Nix has said about season 2. And about what we might see during it. Because although the second season of The Gifted is currently being filmed in Atlanta, we are still a few months away from the show's season 2 premiere. Which means that "possible" and "might" just will have to do for now.
During an interview with Comic Book Resource, Matt Nix mentioned that he would like to see an appearance from Morlocks, since "the whole mythology around the Morlocks really fits" into The Gifted universe. While during a spoiler Q&A session with TVLine's Michel Ausiello Nix revealed that in season 2 he really wants to "explore 7/15 in more detail". Because the events of that day really were the turning point when it comes to human-mutant relations in The Gifted world.
So there you have it, a bit of an early The Gifted season 2 scoop while we wait for the new season to air in the fall (The Gifted season 2 premiers on September 25 at 8/7 central). Let me know which piece of news about the upcoming season was your favorite! And just to tide you over until the sophomore season of The Gifted launches, here is the first trailer for The Gifted season 2!
They were chosen for a reason. Watch the mutants rise for Season 2 of #TheGifted, September 25 on @FOXTV. #MutantUprising pic.twitter.com/UbiVX99Bk1

— The Gifted (@TheGiftedonFOX) July 21, 2018