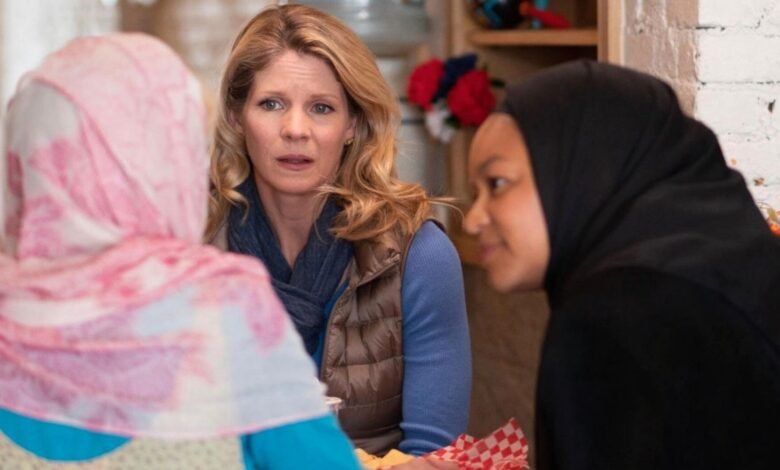 Topic is a streaming service from First Look Entertainment that constantly brings the most entertaining and adrenaline-pumping crime, drama, and mystery thrillers to our screens from all over the world.
Once again, Topic has not failed to deliver with the thriller drama series, The Accidental Wolf.
In November 2020, Topic released the first season of four episodes. And just this December, we ended the year with the six-episode second season!
What is The Accidental Wolf?
Before we dive into a review and my thoughts on both seasons, as per usual let's take a quick look at what The Accidental Wolf is about.
Created by Arian Moayed, The Accidental Wolf is a dark, gripping drama thriller that explores many themes and questions while taking its viewers on a complex rollercoaster ride.
Decorated Broadway actress, Tony Award winner and seven-time Tony Award nominee Kelli O'Hara plays Katie Bonner, a rich New Yorker living in Manhattan, who's married to a big shot lawyer who also came from an affluent family.
She usually lives a pretty quiet day-to-day life, but that's all flipped on its head when one night, she answers a call that changes her life.
It's pretty obvious from the start that the caller has dialed the wrong number but just as Katie is about to hang up, she realizes that there's something terribly wrong happening over the phone.
The unknown caller begins to plead for help from Katie and then suddenly shifts to pleading for his life from someone standing in front of him and finally, as he's dying, asks Katie to help his pregnant wife, Tala.
Thus begins Katie's spiral into a cover-up larger than she could have anticipated.
She becomes desperate to find Tala but in the process, loses touch with those closest to her who are trying to convince her that it's nothing but a scam.
Both seasons focus on Katie's journey to find what she believes to be the truth – but does anybody really know what it is?
Thoughts on The Accidental Wolf
If there's one thing that I would have to say about The Accidental Wolf right off the bat, it's this: this show is not your average cut-and-dried mystery thriller.
There's no clear beginning or middle, but you at least know one thing: this definitely isn't the end yet.
Throughout every episode, you're never sure about where it's headed but it seems to me like that confusion is exactly the point, like you're not supposed to know all the facts or the whole truth about anything.
I suppose that in essence, any good mystery thriller should be taking its viewers on this kind of journey, but The Accidental Wolf employs it in such a way that lends to the theme so well.
Thoughts on The Accidental Wolf season 1
In the first season, for example, we spend all four episodes wondering what exactly is real, who's in the right here, what's the truth?
Clearly, Katie believes that something truly horrible happened and that she definitely heard American voices speaking before killing the unknown caller and taking away Tala.
At first, it seemed like her husband Bradley was on the same page as her but as Katie continued to spiral while searching for Tala, he drew further away and became convinced (just like everyone else, including the cops) that Katie was just falling into an elaborate financial scam.
---
Where to watch The Accidental Wolf:
---
In TheWrap's virtual screening preview for the first season back in November 2020, O'Hara posed this question: "How is it we can be absolutely opposed, 50-50, on things that seem so clear?" and later on explained a bit of creator Arian Moayed's vision for it as well: "It is this, and it is this. And it is not this and it is not this."
This idea of uncertainty really comes through in the entirety of the first season, where both Katie and us viewers were given only tidbits of the truth (that sometimes don't even add up at all) and left to figure things out for ourselves.
I have no doubt that if we were to place ourselves in the show, some of us would side with Katie while others would agree with her family and husband.
Thoughts on The Accidental Wolf season 2
However, in the second season, the direction changes again as it becomes clearer that Katie was on the right track.
It's now been six months since that harrowing phone call and now the show asks us this: how far would you be willing to go to help out a stranger?
For Katie, apparently, the answer is very far. So far that she was willing to put all her relationships on the line – potentially even including custody of her own daughter.
Her marriage has fallen apart, she's in a constant argument with her mother, her friend grows increasingly concerned, and now, she might lose her daughter, too.
For us, the plus side to this is that we're finally starting to see things slowly coming together as Katie finds more clues to support her belief that Tala is truly still alive.
That doesn't mean we're getting answers, though, not in the least.
In fact, we might even have more questions even right up to the last minutes of the season finale!
Katie's one giant step closer to her goal but now we need to know what season 3 has waiting for us. Is Katie going to dig deeper into this cover-up and if so, what else is she going to lose in the process?
Lenght, pacing & performances
Outside of the plot points and theme of The Accidental Wolf, there are a couple of other aspects of the show that I think need to be mentioned.
First of all, each episode ranges from only 20 to about 35 minutes. Some people may think that this is too short but trust me, it's the perfect length. Because of how much is going on at one time, the short episodes make sure viewers don't get too overwhelmed or confused, and allows us to process what's happening.
Finally, I just have to praise Kelli O'Hara's performance!
I'm no professional critic but it's her acting that keeps me engaged in the show and so invested in her mission to find Tala. You can feel her panic, her desperation, her resignation – all of it.
Judith Ivey, who plays Katie's mother, also does a spectacular job. Even though she's a thoroughly unlikeable character for many reasons (not least of all that painful verbal beating she gave Katie), you just have to admire how Ivey is able to grab you with her strong presence no matter how much you wish you could ignore her.
Overall, The Accidental Wolf is great for fans of mystery dramas that will constantly keep you guessing. The pacing is slower than most others in the genre so you will need patience, but you'll definitely want to keep watching to find all the answers.
The Accidental Wolf seasons 1 and 2 are available to stream now on Topic.
And since a four-episode third season of The Accidental Wolf has been greenlit at Topic, that will see Katie go on the run to seek answers about the deadly cover-up, we can be sure to find answers to at least some of the questions that the previous two seasons left us with.