Wrestling is, without a doubt, a fascinating sport. It's not quite as bloody as other combat sports like boxing and MMA, even though some of the moves will definitely make you cringe and wonder how they're not rolling around in pain.
The thing about wrestling is, we know that it's scripted.
Not all the time, of course, as wrestling is still in essence a competitive sport. But the professional wrestling we see often, with the fireworks, crazy outfits, and huge spectacle? There's a narrative behind that and we know the match is practiced, making it definitely geared more toward entertainment purposes.
In this list, we're bringing the best scripted live-action and animated TV shows about wrestling – and wrestlers! Let's dive right in.
Best Scripted TV Shows About Wrestling
Heels, Starz (2021 – present)
"Heels" isn't likely to evoke the image of wrestling if you're unfamiliar with the sports' terminology. In wrestling, however, a heel is the 'villain' of the match while the face is the 'hero'.
In the Starz series Heels, brothers Jack and Ace Spade play the heel and face, respectively, of their family-owned Duffy Wrestling League (DWL) in a small town in Georgia.
Their matches are scripted, and the brothers are constantly at odds over which direction to take their narrative in, especially since their father, the former owner of DWL, passed away the year before.
GLOW, Netflix (2017 – 2019)
Sadly, GLOW was a stellar series that ended too early because of production shutdowns caused by the pandemic.
The series is based on – and named after – the Gorgeous Ladies of Wrestling circuit that was founded in the 1980s, which promoted syndicated women's professional wrestling.
Many women of the time were fighting to make it into an acting career and this led some to audition for GLOW, which was known for its gimmicks, colorful characters, and comedy sketches.
GLOW follows the fictional lives of these women, particularly Ruth Wilder and Debbie Eagan, as the show runs on.
Young Rock, NBC (2021 – present)
Dwayne "The Rock" Johnson is undoubtedly one of the biggest names in wrestling today – if not the biggest. Of course, after his wrestling career, he switched to acting, and that's working out well for him too.
In the NBC series Young Rock, we're in the fictional future where Johnson is running during the US presidential elections.
Each episode is structured so that we're given a peek into three stages of his life: as a kid in Hawaii, a teenager in Pennsylvania, and a college student in Florida.
It's also a fascinating look into the world of wrestling, told by someone who grew up in and surrounded by it.
The Big Show Show, Netflix (2020)
Paul Wight, a.k.a Big Show, is another pro wrestler who has found a career in acting. In 2020, he starred in his own Netflix show titled The Big Show Show, where he plays a fictionalized version of himself.
He's retired and living in Florida with his wife and two beautiful daughters, working on the occasional wrestling promotional events and demos.
However, his (fairly) peaceful life of retirement changes when his eldest daughter from his first marriage, Lola, moves from Minnesota to come and live with them – where she often gets very competitive with her father.
Learning the Ropes, CTV/syndication (1988 – 1989)
Have you ever thought about your teachers leading double lives in the evening?
In Learning the Ropes, we follow the story of Robert Randall, a teacher and vice-principal at a private school who also moonlights as a professional wrestler in the evening.
His second career began as a way for him to help make ends meet, but the school's principal has him keeping it a secret.
Luckily, his children and colleagues at the National Wrestling Alliance know his secret and this helps him balance his life at home, in the wrestling ring, and with his students.
Nikki, The WB (2000 – 2002)
Nikki was a sitcom from the early 2000s that starred Nikki Cox in the lead role.
The eponymous Nikki White is a Las Vegas showgirl while her husband Dwight is a professional wrestler, and viewers are treated to snippets of comedy in his bouts with wrestling!
The working-class couple is living in Sin City and attempting to make a name for themselves in their respective careers.
Throughout the series, we meet Nikki and Dwight's neighbors, best friends, and Dwight's mother, whose tension with Nikki stems from resentment at taking her son away from a stable job as a tax attorney.
Colonial Combat, TVNZ (2019 – 2021)
Colonial Combat is a satirical look into New Zealand's rich colonial history – albeit one that often toes the line of historical accuracy.
SBS Australia describes it as a mix of the brutality and colorful characters of Deadwood with WWE Raw Monday night highlights.
We meet the British Harold Barker, who arrives on the shores of Kauri Bay with a tent, a wrestling ring, and ambitions to establish a wrestling franchise with the local Maori people.
The series reflects different perspectives in colonization: those who welcome it, those who stand against it, and those who are finding their place in the middle.
Blue Demon, Blim (2016 – 2017)
We dive into the world of lucha libre (the Mexican term for professional wrestling) with Blue Demon, who was a legend in the industry and whose career as a luchador enmascarado (masked wrestler) began all the way back in 1948.
Blue Demon tells of his origin story beyond how he rose to become the legend that he is.
Though he retired without ever revealing his face beneath the mask to the public, this series takes us so we can to know the man he was beneath the mask: Alejandro Muñoz.
Los Luchadores, YTV/Fox Kids (2001)
Next up is another series that focuses on the Mexican lucha libre industry, albeit purely on a more entertaining note and for a much younger audience.
Los Luchadores follows Lobo Fuerte, "the greatest masked wrestler" in Union City, and his group of trusted sidekicks including Turbine, Maria Valentine, and their tech support Laurent.
Together they are the titular Los Luchadores, who protect Union City from both the mistakes of their bumbling mayor, whose good intentions always take a turn for the worst and a villainous group led by The Whelp.
Tôfu Pro-Wrestling, TV Asahi (2017)
The last live-action series on our list hails from Japan and puts female wrestlers at the forefront.
Miyawaki Yohei was a professional wrestler-turned tofu shop owner who always wanted his daughter Sakura to follow in his footsteps in the sport.
She had no interest, however, until Miyawaki died and left both his shop and his dojo to her.
Sakura finds out that he also left behind a debt, which she can only pay off if she wins the World Idol Pro Wrestling Championship. Thus, she reopens her father's dojo and – with the company of heer friends – trains to become a female wrestler.
Best Anime and Cartoon Wrestling Shows
Tiger Mask W, TV Asahi (2016 – 2017)
Tiger Mask W is an anime based on the Tiger Mask manga series.
The series follows Naoto Azume and his friend Takuma Fuji, both young and aspiring wrestlers.
An incident led the friends to part ways after vowing to take revenge on the organization that destroyed their manager, and they trained separately in different methods: one the way of light, the other, dark.
Three years later, they meet again under their aliases; despite not knowing each others' identities, they work towards the same goal of revenge.
Wanna be the Strongest in the World!, AT-X (2013)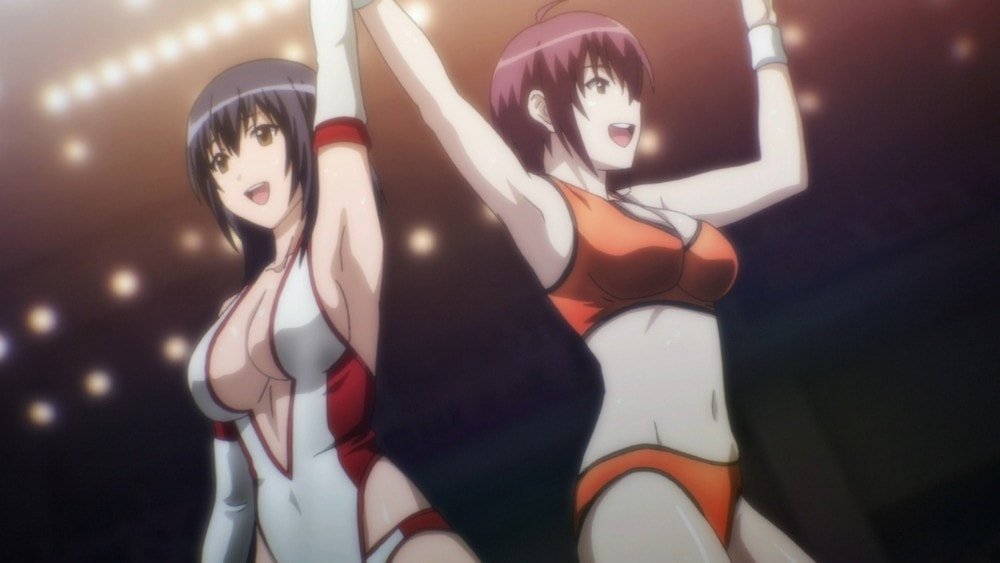 Again based on a manga of the same name, Wanna be the Strongest in the World! follows Sakura Hagiwara, who starts out as a member of a Japanese idol girl group named Sweet Diva.
One day, her fellow group member Elena is attacked by Rio Kazama, a female pro wrestler.
To avenge Elena, Sakura leaves the group to join the world of women's wrestling, determined to join Rio's team and teach her a lesson.
¡Mucha Lucha!, Kids' WB (2002 – 2005)
¡Mucha Lucha! is an animated series geared towards a young audience.
It takes place in Luchaville, where most of the citizens wear a mask and costume and have their own signature move.
We mostly follow the adventures of the three young friends Rikochet, Buena Girl, and Flea, who are studying at the Foremost World-Renowned International School of Lucha.
In addition to these is El Rey, Rikochet's action figure toy that moves and talks on its own, as a form of Rikochet's conscience!
Mongo Wrestling Alliance, Adult Swim (2011)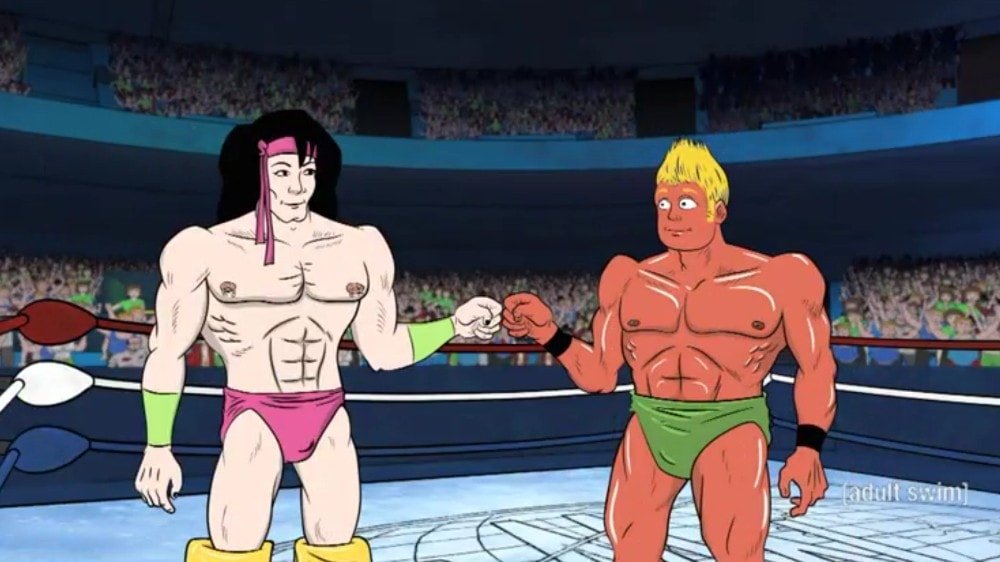 Mongo Wrestling Alliance may be a part of Cartoon Network but don't let that fool you: as part of the Adult Swim nighttime block, it's definitely got an adult target audience.
The titular Mongo Wrestling Alliance once betrayed pro-wrestler Baron Kieberkuh and now, his grandson Rusty has joined to restore the pride of his family's name.
To do this, the Kieberkuh clan is ready to go against Johnny DuBose to seize control of the MWA completely.
Kemono Michi: Rise Up (2019)
Based on the Kemono Michi manga series, Kemono Michi: Rise Up is an anime that focuses on Genzō Shibata, a professional wrestler about to compete for the World Champion title when he's suddenly transported into a magical world by its princess.
He's tasked with killing the beasts roaming around her kingdom's forests. However, Genzō is a true animal lover and refuses to follow the princess, deciding instead to team up with wolf-girl Shigure.
They still hunt the beasts but instead, they make it their mission to capture and befriend as many as possible so Genzō can achieve his dream of owning a pet shop.
Kinnikuman (Muscle Man), NTV (1983 – 1986)
The Kinnikuman Japanese manga series was originally written as a parody to the popular media franchise, Ultraman – which would explain the fairly similar appearance between the two.
Kinnikuman the series, which simply translates to "Muscle Man", was the first of three to be adapted from the manga.
It revolves around Sugaru Kinniku, a superhero and as he suddenly discovers, the prince of planet Kinniku. Due to his awkward clumsiness, however, he must first win a wrestling tournament to prove his worthiness for the throne.
Kinnikuman: Scramble For The Throne, NTV (1991 – 1992)
In this sequel to Kinnikuman subtitled Scramble For The Throne, Sugaru Kinniku has proven himself worthy and now sits on the throne as King Muscle.
Of course, things aren't going to be that simple on the Kinniku planet. As he's about to be crowned, five other Kinniku's show up with claims that they are the true heir to the throne!
To solve the problem, the Royal Survivor Tournament is set up where the last survivor wins the throne.
Determined to defend his crown, Sugaru makes sure to use all of his newly-acquired techniques.
Ultimate Muscle: The Kinnikuman Legacy, TV Tokyo (2002 – 2003)
Originally titled Kinnikuman: Second Generation, this third anime adaptation was licensed to air in the United States and was retitled Ultimate Muscle: The Kinnikuman Legacy.
The series does indeed revolve around Sugaru Kinniku's legacy and the second generation: his son, Mantarou Kinniku a.k.a Kid Muscle.
Initially, Kid Muscle seems to have nothing in common with his superhero father. When villains threaten his planet, Mantarou is too scared and flees to Earth where he meets his father's former trainer, Meat.
Meat is determined to prepare Kid Muscle to become more like his father so he, too, can save his home.
Hulk Hogan's Rock 'n' Wrestling, CBS (1985 – 1986)
Hulk Hogan is known to be one of the most popular wrestlers of the 80s, so it makes complete sense that a series was developed at that time with him in the center.
Hulk Hogan's Rock 'n' Wrestling uses the concept of faces and heels in wrestling to distinguish the good guys from the bad in the series.
Of course, Hulk Hogan himself was the leader of the faces and teamed up with many fellow WWF stars of the time.
The series featured all sorts of wacky situations where Hogan and his fellow good guys triumph over the evil, led by "Rowdy" Roddy Piper.