There's just something oddly calming about watching farm life unfold, especially for those of us who have always been surrounded by the concrete jungle of urban life.
Those who know me will probably agree that this fun fact is a little out of character: one of my all-time favorite documentaries is about the ups and downs of building and living a farm life. It's called The Biggest Little Farm and when I say it's an all-time fave, I mean I've rewatched it about four times since its release in 2018 – it's that good!
---
Want the quick version of this list? Then check out our video on the 7 best TV shows about ranches:
---
When it comes to TV shows, there's an abundance of both scripted and reality shows that depict what it's like to live and maintain your own ranch or farm. From fierce competitions, ala The Bachelor like Farmer Wants a Wife to informational docu-series like American Farmer, there's a farming show out there for everyone.
In this list, however, we'll be talking about scripted TV shows about ranching and farm life.
Heartland, CBC (2007 – present)
A CBC original and the longest-running one-hour scripted drama show in Canada's TV history, Heartland is based on the series of novels of the same name written by Lauren Brooke.
The show tells the story of Amy Fleming, a naturally gifted horse trainer, and her family. Which includes older sister Lou, who returns to their ranch after the death of their mother, and their maternal grandfather Jack Bartlett.
Amy and Lou attempt to rebuild their relationship not only with each other but also with their estranged father Tim, who comes back into the picture following the funeral.
Brought back together by this truly heartbreaking tragedy, the Bartlett-Fleming family work together to restore Heartland to its former glory, despite struggles in their personal and romantic relationships.
McLeod's Daughters, Nine Network (2001 – 2009)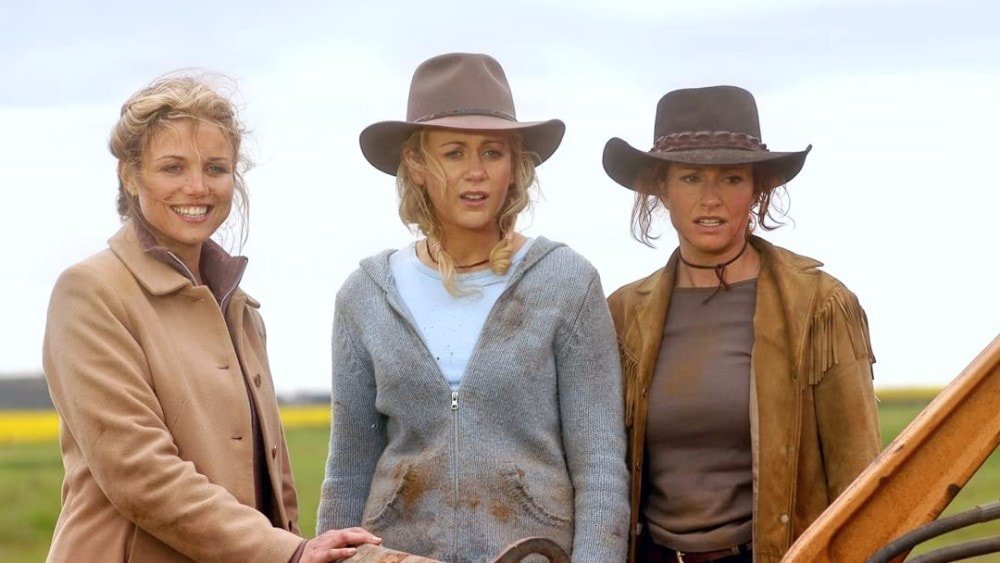 From Canada we move to Australia for this next ranching show – Nine Network's McLeod's Daughters – which went to become one of the most successful series on Australian television.
Running a cattle station (or ranch) isn't easy but it's even harder when it's done by women alone. Which is why McLeod's Daughters is so interesting.
The series follows Claire McLeod and her half-sister Tess Silverman McLeod as they run Drover's Run, a large cattle farm in the outback of South Australia.
Tess returns to the outback after having spent nearly 20 years living in the city with the hopes of selling off her shares of Drover's Run. However, she ends up staying in Gungellan, learning the ropes of ranch life from Claire.
And during the 8-season run of the show we see Claire, Tess as well as their family, friends, and neighbors go through the ups and downs of life and running a ranch.
Ride, Hallmark Channel (2023)
Our newest series on this list of TV shows about ranch life is Hallmark Channel's gripping new family drama Ride.
Ride is set in Colorado and follows the McMurray family, a rodeo dynasty going back generations, as they struggle to keep their ranch afloat.
We zero in on the family's matriarch, Isabel McMurray, her two sons, Cash and Tuff, her late son Austin's wife, Missy, and family friend Valeria, who will do anything in their power to save the family ranch.
From farming to bull riding, rodeos, and even some country music, this series has it all for those who love the Western lifestyle. And since this is a Hallmark series, it has a good dose of complicated family dynamics to boot.
The Ranch, Netflix (2016 – 2020)
The Ranch takes a slightly more lighthearted approach to farm life, reuniting two alums from That 70s Show: Ashton Kutcher and Danny Masterson (alongside a few others in recurring roles!).
Kutcher and Masterson play Colt and "Rooster" Bennett, brothers who live on the Iron River Ranch in the fictional town of Garrison, Colorado.
Colt returns to their hometown after 15 years of trying – and failing – to build himself a professional football career.
Because he was always just "the back up to the back up to the back up", he heads back to Garrison to try out for a semi-pro team, deciding to just stay and help his brother and father to maintain their family ranch, despite having neither the skill nor the know-how.
Yellowstone, Paramount Network (2018 – present)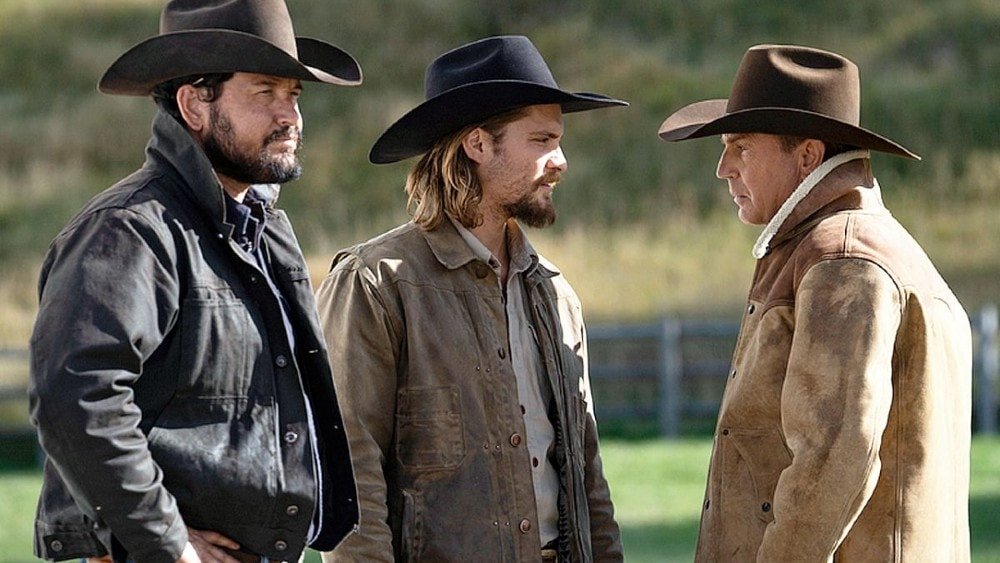 The events in Yellowstone unfold in Montana, around the prominent ranching family at its center: the Duttons, headed by the family patriarch John Dutton.
John stands at the helm of the sixth generation of ranchers in his family, a long history of farm life that has cultivated in their family's control over the largest contiguous ranch in the United States.
The Yellowstone Dutton Ranch often conflicts with the lands and communities sharing its borders: another large cattle ranch, an Indian reservation, land developers, and yes, even the Yellowstone National Park.
In their family's fight to protect their land and their legacy from those who attempt to encroach upon it, the Duttons must outsmart their foes and build strategic alliances they may never have expected.
Bless This Mess, ABC (2019 – 2020)
ABC's farm life sitcom Bless This Mess has a premise similar to that of The Biggest Little Farm, the documentary I mentioned earlier.
That is, a newlywed couple from a big city – in this case, New York City – decides to try their hand at a quiet, farming life and find that though it isn't easy, it can certainly be rewarding.
Rio and Mike Levine-Young unexpectedly inherit an old and dilapidated farmland in Bucksnort, Nebraska from Mike's great-aunt.
Hoping for a more relaxed life away from the hustle and bustle of NYC, they encounter a whole new array of challenges in restoring and maintaining their farm as well as in finding their place amongst the small farming community in rural Nebraska.
Letterkenny, Crave (2016 – present)
Canada contributes another farming series to the lineup with Letterkenny, a hilarious sitcom that first premiered as a YouTube web series before being commissioned for TV airing.
The title lends itself as the name of the small community in rural Canada where the show is set and where the main characters, siblings Wayne and Katy, own a small farm and produce stand.
Surrounding them are the other quirky residents of their small town whose "problems" – as indicated in the episodes' opening sequence – unfold throughout the show.
These characters include the farmers, of course, as well as the local ice hockey team, the drug addicts, Katy's various romantic relationships, and groups such as the First Nation reserve, the Mennonites, and the Québécois.
Wild Roses, CBC Television (2009)
Speaking of Canadian TV series about ranches, we also can't forget to mention CBC's Wild Roses.
This one-season series follows the lives of two rival families in a small town in Alberta.
The story revolves around the Henry family, who own the Rivercross Ranch, a struggling cattle ranch, and the McGregor family, who run a nearby oil company.
The series explores the complex relationships between the families, as well as the love interests and personal struggles of the characters.
With an all-star Canadian cast, Wild Roses offers a compelling drama that delved into themes of power, wealth, and family dynamics.
Dallas, CBS (1978 – 1991) / TNT (2012 – 2014)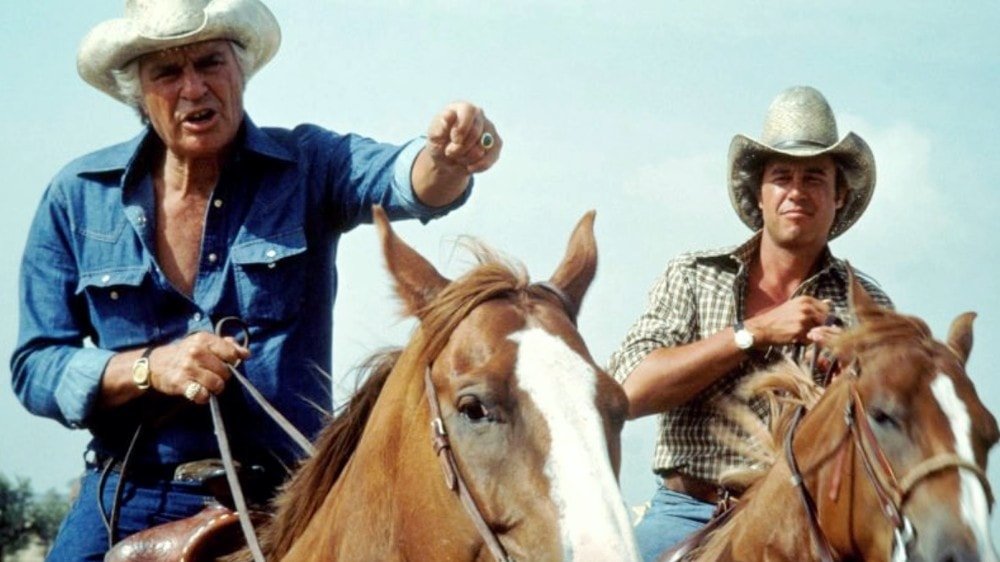 The next show on this list is, in a sense, a double feature. The parent series Dallas premiered in 1978 and was originally produced simply as a five-part miniseries, without any concrete plans of continuation.
However, it had reached a level of popularity that made it possible to produce subsequent episodes, and the show ran for a full 13 more seasons, totaling 14 and ending in 1991.
Dallas centered around the wealthy Ewing family from Texas, who owned and controlled both the oil company Ewing Oil and the large Southfork cattle-ranching land.
Just outside the periphery of these characters were members of the Barnes family, the Ewings' rivals throughout the run of the show. The rivalry began between both patriarchs amidst allegations of cheating within their oil company, but it takes a completely different turn at the onset of the series.
The Ewings' youngest son Bobby and the Barnes' daughter Pamela turn up at the ranch, newlyweds and determined to put the rivalry behind them. Their families' objections to their union, and their subsequent attempts to operate their businesses, form the main premise of the parent series.
In 2012, TNT aired the Dallas revival under the same name and served as a continuation of the original. It focused on the next generation of Ewings, particularly Bobby and Pamela's adopted son Christopher and his power-hungry cousin John Ross, as they adjust to the changing circumstances in the oil industry.
The High Chaparral, NBC (1967 – 1971)
Finally, we have NBC's 1967 Western series The High Chaparral.
Set in the 1870s, the show followed the Cannon family, led by patriarch John Cannon, as they established and defended their ranch, the High Chaparral, in the Arizona Territory.
The series was known for its complex and diverse characters, as well as its authentic portrayal of Native American culture.
The High Chaparral also tackled social issues of the time, such as racism and gender roles.
With a talented cast, including Leif Erickson and Linda Cristal, the show remains a classic of the Western genre and a testament to the power of television to explore important themes and tell compelling stories.