New Orleans, Louisiana. A cultural melting pot known for its music, food, French Quarter, swamps, and vibrant festivals (the most well-known of which is probably Mardi Gras).
The city's slogan is "laissez les bon temps rouler", a very loose Cajun-French translation of "let the good times roll", and it's certainly a vibe that you can feel in the air.
It's also been nicknamed "the Big Easy", which is said to be a reference to New York's the Big Apple – where the lifestyle in New York is rushed and perpetually fast-paced, New Orleans emanates a more chill, laidback energy.
New Orleans isn't just a place for those chasing after the city's parties, nightlife, and revelry on Bourbon Street; it's also a great place for people with an interest in history and the paranormal.
A large part of the city's culture has Afro-Carribean roots, and so it also has a very dark part of its history that's associated with slavery. That connects to the history of voodoo, which is still privately practiced in Louisiana today.
Apart from that, New Orleans is also known to be one of the most haunted places in America, with many reportedly haunted locations and their tradition of above-ground tombs and mausoleums.
That being said, New Orleans seems like a city that you'd need several weeks to explore, especially if you want to experience the different facets of its culture.
If we can't do it in person, however, the least we can do is visit the city through our screens with the best TV shows set in New Orleans – shows as diverse and vibrant as the city itself!
NCIS: New Orleans, CBS (2014 – 2021)
First on our list is the recently concluded NCIS: New Orleans, which was the third series in the NCIS franchise.
The Naval Criminal Investigative Service is tasked with investigating crimes that involve personnel within the Navy and Marine Corps. This particular NCIS team, stationed out of New Orleans, has jurisdiction that covers from the Mississippi River to the Texas Panhandle.
Their job is never short of challenging but with a team full of Special Agents with specialties covering forensics, counter-intelligence, and hacking as well as backgrounds in science and law, there's no one else in the Big Easy more qualified to bring the criminals to justice.
The Originals, The CW (2013 – 2018)
The Originals is the first spin-off from The CW's supernatural drama The Vampire Diaries, and it further expands the universe by providing a rich background story to many of the characters we first met in the parent series.
In particular, we learn more about Klaus Mikaelson and his family, the first vampires to ever exist.
Their story unfolds in the French Quarter of New Orleans, a neighborhood they built and once ruled over but has since been taken over by Klaus' own protege, Marcel.
Klaus is determined to regain control, but must also fight to keep his daughter safe from external threats against his family and the entire supernatural world.
Leverage: Redemption, Freevee (2021 – present)
If The Originals was a spin-off of a popular show then Leverage: Redemption is a revival series of the fan-favorite TNT TV show Leverage.
The original series, Leverage, aired for 5 seasons from 2008 to 2012 and followed a group of con artists and thieves who decided that instead of stealing from museums, businesses, and civilians to rob wealthy criminals and corrupt businessmen in order to help ordinary people fight back against corporate and governmental injustices.
Well, this revival series follows the same team who decide to get the band back together for one last hurrah to cheer up Sophie Devereaux on the one-year anniversary of Nathan Ford's death.
During the job, they meet a corporate fixer Harry Wilson and help him take down an evil billionaire who has no qualms about profiting from an opioid crisis.
So after the success of the job the team decide to re-locate their Leverage HQ to New Orleans, officially welcome Harry and Breanna Casey, Alec Hardison's genius foster sister, to the team, and put their unique talents and skills to good use once again.
Treme, HBO (2010 – 2013)
Hurricane Katrina was identified as a Category 3 hurricane by the time it made landfall in Louisiana on August 29, 2005. The resulting damage on the state was devastating, particularly in New Orleans where floods swept the entire city.
HBO's drama series Treme takes place in the aftermath of the disaster, in a neighborhood called Treme (based on the real-life neighborhood of the same name).
Having suffered their own tragedies brought on by Katrina, the residents of Treme strive to rebuild not just their homes but their entire lives.
As survivors, it seems more important now than ever to uphold the music and culture that gives their community its unique identity.
American Horror Story: Coven, FX (2013 – 2014)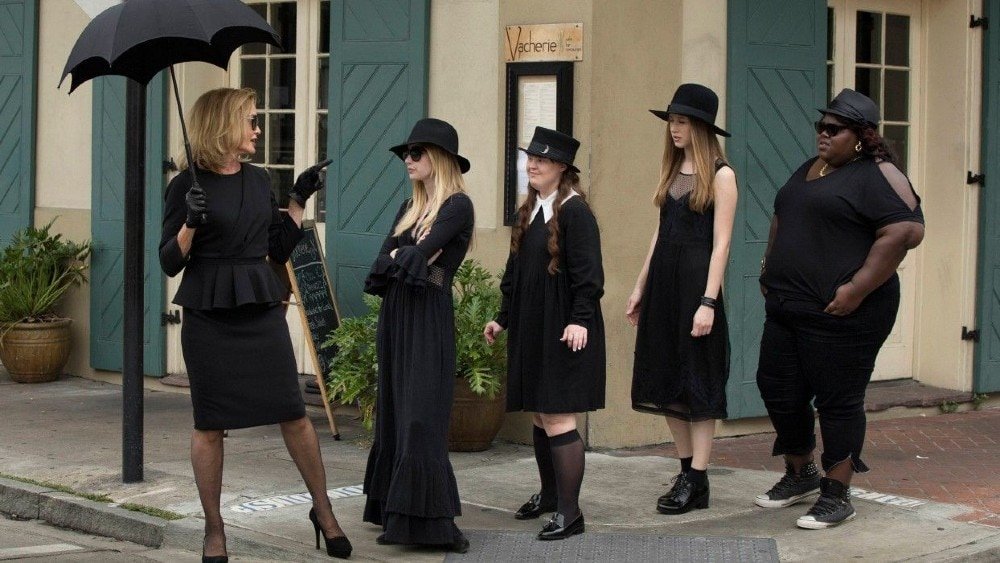 In a city with a culture rich with ties to the occult, it's no surprise that there's a TV series about witches on this list.
From Ryan Murphy's renowned American Horror Story franchise is its third season subtitled Coven, which follows a secret institution of young witches who are descendants of those persecuted during the Salem witch trials in the late 1600s.
The girls are learning to harness and strengthen their powers at a boarding school run by the Head of the Witches Council, Cordelia Foxx.
However, that also means they're all contending to become the next Supreme, the most powerful witch, while battling external threats from voodoo practitioners.
Cloak & Dagger, Freeform (2018 – 2019)
As a huge fan of the Marvel Cinematic Universe, it's always exciting to see it continually expand with new movies and series.
Freeform's Cloak & Dagger was added to the universe, albeit for just two seasons, with a pair of teenage superheroes who acquired their powers through their shared experience of the collapse of the fictional Roxxon Gulf Platform.
Tandy Bowen aka Dagger gets her nickname from her ability to emit light daggers and can also see people's hopes when she touches them.
Tyrone Johnson aka Cloak can wrap people in darkness and transport them through the Darkforce Dimension, while touching people allows him to see their fears.
Knowing their powers work better together, the pair become New Orleans' greatest hope of justice.
Roots, History Channel (2016)
This four-part miniseries entitled Roots is a remake of the 1977 series of the same name, which was, in turn, an adaptation of Alex Haley's novel Roots: The Saga of an American Family.
The series begins in the 1760s and follows the life of Kunta Kinte, a warrior from the Mandinka ethnic group of The Gambia, in West Africa.
He is sold into slavery on a British slave ship and later finds himself again sold to work on a tobacco plantation in Virginia.
Roots tells not only the story of Kinta and his fight for escape and survival, but also that of his descendants as they continue their family legacy in the face of the Civil War, slave uprisings, and emancipation.
Filthy Rich, Fox (2020)
Fox's Filthy Rich is based on New Zealand's series of the same name, but moves its primary setting to the American south: Louisiana.
Fox describes it as "A southern Gothic family drama in which wealth, power and religion intersect – more correctly, collide – with outrageously soapy results."
The Monreauxes are the family at the center of the series, whose wealth was acquired when they established a successful Christian television network.
In a twist so quintessentially soap opera-esque, the family patriarch suddenly dies, unveiling his secret: three illegitimate children who he's written into his will.
Now, his widowed wife must ensure that their family name – and the business – remains within her control.
The Big Easy, USA Network (1996 – 1997)
Titled after the city's nickname itself, The Big Easy was a series set in New Orleans that aired for two seasons – 35 episodes in total – back in the mid-1990s and was based on the 1987 film of the same name.
The show follows two primary characters: Remy Swain, a police detective lieutenant, and Anne Osbourne, a state district attorney.
The local police department is struggling and needs all the help they can get, but Swain and Osbourne are the perfect pair to investigate the crimes spreading across their city.
Your Honor, Showtime (2020 – present)
Being a judge must already be hard work as it is but when it's your family that gets caught up in crime, the job just gets that much tougher.
Showtime's Your Honor is an adaptation of the Israeli series Kvodo and has just recently been renewed for its second season.
Michael Desiato is a prominent judge in New Orleans who has garnered the respect of his colleagues and the city's constituents.
After his son Adam is involved in a hit-and-run collision that kills the other teenager involved, Michael initially urges Adam to turn himself in.
However, he soon goes to all lengths to hide evidence and protect Adam when he finds out the victim was the son of the local kingpin.
Longstreet, ABC (1971 – 1972)
ABC's Longstreet was a crime procedural drama that aired for one season way back in the early 1970s; the show's premiere was a TV movie that set up the back story for the main character, the titular Michael Longstreet, an insurance investigator.
In the pilot film, we meet a recently widowed Longstreet, who is still recovering from the explosion that killed his wife.
Sadly, the accident also left him without his sight. Despite this, Longstreet decides to continue his career and is determined to find out who was responsible for the tragic explosion.
As the series continues, the episodes chronicle the cases he investigates with the help of Pax, his seeing-eye dog, and the occasional assistance of his martial arts instructor Li Tsung.
Frank's Place, CBS (1987 – 1988)
We've talked about New Orleans being known for its food and CBS' Frank's Place is a comedy-drama series that stems from this side of the city's culture.
The series focuses primarily on Frank Parrish, an established professor at the prestigious Brown University who unexpectedly inherits a family restaurant in New Orleans named Chez Louisiane.
He had every intention of selling the restaurant but his Rhode Island life soon goes haywire because of a voodoo spell intended to make sure he continues the business.
Left with no choice, Frank returns to New Orleans and begins a new life of discovery about the city's culture and himself.
K-Ville, Fox (2007)
This next series is once again a fictionalized look into New Orleans in the aftermath of Hurricane Katrina and in particular, how the police force worked hard to keep the residents safe and protected.
Fox's K-Ville primarily follows Marlin Boulet, an officer with the NOPD Felony Action Squad who isn't necessarily averse to bending some of the rules in order to keep the city's chaos under control.
His methods sometimes conflict with those of his new partner, Trevor Cobb, who is also an Afghanistan war veteran.
With help from their squad and Capt. James Embry, Boulet and Cobb set about handling the city's problems in the wake of its biggest tragedy.
Orleans, CBS (1997)
Though short-lived, CBS' Orleans told a fascinating inside story of the life of a New Orleans judge and his family, and is said to have been based on the life of its creator, who was the daughter of a Louisiana judge herself.
Orleans centers on Luther Charbonnet as well as his adult children: two sons, one a district attorney and the other a police officer, and his daughter, a casino owner.
However, the greatest mystery lies in the story of Judge Charbonnet's second daughter, who has been missing and presumed dead for years, as he continues to search for answers.
Sadly, Orleans was canceled after just one season of eight episodes.
The Haunted Hathaways, Nickelodeon (2013 – 2015)
As you might have guessed, The Haunted Hathaways is a sitcom aimed at a younger audience, as it aired on Nickelodeon.
The show starts off with single mother Michelle Hathaway moving her two young daughters, Taylor and Frankie, from New York to New Orleans so she can start her own bakery business.
However, the fun really begins when they discover that their new house already has tenants of the, err, ghostly variety: jazz musician Ray Preston and his two sons Miles and Louie have also made the house their home!
The two families decide to live together in peace, using both their supernatural and human abilities to solve their everyday problems.
Bourbon Street Beat, ABC (1959 – 1960)
Last but not least, it wouldn't be a list about New Orleans without a show named after its most famous street (even if it did air a little over six decades ago)!
Bourbon Street Beat was a police detective series that followed three detectives: Rex Randolph, Cal Calhoun, and Kenny Madison.
The duo ran a private detective business out of NOLA, specifically from Absinthe House, a French Quartier nightclub on the famed Bourbon Street.
Even after the series ended, each of the main characters went on to be part of a few other detective shows that aired with the network, continuing their police work in different cities such as Miami and LA.