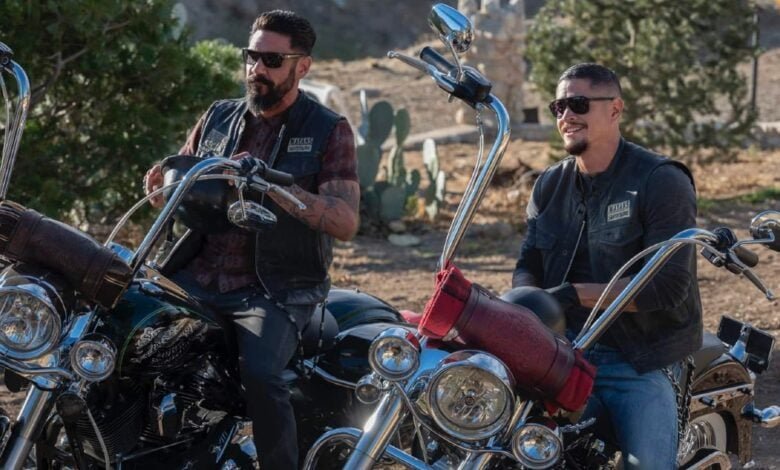 When talking about gangs in organized crime, it's likely that what we immediately picture are drug cartels and street gangs, and all the violence that goes along with it. After all, that's probably what we see most commonly in TV shows and movies. What we don't see a lot of, however, are motorcycle gangs.
Not to be confused with sanctioned motorcycle clubs, motorcycle gangs or biker gangs are, for the most part, considered "outlaws" and are a complete subculture on their own.
That's not to say that all motorcycle gangs are geared towards crime!
Sure, that's how they're often portrayed in series and movies but when it comes to real life, the 'outlaw' aspect of these organizations stems from their lifestyle outside of the usual social norms – not necessarily outside of the actual law.
There are, of course, some motorcycle gangs that do exactly that.
---
Want the quick version of this article? Then check out our video on the top 5 TV shows about motorcycle gangs:
---
In fact, the United States Department of Justice even previously listed some groups they considered a 'serious national domestic threat', and defined outlaw motorcycle gangs as 'conduits for criminal enterprises.
It's this kind of motorcycle gang that we're going to be drawing particular attention to with this list – both in scripted shows and in real life as well!
You might want to don your leather jackets for this one folks, and rev those bike engines – we've got the best TV shows about motorcycle gangs!
Best Scripted TV Shows About Motorcycle Gangs
Sons of Anarchy, FX (2008 – 2014)
The FX crime drama series Sons of Anarchy is perhaps the most well-known series with a biker gang at the center of its plot.
Throughout its seven-season run, it garnered consistently positive ratings and reviews, while several of its cast members were recognized and awarded for their stellar performances.
Sons of Anarchy takes place primarily in a fictional town called Charming in California's Central Valley. The motorcycle gang running the territory is called the Sons of Anarchy Motorcycle Club, Redwood Original or SAMCRO for short, and they're mostly involved in conflicts with rival gangs and law enforcement over their gun-running operations.
While there are overlapping plotlines throughout the seasons, the central story focuses on Jax Teller, the son of SAMCRO's late president, John Teller. As he is handed the reins of the club after his father's death, Jax struggles to forge his own path while still maintaining the legacy left by his father.
Mayans M.C., FX (2018 – 2023)
Albeit several years after its run had ended, Sons of Anarchy managed to maintain its popularity so much that a spin-off was introduced within the same fictional universe.
Consistent with its parent series and despite having a lot to live up to, Mayans M.C. has so far received increasing positive reviews and is currently awaiting its fifth and final season, set to premiere in 2023.
Fans of the original may recognize the name of this latino club rivals of the Sons that eventually became allies down the road.
In this Mayans M.C. spin-off, the show picks up some 2.5 years after the events in Sons of Anarchy and takes place in yet another fictional California town: Santo Padre.
At the center of this biker show is EZ Reyes, a young man who joined the gang after his release from prison. After cartel violence derailed his and his family's plans for a better life, the Mayans M.C. might be his chance for revenge.
Gangland Undercover, History (2015 – 2017)
Gangland Undercover may be a fictionalized scripted series but it's based on real-life events detailed in the memoir titled Vagos, Mongols, and Outlaws: My Infiltration of America's Deadliest Biker Gangs written by Charles Falco.
While providing a fascinating look into the world of undercover operations, unfortunately, Gangland Undercover was canceled after its second season.
Falco was a former meth dealer turned confidential informant for the Bureau of Alcohol, Firearms, Tobacco, and Explosives (ATF). Between 2003 and 2006, he went undercover in order to infiltrate one of America's most notorious biker gangs – the Vagos Motorcycle Club.
Falco begins the show's second season in the Witness Protection Program but later takes on another undercover gig – to become a member of first the Mongols Motorcycle Club, and later the Outlaws Motorcycle Club, entering a world even more dangerous than the previous one.
In the end, with the help of a fellow undercover cop, Falco infiltrates the Outlaws Motorcycle Club and brings them down.
The Last Chapter, CBC (2002)
The CBC's The Last Chapter hails from Canada and, like many of the other shows on this list, provide a scripted account of true-to-life events in both this miniseries and its sequel, The Last Chapter II: The War Continues.
The show as a whole set itself apart with this fun fact: each dialogue was filmed twice, in English and in French, in order to avoid logistical difficulties involved with dubbing.
The Last Chapter details the Quebec Biker War that started in 1994 and continued up until the early 2000s – albeit a fictionalized version of it.
In the series, a big motorcycle gang from the United States named the Triple Sixers was looking to expand their turf into Canada by opening chapters in Quebec and Ontario. However, the local gangs weren't having it and thus, the biker war ensued.
The show primarily follows the leaders of the respective gangs as they navigate the conflict as well as their personal relationship as former friends.
Bikie Wars: Brothers in Arms, Network Ten (2012)
We're taking it down under with the last scripted show on our list, Bikie Wars: Brothers in Arms.
The Australian miniseries spanned over six episodes and was based on the book titled Brothers in Arms by Lindsay Simpson and Sandra Harvey.
Once again based on true events, Bikie Wars explores the details of the infamous Milperra Massacre, or the Father's Day Massacre, which occurred in 1984 between two rival motorcycle gangs: the Bandidos and the Comancheros.
Tension between the two groups began because the Bandidos were formed by a breakaway group of members from the Comancheros, leading to an intense and violent rivalry. That all came to a head when the two groups met at a tavern in Milperra and a firearms battle ensued – resulting in deaths on both sides, as well as one innocent bystander.
Bikie Wars dives into all of this, up to the aftermath of the massacre and the trial proceedings for the gang members involved.
Best Non-scripted Motorcycle Gang TV Shows
The Devils Ride, Discovery Channel (2012 – 2014)
The first non-scripted TV show about motorcycle clubs on our list is, well, an arguable "reality" show.
While it's certainly structured as such, many viewers have certainly cast a large shadow of doubt over this and will vehemently insist that it's entirely scripted. In fact, some would even say that the biker gangs detailed in the series are fictional!
Regardless, we're taking a look at The Devils Ride as a reality show, as it primarily follows the Laffing Devils motorcycle club and its founder and leader, Danny Boy.
The San Diego, California-based club is dealing with internal turmoil following tensions between the members, which causes a split in the club. From this comes the Sinister Mob Syndicate (Sin Mob for short), a rival club that continues to pose a constant threat to the Laffing Devils' turf.
At the end of the show's three seasons, the rivalry finally comes to a head – but who comes out on top?
Outlaw Chronicles: Hells Angels, History (2015)
Here's a series that's definitely one for the books!
When it comes to motorcycle gangs, the most notorious one is Hells Angels – and with good reason. Officially incorporated as the Hells Angels Motorcycle Club, they have thousands of members in countries all over the world, and many law enforcement agencies classify them as crime syndicates.
The History channel gives us a tell-all look into the largest motorcycle club in the world, and straight from the mouth of a former member and leader of the Ventura, California chapter: George Christie.
Considering the Hells Angels are also known to be extremely secretive about their operations and rites of passage, what Christie has done has put him on a dangerous path that could make him a target for revenge (as they're known to do with those who talk).
Nonetheless, Outlaw Chronicles: Hells Angels gives us an in on the truth about the club's initiations, criminal inclinations, and other information we've never heard of before.
Outlaw Empires Episode 2: American Bikers, Discovery Channel (2012)
Finally, we have a solo episode from a Discovery Channel documentary series called Outlaw Empires, which explores one American outlaw organization in each of its six episodes.
The show's second episode, entitled American Bikers, further explores the beginnings of the outlaw motorcycle clubs in America.
Through dramatizations of real events as well as interviews, American Bikers shows how this subculture evolved from a love for biking to the criminal reputation it has today.
It should be noted, however, that unique to this episode, only former members of biker gangs were interviewed because patched (or current) members would need the approval of all members across all chapters to appear on the show and speak on their behalf. That gives us an idea of intense it is!