It's probably safe to say that we'd all prefer to have any experience we have of prison to be only through what we read in books or see on screen. Even then, who knows how close to reality these depictions are?
In some cases, these fictionalized versions take it to the extreme, but on the other hand, the reality of some prisons around the world could be much, much worse.
---
Don't want to read the full article? Then check out our video on the top 10 TV shows about prison:
---
In this list of the best TV shows about prison, we're sticking to the fictional side of things as we dive into stories of prison escapes and the lives of those who are on both sides of the bars – the prisoners themselves as well as the guards and officials who oversee them.
Whether it's a men's or a women's prison – we've got in on this list. Here are the best TV shows about prison!
Best TV Shows About Men's Prisons
Prison Break, Fox (2005 – 2009, 2017)
Fox's Prison Break tells the fictional story of probably one of the most elaborate prison escape schemes you'd ever watch.
The first season focuses primarily on Michael Scofield, a talented structural engineer who purposely gets himself incarcerated in the same prison as his brother, Lincoln.
Lincoln as been wrongfully accused of a high-profile murder, and Michael is determined to use his knowledge of the prison structure to break himself and his brother out.
The succeeding seasons – including the fifth season revival 8 years after the original series ended – deals with the aftermath of their prison break and life on the run, expanding to include other characters that the brothers had met in jail.
For Life, ABC (2020 – 2021)
ABC's For Life is an amazing story of redemption and at the same time, is a social commentary that shines a light on the various holes in the American legal and justice system.
The series is loosely based on the real-life story of Isaac Wright Jr., an attorney, philanthropist, and wrongly accused former prisoner.
For Life tells the story of Aaron Wallace, a man serving a life sentence despite being wrongly accused of drug trafficking.
While in jail, he pursues the study of law and eventually becomes a defense attorney for his fellow inmates.
He successfully overturns the sentences for twenty inmates and along the way, proves his own innocence.
Oz, HBO (1997 – 2003)
In HBO's Oz, the title may be a reference to the famous Emerald City from The Wizard of Oz, but it's not a place where you'll find a wizard to grant you a heart, brain, or courage.
Instead, you'll find warden Leo Glynn and unit manager Tim McManus as they attempt to keep Oz – the nickname given to the show's fictional, level 4 maximum-security Oswald State Correctional Facility – and its inmates under control.
Most of the events happen in the prison's experimental unit called Emerald City, which was formed to prioritize learning and rehabilitation but is still unable to avoid the turf wars and tension between the various factions in the unit.
Porridge, BBC1 (1974)
We're switching gears for a bit with BBC1's sitcom Porridge, the title of which is a reference to the breakfast commonly served in British prisons as well as a slang term for a prison sentence.
Porridge mostly follows Norman Stanley Fletcher, a man who has made a habit out of having short stints at the fictional HMP Slade.
Viewers get a look into his life and shenanigans while a prisoner there, along with those of his cellmate Lennie Godber, a first-time inmate who Fletcher takes under his wing.
Other prominent characters include prison officers with whom Fletcher often finds himself in scrapes with.
Porridge, BBC One (2016 – 2017)
Porridge was so popular during its run that it received a one-off special for Landmark Sitcom Season, a 2016 BBC project that saw the BBC commissioning new scripts for iconic British sitcoms of the last six decades.
And thanks to the special's popularity amongst viewers, a while later the network ordered a 7-episode sequel to the beloved comedy.
The Porridge revival series saw Fletcher's grandson Nigel Norman Fletcher serving his own 5-year prison sentence at the Wakeley Prison in Hampshire for cybercrimes.
Prison Playbook, tvN (2017 – 2018)
We head now to international waters with the South Korean black comedy-drama, Prison Playbook, which has been hailed as one of the most successful series in Korea's cable history.
Prison Playbook follows Kim Jehyuk, a superstar baseball player who is just days away from his debut in the major leagues.
However, he lands himself a year-long sentence in prison after defending his sister from an assault that leads to the death of the perpetrator.
Thus, the series revolves around his life as an inmate, as well as those of the other convicts, prison officers, and their families.
The running gag and comic relief stem from Jehyuk's inherent clumsiness – the complete opposite of his skills as an athlete!
Buried, Channel 4 (2003)
Although Buried aired on Channel 4 for just one season of eight episodes, it definitely packed a punch when it comes to a heavy storyline.
The series takes place within the walls of the fictional HMP Mandrake Hill in northern England, primarily in the D Wing of this category B prison.
Lee Kingley has been sentenced to 10 years for grievous bodily harm against his sister's rapist, and the respected nature of his sentence soon propels him up the inmates' internal hierarchy and at the head of a drug and money-lending business.
Apart from Lee's altercations within the prison walls, Buried dives into the lives of its prison guards, doctors, and officers as well.
Escape at Dannemora, Showtime (2018)
Some of you may be familiar with Dannemora, the name of the city in New York referenced in the show's title, Escape at Dannemora.
Well, that's because the Showtime limited series is based on the real-life Clinton Correctional Facility escape that happened in Dannemora in 2015.
Through the seven episodes, viewers see how inmates and convicted murderers Richard Matt and David Sweat managed to escape with the help of Joyce Mitchell, a married prison worker with whom both men had been intimately involved.
The series also covers the investigation into their escape and the massive manhunt that came with it.
Brotherhood (Irmandade), Netflix (2019)
Once again heading into international waters, Netflix brings the Brazilian crime drama Brotherhood (titled Imandade in its original Portuguese) to the list.
Set in the bustling and populous city of São Paulo during the mid-1990s, the main character of the series is a talented, devoted, and honest lawyer named Cristina.
She has learned that the brother she hasn't seen in years is imprisoned and is the leader of a notorious criminal faction in Brazil: the titular "Brotherhood".
She's recruited by local law enforcement to infiltrate the Brotherhood and act as an informant against her own brother, but her time on the other side of the law has her questioning her own ideas of justice.
The Night Of, HBO (2016)
HBO's The Night Of is an eight-episode miniseries based on the first season of Criminal Justice, a British series that chronicled the stories of one individual's experience through the justice system.
In The Night Of, we meet Pakistani-American college student Nasir "Naz" Khan, who has been accused of killing a woman in New York's Upper East Side during what he thought was just a regular night out.
While he's in custody and waiting for his arraignment at Rikers Island, his lawyer fights to protect him against the investigation outside the prison bars but inside them, it's a different story.
Naz must rely on the protection given to him by a fellow inmate, Freddy.
Black Bird, Apple TV+ (2022)
Then there is Apple TV+'s Black Bird.
This miniseries centers on Jimmy Keene, a once-promising football player who turned to a life of crime and got himself arrested in the process.
However, seven months into Jimmy's 10-year prison sentence, he's approached by FBI agent Lauren McCauley with an offer of a lifetime – get the suspected killer Larry Hall to admit to killing fourteen women and he will be granted his freedom.
But that's easier said than done when you have to live in a facility for the criminally insane and befriend a violent killer.
Best TV Shows About Women's Prisons
Orange Is the New Black, Netflix (2013 – 2019)
Orange Is the New Black is based on a memoir by Piper Kerman about the 13 months she served at a minimum-security prison called FCI Danbury, and it was widely praised throughout its seven-season run.
The series primarily follows Piper Chapman, also serving a 15-month sentence after her sudden indictment for a crime she committed 10 years prior, thus completely disrupting the law-abiding life she had built since then.
While in prison, the show revolves around her interactions with fellow inmates, the ex-girlfriend who landed her there in the first place, and the facility's prison officials – reflecting the reality of what conditions are like inside a women's prison.
Prisoner, Network Ten (1979 – 1986)
Given Prisoner's nature and format as a soap opera, this is definitely one series that'll keep you preoccupied for months, thanks to its whopping 692 episodes.
On top of that, it did also gain critical acclaim both locally in Australia and internationally, particularly in the United States.
Prisoner was set in the fictional Wentworth Detention Center in Melbourne, Australia, as well as the occasional settings in neighboring facilities and a halfway house called Driscoll House, where newly-released prisoners could go.
The series also told the stories of the guards' and prisoners' lives both inside and outside the Wentworth walls, and sometimes, even of their families.
Wentworth, SoHo/Fox Showcase (2013 – 2021)
The immensity of Prisoner's pop culture influence was such that almost 3 decades after its last episode, a revival series entitled Wentworth began to air.
Still following the lives of the women serving their sentences at the titular prison, Wentworth is a contemporary reimagining of the original series and is set in modern-day Australia.
The series focuses primarily on one character: Bea Smith, who has just entered Wentworth while awaiting trial for the attempted murder of her husband.
While waiting for her trial and sentencing, Smith must learn to make her way up the prison hierarchy if she wants to stay alive.
Bad Girls, ITV (1999 – 2006)
Bad Girls is a British series that aimed to portray a more realistic, modern version of prison life than those that the public had seen with previous similar shows from the network.
Thus, the life inside the fictional HMP Larkhall is shown in a more raw, graphic way when it comes to the content and language.
However, Bad Girls still homes in on the relationships between the female inmates themselves and sometimes, even the staff.
Many more mature topics are explored such as bullying, gender identity, drug use, and violence of all natures against women.
Women in Prison, Fox (1987 – 1988)
Another more light-hearted sitcom is on the list with Fox's Women in Prison, though it sadly only aired for one season of thirteen episodes.
The series takes place primarily within Cell Block J of Bass Women's Prison in Wisconsin and zooms into the relationship between the inmates, mainly four cellmates: Vicki, Eve, Dawn, and Bonnie.
All of them have landed themselves in jail for various reasons from murder to prostitution and in Vicki's case, being framed for shoplifting by her own husband.
While Women in Prison focuses on their interactions, it also touches on how they relate to other inmates, guards, and the assistant warden.
Clink, 5star (2019)
Going back to a more serious genre, Clink is a British drama set in the fictional BPS Bridewell women's prison.
It centers mostly on the stories of four of its inmates: soon-to-be-mother Chloe, maternal figure Joyce, the troubled Laura, and the prison "queen", Sherri.
Each with their own tale to tell, they – along with the other female inmates – lean on each other when they are forced to face the realities and consequences to the actions that brought them together in the first place.
Protecting and overseeing the prison is the new Governor, Dominique Darby, who is fighting her own battles within the justice system.
Within These Walls, London Weekend (1974 – 1978)
Within These Walls is another British drama but unlike most of the previous shows that focus mostly on the inmates, it shifts instead to tell the stories of the prison staff at the fictional women's prison, HMP Stone Park.
At the forefront is Governor Faye Boswell, who aims to liberalize the prison and has been in charge for barely a month when the show starts and the struggles within her prison system begin.
Within These Walls certainly speaks of the prison reality from the perspective of those charged to protect it, including how they handle their inmates while balancing their personal lives.
Hinter Gittern – Der Frauenknast, RTL Television (1997 – 2007)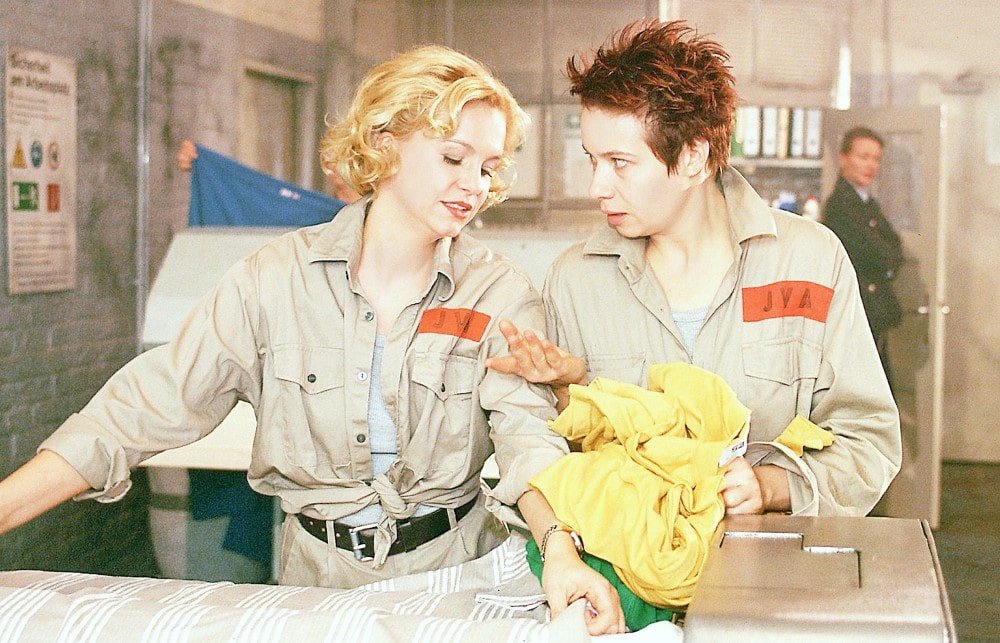 Our last show once again takes us internationally, to a fictional women's prison in Berlin, Germany called Reutlitz.
Hinter Gittern – Der Frauenknast (also called Behind Bars – The Women's Prison in English) was formatted as a soap opera and hence, totaled a little over 400 episodes.
As with many others on the list, the series showcases the life inside the institution from the perspective of its female inmates and covers many topics like sexual relationships, drug use, conflicts with the prison guards, and of course, their crimes.

Other Prison-Related TV Series
Hogan's Heroes, CBS (1965 – 1971)
Hogan's Heroes is set in a very different type of camp than what we've talked about so far: a fictional (albeit based on real-life) POW (prisoner of war) camp called Stalag 13 within Nazi Germany.
Surprisingly, given its setting during a particularly troublesome time in history, Hogan's Heroes is a sitcom – and a hugely popular and well-liked one, at that.
It follows the eponymous US Air Force Colonel Robert Hogan and his team of fellow Allied airmen and experts as they help to coordinate espionage operations of Allied POWs from other camps.
To accomplish this, they cooperate with spies, defectors, and other resistance groups to use the camp's uniquely secure location to sabotage Germany's war efforts.
Breakout Kings, A&E (2011 – 2012)
Two writers from Prison Break, Nick Santora and Matt Olmstead, teamed up again for A&E's Breakout Kings which, though a standalone series, is connected to Prison Break through the appearance of one main character: Theodore "T-Bag" Bagwell.
Breakout Kings follows an unlikely team tasked with finding and apprehending fugitives: US Marshals Charlie Duchamp and Ray Zancanelli, and former fugitives who Ray himself had caught.
This specialized task force has a common goal, but the convicts are motivated by one thing: a further reduced sentence for every criminal they help to find.
However, any attempt at an escape themselves will lead to their sentence being doubled, so they have every reason to help the law this time.
Alcatraz, Fox (2012)
Alcatraz brings in a bit of the science fiction and supernatural genres into the mix.
Of course, Alcatraz is a name that's hardly rarely unknown, and it's the prison that provides the background of the eponymous Fox series.
In 1963, a little over 300 inmates and prison guards mysteriously disappeared from Alcatraz and the event was covered up by the government.
In present-day San Francisco, those that vanished have begun to reappear – with no memory of missing time and not having aged a single day.
Agent Emerson Hauser, with the help of Detective Rebecca Madsen and Alcatraz expert Dr. Diego Soto, lead the investigation into the disappearance and more importantly, why the government seems to have been expecting their return.
Superjail!, Adult Swim (2008 – 2014)
The last on our list of shows about men's prisons is an animated series – though its association with the Adult Swim network reassures that it's still geared towards an older audience.
Superjail! Is the name of the prison in question, which is located beneath an active volcano in an alternate dimension called 5612.
Superjail itself has been hinted as being somewhat sentient, adjusting based on the inmates' perceptions!
The first season focused on The Warden's ridiculous schemes and manipulation of the inmates to achieve his personal whims – always ending in a brutal murder scene, while later seasons leaned more towards the prisoners.