If you're reading this, you may have already seen our article that answers all of your burning questions about ITV's period drama, Sanditon (and if you haven't, I definitely recommend that you go check it out!).
The article dives into the show's background, briefly introduces the central characters, and it even tells you where you can watch the first season of Sanditon.
One other thing you'll learn from there is what to expect in Sanditon's future.
Well in case you're wondering that yourself, Sanditon currently has two seasons under its belt. However, luckily, after a passionate fight from fans to #SaveSanditon and a successful debut in the US, PBS renewed the show for not only season 2 (which premiered on March 20th, 2022) but also season 3! Which means that season 3 is coming in 2023!
So, while we wait on the edge of our seats for the new season, here's a list of the best TV shows like Sanditon when you're craving that period drama with a hint of romance and intrigue.
Check them out below!
Bridgerton, Netflix (2020 – present)
The first show on our list is Netflix's Bridgerton, a is a period drama based on the novels written by the award-winning historical romance author Julia Quinn and is set against the backdrop of high society London during the Regency era.
The titular Bridgertons are a well-known family in British society and one that's known for being quite tight-knit (at least, based on the source material).
Bridgerton follows the widowed Bridgerton matriarch and each of her eight children as they embark on their individual quests to find love.
Miss Scarlet & The Duke, Alibi (2020 – present)
If you loved Sanditon then you probably love following a headstrong heroine making her own way in 19th century England. If that's true then Miss Scarlet & The Duke should be exactly your cup of tea!
The series follows Eliza Scarlet, a young woman who takes on running her father's detective agency after his passing.
And with a little help from an old friend, Detective Inspector of Scotland Yard William "The Duke" Wellington, Eliza quickly learns the ropes and makes a name for herself as the first female private investigator in Victorian London.
Gentleman Jack, BBC One/HBO (2019 – present)
Gentleman Jack tells the story of a real-life landowner, diarist, and industrialist Anne Lister, who is known to have documented most of the details of her daily life in diaries which now serve as the basis for this BBC One-HBO joint production.
In the series, Anne is headed to Halifax, West Yorkshire to tend to the broken down ancestral home that she recently inherited from her uncle.
Already subverting society's expectations to be a proper lady through her all-black garments and desire to reopen the family coal mines, Anne pursues a romance with another woman – and records all the intimacies of their relationships using a secret code in her diaries.
Poldark, BBC One (2015 – 2019)
Another series based on a series of novels (this time penned by English novelist Winston Graham), Poldark is a historical fiction drama set in the late 18th century after the American War of Independence.
The eponymous Captain Ross Vennor Poldark returns to his hometown in Cornwall after serving in the war, only to find that so much had changed in his three-year absence.
His father is dead, his childhood sweetheart has found love elsewhere, and his estate is now in debt. Poldark follows the captain's life post-war as he attempts to turn his fortune around, find love again, and rebuild the life he lost.
Downton Abbey, ITV (2010 – 2015)
Downton Abbey is probably one of the most well-known historical dramas in recent years and because of its continued popularity even after it ended, a film adaptation was created to continue the series.
Its six seasons and the movie narrate the lives of the aristocratic Crawley family between 1912 and 1926, beginning after the sinking of the RMS Titanic.
At the onset of the series, Robert, the Crawley patriarch, is at risk of losing his family estate after he finds out that his direct heirs died on the Titanic.
From there, Downton Abbey explores the Crawleys' lives and relationships with partners, servants, and each other as the aristocracy fades and the middle class rises.
Emma, BBC One (2009)
The similarity of Sanditon and Emma is one almost too glaringly obvious: BBC One's Emma is also an adaptation of Jane Austen's work of the same name! This also means that as is quintessential of Austen's novels, Emma features a strong, independent female heroine at the center of the show.
Emma Woodhouse is described as "handsome, clever and rich" – a young woman who grew up in relative comfort with "little to distress or vex her".
Her carefree disposition has resulted in her belief in herself as the ultimate matchmaker for her friends and acquaintances, and this four-part miniseries chronicles how her meddling doesn't always go as she planned.
Belgravia, ITV/Epix (2020)
ITV's Belgravia is named after one of the most affluent districts in London – a reputation that holds just as true now as it did in the series setting of the early 1800s.
Borrowing from famous real-life events and historical figures, Belgravia is set against the backdrop of the Duchess of Richmond's ball on June 15, 1815 – an evening still known as "the most famous ball in history".
The events in the miniseries take place 25 years later, however, where the guests of the ball – the Trenchard and Bellasis families, in particular – are still facing the consequences of what happened on that fateful night.
Victoria, ITV (2016 – 2019)
The title speaks for itself, Queen Victoria is, after all, one of the longest-reigning monarchs in the United Kingdom (second only to her great-great-granddaughter, the current monarch Queen Elizabeth II). Despite a short dip in popularity during her widowhood, she was highly admired and her political influence was broad.
ITV's Victoria tells the story of her reign, beginning with her accession to the throne at just 18 years old.
Through its three seasons so far, we learn more about her marriage, her political relationships, and her struggles with balancing her duties as the youngest monarch with her responsibilities as a wife and mother of six children.
The Spanish Princess, Starz (2019 – present)
Philippa Gregory's historical novels are a popular inspiration for many of Starz's period dramas, and their series The Spanish Princess is based on two: The King's Curse and The Constant Princess.
Though the novels are highly fictionalized, The Spanish Princess still tells the fascinating story of the teenaged Catherine of Aragon, princess of Spain.
She was promised the British throne when she was a child and finally, she's off to England to meet her long-betrothed Prince Albert. When he suddenly dies, she directs her focus on his younger brother, Henry, Duke of York, in order to maintain the peace between their countries.
Doctor Thorne, ITV (2016)
Doctor Thorne is a three-part miniseries based on the novel of the same name written by Anthony Trollope more than 160 years ago in 1858.
Set within the same time frame in the fictional English county of Barsetshire, titular character Doctor Thorne is charged with the upbringing of his penniless niece Mary.
She spends most of her childhood with the wealthy Gersham family and becomes engaged to their son – against his family's wishes to marry into another wealthy family.
However, secrets from Mary's past surrounding the death of her father threaten to further upend the peaceful life she's hoping to live.
Mr Selfridge, ITV/PBS (2013 – 2016)
If the Selfridge name sounds vaguely familiar, it's probably because you've likely stepped into one of the Selfridges stores during your visit(s) to the United Kingdom.
It's one of the largest and most well-known department stores in the UK and its early history – as well as snippets of its founder's personal life – are narrated in Mr Selfridge, a co-production between ITV and PBS's Masterpiece.
Harry Gordon Selfridge was an American entrepreneur and retail tycoon who came to the UK with the dream of opening "one of the finest department stores the world has ever seen" – and that he did!
Lark Rise to Candleford, BBC One (2008 – 2011)
Lark Rise to Candleford is set towards the end of the 19th century and is an adaptation of novelist Flora Thompson's trilogy of semi-autobiographical novels of the same name.
In her books, Thompson speaks of her experience in the English countryside and the daily lives in the communities she encountered, particularly Lark Rise and Candleford.
The series is set in these neighborhoods and is told through the eyes of Laura Timmins, a young girl who leaves Lark Rise to start a new life under the mentorship of her mother's cousin in Candleford.
Sense and Sensibility, BBC One (2008)
Andrew Davies, the man behind the adaptation of Sanditon, also adapted Jane Austen's novel Sense and Sensibility into this three-part miniseries back in 2008.
Centered primarily on the Dashwood family, sisters Marianne, Elinor, and Margaret leave their family home when the estate is passed onto their half-brother John when the Dashwood patriarch dies.
Their departure brings about such changes in their personal and romantic lives, and Sense and Sensibility weaves a narrative full of intrigue, loss, and rediscovering love where it was least expected.
It's classic Jane Austen work, with the heroines taking charge of their lives and hearts.
North & South, BBC One (2004)
BBC One's North & South is a four-part historical drama that follows the story of a young woman who moves from southern to northern England.
Margaret Hale is a clergyman's daughter, but their family decides to leave their town after her father decides to leave their church. They move from Hampshire to Darkshire in the north of England, where they struggle to relearn the culture and customs of their new industrial town.
The Hales' interactions with the wealthy cotton mill owners the Thorntons highlight the societal divisions in class, not just in the way the workers are treated but also in how the Thornton's believe the Hales to be "social inferiors".
Jamestown, Sky One (2017 – 2019)
We're going way back to 1619 with this next series that's similar to Sanditon, Jamestown.
You may now know the eponymous town in Virginia as the site of several historical parks and museums, but history buffs will likely know it better as the first permanent British settlement in the Americas (which definitely explains the area's rich history!).
Sky One's Jamestown follows the first group of English settlers as they established the Jamestown community in the 17th century, including three young English women set to be married to the men of Jamestown.
Their new life is much more complicated than they expected, however, and they are soon caught up in the power struggle with the new Governor in power.
Little Women, BBC One/PBS (2017)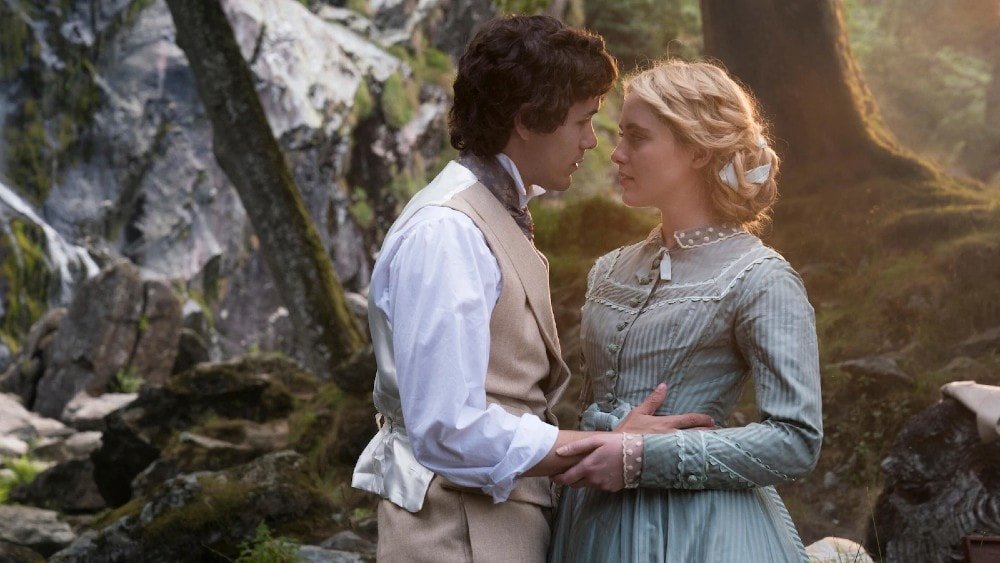 Louisa May Alcott's semi-autobiographical novel Little Women has been adapted for the stage and screen countless times, and it still remains a classic that fans of the historical drama genre will flock to watch.
This BBC One three-part adaptation is no exception.
Little Women tells the story of the four March sisters as they are growing up under the care of their mother in Concord, Massachusetts during the American Civil War.
As each of them passes into womanhood, Little Women narrates their experiences with sibling rivalry, the triumph of first love and the pain of loss, and the sacrifices one must make in war.
When Calls the Heart, Hallmark Channel (2014 – present)
Finally, we move to North America with When Calls the Heart, a period drama set in a small coal-mining town in Western Canada.
The show centers around the residents of Coal Valley (later renamed Hope Valley) as they deal with the change in livelihood when the coal mine is closed following a tragic explosion and the death of 45 miners.
Though set in the century after Sanditon in 1910, When Calls the Heart's main protagonist Elizabeth Thatcher is similar in many respects to Sanditon's Charlotte Heywood.
Elizabeth must adjust to small-town living as she is assigned her first teaching job in Coal Valley.