Period shows are really just a world of their own, whether within the drama, romance, or action-adventure genres.
Between the uncomfortable fashion, ridiculously complex hairstyles, non-existence of technology, war and violence, and just generally difficult lifestyles, it's sometimes hard for us to imagine that this is actual, real-life history – albeit fictionalized to a certain extent.
It certainly makes us appreciate the advancements in society that we have the comfort of today!
At the very least, historical and period dramas provide a sort of escape for us without departing too far from reality the way supernatural or fantasy shows do.
So for those looking for a blast from the past (3 centuries ago, to be exact), we've put together a list of TV shows set in the 18th century for your enjoyment!
Whether set against the backdrop of European royalty or the American colonial era, these shows will transport you through time for a (sometimes not-entirely-accurate) history lesson!
Outlander, Starz (2014 – present)
Based on the series of novels of the same name by Diana Gabaldon, Outlander is a historical drama that has recently been renewed for its sixth season.
The Starz series primarily follows Claire Randall, who was initially a nurse during World War II.
During a visit to Scotland with her husband Frank, she suddenly finds herself transported back in time to the mid-18th century.
She falls in love with a Highlander named Jamie Fraser and with him and his people tries to survive the brewing war of the Jacobite movement and later, the American Revolutionary War.
Though largely historical in nature, Outlander has touches of the fantasy genre with Claire often travels between her current century and the 18th.
Tom Jones, PBS (2023)
Among the newer TV show on this list is PBS Masterpiece's miniseries Tom Jones.
Based on Henry Fielding's 1749 novel The History of Tom Jones, A Foundling, this four-part miniseries follows the roguish but lovable Tom Jones as he's trying to find his place in the world and maybe fall in love, too.
Along the way, Tom meets his neighbor Sophia Western. And although forces constantly conspire against the two lovers, nothing can keep them apart for too long.
So, we're treated to a rom-com-style period drama showing Tom and Sophia's sweeping love story with all the ups and downs that come with it.
Queen Charlotte: A Bridgerton Story, Netflix (2023)
Netflix's Bridgerton quickly became a fan favorite after its debut in late 2020. So, it's no wonder that Netflix decided to expand on the Bridgerton fame with a prequel series.
Titled Queen Charlotte: A Bridgerton Story, the series focuses on Bridgerton's scene-stealer Queen Charlotte.
While Golda Rosheuvel played the queen in the parent series and narrates this spin-off, the series itself primarily follows a young Queen Charlotte (played by India Amarteifio) as she rose to power after her marriage to King George.
Queen Charlotte starts with young Charlotte meeting King George III, launching a love story for the ages as well as sparking a societal shift that ripples true the Ton and is still felt in Bridgerton, which takes place quite a few decades later.
Frontier, Discovery Channel/Netflix (2016 – 2018)
Sometime in the late 18th century, the North American fur trade was just starting up between the Native Americans and Canadian Aboriginal peoples. Frontier, a production collaboration between Discovery Canada and Netflix, chronicles this pivotal time in the two countries' history.
Declan Harp is an outlaw of Irish and Cree descent, intent on getting rid of the monopoly that the Hudson's Bay Company has over the fur trade despite the never-ending slew of obstacles and outlaws pursuing him.
Trying to thwart him at every turn is Lord Benton, who is determined to maintain the very hold that Declan is trying to breach.
Beecham House, ITV (2019)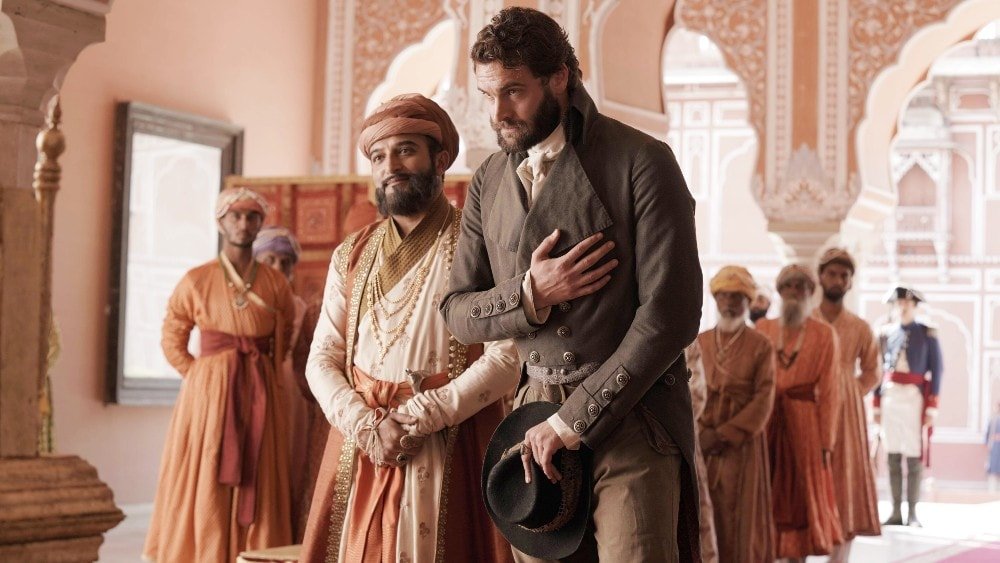 Another late 18th-century show that we can't forget to mention on this list is ITV's short-lived series Beecham House.
Set in India on the cusp of the 19th century, Beecham House follows the story of John Beecham, a former soldier with the all-powerful East India Company, as he moves to Delhi to start a new life with his family.
Beecham intends to set up his own trading company and build a new life for his family at the magnificent mansion called the Beecham House. However, he soon discovers that his past and the political tensions of the time make creating that new life more complicated than he anticipated.
The show features an ensemble cast, stunning sets and costumes, and explores themes of power, love, and identity, all while delivering a dash of romance and intrigue, too.
Poldark, BBC One (2015 – 2019)
This recent adaptation of Poldark is the second based on the historical novels of the same name by Winston Graham. With Aidan Turner (And Then There Were None, The Hobbit trilogy) in the titular role, Poldark tells his story following his return home to Cornwall after the American War of Independence in 1783.
In the three years he was gone, his father has died and left the estate not only in ruins but also in debt, and the childhood love he left behind has been engaged to another man.
In an attempt to get back on his feet, he hires a young scullery maid but quickly falls in love and soon, rebuilds a life and family with her.
Black Sails, Starz (2014 – 2017)
One can never go wrong with a show about pirates, especially not when you have production names like Michael Bay and Brad Fuller behind it.
Starz's Black Sails is the prequel to the events in the famous novel "Treasure Island" by Robert Louis Stevenson, and takes place around two decades prior with the infamous Captain Flint at the helm of the show.
This period in the early 18th century is known as the Golden Age of Piracy, with pirates dominating maritime trade and only adhering to their own rules.
Early seasons focus on Flint's hunt for a Spanish treasure trove and evading the army guarding it.
The latter seasons shift focus to his fight to protect New Providence against the British Empire.
The Great, Hulu (2020 – present)
History is rarely seen in a humorous light, but Hulu's The Great manages to take a light, fictional, and satirical approach to a pretty pivotal moment in Russia's history: the rise of their Empress, Catherine the Great.
The first season, which was released in full on the streaming platform in May 2020, mainly outlines her younger years leading up to her marriage to Emperor Peter III and the subsequent coup and assassination she plotted against him.
Season 2 of The Great premiered in November of 2021 and showed what happened to Peter III post-coup as well as Catherine's achievements as the longest-ruling female leader in Russia!
Turn: Washington's Spies, AMC (2014 – 2017)
AMC's Turn: Washington's Spies is an 18th-century period drama based on Alexander Rose's 2007 book entitled Washington's Spies: The Story of America's First Spy Ring.
This four-season series adaptation does indeed tell the (fictionalized) story of a real-life group of spies who were an integral part of Wasington's efforts during the Revolutionary War.
To be more specific, the series follows a young farmer named Abraham Woodhull and a few of his close childhood friends as they form what would become known as the Culper Ring, tasked with gathering insider knowledge on the British camp's military tactics.
Harlots, ITVEncore/Hulu (2017 – 2019)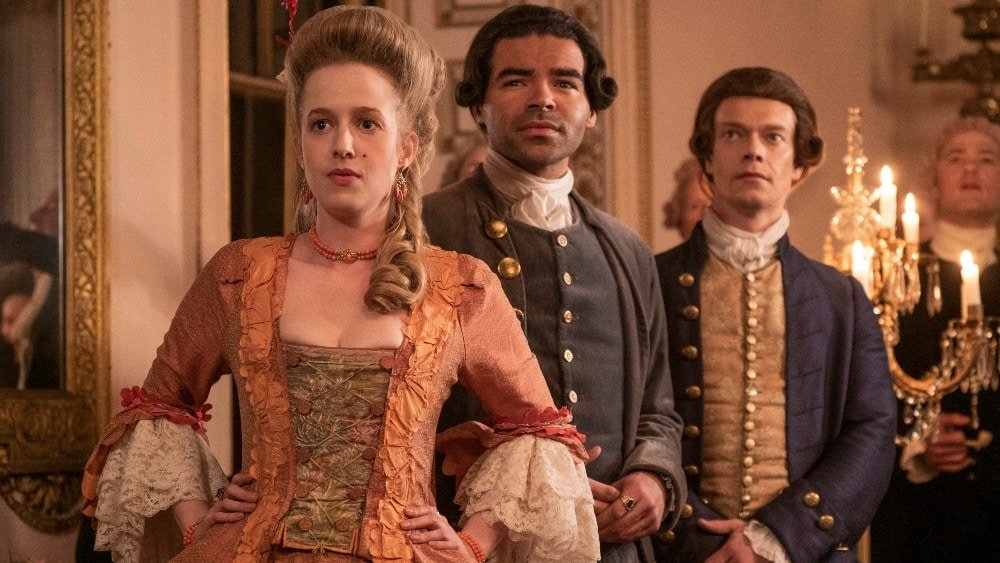 To better appreciate Harlots, it's important to understand what society was like in 18th-century London, where the show is set.
Back then, women had primarily two ways to come into wealth: marrying a rich man or engaging in sex work, where the industry was booming and lucrative.
Margaret Wells, a ruthless businesswoman, owns one of the brothels in the city and is also a mother to two daughters, Charlotte and Lucy.
When she moves her brothel to a wealthier part of the city in order to make more money, she crosses paths with another madam, Lydia Quigley, against whom she must defend herself to protect her family and her business – not to mention against the police and religious groups determined to shut them down.
The Book of Negroes, CBC/BET (2015)
When talking about the American Revolutionary War, what's usually at the forefront is the conflict between the Thirteen Colonies and the British Empire.
What we don't often talk about, however, is the pre-existing plight of the slaves throughout the war.
In The Book of Negroes miniseries from CBC and BET, we follow the life of Aminata Diallo, a young captive from West Africa who was sold in South Carolina and persevered through the hardships of slavery.
During the war, she helped in registering the names of Black Loyalists in the (historically accurate) Book of Negroes, and eventually finds her way back to her homeland.
Roots, History Channel (2016)
Roots follows in the vein of The Book of Negroes in that it documents the life of a young man taken from his African homeland and sold into slavery in the 1760s: Kunta Kinte, as well as that of his descendants.
The character of Kunta is based on an ancestor of author Alex Haley, whose novel Roots: The Saga of an American Family serves as the basis for this History Channel four-part miniseries.
The show paints a harrowing but inspirational historical picture of a family's fight for survival through so many pivotal moments in American history, from the Revolutionary and Civil Wars to the eventual emancipation of their people from slavery.
John Adams, HBO (2008)
Quick question: how much do you know about John Adams apart from that he was, at some point, America's president?
If you're American yourself, probably a whole lot about his role in the American Revolution. Anyone living outside the United States through, isn't likely to know much.
HBO's eponymous miniseries is a great place to start learning more about President Adams, despite its fictionalization and historical inaccuracies in some aspects.
Based on the biography by David McCullough, John Adams tells the story of his political achievements and contributions to the country as a Founding Father, particularly within the first 50 years of America's birth starting from the night of the Boston Massacre in 1770.
Washington, History (2020)
Now here's an American president that you definitely know a lot more about, whether you're an American or not.
Sure, most of us know him as the first president and a leading figure during the Revolutionary War, students have been drilled with information about his military and political achievements. However, as stated in the History Channel's plotline: "…there's more to our preeminent founding father than you've been told."
That's the story that their miniseries Washington aspires to tell its viewers, the story that starts with a young officer in the British colonial army and ends with an inspirational leader and one of the country's greatest presidents.
The show interlaces footage of archival documents, reenactments, and real-life interviews to paint a picture of Washington unlike any we've ever seen before.
Aristocrats, BBC One (1999)
The last show on our list is another miniseries and takes us back across the seas to 18th-century England where, as we said at the start of this article, the fashion trends revolved around lace, corsets, and ostentatious headdresses, especially for the elite of the time.
Aristocrats is based on the biographical novel written by Stella Tillyard on the high-born Lennox sisters Caroline, Emily, Louisa, and Sarah.
They were descendants of King Charles II and the daughters of the 2nd Duke of Richmond and thus, lived a luxurious life.
Each of them married into prominent families of their own – noblemen, politicians, and army officers – and Aristocrats outlines each woman's journeys as a family following their parents' death as well as their individual lives and relationships.