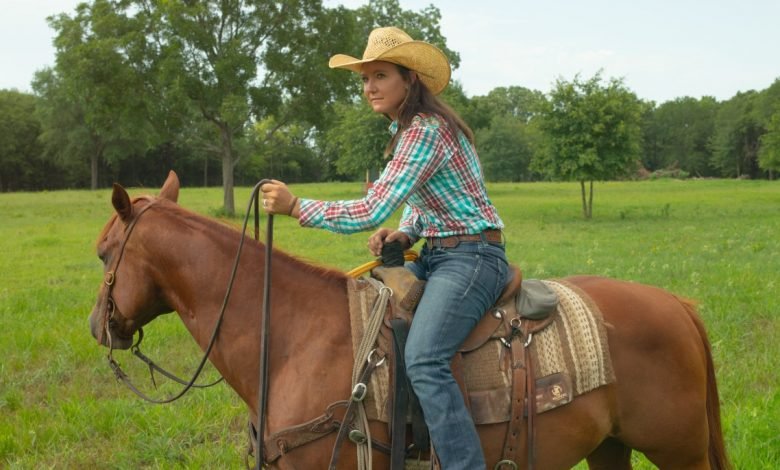 This week INSP's hit competition series Ultimate Cowboy Showdown is back with season 2 where over the course of 10 episodes 14 real-life cowboys will compete in series of challenges to win the ultimate prize – a herd of cattle.
Among the contestants are four female contestants Hannah Castellitto, Katey Jo Gordon, Jennifer Hudgins, and Morgan Flinter, who will show off their skills and compete against 10 men to prove that women are just as deserving of the cowboy title as men are.
We talked with three of them, Hannah, Katey Jo, and Jennifer, about what inspired them to sign up for Ultimate Cowboy Showdown season 2, how was it working with the show's host and head judge, county music icon Trace Adkins, what's it like to be women in this male-dominated industry and so much more.
A big thanks go out to Jennifer, Hannah, and Katey Jo for chatting with me. Don't forget to check out season 2 of Ultimate Cowboy Showdown when it premieres on INSP on February 24th at 9/8 central. And let's get into the interview!
---
Tvshowpilot: What inspired you to enter Ultimate Cowboy Showdown?
Hannah Castellitto: I watched season 1 with my little brother, and I saw they were accepting applications for season 2. My little brother said, "I bet you won't do it," so I applied and ended up getting a callback. Needless to say, I stepped out of my comfort zone and won that bet.
Katey Jo Gordon: The competition gives amazing opportunities, and the life-changing prize package made me want to go for it. I also wanted to represent the women in our industry and show viewers that it's not just a man's world. A woman can be just as successful.
Jennifer Hudgins: My dad inspired me. He encouraged me to enter the show, and I thought it was a once-in-a-lifetime opportunity, so I went for it.
Tvshowpilot: This is the second season for this fan-favorite cowboy competition series. Did you watch season 1 of the Ultimate Cowboy Showdown or do anything else to prepare for the competition?
Hannah Castellitto: I did watch season 1. There are many unexpected challenges, so you just have to do your best under the circumstances and go in with a good attitude.
Katey Jo Gordon: Yes, I watched season 1 when it first came out and before I was even thinking about applying. It was just something entertaining to watch.
When I did apply for the series, I went back and rewatched the first season to give myself a good idea of what to expect. In addition to rewatching the first season, I practiced my roping and worked a lot with my horse.
Jennifer Hudgins: I did watch the first season beforehand. I have a friend who competed in the first season, so I talked with him about the experience, but I didn't do anything special to practice.
---
Where to watch Ultimate Cowboy Showdown:
---
Tvshowpilot: You're real-life cowboys living and breathing all things ranching and cattle. What have been the biggest challenges you've faced as women in this male-dominated industry? And did overcoming them in any way help you when competing against the other contestants on Ultimate Cowboy Showdown?
Hannah Castellitto: Sometimes people can be very unkind, and because I'm a girl, they try to be pushy. It's not right, and I really hope I can make an impact in this area.
Katey Jo Gordon: The biggest struggles I have faced have been whenever I have had an authority role. A lot of men do not want to work with women in a leadership position, so as a woman, you have to prove yourself and show that you can hold your own. Once you prove yourself, it gets a little easier.
My past struggles helped me in the competition because I am used to holding my own against men, so I could step up and take a leadership role if I needed to. You have to go into it confidently, so they don't run you over.
Jennifer Hudgins: Being a woman in this industry can be really hard. Early on, I learned to work hard and never play the girl card. I just proved myself and earned respect. After I earned the respect, I didn't have any issues, and that helped me going into the show because I knew I worked well among men.
Tvshowpilot: Katey Jo and Hannah, you're both seasoned rodeo competitors. What is the most interesting or unexpected thing people might not know about competing in rodeos?
Hannah Castellitto: People might be unaware of the amount of work it takes behind the scenes. It is a lot of early mornings and long nights. You have to exercise horses several days out of the week (in all kinds of weather), wrap and ice their legs, blanket them, and haul several of them early in the morning and late at night.
Katey Jo Gordon: It's a lot of hard work, and it takes a lot of strategizing to enter and compete in an elite-level rodeo. Everything has to be top-notch, and there is a lot of background that goes into it. You have to condition yourself and your animals. It's not something you just enter. It's no different than any other professional sport; you have to prepare.
Tvshowpilot: Jennifer, you have a vast skillset from training horses and reading cattle to staff management for your family's cattle operation. Which skill, in your opinion, is the most essential when it comes to running a cattle business?
Jennifer Hudgins: The most essential skill is horse training. The horse is a cowboy's greatest tool, and if you don't learn how to use that tool correctly, you'll be lost. However, I would say learning how to deal with people is a real close second.
Tvshowpilot: Ultimate Cowboy Showdown is hosted by country music icon Trace Adkins. How was working alongside him while filming the show? And how was Trace as a judge for this competition?
Katey Jo Gordon: He is super down to earth and hearing all of his stories was really neat.
As a judge, he doesn't cut you any slack. He is a hard judge, and he expects a lot. However, I think it makes the competition better because it pushes you to be better than you thought you were because you knew what was expected of you.
Jennifer Hudgins: Trace has an intimidating presence, but he is a really nice guy. As a judge, he is extremely fair.
Tvshowpilot: What was your favorite part about being on the second season of Ultimate Cowboy Showdown?
Hannah Castellitto: My family and I have a lot of experience wrangling horses. My dad was over an outfit in Montana with over 200 horses. I've helped my dad with that a lot, so bringing the colts in was my favorite part; it was second nature to me.
Katey Jo Gordon: The connections I made and the opportunity to learn from the other contestants, the whole experience was awesome.
Jennifer Hudgins: My favorite part about being on this season was the friendships I made. I made great connections, and I still keep in contact with them. I value those friendships.
Tvshowpilot: Can you tease anything about the competition? Any fun moments viewers should look forward to seeing?
Katey Jo Gordon: We all kind of had this camaraderie, everyone had inside jokes and nicknames. I'm curious to see if it comes across on the show and if anyone catches on to the jokes.
Jennifer Hudgins: I ripped my pants in one challenge, and that was not definitely not planned!
Tvshowpilot: The winner gets a prize package consisting of a herd of cattle, a Rawhide Portable Corral, an Arrowquip Cattle Chute, the coveted Ultimate Cowboy Showdown belt-buckle, and a lifetime of bragging rights. If you win, which part of the prize are you most excited about?
Hannah Castellitto: I didn't go there with the expectation of winning those things. I went in with the attitude of "my horse and I are going to do our best under these circumstances."
Katey Jo Gordon: The whole package! Particularly, I think the portable pins and chute would be really helpful. My husband and I have a lot of lease areas that don't have the equipment, so having equipment that we could take with us would be very beneficial, and obviously, winning the herd of cattle would be life-changing.
Jennifer Hudgins: I would be most excited about the cows because that could really change things and give our operation a significant profit increase.
Tvshowpilot: Since here on the blog, we're all about TV shows, what is your current TV obsession or a TV series you think everybody should be watching right now?
Hannah Castellitto: Quigley Down Under, The Man from Snowy River, and any older Westerns.
Katey Jo Gordon: Right now, I'm hooked on The Blacklist! I'm on season 2, so I'm working my way through it right now, and I just finished Bridgerton. I'm also excited for Outlander to return; it's one of my all-time favorites.
Jennifer Hudgins: My current TV obsession is Firefly Lane on Netflix. I also recommend Sons of Anarchy; I've watched it multiple times.
Tvshowpilot: Finally, why should people watch Season 2 of Ultimate Cowboy Showdown on INSP?
Katey Jo Gordon: This season is very entertaining, and there is a lot of action and great competition. Viewers will learn and be entertained; it's a lot of fun!
Jennifer Hudgins: People should watch the new season because the challenges are tougher, the cowboys are tougher, and overall, there is a lot more cowboying.
---
So there you go, our interview with the lovely ladies of Ultimate Cowboy Showdown season 2 where we discussed everything from competing in rodeos and training horses to what it was like working with Trace Adkins and Jennifer, Hannah and Katey Jo's favorite TV shows.
Don't forget to check out the second season of Ultimate Cowboy Showdown on INSP when it premieres on the general-entertainment network on Wednesday, February 24th.
And make sure to follow Ultimate Cowboy Showdown on Twitter, Facebook, and Instagram for all the latest news and behind-the-scenes tidbits on this cowboy competition series!