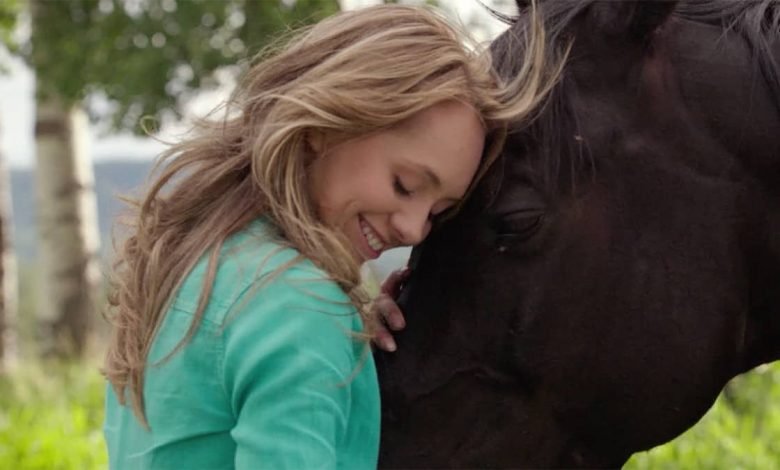 Heartland's fans living in the US have waited for this for a long time but now it's finally here. UP Faith & Family, one of the few channels that broadcast the show in the United States, announced that season 13 of Heartland is finally coming to the streamer!
When does Heartland season 13 premiere in the US?
So, when will US fans be able to view Heartland season 13? Very soon, actually!
Heartland season 13 premieres on UP Faith & Family on Thursday, February 13th! Season 13 on February 13, isn't that cool? And just in time for some Valentine's Day Heartland binge-watch marathon, too! That you will be able to end by viewing the first episode of the latest Heartland season.
On February 13th the fans will be able to view Heartland season 13 episode 1, which is titled "Snakes and Ladders". And then new episodes will be dropping on the streamer weekly!
The first episode of Heartland season 13 will see Amy and Ty starting to build their dream home only to have to put that on hold when an unsatisfied client threatens to cripple their new business. Georgie returning home from the equestrian camp only to be faced with Heartland getting put on quarantine due to Phoenix's exposure to a contagious virus on the plane back from Switzerland. Jack offering Luke to teach him how to ride which doesn't go as smoothly as Jack hoped for. And the overcrowded household dealing with the difficult living circumstances they find themselves in.
The Heartland Season 13 US Premiere Date announcement
The announcement came via the streaming service's Facebook and Instagram accounts. Where they not only announced the premiere date for Heartland season 13. But also that fans can prepare for the new season by catching up on Heartland seasons 1 through 12 right there on the streamer!
How can you watch Heartland season 13 on UP Faith & Family?
For those who aren't familiar with UP Faith & Family and are wondering how can they watch the 13th season of Heartland on the premiere family streaming service, we got you covered.
You can either go the streaming service's website or download their app on your device of choice and start their no-obligation two-week free trial. And then the cost for this streaming service is 5.99$ a month for a monthly subscription and only 53.99$ (which is roughly 4.50$ a month) for a yearly subscription.
The app is available on all phones and tablets with Android or IOS operating system since you can download the UP Faith & Family app on the Google Play Store and Apple's App Store. As well as on devices supporting Apple or Android TV, fireTV, Xbox or Roku. Or, if you have Amazon Prime Video, Xfinity, Dish, Sling, Cox or Apple TV+ subscriptions, you can watch UP Faith & Family via those as well!
And the best part of UP Faith & Family? Since it's a paid streaming service, you won't have to suffer through long, boring commercials. This streaming service is completely commercial-free!
What can you expect to see on Heathland season 13?
Finally, for those curious as to what can you expect from the thirteenth season of Heartland. Here's the scoop!
The season consists of 10 episodes. During the course of which you will see Amy and Ty go through some big hurdles with both their business and their family situation. Especially when it comes to fostering Luke and dealing with a difficult client.
Georgie will also have to make huge, important life decisions not only when it comes to her career and education but also her personal life.
Lou will find herself taking on new challenges and finally figuring out what she wants in terms of her future and love life.
While Jack and Lisa will ponder what the future might look like for them in the coming years. With Jack also revealing a big family secret that made him who he is today. And Tim will be revisiting old feelings and consider a new career opportunity.
Too vague for you? Or want to know what happened on Heartland season 13 ahead of watching it on UP Faith & Family starting February 13th? Then you can check out our recaps of all ten season 13 episodes here!
And don't forget to leave a comment below about what you're most excited to see on season 13. Or just how excited you are that Heartland season 13 is finally coming to the US!