A new Heartland season is finally here and the show did not pull any punches with its first episode back.
Episode one of season 15 jumped straight back into life at the Heartland ranch and showed us how it's not time to slow down for the Bartlett-Fleming clan, quite the opposite actually – it's time to ramp things up. It's time to take on new challenges and spend the time on things that matter to them the most.
Want to know more about what exactly happened on the season 15 premiere episode? Then keep on reading our recap of Heartland season 15 episode 1.
This is your official spoiler warning since there will definitely be spoilers in this recap.
Old friends, new challenges
At the start of Heartland season 15 episode 1, just as Amy and Lyndy were returning home from their mommy-daughter ride, Amy saw a familiar horse trailer drive towards the ranch. It was none other than that belonging to Reinard Perez and his Dark Horse equestrian show.
To freshen your memory, Amy met Reinard (played by Raoul Max Trujillo) in season 5 episode 1. He not only taught Amy liberty horse training but even offered her a spot on his show. However, Amy turned Reinard down and opted to stay in Heartland. Ever since meeting Reinard, Amy is often seen doing liberty work with Spartan or even some of the other horses.
Well, 10 seasons have passed since then and we're reacquainted with liberty training and the Dark Horse show via the arrival of Sylvie (played by Sarah Booth), Reinard's lead trainer.
She arrives at Heartland looking for Amy's help with two of their horses – Zeus and Juniper – who attacked each other in the middle of one of the Dark Hore shows. And right off the bat, Sylvie seems like she doesn't really want to be there.
That becomes more apparent when Sylvie refuses to listen to Amy's advice on separating the two horses and then blows up at Amy about Sylvie needing to reconnect with Juniper.
But Sylvie had a good reason to be standoffish with Amy – she had always felt like she's Reinard's second choice after Amy turned the man down. And Amy's reaction to Sylvie being the one who got out of Reinard's trailer and then Amy pondering if she made the right decision when she refused Reinard's offer to join him didn't help the two get along either.
Luckily, it all worked out.
Thanks to Lyndy asking Sylvie to teach her how to dance with horses as a surprise for Amy's birthday, Sylvie stayed in Heartland a few extra days and ended up not only reconnecting with Juniper and therefore helping the two horses to get along again, but Sylvie and Amy also talked it out and realized that they are where they should be.
Sylvie: "I've spent a lot of the last ten years trying to measure up to you. I've sometimes felt like I was his second choice. I'm so glad you turned him down."
Amy: "Your life is so exciting. I mean, travel and performances. Maybe I missed out on a once-in-a-lifetime opportunity."
Sylvie: "I don't think so. I envy you. Your beautiful daughter, your incredible family, and your amazing talent. Being here made me realize just how much I've given up for a life on the road. It was a good experience working with you. You helped me to remember that it's all about the horses, not the spotlight."
Amy: "Well, I think we both made the right choices."

So, although Amy's path might not have been to become a professional liberty horse trainer and perform on the Dark Horse equestrian show, she's where she needs to be. At home with her daughter and her family helping horses and building a life for herself at Heartland.
Growing up
Besides helping Zeus and Juniper this episode, Amy had another big thing to deal with on Heartland season 15 episode 1. That being Lyndy starting school.
Well, it wasn't really school school. More like a week-long day camp to prepare Lyndy for going to preschool in the fall. Which was needed since Lyndy doesn't really have any experience with being around many other children at the daycare or nursery school.
But still, it meant that Lyndy was gone for most of the day not spending that time with Amy. Which was something Amy had to get used to.
So, really, the day camp was more of a learning curve for Amy than Lyndy. Because it didn't come easy for Amy to let Lyndy go and be somewhere else other than home during the day.
And the first day of the camp was tough.
For Amy, not Lyndy that is. Lyndy really enjoyed it. The teacher, Miss Clarissa, was nice and Lyndy even made a new friend, Andy.
However, Amy couldn't help but worry about how her daughter was doing, especially once her work with Sylvie got in the way of Amy being able to go pick Lyndy up from the camp and Jack went instead.
Yet, by the end of the episode, we saw Amy be more comfortable with Lyndy going to the camp. Not only because Lyndy was enjoying it so much. But also because Amy herself got more used to it.
So, once fall comes, it will definitely be easier for Amy to let Lyndy go and learn to be a bit more independent at preschool.
Taking things up a notch
Jack is notorious when it comes to wanting things to stay the same. In previous seasons that had even caused conflict between him and his business partners – Tim and Mitch.
Like when in season 13 episode 6 Mitch couldn't get Jack to buy a herd of grass-fed cattle and expand their cattle business.
But in this episode, Jack surprised us all by actually initiating change for once.
At the start of the episode, we saw Jack take a call from Fred Garland, who offered Jack to buy Mitch's herd. Well, Fred wanted to talk to Tim about it since in the past Jack was against expanding the Heartland herd. But since Tim wasn't reachable, Fred had to speak to Jack.
During the phone call, Fred also mentioned that he wasn't sure if Jack even was the man to speak to about Heartland beef since he thought that Jack might be thinking about retiring soon. Which got Jack thinking.
Instead of slowing down and wrapping up his involvement with the cattle business, he might actually want to do the opposite. And since Tim wasn't interested in talking business with Jack after his months-long vacation, telling Jack that he wants to only run the Rodeo School, Jack had to make the decision himself.
And after talking to Lisa about what he should do, Jack made a decision – he's going to buy the herd from Mitch.
Jack: "How should I be planning for it [the future]? What should I be doing about it? Should I be pulling back? And taking it easier?"
Lisa: "Well, if you were to take a few steps back, do you think you'd have regrets later on down the road?"
Jack: "Not buying Mitch's herd might be one of those regrets. But you wanna travel more, I heart you say so this morning."
Lisa: "Oh, but we have plenty of time to do that."

But Jack was too late. The other interested party had made an offer to Mitch that he couldn't refuse.
However, Jack decided to call Mitch anyway and tell him that if the deal with the current buyer falls though, Jack was more than interested to buy. After all, it would be nice to keep the herd in the family.
And what do you know, Mitch decided to take Jack up on his offer.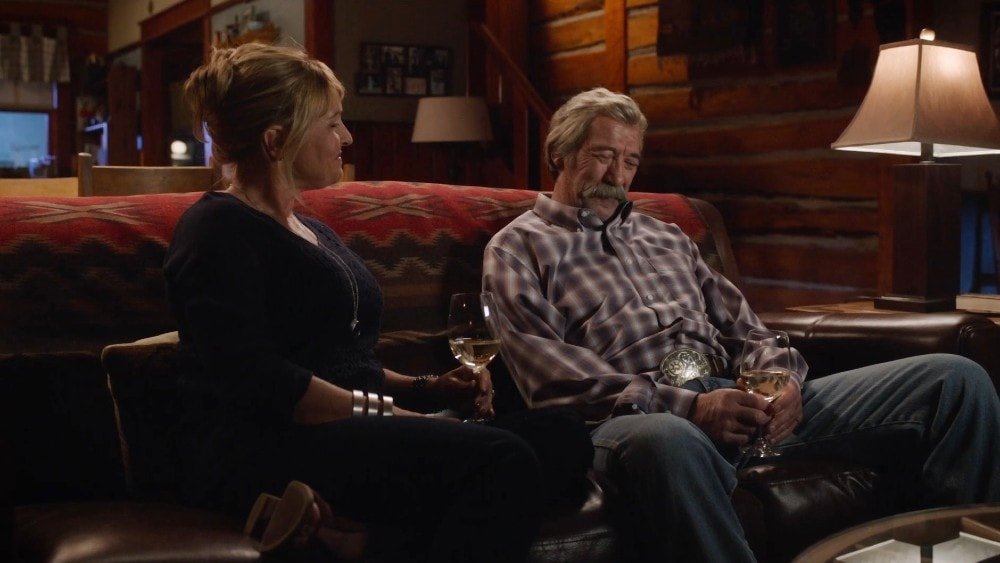 So, now Jack has everything he needs to expand his operation. And I bet during this season we will see all the ups and downs that come with that.
How to be on your own
Speaking of Mitch, in this episode we also saw Lou still dealing with the fallout from everything that happened at the end of last season. Meaning, with her breaking things off with Mitch and that late-night call from Peter where he admitted that he still has feelings for Lou.
During the episode, we learned that Lou still talks to Mitch once in a while. However, it appears that after the breakup things aren't as good as she thought they were since Lou didn't know that Mitch is selling his herd as well as Aspen Grove.
And when it comes to Peter, they talk all the time, but he hadn't brought up his late-night confession. And since Lou didn't want Peter to think that he's the reason she broke things off with Mitch, she didn't bring it up herself either.
Lou felt stuck. At least when it comes to her love life.
However, once she learned that Mitch is selling his cattle and property Lou realized that it might be time for her to move on, too. She just doesn't know what moving on looks like and if Peter is part of that.
So, after a talk with Amy, Lou realized that she might just have to move on on her own.
Lou: "It's time I learn to be on my own. You think I would've figured that out by now."
Amy: "Hey, don't be so hard on yourself. I learn from you every day."

It will be interesting to see what that will look like as the season continues.
From the trailer and all the clips we got during the Heartland Season 15 Launch Event, I'd say Peter will definitely be what Lou moves towards this season. But how does that look like and how soon we will get to see that, that's another question.
Getting back to reality
Finally, this was a pretty big episode for Tim as well.
In the last episode of Heartland season 14, Tim decided to join Jessica on her travels. And since we saw the show skip 6 months in the future in the last moments of the season 14 finale, Tim and Jessica were gone traveling the world the whole time.
But in this episode, we saw the two lovebirds get back to Canada and they had big news to share.
Somewhere during their travels, less than two months before returning home actually, the two got hitched.
That's right Jessica and Tim returned to Heartland as a married couple and were looking to settle down at the Dude Ranch. However, given that it's high-season tourism-wise and the happy couple gave Lou no notice the two could stay at the Dude Ranch only for their first night back. And the next morning they were awakened by Lou who needed them gone from the cabin so she could get it ready for the renters that were staying there.
It really looked like all the traveling and Jessica's company had changed Tim.
He didn't drink coffee anymore for one. And he seemed very zen about everything. So, time will only tell how long will this calm version of Tim last given that now they have returned to the real world.
And it will also be interesting to see where they will choose to live now that they are back in Hudson.
Last thoughts on Heartland season 15 episode 1
It was so beautiful to see not only Sylvie performing with Zeus and Juniper but Amy getting to join in, on her birthday no less.
And the biggest surprise of all – Lyndy doing liberty work with Ty's horse Harley with a little help from Jack as a gift for her mom on her big day.
Things really seemed to come full-circle this episode. And after the tragic events of last season and the hardships Amy and the rest of the family faced because of it, this season feels hopeful and fresh.
---
---
What did you think of the Heartland season 15 premiere? Which moments were your favorite? Let me know down below!
Heartland season 15 episode 2 promo
And here's the promo for Heartland season 15 episode 2 (airing on Sunday, October 24th) which is titled "Runaway" and will see Amy tracking down one of Sam's horses, Lisa's business investment being at risk, and Tim and Jessica settling in their life back at the ranch.