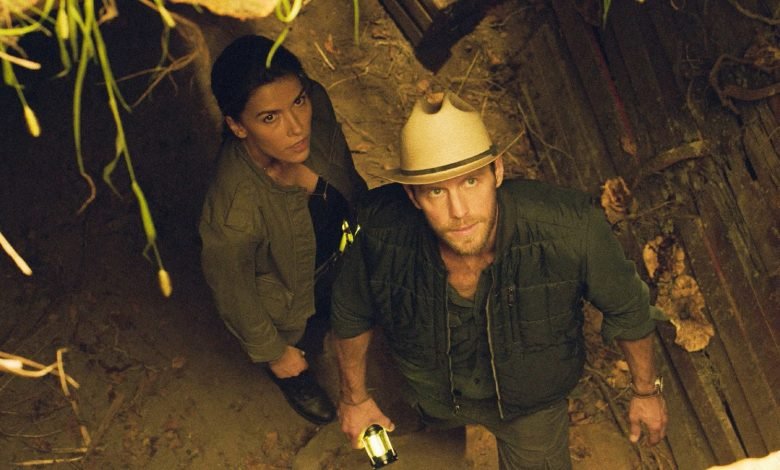 Indiana Jones has, undoubtedly, become quite a pop culture icon when it comes to the combination of the fantasy and action genre. The character first appeared in the 1981 movie Raiders of the Lost Ark and was portrayed by the dashing Harrison Ford, who has since become pretty much synonymous with the Indiana Jones brand (though he has been portrayed by other actors through various mediums).
To date, there are four Indiana Jones movies – with a fifth in production and scheduled for release in July 2021! Apart from that Indy, as he's popularly nicknamed, has appeared in several graphic novels, original novels, and several Disney theme park attractions.
Personally, one of this writer's earliest memories of Indiana Jones was being too short to ride the Indiana Jones Adventure ride in Disneyland back in 1997 – when I was a tiny five-year-old. Let me tell you: I was pretty devastated because of it. looked. awesome. Especially after my older sister, who was then nine years old, declared she wanted to be an archaeologist immediately after exiting the ride. But I digress.
The Indiana Jones brand has also served as an inspiration for various TV shows since its inception, which we've decided to put in a little collection for all you Indy fans!
So, here is a list of the best adventure TV shows for all those who love Indiana Jones!
The Young Indiana Jones Chronicles, ABC (1992 – 1993)
Of course, we're going to kick it off with a TV show that starred the Indiana Jones character himself. As the title explains, we follow the adventures of a young Indy starting from when he's about 8 to 10 years old with the first few episodes, before progressing to a 16 to 21-year-old young adult for the remainder of the season.
The Young Indiana Jones Chronicles sets the backstory for the events in the films and helps us to understand Indy a little better. We get to see what his relationship was like with his father, as well as a lot of his adventures in notable historical events that are referenced throughout the films.
Throughout the series, Indy meets with a lot of famous people throughout history, like Leo Tolstoy, Al Capone, Mata Hari, and Theodore Roosevelt – to name a few – which sets a great platform as an educational program for its audience of children and teenagers.
Where to watch The Young Indiana Jones Chronicles:
Blood & Treasure, CBS (2019 – 2022)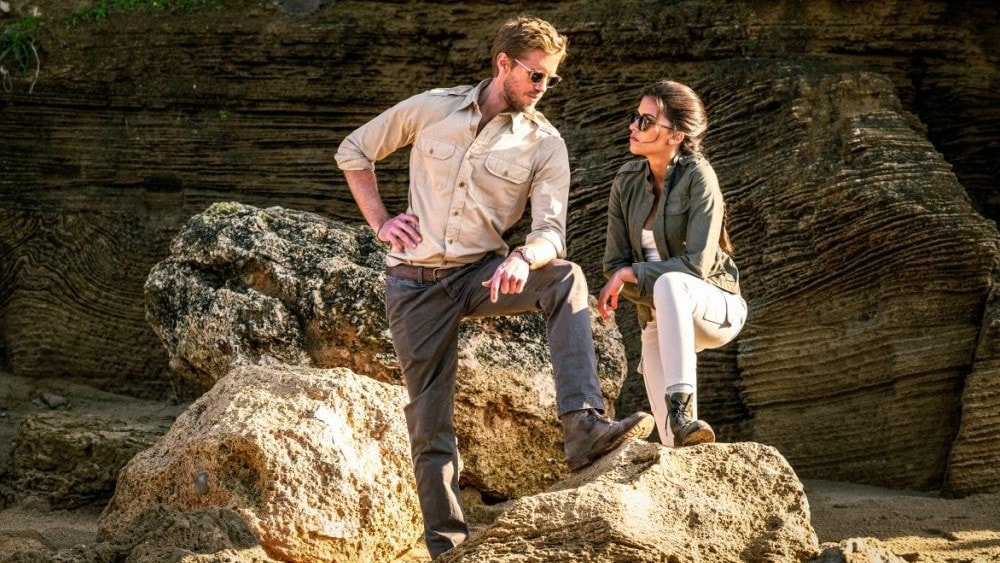 True to the Indy spirit even decades after we first met him, CBS's Blood & Treasure takes us all around the world in the wake of the burglary of a priceless artifact and the kidnapping of an expert on the artifact in question.
Matt Barr (Hellcats, Valor) plays Danny McNamara, a former FBI agent whose expertise is stolen art and antiquities. Starring alongside him is Sofia Pernas (The Brave, Jane the Virgin) in the role of Lexi Vaziri, a notorious art thief and con woman. The two unlikely allies pair up to bring the terrorist Karim Farouk to justice.
Along the way, they encounter a slew of international characters who could be allies – or they could very well be enemies in sheep's clothing. As the pursuit for the thieving Farouk progresses, a larger plot unravels to reveal a "2000-year-old battle for the cradle of civilization".
Where to watch Blood & Treasure:
Outer Banks, Netflix (2020 – present)
For those interested in a more teenage-geared take on the classic treasure hunt trope then Netlix's Outer Banks is a show you have to check out. It's filled with adventure and romance that plays out against the backdrop of the stunning beach town of Outer Banks, North Carolina.
The show follows a group of four friends, John B, JJ, Kiara and Pope, who embark on an epic summer adventure to find hidden treasure that is somehow tied to John B's missing father. Along the way, they will have to deal with forbidden romances and the growing class divide between the rich and the working class in Outer Banks, all while trying to uncover what really happened to John B's father.
Led by a young cast of up-and-coming talent and filmed in the beautiful Charleston, South Carolina, Outer Banks is a must-watch for all who seek some fun summer vibes while also looking for a thrilling high-stakes adventure.
Where to watch Outer Banks:
Hooten & the Lady, Sky 1 (2016)
We cross the Atlantic for a British adventure drama series featuring another American and British partnership, Sky 1's Hooten & the Lady.
Ulysses Hooten, played by Michael Landes (Love Soup, Save Me), is an American adventurer whose mischievous but charismatic personality instantly draws you in. The Lady in the show's title is Lady Alexandra Lindo-Parker, a British Museum curator played by Ophelia Lovibond (W1A, Elementary).
Completely by accident, the two cross paths and pair up, albeit with plenty of hesitation at first, to travel the globe in search of the world's most elusive treasures as well as answers to mysteries we had long thought to be buried.
Of these include a trip to Bhutan to find an ancient scroll purported to have been written by Buddha, Moscow to find a lost Fabergé egg, and Egypt to discover the long-lost tomb of Alexander the Great!
Where to watch Hooten & the Lady:
National Treasure: Edge of History, Disney+ (2022 – 2023)
Another newer series on this list of the best adventure TV shows that Indiana Jones fans will love is Disney+'s new National Treasure series.
Developed as a continuation of the Nicolas Cage-led National Treasure film series, National Treasure: Edge of History follows Jess Valenzuela, a 20-year-old living in Baton Rouge whose mysterious family history sends her on a treasure hunt to recover lost artifacts.
Supported by her friends and aided along the way by National Treasure vets Peter Sadusky and Riley Poole, Jess slowly unravels her family's secrets and becomes part of the dangerous world of treasure hunting.
Where to watch National Treasure: Edge of History:
Relic Hunter, Syndication (1999 – 2002)
Canadian adventure series Relic Hunter has all the elements of a historical fantasy action series with a healthy injection of science fiction, what with some of the relics they search for having unexplained supernatural characteristics or technology beyond that of its time.
Tia Carrere (General Hospital, AJ and the Queen) plays American archaeologist Sydney Fox, who is also a Professor of Ancient Studies and a skilled combat artist. Her British assistant is Nigel Bailey, played by Christien Anholt (Flyboys, Dark Corners), who not only assists her during university lectures but accompanies her on her relic-hunting adventures.
Each episode starts with the history of a particular artifact, followed by Fox and Bailey being commissioned to retrieve – and in some cases, save – the relic and return it to where it belongs. This often involves traveling to various remote places around the world, but they are always up to the challenge!
Where to watch Relic Hunter:
Adventure Inc., Global (2002 – 2003)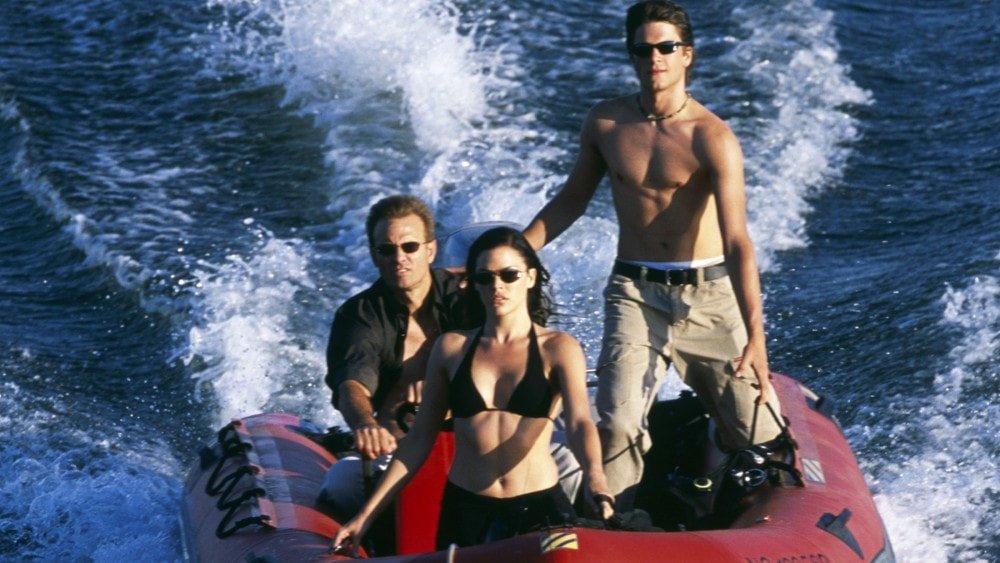 Hot on the heels of Relic Hunter's cancellation after three seasons came Adventure Inc., another globe-trotting adventure TV series with a bit of a different take: the main protagonist, Judson Cross, is a seafarer.
His character and adventures are loosely based on real-life explorer Barry Clifford, an underwater archaeological explorer who discovered the only verified pirate shipwreck in the world: pirate Captain Samuel Bellamy's Whydah.
In Adventure Inc., Cross (played by Michael Biehn from The Terminator and Aliens) owns the treasure hunting business the show is named after. With the help of his partners Mackenzie (played by Karen Cliche from Flash Gordon) and Gabriel (played by Jesse Nilsson from Our Hero, who passed away before the show's final episode aired), they go everywhere to find and return lost antiquities – no matter the risk.
Where to watch Adventure Inc.:
Bonekickers, BBC One (2008)
BBC One's Bonekickers has been described as CSI meets Indiana Jones thanks to the fusion of science, mystery, and conspiracy. It features a team of archaeologists based out of the fictional Wessex University in the UK and headed by the powerful Dr. Gillian Magwilde, who is played by Julie Graham from Benidorm and The Bletchley Circle.
The archaeologists were tasked with uncovering historical secrets and getting to the bottom of budding conspiracy theories across the UK and the world. Among these mysteries is the quest for Excalibur, the answers to the Great Fire of Rome, and even an encounter with modern-day Knights Templar. Bonekickers aired for just one season with six episodes in total, but each one was filled to the brim with action and adventure!
Where to watch Bonekickers:
Veritas: The Quest, ABC (2003)
Seems like the early 2000s was a busy year for the mystery-action-adventure genres! ABC's Veritas: The Quest joined the collection of adventure TV shows with thrill-seeking, heroic protagonists but this time, with an appeal for younger audiences. You could say if you're looking for an adventure show like Outer Banks and don't minsdthe 2000s aesthetic, Veritas: The Quest might be it.
Ryan Merriman (Pretty Little Liars, In the Rough) plays rebellious but intelligent teen Nikko Zond, who is at the center of the ongoing plotline running throughout the entire first – and only – season.
He discovers that his father Solomon (played by Alex Carter from CSI) is the head of an archaeological team called Veritas that, true to its Latin origins meaning "truth, is searching for answers to Nikko's mother's disappearance some years before. Nikko joins in their adventures to trace his mother's footsteps and it is soon revealed that there are bigger secrets about to be involved in his destiny.
Where to watch Veritas: The Quest:
The Lost World, TNT/Syndication (1999 – 2002)
The Lost World TV series was loosely based on Sir Arthur Conan Doyle's 1912 novel of the same name. This isn't to be confused with the 1997 movie The Lost World: Jurassic Park that was based on Michael Crichton's 1995 novel also titled The Lost World despite the premises being very similar.
Professor George Edward Challenger is a scholar and adventurer with one clear goal in mind: to prove the existence of a "lost world" to those who doubted him at the London Zoological Society. To reach that goal, he puts together a ragtag team of individuals who all have their reasons for joining the expedition.
When their hot air balloon crash lands on unchartered land, they run into Veronica, a jungle-savvy girl whose own family and research group mysteriously vanished. Together, they must fight dinosaurs, prehistoric cavemen, and the local tribe of lizard men as they attempt to escape the dangerous island.
Where to watch The Lost World:
Warehouse 13, SyFy (2009 – 2014)
Bordering more on the sci-fi genre but still with a mix of the Indiana Jones factor, SyFy's Warehouse 13 is in reference to a fictional storehouse in South Dakota that houses a multitude of both famous and obscure artifacts during recent history.
The previous twelve Warehouses were located under the protection of powerful empires in history, like the Hunnic Empire, Holy Roman Empire, Russian Empire, the United Kingdom, and finally, South Dakota.
The agents of Warehouse 13 are from a variety of US government agencies and are chosen for their high intelligence and special skills like eidetic memory, codebreaking skills, and even certain extranormal abilities such as reading auras and just "knowing" if situations are good or bad. Throughout the show's five seasons, the agents come across many different artifacts connected in some to historical or mythological people and events, all with strange supernatural powers that they must subdue and bring back to store in Warehouse 13.
Where to watch Warehouse 13:
The Librarians, TNT (2014 – 2018)
Fans of the original made-for-TV The Librarian movies were ecstatic to hear that they were being revived by TNT in a series format. As a direct spin-off, it was made to be canon and to share continuity with the films and thus, it might be a good idea to get a jump on the films before binge-watching the series!
The job of the Librarian is to protect a secret collection of ancient artifacts in the Metropolitan Public Library. The character of Flynn Carsen was the original Librarian in the films, and he continues to make recurring appearances in the series as well. Though originally there was a need for only one Librarian, the series breaks that by introducing a team of Librarians instead, because the world just needed more protectors.
The team of four – a former NATO colonel, a genius with a penchant for languages and a variety of other subjects, a mathematician with synesthesia, and a technologically-savvy thief (with hidden charitable inclinations) – solve historical mysteries, recover magical artifacts, and fight the forces threatening the world.
Where to watch The Librarians:
Candle in the Tomb, Tencent Video (2016)
Candle in the Tomb is a Chinese television series that is based on the Ghost Blows Out the Light fantasy novel series by Zhang Muye.
The show follows the adventures of tomb raider Hu Ba-yi and his team as they explore ancient tombs and uncover hidden treasures.
The series takes place in various locations throughout China, each with its own unique legends and folklore.
Along the way, the team must navigate treacherous environments, solve complex puzzles, and fend off dangerous creatures to uncover the secrets of the tombs they explore.
Candle in the Tomb is a thrilling and suspenseful drama that blends action, adventure, and supernatural elements to create a unique viewing experience.
Besides this first original Candle in the Tomb series, there have been 5 more adaptations of Zhang Muye's novel series – The Weasel Grave and Mu Ye Gui Shi in 2017, The Wrath of Time in 2019, The Lost Caverns in 2020, and, most recently, The Worm Valley in 2021.
Where to watch Candle in the Tomb:
Zero Hour, ABC (2013)
ABC's Zero Hour sets itself apart from the other mystery/thriller adventure shows on the list in that it has a slightly more paranormal conspiracy vibe to it, as opposed to just plan relic-hunting adventures. In fact, there's only one antiquity that's central to everything here: an old clock.
Hank Galliston, played by Anthony Edwards (ER, Northern Exposure), is the main protagonist whose wife goes missing after purchasing the antique clock in question. His sense of adventure used to start and end with publishing a paranormal skeptics magazine, but he soon finds himself enveloped in a twisted, complicated mystery that involves the Nazis, the history of the Catholic Church, and cloning – all in a race against time to save his wife and humanity in the process.
Where to watch Zero Hour:
Dan Brown's The Lost Symbol, Peacock (2021)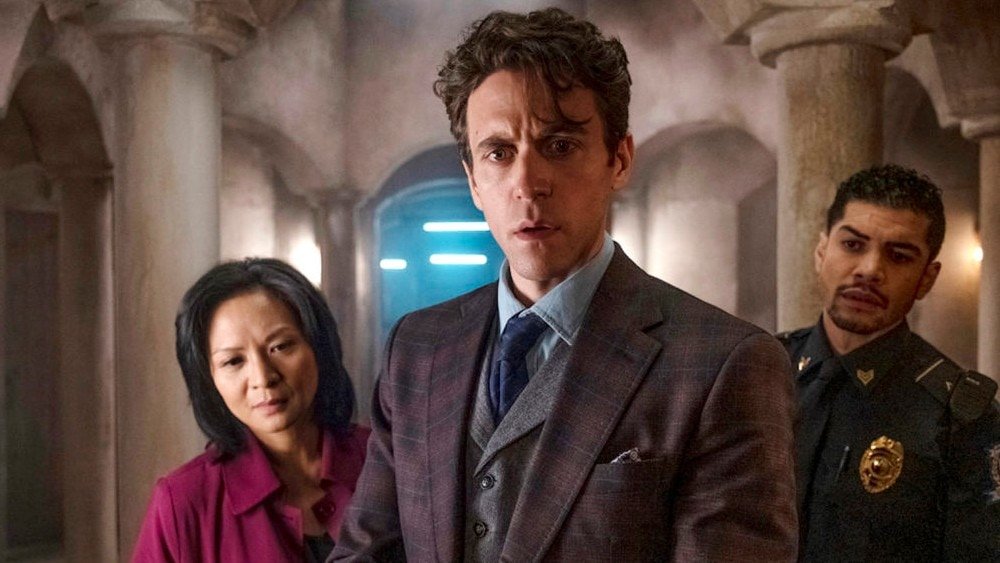 Last but not least, our final adventure series is one that premiered in 2021.
Author Dan Brown gave life to the Robert Langdon character with his series of five fictional thriller mystery novels featuring the Harvard professor with particular expertise in the history of art and symbology: Angels & Demons, The Da Vinci Code, The Lost Symbol, Inferno, and Origin.
In 2006, The Da Vinci Code was made into a feature film with Tom Hanks playing Langdon. And it was continued with Angels & Demons in 2009 and Inferno in 2016. Now, The Lost Symbol is being used as the inspiration for this series, Dan Brown's The Lost Symbol.
Ashley Zukerman plays a younger version of the famed Harvard symbologist Robert Langdon, who must save his mentor by solving a string of deadly puzzles and stop a global conspiracy in the process.
Where to watch Dan Brown's The Lost Symbol: