We all had the pirate-loving, treasure-hunting phase in our youth, didn't we?
When we would let our imaginations run wild with the images of ourselves on adventures out in the deepest seas and the most dangerous jungles to find some kind of treasure.
---
Want a quick version of the first half of this article? Then check out our video on the 7 best scripted TV shows about treasure hunting:
---
With the series on this list, we can revisit those good ol' days through our TV screens.
Here are some of the best scripted and unscripted TV shows about treasure hunting!
The best scripted treasure hunting TV series
Blood & Treasure, CBS/Paramount+ (2019 – 2022)
Blood & Treasure sets out just like all of our greatest childhood daydreams: on the hunt for treasure all around the world.
In particular, it follows the adventures of Danny McNamara, a former FBI agent turned expert in antiquities and stolen art, and Lexi Vaziri, an art thief.
The unexpected pair team up to pursue an international smuggler who uses stolen art to finance his operations.
While on his tail, they end up in the middle of a centuries-old mystery of civilizations and a secret Brotherhood that everyone wants to discover the secrets to.
Relic Hunter, syndication (1999 – 2002)
Relic Hunter is a Canadian fantasy adventure series that focuses more on the idea of treasure in a historical context; that is, the protagonists are usually hunting for a historical artifact or relic as opposed to a whole hoard of treasure!
Sydney Fox is an "unorthodox" archaeologist whose job it is to travel the world to search for ancient relics to return them to the museum, institution or even private owner who gives her the mission.
She's assisted by her reserved British assistant Nigel and, on occasion, her student secretary Claudia.
National Treasure: Edge of History, Disney+ (2022 – 2023)
Fans of the Nicholas Cage classic treasure hunting movies are in for a treat with this TV show continuation of the National Treasure films!
National Treasure: Edge of History may feature a brand new cast of characters (except Riley and Peter, who make guest appearances) but there's just as much adventure as you could expect!
It follows Jess, a young woman originally just on the search for answers about her family, but ends up searching for lost treasure as she discovers the truth about her father's role in protecting lost treasure.
Hooten & the Lady, Sky 1 (2016)
We all love an unexpected partnership, and Sky 1's Hooten & the Lady is the perfect example.
The one-season adventure series follows the roguish American explorer Ulysses Hooten as he teams up with the proper Lady Alexandra Lindo-Parker, a British museum curator and historical expert.
Though the two are unwilling to pair up at first, they learn to get along as they explore the world to discover its deepest mysteries and protect its greatest treasures.
From Egypt to Russia to deep into the Amazon Rainforest, there's nowhere they wouldn't dare go.
Adventure Inc., Global/syndicated (2002 – 2003)
Next on the list is an adventure series inspired by the life of Barry Clifford, a modern-day archaeological explorer.
Adventure Inc. lends its name to the company that's at the center of the show, which is owned and headed by Judson Cross.
He has assembled a team of young 'renegades', Mackenzie and Gabriel, who both have a taste for exploration to help him on his quests, as explained in the voiceover at the start of each episode.
Adventurer Inc. is a business tasked with "finding things – things that are priceless, dangerous, sometimes even unexplainable."
Outer Banks, Netflix (2020 – present)
Netflix's Outer Banks is a popular teen drama and mystery series that premiered its third season this year!
The show takes place in a small town along the titular Outer Banks in North Carolina, where there's a clear social divide between the town's wealthy residents and those in the working class.
It mainly follows John B, a member of the said working class, who is determined to find out what happened to his missing father.
This leads him and his friends on a trail leading to hidden treasure, though they're still seeking the truth behind it. Will the next season finally have all the answers?
Candle in the Tomb, Tencent Video (2016)
Candle in the Tomb is a Chinese adventure series that first aired in 2016.
Based on Ghost Blows Out the Ligh, a fantasy novel series written by Zhang Muye, the show follows a trio of tomb raiders who embark on dangerous expeditions to uncover the secrets of ancient tombs and find hidden treasures within them.
The main character, Hu Bayi, is a former soldier who possesses a wealth of knowledge about China's history and legends.
Along with his friends, Hu's best friend Wang Kaixuan and National Geographic photojournalist Shirley Yang, he faces many challenges and obstacles in his quest to uncover the truth about the past.
P.S. Besides the original Candle in the Tomb series, there have been five more adaptations of Zhang Muye novels: The Weasel Grave and Mu Ye Gui Shi in 2017, The Wrath of Time in 2019, The Lost Caverns in 2020, and The Worm Valley in 2021.
The best documentary and reality TV shows about treasure hunting
Caribbean Pirate Treasure, Apple TV+ (2018)
Jacques Cousteau is a famous oceanographer and explorer, known for his contributions to inventing scuba gear and his many works detailing his ocean explorations.
It seems this love for the water and adventure runs in the family, as his grandson Philippe Cousteau made the documentary Caribbean Pirate Treasure to document his own deep-sea investigations!
Alongside his wife Ashlan, who is a journalist and environmentalist, they bring light to many pirate legends through exploring shipwrecks and speaking with local experts around the world!
Cooper's Treasure, Discovery+ (2017 – 2018)
In 1963, a renowned NASA astronaut named Gordon Cooper discovered over a hundred 'anomalies' in the South Caribbean sea while on a mission in space.
He believed them to be shipwrecks and for decades afterward, he secretly worked on a map of these shipwrecks and what he believed to be their treasure troves.
He passed this map to his friend and historical shipwreck expert Darrell Miklos, who built a team of seasoned explorers in order to investigate these sites and find what might be billions worth of treasure.
Thus, Cooper's Treasure was made on Discovery+.
Lost Gold, Travel Channel (2017 – 2019)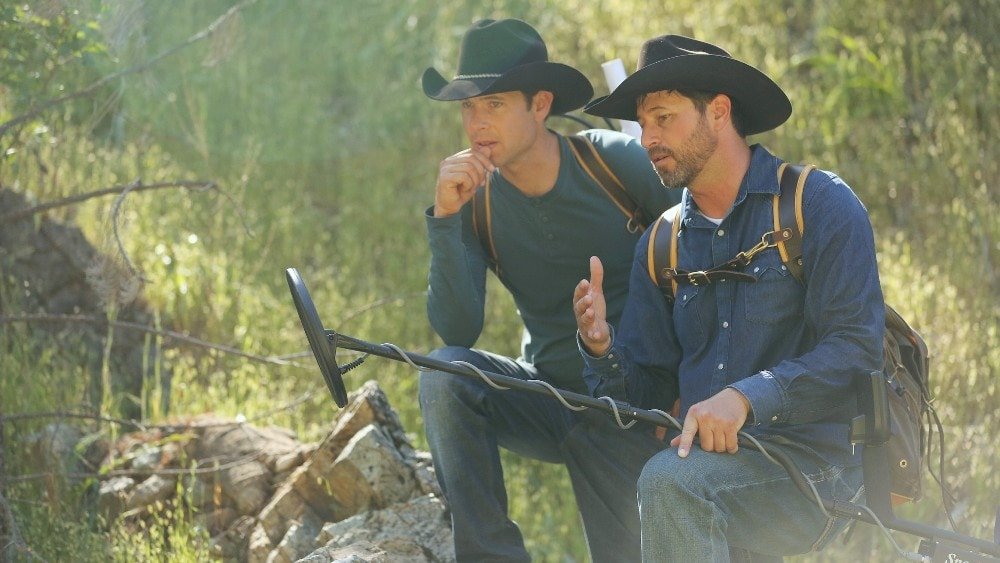 The Travel Channel series Lost Gold follows the adventures of two brothers from Arizona: Josh and Jesse Feldman, who are not just cowboys and gold miners but are also treasure hunters with a love for adventure and "Old West lore", which their family has a rich history with.
In Lost Gold, they seek out treasures across the American frontier with the help of historical documents like maps and old records, as well as conversations with locals who have a history and deeper knowledge of the area.
One of these famed treasures is from a famous Apache chief and his two boxes of buried gold!
The Curse of Oak Island, History Canada (2014 – present)
The fact that the reality series The Curse of Oak Island just premiered its 10th season and currently has just under 170 episodes is a testament to the sheer volume of treasure that has been discovered on the titular Nova Scotia's Oak Island.
Although it's a privately-owned island, brothers Marty and Rick Lagina were able to gain permission to investigate and build on many treasure-hunting archaeological digs that have happened over several centuries!
Many small artifacts have surfaced over the years but a major treasure hoard is yet to be found.
The Curse of Oak Island delves into the island's history, discoveries, theories, and current investigations.
Beyond Oak Island, History (2020 – present)
Brothers Marty and Rick Lagina return to Nova Scotia's Oak Island as their curiosity for history's deepest secrets continue to drive them forward.
In Beyond Oak Island, they look at many different treasure quests from around the world, not just those they've done or those done on Oak Island itself!
They explore pirates and outlaws, treasure hoards to Aztec legends' gold, and even sunken ships.
Their explorations divulge more details and clues from past searches for those who wish to pursue it further!
Diggers, National Geographic (2013 – 2015)
National Geographic's reality series Diggers aired over 4 seasons and 66 episodes, all of which followed the exploration adventures of friends and fellow metal detecting hobbyists "King George" Wyant and Tim "The Ringmaster" Saylor.
Wyant has always been a fan of the outdoors and Saylor began his metal detecting in his backyard, but has since gained a reputation for his luck in finding rings – hence his nickname!
Together, they travel the country and gain permission from experts and landowners alike to search areas for historical treasures.
Digfellas, Travel Channel (2013)
Travel Channel brings another adventurous reality series to our list with Digfellas, which aired for 1 season.
The series follows Bill Ladd and Howard Hewitt, relic hunters who seek to explore and preserve American history by searching for gold that may be buried in historical sites across the country.
Each episode shows the duo excavating areas to search for artifacts, using their knowledge to identify what is actually valuable.
They then also seek the help of experts to authenticate the treasure they've found.
Treasure Quest, Discovery Channel (2009)
Odyssey Marine Exploration is an American company that specializes in deep-sea exploration. While they started out focusing on research surrounding mineral resources, they have also been responsible for some of the most well-known shipwreck discoveries.
In Discovery Channel's reality series Treasure Quest, the employees of Odyssey Marine Exploration venture towards the English Channel to see what they can find in its deepest corners.
Throughout its 12 episodes, the team was able to uncover ships sunk in WW1 as well as others from France, Spain, and the UK!
Treasure Quest: Snake Island, Discovery Channel (2015 – 2018)
Throughout the first season of Treasure Quest: Snake Island, the crew of explorers at the center of the series (led by Jeremy Whalen and including champion freediver Mehgan Heaney-Grier) are on the hunt for the Treasure of the Trinity, a legendary stash of Incan treasure.
They risk their lives on the titular Snake Island, so named because of the deadly snakes that inhabit it!
The succeeding two seasons saw them exploring other locations in Paraguay, Argentina, and Bolivia for other treasure-hunting legends!
Billion Dollar Wreck, History (2016)
The legendary Titanic's sister ship, the RMS Republic which sank in 1909, is situated off the coast of Nantucket and was rumored to have been carrying 15,000 gold coins, which in modern currency is worth about one billion dollars – hence, the Billion Dollar Wreck series.
Martin Bayerle is a treasure hunter who had previously lost it all – money and family – when an exploration of the Republic went wrong.
Now, he's back with stronger research to back his exploration and, along with his previously estranged son, hopes to find what he's been looking for for decades.
Legend of the Superstition Mountains, History (2015)
History's Legend of the Superstition Mountains focuses its treasure-hunting journey on a centuries-old legend that some might argue should never have come to light.
This is because this legend, which speaks of the Lost Dutchman's mysterious treasure lode worth hundreds of millions hidden somewhere across the Superstition Mountains, has led many who have tried to find it to actually lose their lives in the process.
Now, treasure hunter Wayne Tuttle is teaming up with fellow experts to follow fresh clues to unearth the treasure.
American Digger, Spike (2012 – 2013)
Many may know Ric Savage from his professional wrestling days, but not many know that his first passion lay in hunting and collecting historical American relics.
After he retired, Ric Savage went on to pursue his love for treasure with American Digger, alongside his wife Rita and their son Giuseppe.
From historical sites to the backyards of the regular American, Ric must obtain permission to dig into the properties and should he find anything of value, split the profit with the property owners.
Diamond Divers, Apple TV (2012)
Where most of the previous shows feature a search for relics and gold, Diamond Divers is a documentary series that chronicles a deep sea dive for diamonds.
The crew that the series follows is headed by Captain John Aydelotte and his team consists of his hot-tempered son Jason as well as fellow former diamond divers and sailors.
Together, they travel across the world to South Africa and brave the dangers of its oceans in search of rumored diamonds on the seafloor.
Bering Sea Gold, Discovery Channel (2012 – present)
Bering Sea Gold has currently aired 13 seasons over a decade, where some seasons feature both the summer and spring dredging seasons while others feature just one of the two.
Also known as Gold Divers in the UK, Bering Sea Gold is just that: a reality series that follows the crews of boats equipped to dig up gold from various water environments.
Depending on the season, they must battle harsh weather, dangerous waters, equipment failures, and even internal and external conflicts.
The Curse of Civil War Gold, History (2018 – 2019)
Of all the origins of hidden treasure legends, this is one that is certain to spark interest in any treasure hunter out there!
History's The Curse of Civil War Gold chases the story that there is Civil War-era gold down at the bottom of Lake Michigan.
The deathbed confession of a lighthouse keeper in the 1890s claims that Union soldiers took Jeeffeerson Davis' gold and smuggled it, only for it to get lost in the lake.
Now, Kevin Dykstra is determined to find it.
Forbidden History, UK TV Play (2013 – 2020)
Though hidden treasures might be a small portion of the reality series Forbidden History, it's the perfect (six-season) series for treasure hunters and history buffs alike.
Over 24 episodes, Jamie Theakston dives deep into various parts of history from all over the world.
From retelling lesser-known tales and uncovering the secrets and mysteries to digging for ancient relics and getting to the bottom of conspiracy theories, Forbidden History shines a light on the darkest parts of history as we've never known it.
Hunting Nazi Treasure, National Geographic (2017 – 2018)
The crimes of the Nazis during World War 2 extended to the theft of personal belongings as well, and many of the stolen goods were never returned to the families that rightfully owned them.
National Geographic brings together Monuments Men Foundation President Robert Edsel, journalist Conor Woodman, and WWII historian James Holland in Hunting Nazi Treasure, and eight-episode series chronicling the heist across Europe and the efforts to return them.
Expedition Unknown, Discovery (2015 – 2022)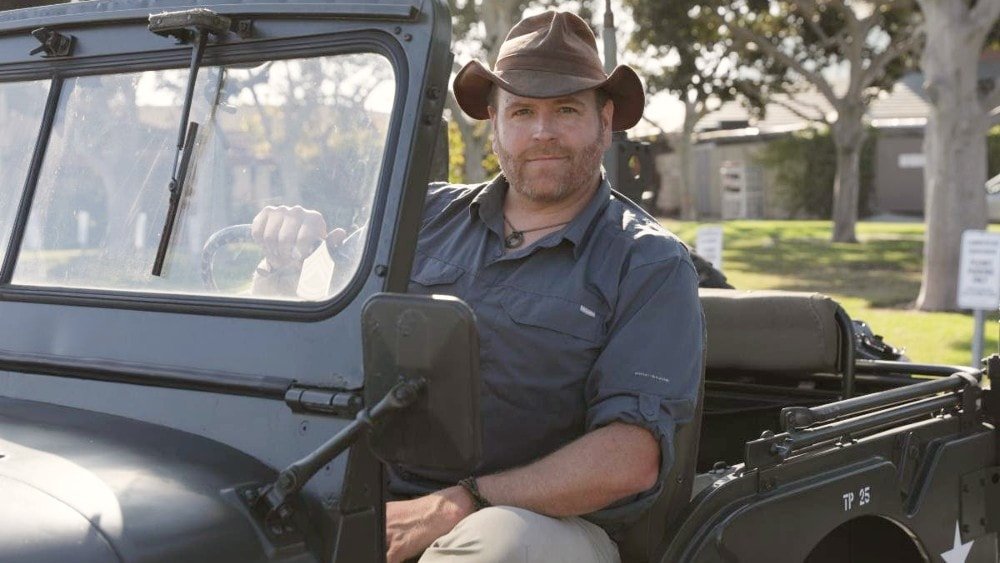 The world is full of mystery and the unknown, and explorer Josh Gates is determined to chase them all down in Discovery's reality series, Expedition Unknown.
His curiosity is his driving factor as he travels the globe to search for answers on unanswered events (the creation of the Nazca lines), chase rumors of buried treasure (Yamashita's gold in the Philippine jungles), uncover legends (the cursed lake of gold in Africa), and explore beautiful countries (Egypt and its sarcophagi)!
Lost Gold of WW2, SBS on Demand (2019 – 2020)
Most stories of hidden or lost treasures stem from whispered rumors that turn into legends passed down through the generations.
However, the legend of General Tomoyuki Yamashita's buried treasure is so firmly believed that the series Lost Gold of WW2 documents a team of experts' hunt to track it down deep within the jungles of the Philippines.
To support their search for clues, answers, and (hopefully) the rumored treasure, the team uses the latest in technology – and the word of the only surviving witness to the deed.
Code of the Wild, Travel Channel (2019)
Lastly, Travel Channel's Code of the Wild brings yet another pair of brothers to the treasure-hunting scene!
Chris and Casey Keefer have no fears in facing all of the challenges that nature throws at them as they follow the trail to the world's various mysteries.
They use their love for history and thirst to find evidence (helped along by the latest technologies) to get as close to the truth as they can, even if it's buried in a plane wreck or in the Appalachian mountains.