Nurses are at the front and center of our society these days, as part of the team of frontliners making sure to give the utmost medical care to those who need it – a feat that I'm sure gets more and more tiresome every day.
The bottom line is nurses are absolute rockstars and don't get nearly enough credit for the work that they do.
Their medical knowledge runs the gamut of patient care, from knowing what kind of medicine the patient might be allergic to, to knowing what kind of procedure is needed in case of an emergency.
Patient and doctor schedules? The nurses know it. Frazzled family members? The nurses probably know just what to say and do.
Truly, the nurses are the hospitals' leading stars.
With that, we're here to celebrate nurses and all that they do for us. With this list of the best TV shows about nurses, we hope to show everyone just a bit of what it really takes to be a nurse – both on and off the job.
Albeit fictional, these series will showcase what nurses have to do at their hospitals as well as the effect their jobs have on their personal lives.
It's a mix of thriller, drama, and comedy genres, all with nurses either as the lead characters or at least in prominent roles. Let's get started!
Best TV Shows with Nurses as Lead Characters
Nurses, Global (2020 – present)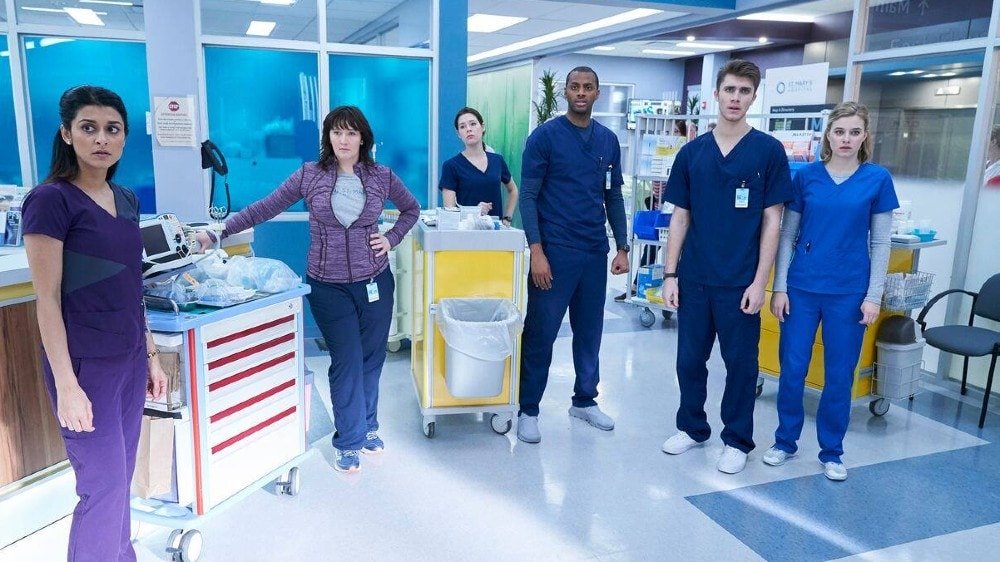 Starting our list is the Canadian medical drama Nurses, which has so far aired for two seasons.
During the pandemic-related production shutdown in 2020, NBC picked up the season and has given viewers hope for succeeding seasons, though there's nothing set in stone quite yet.
Nurses follows a group of five young nurses who are just about to launch their careers at a busy downtown Toronto hospital named St. Mary's.
They're immediately thrown into a trial by fire with the high-stakes patient cases they're assigned, including having to confront religious obstacles, the fallout from a hate crime, and stories of young teens with heartbreaking health issues.
Luckily, they also have each other to lean on for the support they need.
Nurses, NBC (1991 – 1994)
Speaking of NBC, the network has, in fact, already had a pretty successful run with a series about nurses in the past!
The identically-titled sitcom Nurses was a spin-off of Empty Nest (itself a spin-off of the pop culture classic The Golden Girls) and aired for three seasons in the early 90s.
One of the secondary settings in Empty Nest was a hospital in Miami, which in turn provides the main setting for Nurses.
The series follows a group of nurses with various backgrounds and personalities who are in charge of overseeing the third-floor nursing station.
The final season, however, shifted focus to a broader view of the hospital operations and other staff members.
Nurse Jackie, Showtime (2009 – 2015)
Nursing is a profession that is largely focused on providing the utmost patient care, right?
Given that, you're probably assuming that nurses take care of themselves the same way they take care of the patients on their floor.
While that's definitely true at least 99.9% of the time, Showtime's dark comedy-drama series Nurse Jackie shows us the flip side of that: a nurse, the eponymous Nurse Jackie, who definitely does not have her life taken care of.
Right off the bat, Jackie Peyton is introduced as a substance abuser who wouldn't hesitate to bend (and often break) the rules of the nursing Code of Ethics.
These indiscretions are highlighted against the backdrop of Nurse Jackie trying to juggle the demands of her high-stress job.
Hawthorne, TNT (2009 – 2011)
The TNT medical drama Hawthorne puts Chief Nursing Officer and titular character Christina Hawthorne at the forefront of the series, which aired for three seasons before ending on an unresolved cliffhanger!
Christina begins as the nurse in charge of her peers at the Richmond Trinity Hospital in Richmond, Virginia.
Between navigating her responsibilities as a single mother, Christina also works hard to make sure that her patients and peers are taken care of even if it means putting her own job on the line.
The passion and drive she brings to her job pays off, however, as she slowly moves up the ranks in the hospital amidst ongoing and constant administrative changes.
Mercy, NBC (2009 – 2010)
NBC's Mercy takes its name from Mercy Hospital in Jersey City, which is the primary setting for the series.
Throughout the season, viewers witness the lives of the hospital's staff and patients unfold through the eyes of three nurses: Veronica Callahan, a hardened nurse who has just returned from a tour in Iraq and has more knowledge than all of her peers combined; Sonia Jimenez, Veronica's beautiful best friend, and fellow veteran; and newcomer Chloe Payne, who has yet to acclimate to the demands of the job.
Together, these three women weave through the trials and obstacles of life and love both inside and outside of the hospital.
Julia, NBC (1968 – 1971)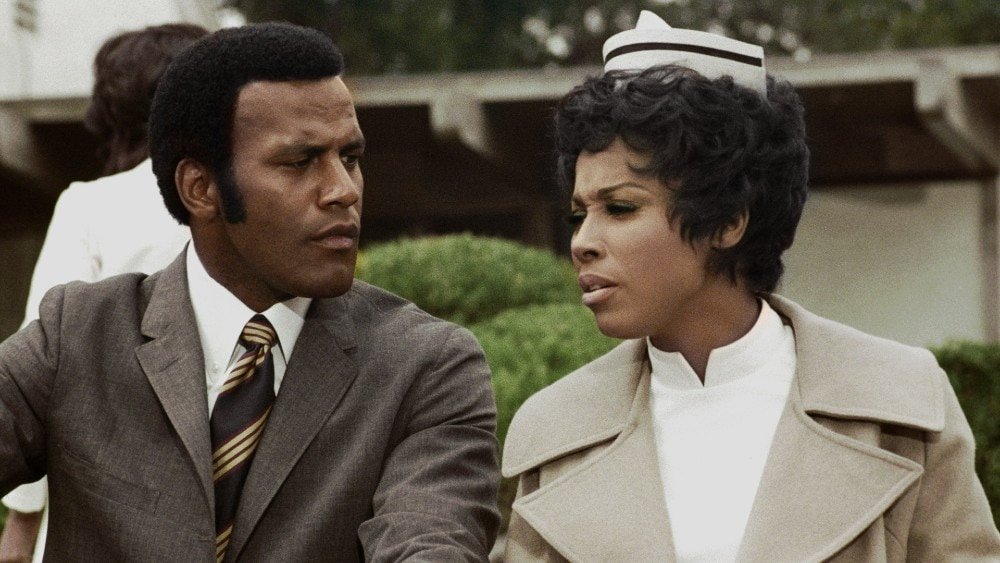 Not to be mistaken for the upcoming series of the same name telling the life of celebrity TV chef Julia Child, NBC's Julia was a sitcom that aired almost 100 episodes in the late 60s to early 70s.
Though now hailed as a groundbreaking show, it was critiqued back then for being "unrealistic".
The titular character Julia is an African-American woman working as a nurse and living in middle-class suburbia – a setting entirely unreflective of the reality of the time.
However, the show aimed to focus more on Julia's career as a nurse amidst the early days of the Civil Rights Act, as well as her journey as a widowed single mother whose husband died during the Vietnam War.
Ratched, Netflix (2020)
Sarah Paulson adds to her ever-growing list of award-worthy character portrayals with her role as the titular Nurse Mildred Ratched in Netflix's psychological thriller, Ratched.
Nurse Ratched came into pop culture from One Flew Over the Cuckoo's Nest and has since become known as the stereotype of a nurse as a battleax: a formidable, intimidating woman in a position of power.
In the Netflix original series, we learn of her origin story and how she began her career as an asylum nurse at the Lucia State Hospital.
While she seems like the ideal, hard-working nurse on the outside, a dark secret brews right beneath the surface and fuels her slow manipulation of the mental health system from the inside out.
Frankie, BBC One (2013)
Frankie is a British drama series from BBC One that showcases yet another unique setting in the nursing industry: that of district nurses.
As opposed to what we usually see in hospital settings, district nurses are those that deliver their patient care to the patients in the community or even in their own homes, sometimes in order to avoid unnecessary hospital admissions.
The show's eponymous character Frankie Maddox is the "electric, quirky" and vibrant lead district nurse at the Community Nurse's Office in Bristol.
Described as someone "whose patients matter more to her than her personal life", Frankie often finds herself in situations where, of her own accord, her responsibilities at work conflict with her personal relationships.
Call the Midwife, BBC One/PBS (2012 – present)
If you ever wanted a history lesson to go along with your binge-watching, BBC One's period drama Call the Midwife is a fascinating look into the lives of nurse-midwives in the midst of constant societal change throughout the 1950s and 1960s.
In particular, the series follows a group of midwives and nuns from the Nonnatus House, an Anglican nursing convent in the East End of London.
Their charges are from the impoverished neighborhood in the Poplar district, and their main concern is to provide proper childbirth care for the mother and almost 100 newborn children born every month.
As the series progresses, each season unfolds over one year and highlights how changes in society and governance affected how they are able to do their jobs.
Morocco: Love in Times of War, Antena 3 (2017)
Antena 3's Morocco: Love in Times of War (or Tiempos de guerra in its original title) is a Spanish series set in Melilla, an autonomous Spanish city sharing a border with Morocco, on the coast of North Africa.
At that time, the Rif War had just broken out in Melilla, leading then-Queen Victoria Eugenia to send over a group of nurses from Madrid in order to set up a hospital and provide emergency medical care for Spain's wounded soldiers.
Even in the middle of a war-ravaged region, these young women find hope and support from each other and their peers, and even take a chance at love with the soldiers they help get back on their feet.
Virgin River, Netflix (2019 – present)
This Netflix original romance drama series Virgin River is based on a series of novels of the same name from American author Robyn Carr.
The show's main character, Melinda Monroe, is a nurse practitioner. But unlike many of the previous shows on this list, the series focuses more on her personal life instead of her professional journey.
Mel is looking to start a fresh life away from her past in Los Angeles when she spots an ad for a midwife and nurse practitioner.
She grabs the opportunity and moves to the quaint Northern California town of Virgin River.
Soon, Mel discovers that small-town living, and making Virgin River her home, is much more challenging than she bargained for.
Bob Hearts Abishola, CBS (2019 – present)
Like Virgin River, CBS' sitcom Bob Hearts Abishola focuses heavily on the main characters' personal relationships with each other and those around them, though still with a healthy mix of insight into the life of a nurse.
We first meet Bob Wheeler, a businessman running his family's highly successful compression socks company. However, the stress of the job becomes too much and he lands in the hospital after a mild heart attack.
While in recovery, he meets his cardiac nurse Abishola Adebambo, a Nigerian immigrant and single mother who had migrated to America eight years ago.
It's not long before Bob begins to fall in love and pulls out all the stops to win her over, despite their vast differences and Abishola's initial disinterest.
One Day at a Time, Netflix/Pop TV (2017 – 2020)
One Day at a Time is a modern reimagining of the 1975 series of the same name, now featuring a Cuban-American family living in Los Angeles and their individual journeys as they live, well, one day at a time.
In particular, the series follows Penelope Alvarez, a US Army Nurse Corps veteran who has returned to civilian life – though not without some baggage.
She's now separated from her troubled and alcoholic husband, raising her two kids with the help of her Cuban mother.
She's also working as a nurse at a doctor's office in their LA neighborhood, all while dealing with her own post-traumatic stress and dipping her toes back into the dating scene.
Best TV Shows with Nurses in Prominent Roles
The Glades, A&E (2010 – 2013)
A&E's The Glades was a four-season crime series that mixed a healthy dose of comedy and drama.
At the center of the series is Jim Longworth, a former homicide detective from Chicago.
After a personal misunderstanding with his captain that ended with him being shot in the butt, Jim seeks a more relaxing career in the fictional town of Palm Glade, South Florida.
He never expected the alarmingly high crime rate, leading his new job with the Florida Department of Law Enforcement to be even more stressful than the one he left.
One thing that does make his new life more exciting, however, is Callie Cargill: a registered nurse also in med school, who leads her own complicated life.
SkyMed, CBC/Paramount+ (2022 – present)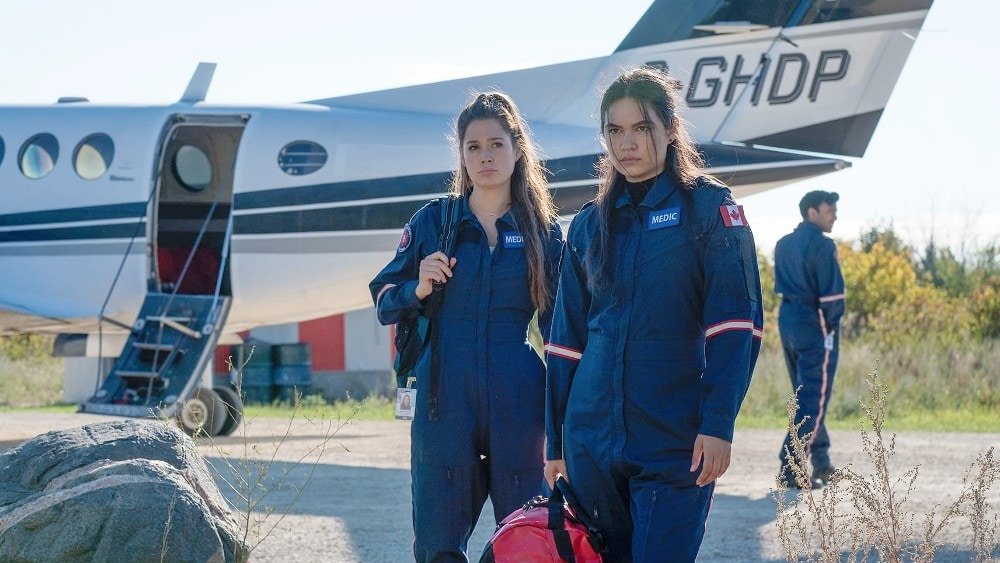 For a more unorthodox medical drama with nurses among the main characters, we have the recently-premiered SkyMed.
CBC and Paramount+'s joint venture SkyMed follows the nurses and pilots working for an air ambulance service in the remote parts of Canada's Manitoba province.
From daring rescues to interpersonal relationships of the air ambulance crew that all live together in a shared house, SkyMed features everything a good medical series should – high-stakes cases, lovely, diverse cast, and character journeys filled with heartbreaks, make-ups, and above all – friendship.
The Resident, Fox (2018 – present)
Described by Fox as a "provocative medical drama", The Resident closely follows the lives of the health care workers at the fictional Chastain Memorial Hospital while also taking a dive into the bureaucracy of the hospital industry, showing the dark reality that medical care is still, indeed, a business.
At the forefront is the titular senior resident (later Chief Resident) Conrad Hawkins, who always lends his wisdom and guiding hand to his fellow residents as they navigate the ropes of their job.
Alongside Conrad is Nic, a nurse practitioner at the hospital who he immediately shares an emotional connection with, and who later becomes his wife and the mother of their daughter, Gigi.
The Night Shift, NBC (2014 – 2017)
In a similar vein to many medical dramas both on this list and off, NBC's The Night Shift showcases the professional lives of the hospital staff and how it often intersects with their personal lives as well.
Taking from the title, The Night Shift focuses on the doctors and nurses operating the night shift at San Antonio Memorial Hospital, where three of the doctors have connections to (and baggage from) the US military.
Several subplots to the series involve the night shift nurses, including Kenny Fournette, who is known for dating many peers and hospital staff, and Cain Diaz, a former doctor in Mexico who is eventually hired as a resident doctor at San Antonio Memorial.
The Royal Today, ITV (2008)
ITV's British medical drama The Royal Today is both a spin-off and, in some respect, a sequel to the network's period medical drama The Royal.
The parent series was set in the fictional St. Aidan's Royal Free Hospital during the 1960s. Meanwhile, The Royal Today took place in the same hospital in the seaside town of Elsinby, but unfolding in modern times.
Each episode covered one full day at the hospital, lending to a more realistic atmosphere to the series as the daily events reflected the actual timeline of a busy, rural hospital.
Viewers follow the lives of the hospital staff – from physicians, practitioners, surgeons, and both charge and student nurses, as they make the rapid-fire decisions that could save their patients' lives.
Scrubs, NBC/ABC (2001 – 2010)
The NBC comedy-drama series Scrubs has remained a hit to this day thanks to its unique format and quick-witted humor (a result of the cast members' improvisations).
Though the series centers on the many characters that work at the fictional teaching hospital, Sacred Heart Hospital, the episodes unfold through the eyes of the main protagonist and narrator: J.D. Dorian.
J.D. is an intern at the onset of the series but slowly rises through the ranks throughout the show, and each episode is told through his perspective as if like a diary entry – including scenes that are a result of his imagination and fantasies!
One of the other main characters, Carla Espinosa, is the hospital's head nurse and eventually, J.D,'s best friend's wife.
ER, NBC (1994 – 2009)
ER is definitely one of those medical dramas that has stood the test of time, going down in history as one of the most-nominated series in history – not to mention the multitude of accolades it won.
ER was primarily set in the emergency room of the County General Hospital in Chicago, Illinois, and narrates the ins and outs of the critical situations faced by both the patients and medical staff in the ER.
Each character faces their own personal and professional struggles including internal hospital politics, substance abuse issues, and the relationships between doctors, support staff, nurses, and paramedics.
Chicago Med, NBC (2015 – present)
From the brilliant mind of producer Dick Wolf comes NBC's Chicago Med, the third series in the Chicago franchise following Chicago Fire and Chicago P.D.
The medical drama primarily follows Dr. Will Halstead, the older brother of Detective Jay Halstead from Chicago P.D., as he becomes the supervising attending physician at the emergency department of the Gaffney Chicago Medical Center in Chicago.
Will and his peers of fellow doctors and nurses in the ED work tirelessly to tackle the city's most critical and urgent crises as they enter their hospital doors.
Throughout the series, the ED nurses play a crucial role in keeping the residents in line and even bringing innovative change to the hospital's programs.
General Hospital, ABC (1963 – present)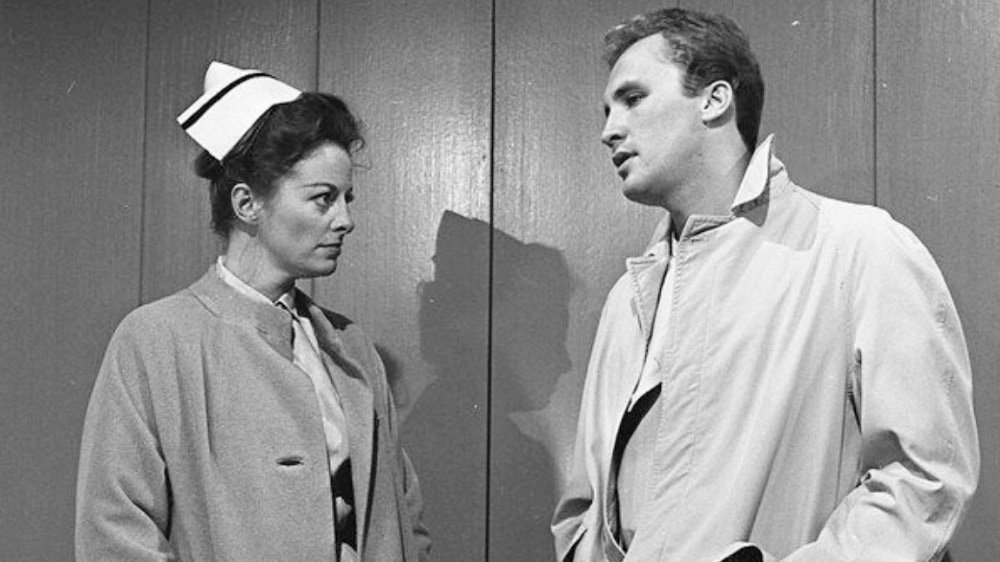 Yup, you read that right – ABC's General Hospital has been on the air since the early 60s and is currently on its 59th season, making it both the longest-running scripted drama and the longest-running US soap opera currently in production.
After almost six decades, the medical drama is still going strong and has been credited for bringing important public health issues to the forefront of public awareness.
When it first aired, General Hospital revolved around Dr. Steve Hardy and his friend, Nurse Jessie Brewer, with storylines surrounding their personal and professional lives in the hospital.
As the series progressed, however, the stories expanded to include the families surrounding the hospital in the fictional city of Port Charles.
Code Black, CBS (2015 – 2018)
CBS brings their medical drama to the table with Code Black, which aired for three seasons until 2018.
The series takes place in the fictional Angels Memorial Hospital and its perpetually busy emergency room.
As if the regular stress of a busy emergency department isn't a lot to deal with already, theirs is also understaffed and lacking in the resources essential to executing their jobs easily.
Amidst these circumstances, four resident doctors and their colleagues of physicians and nurses fight to provide the best patient medical care to everyone who comes through their ER doors.
Transplant, CTV (2020 – present)
Last but not least is the Canadian series from CTV, Transplant.
A refreshing take on a medical drama, Transplant takes on the perspective of a young immigrant from a war-torn country struggling to find acceptance as he establishes a new life in his adoptive country.
Dr. Bashir "Bash" Hamed is a Syrian Civil War refugee in Toronto. Despite having the foreign credentials, restrictions in recognizing these puts him in a familiar situation for many immigrants: working at a job he's extremely overqualified for.
However, when an accident at the restaurant he works at forces him to use his skills and knowledge in war-zone medical techniques, he's given a chance to prove himself at the York Memorial Hospital.