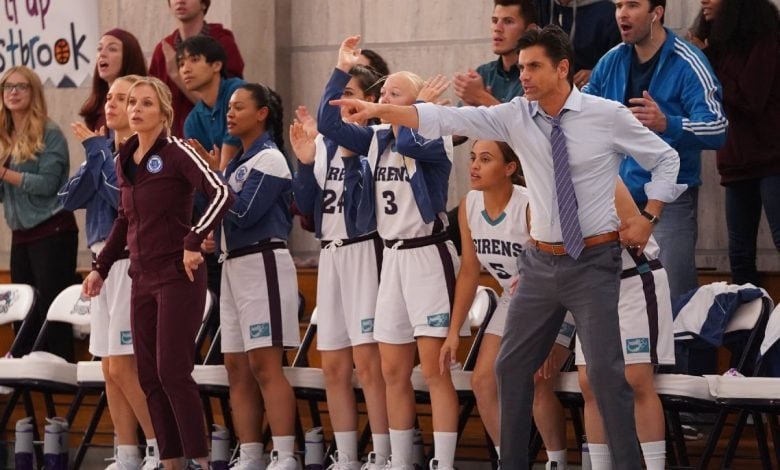 Where soccer (or football) would likely be the sport of choice in most European countries, when you get to the United States, it's either one of these two: American football (NFL) or basketball (NBA and WNBA).
In this list, we're focusing on basketball.
It's not only popular in the US, but also in a lot of other countries like the Philippines, Australia, China, Argentina, and even European countries like Italy, Spain, Serbia, and Croatia.
There's always so much going on during a basketball game, and sometimes, the last few seconds (even milliseconds!) can make all the difference.
---
Want the quick version of this list? Then check out our video on the top 10 TV shows about basketball instead:
---
Having grown up in a basketball-loving household and culture, I know how much drama can surround the sport. I'm sure it's the same for most sports: players switching teams or getting traded, teams and management not getting along, celebrating wins and mourning losses, and the impact of personal relationships.
So when it comes to the scripted TV shows about basketball we've got on this list, the drama and intrigue seem mostly true to life. Of course, there's also a mix of reality and documentary series so viewers can really see what basketball is all about.
Without further ado, let's get down to business!
SCRIPTED BASKETBALL SERIES
Big Shot, Disney+ (2021 – 2022)
To start things off, Disney+ has us covered with a very recently premiered drama-comedy, Big Shot, starring John Stamos.
Stamos plays Marvyn Korn, a hotheaded basketball coach in the NCAA Division 1. After a particularly eventful game wherein he threw a chair at a referee, Korn gets fired. He ends up landing another coaching job at Westbrook School for Girls, an exclusive private school.
With the help of the school dean and his assistant coach, Korn trains and gets to know his young female players while hopefully learning some things about himself as well.
Long Slow Exhale, Spectrum Originals/BET (2022 )
Speaking of women's basketball, we also need to mention Long Slow Exhale, a recent basketball drama series from BET and Spectrum Originals.
Long Slow Exhale follows J.C. Abernathy, the head coach of a competitive women's college basketball team.
After leading her team to victory by winning the NCAA Women's Basketball Championship, Abernathy's future at the university and career in basketball is threatened when a devastating sexual abuse scandal comes to light.
Now, Abernathy has to untangle the truth about what happened and make hard decisions that will affect not only her life but also the lives of the female athletes who rely on her.
Winning Time: The Rise of the Lakers Dynasty, HBO (2022 – 2023)
Another newer basketball series that came out last year and has already earned a second-season renewal is HBO's Winning Time.
Winning Time is set in the 1980s and follows both the professional and personal lives of the 1980s Los Angeles Lakers – a team that even now is regarded as the best and most revered basketball team of all time.
The series starts with Jerry Buss buying the Los Angeles Lakers and the team drafting college phenom Earvin "Magic" Johnson.
The Crossover, Disney Channel/Disney+ (2023 – present)
While we're on the topic of new TV shows about basketball, we also have to mention Disney's new series, The Crossover.
Based on a Kwame Alexander novel of the same name, The Crossover follows twin brothers Josh and JB Bell, who are widely regarded as basketball phenomena.
The coming-of-age drama shows JB and Josh navigating life on and off the basketball court as they dedicate their lives to the sport.
On top of school, training, and games, the two also have to deal with changing family dynamics when their former pro-baller father has to learn to adjust to life after basketball while their mother finally gets to pursue her own dreams.
Swagger, AppleTV+ (2021 – 2023)
Apple TV+ brings another newer basketball series to the lineup with its drama Swagger.
Created by Kevin Durant (currently playing for the Brooklyn Nets in the NBA) and Reggie Rock Bythewood, Swagger is inspired by Durant's real-life experiences while playing on the AAU circuit.
The series follows Jace Carson, a 14-year-old basketball prodigy, who joins the Swagger DMV team coached by former rising basketball star Ike Edwards.
It explores the ins and outs of youth basketball, not just when it comes to the players themselves but also with the ambitions of their parents and coaches.
Hang Time, NBC (1995 – 2000)
We're going back now to the mid-90s with NBC's Hang Time, the title in itself a basketball reference to how long a player stays in the air before dunking the ball.
As part of the program block for teens, Hang Time featured young Julie Connor, a transfer student from Chicago, Illinois to Deering High in Indiana. After displaying phenomenal basketball skills, the men's basketball coach decides to make her the first female player for their team – a decision met with much resistance from the male players (and their star player's girlfriend, the head cheerleader).
Later seasons evolved to include more complex and socially relevant plotlines like drug use, underage drinking, and sexual harassment.
Holly's Heroes, Nine Network (2005)
Holly's Heroes was a collaborative project between Australia's Nine Network and TVNZ in New Zealand that aired for one season of 26 episodes.
Like Hang Time, it's a drama series intended for a younger audience (kids and pre-teens, this time) and also follows a young female athlete moving to a new place!
Holly McKenzie is 14 years old and a new girl from New Zealand in the seaside town of Woolwich, Australia. Determined to make small-town life exciting while holding on to her basketball-playing dreams, Holly tries out for the town's local team, the Rams.
However, when things don't work out, Holly sets out to prove herself by starting her own team, the Outlaws.
The White Shadow, CBS (1978 – 1981)
The next show, CBS's The White Shadow, premiered over four decades ago!
Ken Reeves, the show's protagonist, is a recently retired NBA player from the Chicago Bulls. After retirement, he became the basketball coach of Carver High School, where most of the students – and the athletes on his team – are either black or Hispanic.
Though not without resistance, Reeves makes a positive influence on the team both on and off the court.
Many of the events in the show are influenced by the real-life experiences of the main actor, Ken Howard, as one of the few white men on his high school team; although many sensitive topics like mental illness, child abuse, prostitution, and sexual orientation are explored, it's often with a touch of humor inserted, too.
Hangin' with Mr. Cooper, ABC (1992 – 1997)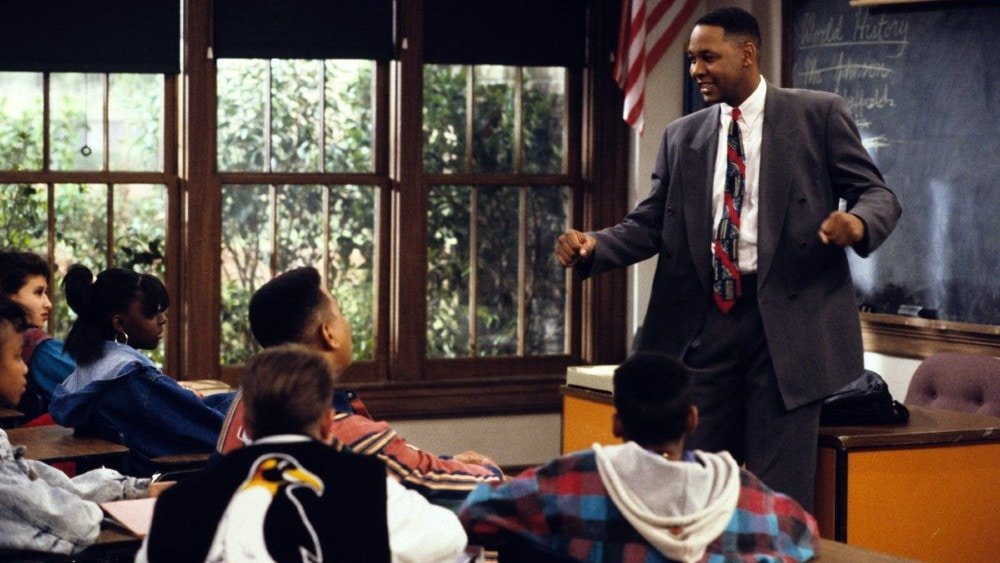 On a much less serious note, ABC's sitcom Hangin' with Mr. Cooper also tells the story of a former NBA player's career change following retirement from the sport.
The eponymous Mr. Cooper used to play for the Golden State Warriors, but his career has come to an end. Now, he's a high school P.E. teacher and he lives with his childhood best friend, Robin, and her friend Vanessa.
Things look up for him when he later becomes the interim head coach of the Oakbridge High School basketball team! Hangin' with Mr. Cooper follows his interactions with his students, his team, and the eventual personal relationship with his roommate, Vanessa.
Survivor's Remorse, Starz (2014 – 2017)
Though classified as a sitcom, the LeBron James-produced series from Starz Survivor's Remorse also has a touch of the family drama genre.
The series follows Cam Calloway, a professional basketball player who has just signed a multi-million dollar pro-ball contract that calls for him to move himself and his family to Atlanta.
While you might think that this is the start of a great new life, bringing his entire family (including his mom, half-sister, uncle, and cousin) with him brings the same set of problems – just in a whole new, upgraded environment.
Fame leads to wealth and power as its rewards, sure, but Cam finds out that it also brings the unwanted responsibility of supporting those around him.
One Tree Hill, The WB/The CW (2003 – 2012)
Ah, the drama of our teen years, when we first started grouping ourselves into Team Brooke or Team Peyton, Team Nathan or Team Lucas: The CW's One Tree Hill.
In Tree Hill, North Carolina, there's a huge basketball culture and all of the small-town drama that comes with it. Lucas Scott and Nathan Scott are half-brothers who grew up in the same town and went to the same school but still lived worlds apart.
When their common love for basketball forces their paths to intertwine, their originally antagonistic attitude towards each other shifts as lines between friendships and relationships are blurred between their worlds.
One Tree Hill follows how basketball led them to truly become brothers and brought together their friends and family surrounding them as well.
Hoops, Netflix (2020)
There isn't much that I love more than animated series for adults – and lately, there seems to be one for every genre!
Netflix's Hoops is an animated series for all the (older) basketball fans out there, with Jake Johnson (Nick Miller from New Girl) voicing the lead character, Ben Hopkins.
It's not just the basketball players that have big-time dreams – sometimes, it's the coaches, too. Ben Hopkins is one of those "hot-headed, foul-mouthed" coaches currently in charge of a high school team. He's gunning for a spot in the big leagues so he can turn his life around, but he knows that his only chance lies in his ability to turn his current team of losers into winners.
Sunshine, SBS (2017)
Sunshine is an Australian four-part crime drama miniseries that premiered on SBS in 2017, and it takes us down quite a different path when it comes to the basketball genre.
Jacob Garang, the lead protagonist in Sunshine, is a young South Sudanese-Australian basketball player with aspirations to play in the NBA.
When we meet him at the start of the series, he's recruited the help of a new coach to get him and his team into shape, and he's right about to be drafted by scouts in the US college league. However, after a night with his friends spent joyriding in a stolen car, his future is jeopardized when he's pulled into a police investigation after a young girl is found assaulted in front of the house the car was stolen from.
My MVP Valentine, SET Metro/CTS (2002)
This next show on our list is the first of just two series that's taking us internationally!
My MVP Valentine is a sports teen drama that hails from Taiwan, where basketball is actually a pretty popular sport – so much so that the male lead role in the series was portrayed by one of the country's famed basketball stars, Johnny Yen Hsing-su.
In the series, he's also the star of his team, as well as MVP and champion of their league. While on his way to their championship game, however, he gets into an accident involving his rival's sister.
Overcome with regret and guilt, he gives up basketball to make amends but ends up embroiled in a messy love triangle.
Hot Shot, China Television (2008)
We're staying in international waters for the last scripted show on our list – and specifically staying in Taiwan! Hot Shot is a Taiwanese sports drama that aired over just 16 episodes.
The show shares a somewhat similar premise to a few mentioned before it: a coach who wishes to build a superstar basketball team from scratch, alongside a slew of personal relationships entangled in the plot.
However, what sets Hot Shot slightly apart from the others is that the coach in question is a woman. A refreshing change, if you ask me! Li Ying is determined to bring basketball to the forefront of their school and begins by recruiting a passionate but skillful country boy and a new transfer student whose "star player" reputation precedes him.
REALITY AND DOCUMENTARY BASKETBALL TV SHOWS
Basketball or Nothing, Netflix (2019)
For a lot of aspiring athletes, "basketball or nothing" seems like a pretty accurate description of their life and future. In smaller towns, this mindset can spread out towards the entire community and that certainly seems to be the case for the Navajo Nation Reservation in Chinle, Arizona.
Basketball or Nothing is a Netflix six-part reality series that follows the Chinle Wildcats, the boys' basketball team from Chinle High School.
In a community rife with hardships, everyone is rooting for these boys' success on the hardcourt so they can chase success in college and their future beyond that.
Basketball or Nothing isn't a story of the rich and famous – it's a story about hard work and as their coach said, "tak[ing] the shot you want".
Basketball Wives, VH1 (2010 – 2013, 2017 – present)
We're definitely looking into the lifestyles of the rich and famous with this show, but we're shifting perspective away from the basketball players and the game itself. Instead, we're looking at the women in their lives: girlfriends, ex-girlfriends, fiancees, wives, and even ex-wives!
VH1's Basketball Wives was originally set in Miami, Florida with a spin-off airing for the LA region; after a hiatus, the show returned in 2017 and starred a mix of the casts from both shows.
The show follows the personal lives of these basketball women as they attend high society parties, fend off screaming fans, build and break friendships with each other, and deal with how their partners' fame affects their personal lives.
Totally Hoops, Disney Channel (2001)
Disney Channel isn't the first place you'd look for a reality series on basketball, but Totally Hoops was a gem for young teenage girls in the early 2000s.
Where most of the shows for that audience were dramas and romance, Totally Hoops provided a break from that to give a real, inside look at a sports coming-of-age reality show. It followed the Lady Hoopstars, a 14-and-under team from Dayton, Ohio, that was already nationally acclaimed within the Amateur Athletic Union sports organization.
Fans can watch as the series explores the lives and hard work of these 11 girls through the 2000 league season.
Last Chance U: Basketball, Netflix (2021 – present)
The Netflix original documentary series Last Chance U started in 2016 as an exploration of the college football scene and has now expanded into its first season with basketball as well.
Last Chance U: Basketball recently premiered its first season just this March 2021 and it dives into the basketball program at East Los Angeles College (ELAC).
The team, the Huskies, are now the underdogs as they've gone from being a losing team to having their best season in the school's history under the coaching of John Mosley.
The series follows their journey – all the way up to their season's cancellation due to the pandemic.
The Last Dance, Netflix (2020)
The 1990s was the time for the Chicago Bulls. Towards the end of the decade, they were gunning for their sixth championship title in eight years and had stars like Steve Kerr, Dennis Rodman, Scottie Pippen, and Michael Jordan to help them on their way.
The Last Dance, a Netflix ten-part miniseries, chronicles the team's 1997-1998 NBA season from beginning to end, with behind-the-scenes footage from a film crew given exclusive all-access privileges that year.
The show also put particular focus on Jordan's career leading up to this final season with the Bulls, tracing all the way back to his high school ball-playing roots.
Anyone's Game, CBC Television (2021 – present)
Originally named Orangeville Prep, this first title takes its inspiration from both the Canadian town at the center of the series and the team that plays from there.
In Orangeville, Ontario lies The Athlete Institute, an athletic training center famed around the world as "one of the world's leading producers of Division I and NBA basketball players".
With a reputation like that, wouldn't we all want to know what happens behind its doors? Anyone's Game is the documentary that will take us there, showing us how hard these players hit the asphalt to secure their futures in pro-ball.
Shut Up and Dribble, Showtime (2018)
The title of this documentary alone is a standout, as it's a callback to when Fox News host Laura Ingraham uttered those exact words against LeBron James and Kevin Durant when they criticized then-President Trump. As a response, James produced Shut Up and Dribble, a three-part miniseries that explores exactly why athletes should NOT simply "shut up and dribble".
Through the lens of the NBA, the documentary peels back layers of the leagues to show how it has allowed its athletes to become icons for social and political change in modern history, reiterating that they have not just become influential on the court but off it as well.