CrossbonesI don't know about you but when I think of pirates, Disney's Pirates of the Caribbean movie franchise is what immediately pops into my head.
The franchise's Captain Jack Sparrow is the epitome of pirates – the fashion, the aesthetics, his intense obsession with rum, tricking everyone at every turn, and his perpetual hunt for glory and treasure.
In both real life and fiction, however, there are a lot of other well-known pirates: Blackbeard, Henry Morgan, Captain Hook, Long John Silver, and many others.
---
Don't want to read the whole article? Then check out our YouTube video on the top 8 TV shows about pirates:
---
Some of these pirates have since served as inspiration for movies and TV shows, and it's the latter that we'll be looking at in this article.
We've put together a list of the best TV shows about pirates – some you may have heard of before, and others who will be a brand new pirate image to brand into your imagination.
So weigh anchor, and enjoy!
Black Sails, Starz (2014 – 2017)
The plot that unfolds in the Starz original series Black Sails is a prequel to the events in the famed 1883 novel Treasure Island, written by Robert Louis Stevenson.
It's early 18th century, the Golden Age of Piracy, and the West Indies are the battleground for the ongoing war between the fiercest pirate captains in the region, as well as the British Empire.
Black Sails features the infamous Captain Flint as he sets out to hunt for the ultimate treasure on a Spanish shipwreck – a journey that soon leads to a war for control of New Providence.
Here is where we meet Long John Silver as a young recruit on Flint's crew, as well as other fictionalized historical pirates like Blackbeard, Jack Rackham, and Anne Bonny.
Where to watch Black Sails:
Crossbones, NBC (2014)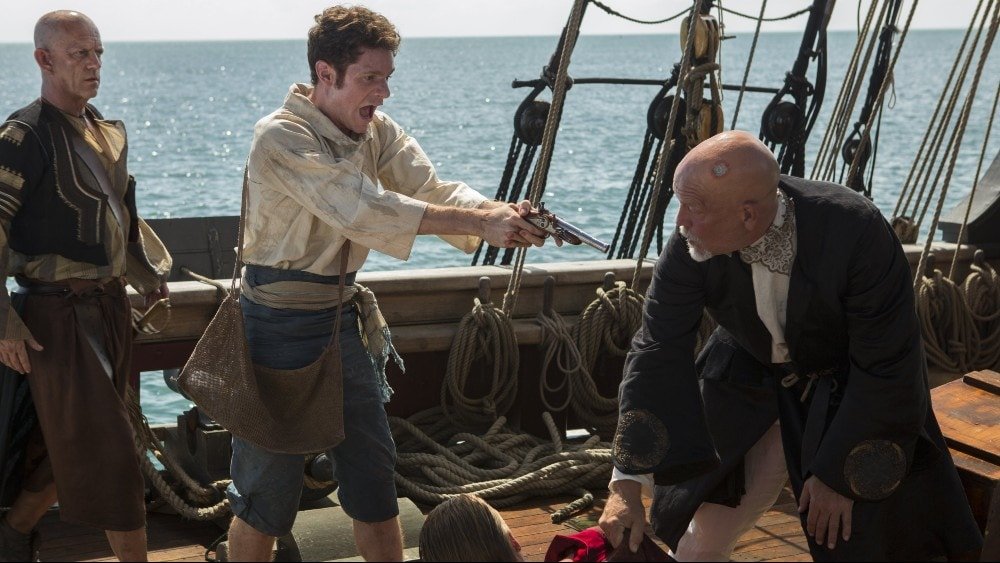 Crossbones takes place in 1729 on a secret island called Santa Compana – a place described as "part shantytown, part utopia, part marauder's paradise."
Edward Teach, who's better known until now as the fierce and villainous pirate Blackbeard, reigns over the island, and all the thieves, pirates, and outlaws follow his rule.
Though the British Empire has majority control over the world and its seas, Blackbeard is in possession of a navigation device that could help them further expand their dominion.
Enter Tom Lowe, a British spy posing as a surgeon who is hired by the Crown to steal the device, uncover Blackbeard's devious plan, and take him down in the process. The plan goes horribly awry, however, when Lowe himself finds himself taken in by Blackbeard's charm and conviction.
Where to watch Crossbones:
Blackbeard, Hallmark Channel (2006)
Taken from the title, Blackbeard was a television miniseries that premiered on the Hallmark Channel in a continuous (roughly) 3-hour run.
During the Golden Age of Piracy, Blackbeard had built up a reputation for himself as one of the most feared and ruthless pirates of all time, leveraging his fearsome appearance and the threat of violence to get what he wanted from his enemies.
Hallmark's Blackbeard tells the story of his exploits in New Providence and across the seas as he searches for Captain Kidd's treasure – all while Robert Maynard, a lieutenant of the British Royal Navy, is hot on his heels to destroy The Queen Anne's Revenge and Blackbeard himself.
Quick note: The same year, BBC released its own pirate TV movie about Blackbeard. Titled Blackbeard: Terror at Sea, it also tells a fictionalized version of Blackbeard's exploits.
Where to watch Blackbeard:
Treasure Island, Sky1 (2012)
As one of the most popular pirate adventure novels out there, Treasure Island has had its fair share of adaptations across various mediums, including film, TV, theatre, radio, comics, and even video games.
One such TV adaptation was the 2012 two-part miniseries that aired on Sky1 in the UK.
We meet many of the original story's principal characters here, including the young Jim Hawkins, who is the one who discovers the map to Treasure Island and Captain Flint's buried treasure.
He jumps aboard the Hispaniola under the rule of Captain Smollett to find said treasure, but the journey is not without obstacles. Long John Silver, the ship's cook, cooks up another plan to nab the treasure for himself.
Where to watch Treasure Island:
The Adventures of Long John Silver, ABC (1956 – 1957)
Next up, we have the oldest pirate series on this list – The Adventures of Long John Silver, which aired on ABC in the 1950s.
This series brings to life the legendary pirate Long John Silver from Robert Louis Stevenson's novel Treasure Island.
Much like Black Sails, this show is set as a prequel to the events of the novel and follows the charismatic and cunning Long John Silver on his swashbuckling escapades before he encounters young Jim Hawkins.
The series delves into Silver's life as a privateer, his interactions with other pirates, and his pursuit of hidden treasures.
Where to watch The Adventures of Long John Silver:
Once Upon a Time, ABC (2011 – 2018)
ABC's Once Upon A Time isn't entirely about pirates, we'll admit.
From the title – a line that's often used to begin our favorite fairy tales – the show revolves around a great many well-known fairy tale characters who are stuck in the human world with no memories of their own, magical world.
Throughout the series, they are on a quest to break the curse and restore their memories.
One of those characters is the pirate Captain Hook, who, unlike the villainous image we've come to know in previous Peter Pan adaptations, is actually one of the good guys and even falls in love and later marries Emma Swan – the main protagonist of the show!
Where to watch Once Upon a Time:
One Piece, FNS (1999 – present)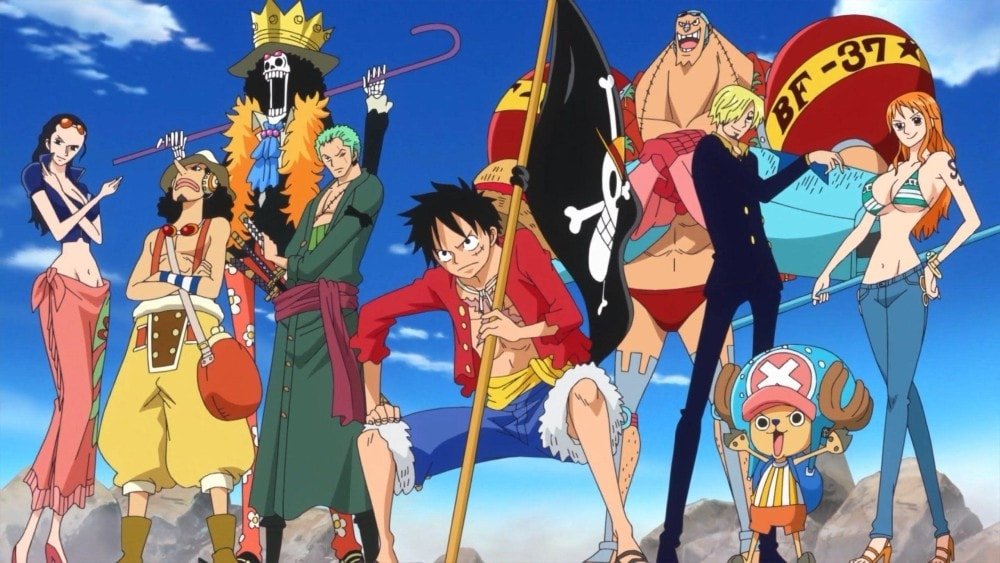 If you're a fan of anime and love all things pirates, then the long-running Japanese anime series One Piece also might be of interest to you.
Based on the manga series of the same name that was written and illustrated by Eiichiro Oda, One Piece tells the story of pirate captain Monkey D. Luffy as he and his ragtag crew of pirates known as the Straw Hat Pirates search for One Piece, the world's greatest treasure, that will allow Monkey to become the next Pirate King.
Where to watch One Piece:
One Piece, Netflix (2023)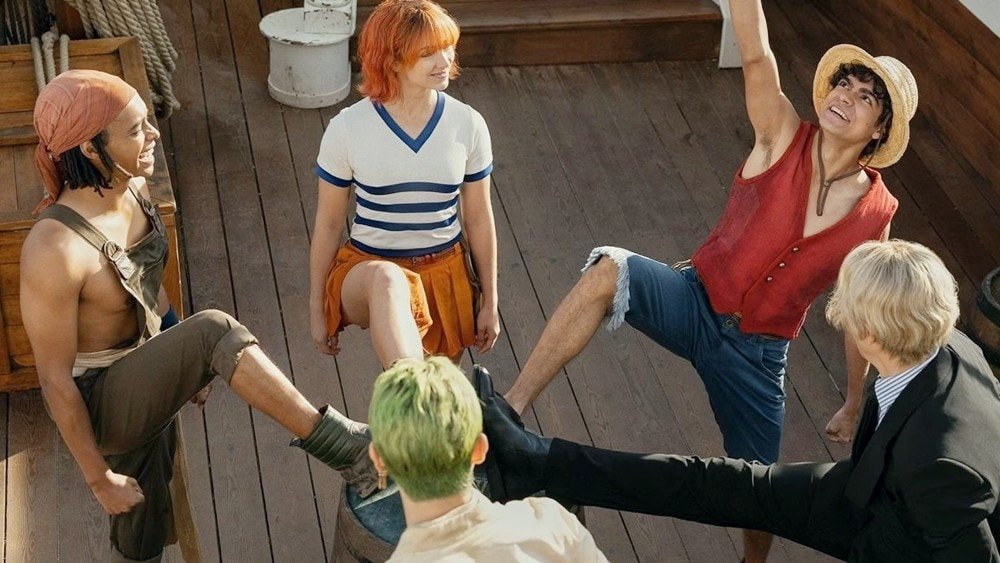 Speaking of One Piece, a 10-episode live-action One Piece series is coming to Netflix soon.
Based on the beloved anime series, the live-action adaptation will star Iñaki Godoy as Captain Monkey D. Luffy.
While his Straw Hat Pirates crew will be played by Mackenyu (as Roronoa Zoro), Emily Rudd (as Nami), Jacob Romero Gibson (as Usopp), and Taz Skylar (as Sanji).
The upcoming series is set to premiere on Netflix on August 31st.
Where to watch One Piece:
Pirate Islands: The Lost Treasure of Fiji, Network Ten (2007)
Want to watch a pirate show that's a bit more light-hearted and fun rather than serious and dark? Then the Australian series Pirate Islands: The Lost Treasure of Fiji might be your cup of rum.
This show follows four gamers, Alison, Kirra, Tyler, and Marty, who accidentally get pulled into the game they were playing and find themselves on a pirate island in Fiji.
Now, the foursome has to swap their game controllers for real swords and face Captain Blackheart and his crew of pirates in order to find the three pieces of a treasure map and get back home.
Where to watch Pirate Islands: The Lost Treasure of Fiji:
Pirate Islands, Network Ten (2003)
Speaking of the aforementioned Australian series, Pirate Islands: The Lost Treasure of Fiji is actually a sequel to Pirate Islands, an adventure TV show that aired in 2003 and that's geared more towards kids rather than teens.
Pirate Islands tells the story of three Australian siblings who get transported into a video game they're playing.
This game just so happens to be called Pirate Islands. So, the trio goes on a wild ride of surviving a world of pirates while also looking for a buried treasure and trying to find their way out of the game and back to the real world.
Where to watch Pirate Islands:
The Lost Pirate Kingdom, Netflix (2021)
Netflix's The Lost Pirate Kingdom is a rare docuseries in a slew of scripted shows on this list of best pirate shows. But we would be remiss not to mention it because it's a mix of documentary series and a historical drama since it's chock full of cinematic reenactments in addition to the standard expert interviews.
The Lost Pirate Kingdom is set in the 18th century and focuses on the pirate republic based in Nassau, Bahamas.
After the War of the Spanish Succession, thousands of privateers that England used in their war against Spain were left unemployed in the Caribbean. However, the sinking of a treasure fleet provided opportunities to the newly minted pirates.
Where to watch The Lost Pirate Kingdom:
Our Flag Means Death, HBO Max (2022 – present)
This last show, Our Flag Means Death, is one of the newest shows on this list of the best pirate TV series since it premiered on HBO Max in 2022.
Our Flag Means Death is a period comedy set in 1717 and will tell the story of the life and adventures of real-life pirate Stede Bonnet aka The Gentleman Pirate.
Bonnet is an English aristocrat who comes from a wealthy family and enjoys a cushy life with his wife and kids. But after a midlife crisis, he abandons his privilege in favor of a life of crime on the high seas.
However, his foray into piracy does not go as planned.
Along the way, Bonnet is forced to team up with the notorious pirate Blackbeard to be able to sustain his swashbuckling ways.
Oscar-winner Taika Waititi directed the pilot episode as well as executive-produces and stars in the series as Blackbeard.
Where to watch Our Flag Means Death: