This article contains affiliate links. We may earn a small commission from qualifying purchases.
I don't know about you but I love a good show or movie that constantly keeps you guessing. You know, the kind of show that makes you think things are going one way and then completely throws you for a loop with a 180 turn in the opposite direction. With shows like these, you're always on the edge of your seat because you just never know what's going to happen next.
It's particularly fascinating when this kind of show has an antihero at the center of it, because who could have ever thought that you'd be rooting for the bad guy?
That's why I love a good show with something borderline criminal at its center (think Breaking Bad or Money Heist) – they always bring something unique to the table in terms of storyline and protagonist! In some shows, you really find yourself asking: "Is the bad guy always the villain?" because that's not always the case.
Take some of the shows on this list of TV shows about heists, for example. As thieves, they're technically the bad guys of society but then again, are they really the bad guys if they're doing it for a greater good? Sometimes, the answer to that isn't as simple as black and white.
So take your pick of these TV shows about heists, binge-watch them (because trust me, they're all worthy of a marathon), and judge for yourself whether the thieves really are the villains of the story!
Money Heist, Netflix (2017 – 2021)
When talking about TV shows with heists, there's just no way that you can skip out this international sensation. Money Heist (or La Casa de Papel in its original Spanish) first came to Netflix and its global audience in December 2017 after it picked up the rights to international distribution.
Since then, the show has become a smash hit and is used as a symbol of rebellion against a corrupt system of government.
Money Heist follows the narrative of an intricate heist on the Royal Mint of Spain, carried out by a ragtag group of specialized robbers under the behest of the "Professor".
The events unfold in real time but rely on flashbacks to round out the story, allowing viewers to see every detail of the heist and resonate more with the characters involved. The second season brings the same group back together, but this time using a heist on the Bank of Spain as a means to save one of their own.
Where to watch Money Heist:
Heist, NBC (2006)
Back in 2006, NBC tried their hand at a crime drama series titled Heist, from director Doug Liman (The Bourne Identity, Jumper). Sadly, the show only aired for one season of 7 episodes – with the last two unaired – as it was quickly canceled due to low ratings.
It truly is a shame that Heist was canceled too soon because it certainly had an ambitious scheme in the works!
The show centered on a professional thief named Mickey O'Neil (played by the dashing Dougray Scott), the man who was orchestrating probably one of the biggest heists that Los Angeles – and maybe even the world – had ever seen.
Mickey put together a handpicked team of experts to simultaneously rob three big jewelry stores along Rodeo Drive during the Academy Awards when everyone was too distracted by the glitz and glamor of Hollywood's elite to notice the elaborate heist unfold.
The Endgame, NBC (2022 – present)
NBC's newest foray into the heist TV drama genre is The Endgame which just recently premiered on the network.
Starring Morena Baccarin and Ryan Michelle Bathé, The Endgame follows Elena Federova, an international arms dealer and criminal mastermind who was recently captured by the FBI.
Elena has orchestrated a number of bank heists all across New York and nobody knows why. But FBI agent Val Turner gets put on the case and might just be able to foil Elena's ambitious plan and discover what her endgame is.
Where to watch The Endgame:
Hatton Garden, ITV (2019)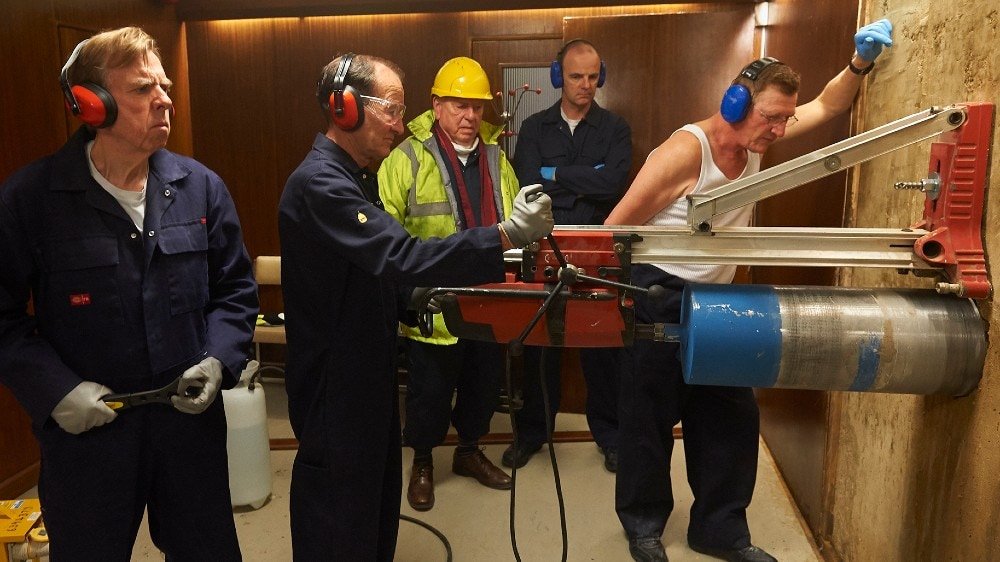 The only thing better than watching a heist unfold on a scripted TV show is watching it unfold knowing it's completely based on real-life events. That's exactly the case with ITV's four-part miniseries titled Hatton Garden (also known as The Heist at Hatton Garden), which is based on the real-life burglary of a safety deposit vault in the eponymous Hatton Garden, London.
During a four-day holiday in the UK back in 2015, a group of six veteran thieves planned and executed the heist, successfully walking away with about £14 million. The most astounding part of that? The thieves were elderly men between the ages of about 50 to a little over 70!
That's right, literal grandfathers were behind one of the most famous robberies in British history. ITV's miniseries Hatton Garden tells this story all the way up to their capture and arrest.
Where to watch Hatton Garden:
The Kill Point, Spike TV (2007)
On any given day, your first instinct when you encounter a member of the military is probably awe, respect, gratitude, or all of the above. In a crisis, you would probably rely on them to protect you. And you definitely wouldn't expect that they'd be the cause of the crisis. Unfortunately, that's exactly the case in Spike TV's eight-episode miniseries, The Kill Point.
Led by ex-Marine Corps Sergeant Jake Mendez (played by John Leguizamo), the former members of his combat platoon band together once more to infiltrate a bank and walk away with the cash. They almost had it, until they were suddenly caught in a hellfire of bullets from the responding law enforcement. They're now trapped inside the bank with no way out, and Mendez takes hostages as the pressure from the police and his own team starts to get to him.
The Kill Point highlights the interaction between Mendez and the hostage negotiator as they try to outsmart each other every step of the way.
Where to watch The Kill Point:
The Great Heist, Netflix (2020)
Netflix throws in another great Spanish-language heist series with The Great Heist (El robo del siglo or "The Heist of the Century"), a six-episode miniseries from Colombia.
Like the previously mentioned Hatton Garden, it's also inspired by true events!
This time, the historical robbery that is reimagined in The Great Heist is that of the October 1994 robbery of the El Banco de la Republica (Bank of the Republic), where the band of thieves were able to steal a whopping $33 million in American dollars.
What's great about this series is that it also provides a look into the characters' backstories, so viewers are made more aware of their motives for the crime. Of course, that doesn't necessarily mean we're rooting for them in this case, as they truly are just criminals through and through! Spoiler alert: thankfully, they do eventually get busted.
Where to watch The Great Heist:
Daylight Robbery, ITV (1999 – 2000)
Ah, a heist series focusing on the thieving exploits of four seemingly ordinary women? Yes, we are absolutely here for it!
ITV's Daylight Robbery was a British two-series crime drama that aired at the turn of the century, with eight episodes in total.
These four women – Kathy Lawrence, Carol Murphy, Val McArdle, and Paula Sullivan – are regular housewives from Essex, dealing with their fair share of problems with their personal and domestic lives. After a harrowing robbery experience at their local supermarket, they decide to turn to a life of crime themselves.
What starts as small-scale crimes just keeps getting bigger and bigger, from pubs and gas station robberies to eventually, a bank. When things get out of hand, they're forced to flee the country – but it doesn't stop there! They're criminals, yes, but you might find yourself rooting for these women, too!
Where to watch Daylight Robbery:
Snatch, Crackle (2017 – 2018)
We've got our first comedy-drama series with Crackle's Snatch, which was based on the 2000 film of the same name. While the film deals with the sketchy criminal underworld involving gangsters and a stolen diamond, the series takes us more towards the aftermath of a robbery instead!
However, both the film and series feature an ensemble cast, with the series starring Rupert Grint, Luke Pasqualino, Dougray Scott, Ed Westwick, and Phoebe Dynevor!
Albert Hill and Charlie Cavendish-Scott are partners in crime when it comes to their scamming schemes, despite the latter being from an aristocratic family. They were mostly running small-scale scams, but that all changed when they accidentally found an entire truckload of gold.
In the blink of an eye, they find themselves dragged deeper into the dark criminal underbelly and into the crossfires of a local crime lord.
Where to watch Snatch:
Good Girls, NBC (2018 – 2021)
NBC's Good Girls adds another crime comedy-drama to the list! With four seasons under its belt, it's safe to say that this show is one that you're definitely going to want to catch up on – especially since it's got three hilarious and amazing women at the forefront!
Sisters Beth Boland and Annie Marks are both mothers who are just trying to make ends meet. Annie is a single mother in a complicated custody battle with the ex-husband while Beth's husband is, well, a cheating car salesman who's the root of all her problems. Along with their best friend Ruby, who is struggling to pay her daughter's medical bills, these women decide to take back control of their lives and fix their financial troubles by robbing a local supermarket.
While it seems to have gone well at first, they soon find that they're in way over their heads but need to stick together to find a way out.
Where to watch Good Girls:
The Great Train Robbery, BBC One (2013)
The Great Train Robbery from BBC One is titled after that same event that occurred in the early morning of August 8, 1963 on a Royal Mail train heading from Glasgow to London.
On its 50tth anniversary, BBC One's miniseries chronicling the event consists of two parts, each almost a movie in itself: the first tells the story from the perspective of the robbers from planning to execution and aftermath; the second shifts views to Scotland Yard and its investigators on the case.
Led by a man named Bruce Reynolds (played by Luke Evans) and through careful planning, a huge gang of sixteen men managed to halt the train and attack, successfully walking away with over £2.6 million (which would be about £55.7 million in 2020), most of which was never recovered. With such a big group behind the heist, were the police ever able to catch them all?
Where to watch The Great Train Robbery:
Lupin, Netflix (2021 – present)
Though not entirely about a large-scale heist like the others on our list, we still thought Netflix's French-language mystery series Lupin deserved a spot on this list. That's because not only is a robbery the motive for the plot, but is also part of the means for revenge of the show's main character, Assane Diop.
On top of that, it's a captivating series and one that will definitely have you rooting for the thief.
Assane Diop's thieving alter-ego is inspired by Arsène Lupin, a gentleman thief and fictional character created by Maurice Leblanc in the early 1900s. This pattern is central to the storyline as Assane uses his skills and charisma to orchestrate a robbery against a man who had wronged his father 25 years ago.
As the plot thickens, however, Assane pushes his personal agenda further to expose not just what this man did to his father, but a bigger scheme of crimes as well.
Where to watch Lupin:
Leverage, TNT (2008 – 2012) & Leverage: Redemption, Freevee (2021 – present)
If you are more into many smaller, episodic heists rather than a big one that plays out throughout the season or the whole series then TNT's Leverage and its recent revival series Leverage: Redemption will definitely be two shows you need to check out.
Both shows follow a team of a reformed grifter, thief, hacker, hitter, and the inside man as they use their unique skills to help regular people fight injustice in cases when all other options have been exhausted.
And although not every episode features a heist specifically, more often than not the Leverage team is attempting (and usually succeeding) to steal something be it a painting, important documents, or a billionaire's reputation. So, it could easily be classified as a heist TV show.
Where to watch Leverage: Redemption:
The Nine, ABC (2006 – 2007)
Our last show on the list provides yet another unique perspective into the heist genre in that it focuses on the victims – that is, the hostages of a bank that was caught in a 52-hour standoff.
We're usually always curious about the robbery itself: how it was planned and executed, and what led the robbers to do it in the first place. However, we hardly ever ask about what happens to the hostages after, do we?
Well, ABC's The Nine provides us with that outlook, at least in a fictionalized manner.
Right from the first episode, we already see the robbery in motion: two armed men enter the bank, restrain security, and take the hostages at gunpoint – nine hostages in total. The series unfolds with each episode providing further details about both the ongoing robbery and the personal lives of each hostage, particularly what brought them to the bank that day.
In the aftermath of the heist, the survivors try to maintain contact, knowing that the shared trauma will keep them linked for the rest of their lives.
Where to watch The Nine: