Military dramas have long been a hot commodity in the TV world. So we thought that it's time to count down the best military series that there is.
But before we dive into this list of the top military TV shows, we have to warn you that here you won't find shows like NCIS, Homeland, Shooter, or The Last Ship.
Why?
Because on this particular list, we are focusing on military dramas that feature military teams working towards protecting their countries from threats in real-life combat situations or active duty military personnel working behind the scenes to protect the members of the military in a different capacity be it support, medical or legal.
Alright, now that that disclaimer is out of the way, let's march on and find out which TV series made this list of the best military TV shows.
Strike Back, Sky One/Cinemax (2010 – 2020)
First up we have Strike Back. A joint venture between America's Cinemax and the UK's Sky One in the form of a thrilling, action-filled TV series that premiered in 2010 and concluded its eighth season run in 2020.
Strike Back tells the story of Section 20, a covert unit with the British Defence Intelligence who works all over the world to gather intelligence and eliminate threats among other tasks.
Yet the most interesting part of this military series is that each season not only has a new title, foreshadowing the events that are going to occur during it. But also that over the six seasons of Strike Back, there have been multiple different cast ensembles, which keeps the show fresh and new season after season.
If you want to see a British take on a covert unit doing what they do best, then you definitely should check out Strike Back. It has everything you would want in a military TV show. While the secretive nature of the team's assignments ads an interesting spy-thiller layer to the whole series.
Where to watch Strike Back:
Our Girl, BBC One (2014 – 2020)
Another British military TV series that this list of the best current military TV shows simply couldn't do without is Our Girl. Mainly because it is so vastly different from the rest of the shows on this list.
Similarly to Strike Back, the cast of Our Girl has changed over the three seasons that this show has been on the air. However, that doesn't change the main plot of the series. Which is that the series follows a British army medic (Molly in the first season and Georgie in the second, third, fourth, and fifth) while on tour first in Afghanistan, then Nairobi, and finally in Nepal and Nigeria.
But if usually we are used to military shows concentrating on predominantly male characters, then Our Girl, as the title suggests, centers on a female soldier and all the struggles and joys that come with being a woman in the army.
If you are looking for a female-led army TV series that has all the attributes of a great military drama then you should definitely give Our Girl a shot. It will let you view the armed forces from a female perspective, yet at the same time will give you all the action and edge-of-your-seat moments that come with it being one of the best army TV series currently around.
Where to watch Our Girl:
Six, History (2017 – 2018)
Next up we have Six. Another best military TV series title worthy drama hailing from the History channel.
If you are a fan of TV shows about Navy SEALS or are just interested in the U.S. armed forces, then you probably have heard of the famed SEAL Team Six. And Six, as the show's title suggests, is a fictional show about this very unit.
---
Looking for TV series specifically about the Navy SEALs? Then you will love our video on the top 8 TV shows about special forces:
---
Detailing both the missions that this counter-terrorism unit goes on and their daily lives while not on duty. And with names like Olivia Munn, Barry Sloane, and Walton Goggins attached to the project you are sure to be in for an exciting ride.
Whether you want to know a bit more about the day to day lives of SEAL Team Six or just like military shows, give Six a watch. It has great action scenes and an engaging plot that will keep you entertained for the whole duration of the two seasons of the series.
Where to watch Six:
The Brave, NBC (2017 – 2018)
Now on to another military show on TV, NBC's The Brave. Which we have already covered on the blog a few times. But it definitely warrants one more mention.
The Brave follows a team of operatives in the field and a team of analysts back in D.C. who work together seamlessly to complete dangerous and at times seemingly impossible missions to ensure the safety of the U.S. and its citizens.
This show combines the excitement of seeing an elite undercover military unit in action with smart storytelling and a great cast to deliver a show that is worth binge-watching again and again.
Despite the show only having aired one season and getting canceled afterward, The Brave will definitely be worth your time. Because if you are a fan of action shows or like the military drama genre as a whole, then you will love The Brave as well.
Where to watch The Brave:
SEAL Team, CBS/Paramount+ (2017 – present)
The Navy SEALs are one of the best-known special operations forces in the world. So no wonder another show much like Six is exploring what it means to be a part of this elite force. And that is CBS's SEAL Team.
But unlike Six, SEAL Team is all about the lives of members of Bravo Team, the most elite Navy SEALS unit. And at the forefront is David Boreanaz's Jason Hayes, the leader of this group. Who leads his men behind enemy lives to complete many high-stakes missions from capturing ISIS leaders to rescuing CIA operatives and more.
SEAL Team should definitely be on the radar of any military show buff.
This is one of the best Navy SEAL TV shows out there and has everything from solid characters to compelling storylines and great action sequences. So give it a watch if you haven't already, your military-loving heart won't regret it.
Where to watch SEAL Team:
Valor, The CW (2017 – 2018)
Then there is The CW's Valor. And despite it not making it past its initial first season, this show is still a worthy contender for a spot on this best military shows list.
Same as Our Girl, Valor stands apart from the other army TV shows thanks to the fact that it centers on a female soldier. But not just any female soldier. One of the first ones who is a part of an elite helicopter unit nicknamed Shadow Raiders. A force that frequently embarks on dangerous missions, many to save their fellow servicemen from being captives of the enemy.
By featuring an episode-to-episode mission format. But also having a more serialized plot running through all the 13 episodes of Valor, you can be sure that this show will keep you interested all through its short run. So don't be put off by Valor's 13-episode length, it makes for a great binge-watching show and you will love it if you're looking for shows like SEAL Team, The Brave, or any other military TV series featured on this list.
Where to watch Valor:
68 Whiskey, Paramount Network (2020)
The newest addition to this list is Paramount Network's series 68 Whiskey, that premiered in early 2020 and sadly was canceled thereafter concluding its one-season run in March!
This military dramedy is a US adaptation of an Israeli series called Charlie Golf One and tells the story of a team of Army medics stationed in Afghanistan. This show is a mix of comedy and drama. It seamlessly blends the intense drama of being a combat medic stationed in a US military base that has been nicknamed "The Orphanage" with lighter moments of comradery and humor that many real-life soldiers rely on to get them through the day.
So if you want to see all the nuances of being an army medic in a warzone including the often dangerous and absurd situations these medics find themselves in then you should definitely give 68 Whiskey a shot. It's not only a great military TV show but also a hilarious comedy series with a cinematic look and a lot of heart.
Where to watch 68 Whiskey:
Combat Hospital, Global/ABC (2011)
Speaking of military medics, if you loved shows like Out Girl or 68 Whiskey and are looking for a new military medical drama to check out, why not give Combat Hospital a shot?
Combat Hospital follows doctors and nurses from various countries including the US, Canada, and the UK as they work to save lives in a military hospital in Kandahar, Afghanistan. It's the only surgical care hospital in Southern Afghanistan so the staff there has to be ready to treat everything from small injuries to serious battlefield wounds 24/7 despite the fact that the hospital building itself is seemingly held together by ducktape alone.
Though the series ran only for one season through the 13 episodes we saw a ton of unique medical emergencies and action as well as got to experience what life is like on an international military base full of soldiers and civilians from all walks of life.
Where to watch Combat Hospital:
M*A*S*H, CBS (1972 – 1983)
Based on the feature film of the same name comes the dark comedy war series M*A*S*H, which stands for Mobile Army Surgical Hospital.
This time, the historical war at the center of the series is the Korean War, which happened in the early 1950s.
M*A*S*H, therefore, introduces another medical perspective to the military as it follows a team of doctors and supporting staff at the 4077th MASH, a surgical unit stationed in South Korea, with plotlines surrounding the nature and scope of their work.
Where to watch M*A*S*H:
Enlisted, Fox (2014)
Want a more comedic take on being in the military? Then Fox's short-lived comedy series Enlisted is a show that you might want to check out!
The comedy centers on Staff Sergeant Pete Hill who is stationed at the Fort McGee military base in Florida and given a unit of misfit soldiers to command. And since it's a rear detachment unit aka a unit made up of soldiers tasked to take care of the base while the rest of the personnel are deployed overseas it's filled with oddball characters.
On top of that, Pete's younger brothers Derrick and Randy are also in the unit which means that the brothers now have plenty of time to hash out their differences and renew their once-strong bond.
Despite it being a military show, Enlisted is much lighter in tone than the rest of the series on this list. Yet, it's still has a lot of heart, making it a great day's binge since the show only has 13 half-hour episodes.
Where to watch Enlisted:
The Unit, CBS (2006 – 2009)
Jumping back into action, here's a bit of an older military TV series that also definitely should be on this list – CBS' The Unit.
If SEAL Team is about the most elite unit of Navy SEALs then The Unit centers on the U.S. Army equivalent on this group – Army special operations unit more commonly known as Delta Force or simply as the unit. Similarly, to SEALs, Delta Force soldiers are another spec ops military unit that takes on only the most secret and dangerous missions.
And on The Unit we see all that unfold as we follow one such Delta Force unit stationed at the fictional Fort Griffith Army base. As well as get a glimpse into the rigorous training it takes to become a Delta Force operator. And see the unique daily lives of the members of this unit and their families.
If you like the current SEAL Team then you absolutely need to check out its predecessor The Unit. CBS really knows what they are doing with their military dramas so you know that you're in for four seasons of fun, action, and top-secret missions.
Where to watch The Unit:
The Code, CBS (2019)
Did you know that there are not only military action and medical dramas but also military legal dramas? That's right, military show heavyweight CBS had a legal series called The Code which zeroes in on the United States Military's legal minds.
At the forefront of The Code is Captain Abraham, a Marine who became a lawyer after he was wounded on a tour in Afghanistan. Abe is part of the Marine Corps Base Quantico's Trial Services Office, which provides a wide variety of trial services. So the man and women who work for TSO have to not only be brilliant attorneys but also have to be trained in everything from being defense lawyers and prosecutors to investigating the cases that they come across their desks.
During the single season of The Code, you will see TOS tackle many tough legal challenges as well as experience how the members of TOS have to often put aside their core beliefs and ideals so justice can prevail.
Where to watch The Code:
JAG, NBC/CBS (1995 – 2005)
Before The Code, there was also JAG.
Donald P. Bellisario is a well-known name in the world of crime drama productions, and JAG is one of his many series that has become a popular sensation.
The series focuses on the US Navy, particularly the Department of the Navy's Office of the Judge Advocate General, from which it gets its title, JAG.
It's primarily set in the JAG headquarters in Washington, D.C., and focuses on the office's judge advocates, or lawyers, who defend criminal cases, conduct investigations and provide advisement under military law.
What's interesting is that many of the episodes are based on or reference real-life cases!
Where to watch JAG:
Last Resort, ABC (2012 – 2013)
Staying with the US Navy is ABC's Last Resort, which follows the crew of an Ohio-class ballistic missile submarine called the USS Colorado and begins as they are on a mission to pick up a SEAL team off the coast of Pakistan.
As they're underneath the ocean surface, the team receives communication from a channel that has been designated to be used only when Washington D.C. has been destroyed – and they've been ordered to fire on Pakistan.
Refusing to do so without confirmation, the entire vessel and its crew have been deemed enemies of the state and must seek refuge until they get to the bottom of the disaster.
Where to watch Last Resort:
The Long Road Home, National Geographic (2017)
The Long Road Home is a gripping National Geographic miniseries based on Martha Raddatz's book titled The Long Road Home: A Story of War and Family.
Set during the Iraq War, it tells the harrowing true story of the 1st Cavalry Division's ambush in Sadr City.
As they struggle to survive, soldiers, families, and rescuers face unimaginable challenges and grapple with the complexities of war.
With intense performances and a raw portrayal of courage and sacrifice, this series offers a profound exploration of the human spirit in the face of adversity.
Where to watch The Long Road Home:
Bluestone 42, BBC Three (2013 – 2015)
British series Bluestone 42 has a touch of black comedy to it amidst the drama and action, making it quite different from most – most people wouldn't expect humor in a series about a bomb disposal unit, after all.
Bluestone Four-Two, as it's said, is the unit's call sign and the series starts with them deployed on Operation Herrick in Afghanistan.
It further explores the relationship between soldiers, the friendships, and tensions amongst themselves, against the backdrop of the dangerous situations they face every day.
Where to watch Bluestone 42:
Over There, FX (2005)
Amazon Prime describes it as "gritty, intense, evocative, and emotional"; Over There is an action drama series that ended too soon after just one season.
The show borrows its title from George M. Cohan's song of the same name from 1917, which sang of soldiers fighting during the First World War.
In the series, viewers get a glimpse into the front lines in Iraq with the US Army's 3rd Infantry Division (and in fact, is the first scripted series centered on current and ongoing US military involvement).
It not only explores the effects of war on the soldiers but also on their families.
Where to watch Over There:
Tour of Duty, CBS (1987 – 1990)
A little over a decade after the Vietnam War concluded, CBS came out with the military drama Tour of Duty based on actual events during the 20-year war.
Tour of Duty begins around midway in 1967 and follows infantry units on the front lines in South Vietnam – the first is a Bravo company platoon stationed at Camp Ladybird, the second conducting search and destroy missions in the country.
The storylines centered around the average lives of the soldiers; that is, as average as it can be while defending the country abroad.
Where to watch Tour of Duty:
Pensacola: Wings of Gold, Syndication (1997 – 2000)
Pensacola: Wings of Gold is set precisely where the title says it is, at the Naval Air Station Pensacola in Florida.
It primarily follows Lieutenant Colonel Bill "Raider" Kelly, who is the commanding officer of an F/A-18 Hornet training squadron, an elite military task force comprised of four young officers.
The series showcases some of the ins and outs of training to become the top pilots in their field, but Raider's job becomes more complicated when personal relationships are involved.
It's not just his own romance, but that between one of his officers and his daughter.
Where to watch Pensacola: Wings of Gold:
Airwolf, CBS/USA (1984 – 1987)
This action military series entitled Airwolf ran for 4 seasons in the 1980s and is yet another creation from the mind of Donald P. Bellisario.
It centers on the titular Airwolf, a high-tech military helicopter with advanced stealth capabilities – a huge asset to the American government, particularly by the division of the CIA that built it.
At the onset of the series, Airwolf is stolen by its highly intelligent but psychopathic creator to service Khaddafi in Libya, and it progresses to show one man's efforts to bring it back home.
Where to watch Airwolf:
Soldier Soldier, ITV (1991 – 1997)
ITV's Soldier Soldier is a British show and its title is an homage to a traditional song titled "Soldier, Soldier, Won't You Marry Me?".
It's set immediately after the end of the Cold War and has been said to portray the Army in a good light.
The series shows what life was like in the early to mid-1990s, albeit fictionalized, just as the British Army and the entire country was adjusting to the changes brought by the end of the war, particularly with combining regiments due to the Army downsizing.
Where to watch Soldier Soldier:
Generation Kill, HBO (2008)
Generation Kill was made for television based on a 2004 novel of the same name written by Evan Wright.
Over the miniseries' seven episodes, Generation Kill chronicles Wright's experiences as an embedded reporter with the US Marine Corps' 1st Reconnaissance Battalion during the Iraq War, particularly in the 2003 invasion.
It shows the front lines from the perspective of a journalist, allowing viewers to witness not only the dangers of war but the lengths a good journalist will do to get the story.
Where to watch Generation Kill:
Ultimate Force, ITV/STV/UTV (2002 – 2008)
We're going back across the pond with the British series Ultimate Force and focuses specifically on the Special Air Service and its Red Troop.
Co-creator Chris Ryan himself was not only a SAS soldier but a member of the famed Bravo Two Zero unit of the 1991 Gulf War.
Ultimate Force primarily followed Staff Sergeant Henry "Henno" Garvie as he leads his team on various missions including thwarting an assassination attempt, rescue of a kidnapped team member, and even a confrontation with Al-Qaeda.
Where to watch Ultimate Force:
SAS: Rogue Heroes, BBC One (2022 – present)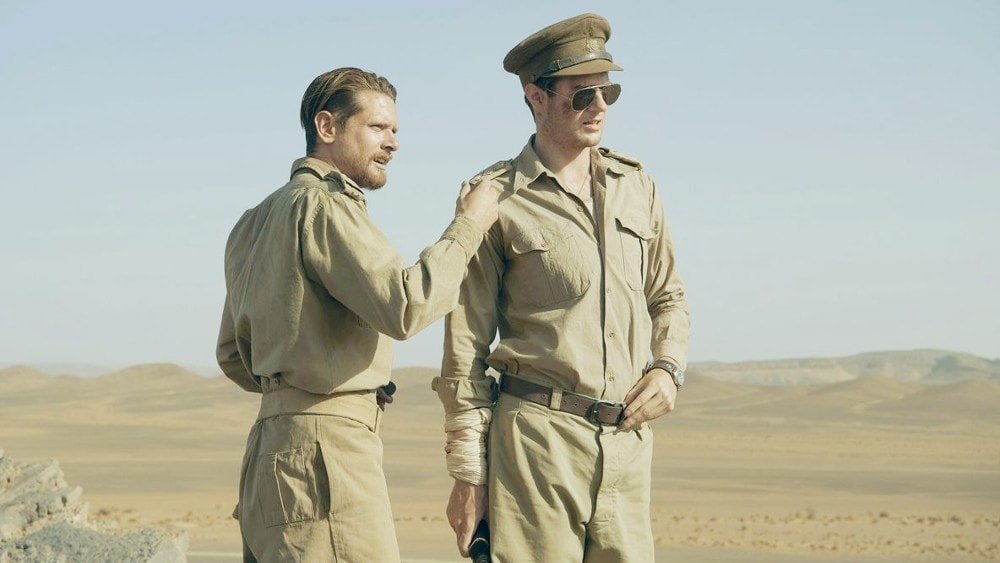 Speaking of SAS, we also have to mention BBC One's SAS: Rogue Heroes.
Set during the Western Desert Campaign of World War II, this military drama details the creation of the British Army Special Air Service.
The story largely focuses on British Army officer David Stirling, who decides to create a special commando unit that would be able to operate deep behind enemy lines. And the trials and tribulations that Stirling has to go through to get SAS up and running.
Where to watch Rogue Heroes:
Sea Patrol, Nine Network (2007 – 2011)
Sea Patrol is an Australian crime-adventure series that ran for five series.
It is set on the HMAS Hammersley of the Royal Australian Navy.
In the show's first season, viewers are introduced to a mysterious place called Mystery Island where a marine biologist has just died.
The overarching storyline centered on this as the season went on, as the RAN investigate, they uncover a conspiracy surrounding a deadly toxin.
However, each episode also contained a standalone plot that showcased the RAN's duties to uphold Australian law.
Where to watch Sea Patrol:
Band of Brothers, HBO (2001)
HBO always brings stunning productions to the table and the 10-episode war drama miniseries Band of Brothers is certainly no exception – and its Emmy and Golden Globe awards are solid proof.
Band of Brothers is based on the non-fiction book of the same name written by Stephen E. Ambrose, wherein the events detailed are from the author's research and actual interviews with veterans of the East Company, albeit with some creative license.
The series dramatizes the East Company's experiences from their training to deployment in Europe, up to the end of World War 2.
Where to watch Band of Brothers:
The Pacific, HBO (2010)
In a follow-up to Band of Brothers, producers Steven Spielberg and Tom Hanks team up again to create the companion series The Pacific.
Whereas the former series focused on the East Company of the 506th Infantry Regiment as they operate throughout Europe, The Pacific centers on the United States Marine Corps and their operations in the Pacific War and the Pacific Theater of Operations.
It also brings three marines to the forefront: John Basilone, Robert Leckie, and Eugene Sledge, and their experiences in different regiments.
Where to watch The Pacific: