If we were ever to get into a discussion about what the United States' Federal Bureau of Investigation was and what exactly it does, well, we would probably be here the whole day.
With an organization so large and diverse in its responsibilities, there's simply too much to cover in just one sitting.
As an introduction but still to keep things simple, the FBI is the leading federal law enforcement agency in the United States.
As a primarily domestic agency, its activities are primarily maintained within national jurisdiction (though they are also known to conduct international activities, albeit in a limited capacity and usually in coordination with local government agencies).
With 56 field offices and hundreds of resident agencies across the country, not to mention the several dozen legal offices and sub-offices based in embassies and consulates overseas, it hardly seems like an exaggeration to say that the FBI is, indeed, everywhere.
Perhaps that's why there's so much viewable content about and surrounding the operations of the FBI, both on TV and in the movies.
No matter how many iterations of FBI-themed shows and films there are, no two are ever exactly the same.
In this list, we count down the best TV shows about the FBI. From criminal profilers and field agents to those investigating local, international, and sometimes even cosmic cases, these TV shows have got it all.
Even with the sheer amount of information about the FBI these shows portray, that's just the tip of the iceberg. Still, let's get to it!
FBI, CBS (2018 – present)
This eponymously-titled series from CBS seems like the perfect place to start this list.
From the genius mind of Dick Wolf (creator of the Law & Order and Chicago franchises) comes yet another captivating and successful crime drama procedural: FBI.
As the title suggests, the series focuses on an elite team working out of the New York office, composed of Special Agents Maggie Bell and O.A. Zidan, their supervisors, Special Agent in Charge Isobel Castille and Assistant Special Agent in Charge Jubal Valentine, and Kristen, a genius analyst, and the biggest asset to the team.
Together, they investigate terrorism, organized crime, and counterintelligence cases to keep their city safe.
Where to watch FBI:
FBI: Most Wanted, CBS (2020 – present)
FBI: Most Wanted is the first spin-off to come from the abovementioned series and further expands Wolf's FBI universe.
This time, the series focuses on a specific team within the bureau; the Fugitive Task Force specializes in tracking and capturing "the most notorious criminals on the Bureau's Most Wanted list".
Under the supervision of seasoned tracker and criminal profiler Supervisory Special Agent Jess LaCroix, the team (composed of Special Agents with varied skills including a sniper with a law degree, a computer whiz and Army vet, an intelligence analyst, and master at data mining, a former LAPD cop and another former NYPD detective) carries out their missions undercover, constantly out in the field.
Where to watch FBI: Most Wanted:
FBI: International, CBS (2021 – present)
Thanks to the success of the aforementioned FBI and FBI: Most Wanted, CBS decided to expand their FBI franchise with another new series.
Premiering just this September, FBI: International follows FBI's International Fly Team, a team part of the Bureau's International division that is headquartered in Budapest.
Consisting of four highly-skilled FBI Special Agent, their Europol agent liaison, and a protection dog named Tank, the Fly team is uniquely equipped to respond to threats against Americans in Europe and wherever else the case might take them.
Where to watch FBI: International:
The F.B.I., ABC (1965 – 1974)
Because the FBI is always evolving and expanding as an organization, shows about their activities are timeless. ABC's The F.B.I. is a testament to that, and it's safe to say the show could still spark interest to this day.
The F.B.I. featured stories on real-life cases the bureau had investigated, with then-Director of the FBI himself, J. Edgar Hoover, serving as the series consultant until his death in 1972.
Hoover's protégé himself, Clyde Tolson, also vetted every episode to make sure information was accurate.
Interestingly, some episodes even ended with "Most Wanted" segments to provide information on the bureau's top criminals of the day!
Where to watch The F.B.I.:
Today's FBI, ABC (1981 – 1982)
Some seven years after the end of The F.B.I., ABC came back with another crime drama that was intended to be an "updated and revamped" version of its predecessor.
Lending from the same concept, Today's FBI borrowed its episode narratives from real cases within the post-Hoover FBI, directly involving the agency in its production as well.
Some of these cases included taking down a child pornography ring, tackling KKK racism in a Southern town, large-scale medical insurance fraud, and of course, a drug bust.
Unfortunately, however, unlike the hugely successful parent series, Today's FBI faced stiff competition from other shows in the same time block and was canceled after just 18 episodes.
Sue Thomas: F.B.Eye, PAX TV (2002 – 2005)
PAX TV's production Sue Thomas: F.B.Eye is based on the inspiring real-life story of the titular Sue Thomas, the first deaf woman to work at the bureau as an undercover specialist.
Though she was able to develop her voice through speech therapy, Thomas gained remarkable skills in lip-reading, which is what led her to the job at the FBI after Agent Jack Hudson discovered her ability.
In the series, viewers are able to witness how Thomas' expertise in lip-reading is a great asset for the elite surveillance team she's part of.
Sadly, Sue Thomas: F.B.Eye was canceled after three seasons due to the network's decision to stop original programming.
Where to watch Sue Thomas: F.B.Eye:
Criminal Minds, CBS (2005 – 2020) and Criminal Minds: Evolution, Paramount+ (2022 – present)
Criminal profiling has always been so interesting, and CBS' Criminal Minds is a great series to binge-watch if you've ever wanted to learn more about the psychology of serial killers.
The series follows a team of elite profilers in the FBI's Behavioural Analysis Unit (the BAU) as they investigate cases all over the country.
With the help of their tech analyst Penelope Garcia, the team uses various aspects of profiling and behavioral analysis to identify, track down, and apprehend some of the most dangerous perpetrators before they strike again.
As the series evolves, the narrative expands to include their personal lives as well, which sometimes get caught in the crossfires of their job.
NOTE: Make sure to catch the Criminal Minds revival series Criminal Minds: Evolution when it premieres on Paramount+ this fall!
Where to watch Criminal Minds:
Mindhunter, Netflix (2017 – 2019)
In keeping with the theme of criminal profiling, have you ever wondered when and how it all even came about?
The Netflix original series Mindhunter tells that story for us as it follows FBI agents Holden Ford and Bill Tench who, together with psychologist Wendy Carr, set up the foundations of what will become the FBI's Behavioural Science Unit.
In the early days of the team, they embark on a research project that involves interviewing serial killers in prison so that they can use their psychology to solve ongoing cases and eventually establish what criminal profiling is today.
Many of history's infamous criminals are reenacted on the show, including Ed Kemper, Dennis Rader, and Charles Manson.
Where to watch Mindhunter:
The Rookie: Feds, ABC (2022 – present)
Nowadays, spin-offs are big in broadcast TV and we have another one here in the shape of ABC's The Rookie: Feds.
In 2018 ABC premiered The Rookie, a Nathan Fillion-led drama series about a forty-five-year-old man becoming a Los Angeles police officer. And seeing the success of this show, ABC decided to develop a new series in the franchise.
The Rookie: Feds follows Simone Clark, a newly minted FBI Special Agent who is assigned to the LA field office.
The kicker, just like in the OG series, Simone is the oldest rookie in the FBI, so now she has to prove herself in the field and show that age really is just a number.
Where to watch The Rookie: Feds:
Clarice, CBS (2021)
If you've watched the classic 1991 psychological horror film The Silence of the Lambs, CBS' Clarice is a great series to follow it up with!
Also based on Thomas Harris' The Silence of the Lambs novel, Clarice is set in the 1990s and takes place one year after the events in the film.
After her confrontation with serial killer Buffalo Bill and the subsequent interactions with the infamous serial killer Dr. Hannibal Lecter, FBI Agent Clarice Starling has returned to the field.
Clarice is a deep dive into her own "complex psychological makeup", showing viewers her personal baggage and what it is about her that draws in the mad and dangerous criminals.
Where to watch Clarice:
Hannibal, NBC (2013 – 2015)
Speaking of Dr. Hannibal Lecter, it seems only right that we also talk about NBC's Hannibal – set in a time where no one yet knew of Lecter's cannibalistic nature.
The series revolves around both Lecter and FBI profiler Will Graham, whose ability to empathize with violent serial killers proves vital to solving their crimes.
Lecter, as a trusted forensic psychiatrist, is assigned to supervise Graham given the already fragile state of the latter's mind.
However, as a consequence of his own psychopathic tendencies, Lecter manipulates both the FBI and Graham, pushing him closer to breaking in an attempt to turn him into a murderer as well.
Where to watch Hannibal:
Quantico, ABC (2015 – 2018)
During Quantico's three-season run, the series received high praises for the diversity and talent of its cast, headlined by actress Priyanka Chopra.
Chopra played the lead character Alex Parrish, who we meet at the onset in two different timelines – a theme that runs throughout the first season and half of the second.
In the first timeline, Grand Central Terminal has been bombed in a terrorist attack, and Parrish, by then a full-fledged FBI agent, is arrested as a suspect.
The second timeline plays out in flashbacks, following Parrish and her fellow recruits in training at the FBI Academy, leading up to the day of the bombing.
Where to watch Quantico:
CSI: Cyber, CBS (2015 – 2016)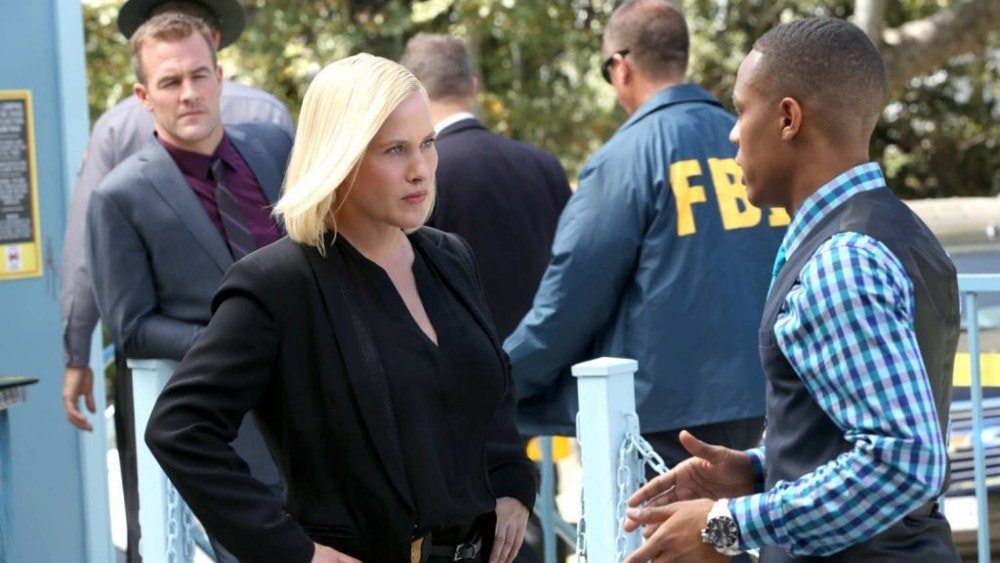 The CSI franchise is another police procedural group of series that has really left its mark in the crime drama genre, with four installments completed in its arsenal and a fifth premiering this October 2021.
CSI: Cyber was the fourth installment in the franchise and it ran for two seasons, following a team of elite FBI Special Agents whose job covers investigating Cyber Crimes across the country.
Headed by Deputy Director Avery Ryan, a behavioral psychologist who founded the Cyber Crime division, the team works hard to crack internet crimes within the FBI's jurisdiction, including hacking, fraud, blackmailing, cyber theft, and even murder.
Where to watch CSI: Cyber:
Blindspot, NBC (2015 – 2020)
Imagine having your memory completely wiped and the only link to your identity and your past being a bunch of tattoos covering your entire body.
That's exactly the situation our "Jane Doe" main character finds herself in in NBC's crime mystery series Blindspot.
After she is found naked in Times Square with no recollection of who she is and how she got there, the FBI further investigates her mysterious case.
That's when they discover that her tattoos aren't just random – they're clues to an even bigger web of conspiracy and corruption, all of which lead to answers on Jane Doe's real identity and that of those who left her for the FBI to discover.
Where to watch Blindspot:
Profiler, NBC (1996 – 2000)
NBC's Profiler series centers around the fictional Violent Crimes Task Force of the FBI based in Atlanta, Georgia that is tasked with investigating some of the most dangerous criminals and serial killers in the country.
Central to the team and to the narrative of Profiler is Dr. Sam Waters, a gifted criminal profiler whose empathic abilities are so strong that she's able to "see" cases from the eyes of others, allowing her to provide valuable insight to the team.
While the series covers many tough cases, it also details aspects of Sam's personal life as she and her colleagues investigate the Jack of All Trades, a serial killer who had also murdered her husband years ago.
Where to watch Profiler:
Perception, TNT (2012 – 2015)
When you talk about perception, you're talking about being aware of or knowledgeable about something, sometimes through the use of your five senses.
The TNTT crime procedural series Perception is the perfect epitome of that, as it refers to a special ability that the main character, Dr. Daniel Pierce, possesses.
Dr. Pierce is a brilliant neuropsychiatrist and neuroscience professor at the fictitious Chicago Lake Michigan University, and who has been brought in by the FBI to assist on their most complex cases.
Because of Dr. Pierce's history with paranoid schizophrenia, his hallucinations sometimes help him spot the vital clues in the investigation.
Where to watch Perception:
Bones, Fox (2005 – 2017)
Based very loosely on the life and novels of forensic anthropologist Kathy Reichs (who went on to produce the series), Fox's Bones features not only the FBI this time but also its partnership with other notable institutions in solving its cases – in this case, the fictional Jeffersonion Institute Medico-Legal Lab.
In solving the murder cases that play out in each episode, FBI Special Agent Seeley Booth provides the investigation technique while forensic anthropologist Dr. "Bones" Brennan provides the scientific expertise – along with the rest of her team from the institute.
Interspersed with the crime narrative are subplots that explore the personal relationships between the characters as well.
Where to watch Bones:
White Collar, USA Network (2009 – 2014)
Every now and then, the FBI will encounter a criminal who's not all that dangerous and whose skills could be put to very good use within the bureau.
In these cases, they recruit these criminals to work for them in a work-release program – use your skills to help the FBI catch other criminals, and you won't have to go to jail.
In White Collar, the criminal in question is a renowned con artist and thief Neal Caffrey, who proposed the work-release option to the FBI after he was caught and apprehended the second time around.
When the bureau agrees, Caffrey works closely with FBI Special Agent Peter Burke to catch other dangerous white-collar criminals.
Where to watch White Collar:
The Blacklist, NBC (2013 – present)
NBC's The Blacklist shows another rare case of the FBI working in cahoots with a notorious criminal.
This time, The Blacklist centers on former US Naval Intelligence officer "Red" Reddington, who left the service twenty years prior to become a high-profile criminal.
Out of the blue, he surrenders himself to the FBI but proposes this: in exchange for his immunity, he would serve as their informant on a "blacklist" of international criminals that he's worked with over the years, helping to track and bring them down.
He also had one condition: to work with rookie profiler Elizabeth Keen, the reason for which is revealed in later seasons.
Where to watch The Blacklist:
Numb3rs, CBS (2005 – 2010)
CBS' Numbers (stylized creatively as NUMB3RS) isn't just your run-of-the-mill police procedural involving the FBI – it's got a large dose of family dynamic as well.
The show revolves around FBI Special Agent Don Eppes, who is the lead at the bureau's LA Violent Crimes Squad, and his mathematical prodigy of a brother, Charlie, who also works as a college mathematics professor at the fictional California Institute of Science.
Because of his genius abilities with numbers and his skill in applying logic to real-life situations, Charlie and Don work together to solve the FBI's cases in LA.
Where to watch Numb3rs:
Deception, ABC (2018)
At this point in the list, we've seen people from all walks of life being tapped by the FBI to consult and work with them in investigating cases – from math and neuroscience professors to wanted criminals themselves.
ABC's Deception adds another to this list with its main character Cameron Black – a former Las Vegas magician whose career was destroyed by a scandal.
Luckily for him, it seems the FBI has a need for his very specific set of skills.
Thus, Black becomes the very first "consulting illusionist", using his expertise in deception to stage elaborate tricks aimed at catching the world's most elusive criminals.
Where to watch Deception:
Without a Trace, CBS (2002 – 2009)
From the title alone, you might be able to guess what aspect of the FBI Without a Trace focuses on.
Set in New York City (and also within the same fictional universe as CSI: Crime Scene Investigation!), Without a Trace centers on the bureau's Missing Persons Unit and its elite team.
Each episode covers one case and showcases how the team is able to apply psychological profiling to determine important information that'll help them locate the missing victim.
What sets it apart is the tie-in with real missing persons cases, where they display the information at the end of the episode – and in some cases, has actually led to these being solved!
Where to watch Without a Trace:
Graceland, USA Network (2013 – 2015)
At first glance you might think that this show is about the King of Rock and Roll himself and, well, the main setting does tie into Elvis Presley's famous home – more specifically, it was named such because the house was seized from a drug lord obsessed with Presley.
USA Network's Graceland takes its title from the beautiful beachfront home in Southern California where viewers meet the main characters.
On the outside, it looks like a regular home shared by a group of diverse housemates but once you're inside, you'll find that it's actually a front for the base of operations for undercover agents from various agencies – including the FBI.
Where to watch Graceland:
Standoff, Fox (2006 – 2007)
Fox's Standoff explores yet another aspect of the FBI and the types of crimes that its teams are typically called into to assist with.
At the show's center is the Crisis Negotiation Unit, which is tasked with leading negotiations with the perpetrator in any hostage-taking situation, with the goal of getting all the victims out without any harm.
While each episode covered a new case that showcased the team's negotiation skills and expertise under the leadership of Supervisory Special Agent in Charge Cheryl Carrera, a sub-plot also unfolds involving the two senior negotiators, whose romance may interfere with the entire team.
Wiseguy, CBS (1987 – 1990)
Undercover missions are a large part of the FBI's operations and are something that we see often in movies and TV shows.
One of these shows was CBS' Wiseguy, which followed Vinnie Terranova, an undercover agent with the fictional Organized Crime Bureau of the FBI.
Following a staged 18-month prison sentence to establish his "criminal" reputation, Vinnie began his career going deep undercover within various organizations in order to gather enough evidence to bring them down.
Though still serialized in format, each season followed different story arcs that played out over several episodes each.
Where to watch Wiseguy:
The Americans, FX (2013 – 2018)
What sets FX's period spy thriller The Americans apart from most other shows about the FBI is that its main characters aren't agents of the bureau; in fact, they're quite the opposite.
Elizabeth and Philip Jennings are a seemingly normal American couple with two kids, casually living their typical suburban family life in Falls Church, Washington D.C. during the Cold War.
In reality, however, they're spies for the Soviet KGB who were sent to spy on the American government.
During the course of their undercover mission, The Americans showcases the reality between foreign spies and the FBI.
Where to watch The Americans:
Limitless, CBS (2015 – 2016)
CBS' Limitless is a spinoff from the 2011 movie of the same name, which in turn was based on the novel The Dark Fields by Alan Glynn.
Set four years after the events in the film, the dangerous drug NZT-48 finds its way into the hands of Brian Finch, a struggling musician. The drug unlocks every neuron in his brain, making him the most intelligent person in the world… for 12 hours.
After also gaining access to a shot that gives him immunity to the drug's fatal side effects, Brian decides to use his newfound genius to assist FBI Agent Rebecca Harris in solving her cases.
Where to watch Limitless:
The Enemy Within, NBC (2019)
Labeled by NBC as a "character-based psychological thriller", The Enemy Within tells the story of Erica Carpenter, the former CIA Deputy Director of Operations.
Forced to give up names of undercover agents to a Russian terrorist who threatened her daughter (vital information that eventually led to their deaths), Carpenter is now serving time in jail with the reputation of the most notorious traitor in the country.
When the terrorist reappears on the FBI's radar, however, FBI Agent Will Keaton must enlist Carpenter's help to catch and finally put him behind bars, as she's the only one who knows him all too well.
Where to watch The Enemy Within:
Eleventh Hour, CBS (2008 – 2009)
CBS' Eleventh Hour puts a bit of a science fiction twist into the usual police procedural genre that we're accustomed to by now.
This is because of the nature of the cases being investigated in each episode, as well as the specific expertise of the main character, Dr. Jacob Hood.
Hood is a brilliant biophysicist and his knowledge in the field allows him to fulfill his role as Special Science Advisor to the FBI.
His FBI handler, Special Agent Rachel Young, is assigned to protect him – as well as help to keep his eccentricities in check.
Where to watch Eleventh Hour:
The X-Files, Fox (1993 – 2002, 2016 – 2018)
If we're talking about a mix of the FBI and science fiction, Fox's The X-Files absolutely has to be part of the conversation, especially because of its cult classic status in pop culture.
The X-Files centers on two FBI Special Agents who are assigned to the eponymous X-Files department, where they investigate cases with paranormal circumstances.
Agent Fox Mulder is a staunch believer of the paranormal and the existence of extraterrestrials while Agent Dana Scully is a skeptic.
Their team dynamic is central to approaching and solving the cases, while the overarching theme of government conspiracies unfolds over the seasons.
Where to watch The X-Files:
Fringe, Fox (2008 – 2013)
Fox comes in with yet another series that's a mixture of fantasy, procedural drama, and science fiction.
Fringe centers primarily on father and son duo Dr. Walter and Peter Bishop, as well as Agent Olivia Dunham, who make up the small team at the FBI's fictional Fringe Division.
Taking from the name itself, the team investigates cases related to fringe science, which are normally concepts that are strictly scientifically proven, or have sometimes already been disproven.
In this case, Fringe's mythology unfolds to involve a parallel universe and the mysteries surrounding it that have affected our world.
Where to watch Fringe:
Manhunt, Discovery Channel/Spectrum (2017 – present)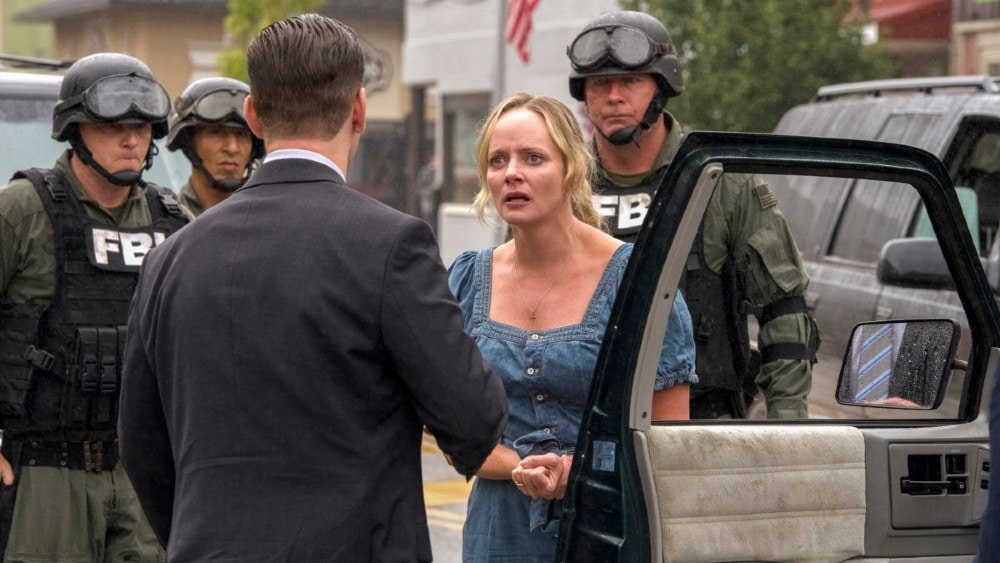 We're ending the list with the anthology series Manhunt, where each of its two seasons so far has covered the fictionalized retelling of the hunt for a real-life prolific serial killer.
The first season was titled Manhunt: Unabomber, which of course detailed how the FBI hunted for the Unabomber, Ted Kaczynski.
The second season, Manhunt: Deadly Games (pictured above), followed the case of Eric Rudolph and the Centennial Olympic Park bombing during the Summer Olympics of 1996.
Of course, the FBI was heavily involved in both cases and the series is a fascinating look into their process of tracking and catching the country's most dangerous killers.
Where to watch Manhunt: Unabomber: