In today's world, it's of utmost importance to raise awareness around mental health.
The stigma surrounding mental disorders is (slowly but surely) breaking down, and it has become a priority in all aspects to make accommodations to contribute to this change in society.
In the realm of entertainment, this involves the honest depiction of mental health issues and inclusion of characters with mental disorders, such as autism.
In recent years, there have been more and more TV series about autism, which have helped to increase understanding and empathy by illuminating the experiences of people who are autistic.
These programs artfully navigate the complexities of autism, examining the difficulties and victories faced by those who have the condition as well as the effects it has on their families and communities.
The TV shows on this list give viewers an authentic and insightful look into the diverse and frequently misunderstood world of autism.
ENGLISH-LANGUAGE SHOWS ABOUT AUTISM
The Good Doctor, ABC (2017 – present)
Talented actor Freddie Highmore stars in ABC's The Good Doctor as Dr. Shaun Murphy, a brilliant surgeon with autism and savant syndrome.
He joins San Jose St. Bonaventure Hospital as a surgical resident and while Shaun initially encountered skepticism from his peers, over time his exceptional medical skills won over their admiration.
This medical drama chronicles his journey as he negotiates the complexities of the medical field, as well as his emotional and personal struggles and his resolve to improve the lives of patients.
Atypical, Netflix (2017 – 2021)
Sam Gardner is an 18-year-old on the autism spectrum, with a specific interest in Antarctica and penguins, and he's at the center of Netflix's touching coming-of-age comedy-drama Atypical.
Sam sets out on a journey of self-discovery as he navigates the world of dating and relationships, and strives for independence.
The show delves into the complicated relationships in Sam's family, highlighting the difficulties his parents, Elsa and Doug, as well as his younger sister, Casey, must deal with.
While Sam's autism plays a major role, Atypical also explores the lives and experiences of the supporting characters.
Everything's Gonna Be Okay, Freeform (2020 – 2021)
Everything's Gonna Be Okay is a comedy-drama following the lives of three half-siblings: Nicholas, Matilda, and Genevieve.
Nicholas is in his 20s when he visits his family in Los Angeles, and then finds out their father is terminally ill and he will have to take on the role of caretaker for his teenage half-sisters.
Genevieve is 14 and dreams of being a writer while Matilda, the 17-year-old, is autistic and a gifted composer of classical music.
The show explores their individual journeys of self-discovery, where Nicholas is also eventually diagnosed with autism, as well as the complexities of family dynamics and the joys and struggles of growing up.
The A Word, BBC One (2016 – 2020)
Joe Hughes, a young boy with autism, serves as the main character in The A Word, a heartwarming family drama.
The show depicts the difficulties Joe's parents encounter as they cope with his diagnosis and learn how to raise an autistic child.
This journey is particularly poignant as Joe's parents are unaware of the possibility of autism, simply wondering why their son is often ostracized by other kids and turning away their other family members who try to help.
When the diagnosis comes, they struggle with their own emotions and learn to modify their parenting style to meet Joe's particular needs.
Heartbreak High, Netflix (2022 – present)
Netflix's Heartbreak High is a soft reboot of the 1994 series of the same name and is an Australian series that centers on a diverse group of high school students in a sex education course after a map of their sexual exploits is found graffitied on the wall of their school.
They span different races, gender and sexual identities, and personalities, and each are on their own journeys of self-discovery.
Among them is Quinni Gallagher-Jones, a lesbian on the autism spectrum, and the best friend of central character Darren Rivers, who is non-binary.
Community, NBC/Yahoo! Screen (2009 – 2015)
Community is a sitcom that ran over 6 seasons and is one of those shows that requires a certain kind of sense of humor to truly appreciate and enjoy.
The series focuses on a group of students at Greendale Community College who have come together under various circumstances to form a study group and follows their absolutely hilarious misadventures.
At its center is Jeff, who had started the group to get closer to classmate and social activist Britta.
Joining them are single mother Shirley, overachiever Annie, the bigoted older millionaire Pierce, former football star Troy, and pop culture-obsessed Abed (who also has autism).
Parenthood, NBC (2010 – 2015)
Loosely based on the 1989 movie of the same name, the touching family drama Parenthood depicts three generations of the Braverman family as they experience all of life's ups and downs.
Among the family's grandchildren is Max Braverman, a young child with Asperger's syndrome.
The show shows Max navigating the complexities of social interactions and emotional connections, showing both his struggles and successes as he is surrounded by the unconditional love of his family.
Adam and Kristina, Max's parents, make an effort to understand and support him, and his larger family comes together to show him love and patience.
A Kind of Spark, CBBC (2023 – present)
British children's series A Kind of Spark is one of the newest on our list and is based on Elle McNicoll's novel of the same name.
It centers on 11-year-old Addie, who is on the autism spectrum and is determined to create change and acceptance in her small Scottish town.
Addie sets out on a mission to honor the lives of historically accused witches despite encountering doubt and prejudice, insisting that perhaps most were just autistic – just like her.
As she receives encouragement from her peers and the community, Addie's singular viewpoint challenges their preconceptions and promotes empathy.
As We See It, Amazon Prime Video (2022)
The last of the English language shows on the list is Amazon's As We See It; like a few others, it's an adaptation of another show: On the Spectrum, an Israeli production that we mention later in the article.
Sadly, it was canceled after just one season.
As We See It follows the lives of three roommates: Harrison, Jack, and Violet, all of whom are in their 20s and are on the autism spectrum.
They live together with their aide, Mandy, and the show documents their journeys navigating life, work, friends, and love as young adults with autism.
KOREAN SHOWS ABOUT AUTISM
Good Doctor, KBS2 (2013)
Yes, Good Doctor is the original Korean drama series that the above-mentioned American series The Good Doctor from ABC was adapted from!
In fact, there has even been a Japanese and Turkish adaptation of the popular show.
In this Korean original, Park Sion is a savant on the autism spectrum, with impressive memory and spatial skills.
He begins a residency in pediatric surgery at the renowned Sungwon University Hospital but faces harsh criticism, skepticism, and prejudice from his colleagues because of his mental and emotional state.
Still, he perseveres to prove himself and rise above his condition.
Extraordinary Attorney Woo, ENA (2022)
Extraordinary Attorney Woo has become a major hit since hitting local and international screens in 2022.
At the center of the show is Woo Youngwoo, a talented and autistic lawyer who, despite graduating at the top of her class, struggles to find a job because of her condition.
When connections land her a job at a top law firm, her neurotypical colleagues keep a wide berth as her way of communicating and solving cases is seen as unconventional and awkward.
However, those closest to her soon lean into her methods and support her as she excels in her craft.
Move to Heaven, Netflix (2021)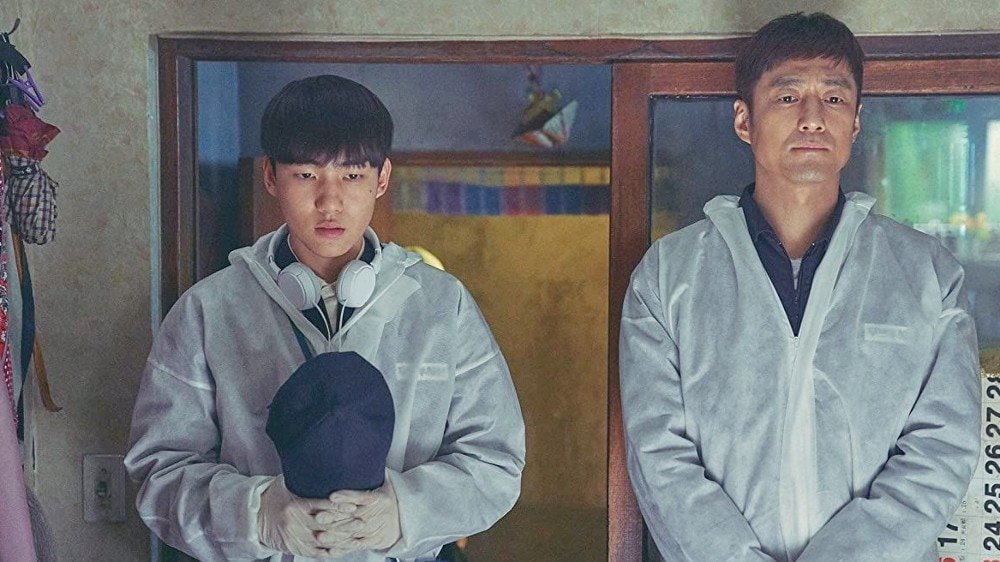 Another heart-wrenching Korean drama is Netflix's Move to Heaven, which has also garnered critical acclaim and high ratings both for the show and the performances.
Han Geuru is a 20-year-old man with Asperger's syndrome who has found himself under the guardianship of his estranged uncle Cho Sanggu, an ex-convict recently released from prison.
While on probation, Sanggu is tasked to work with Geuru in the family-run trauma cleaning company.
Together, they unearth the deceased's stories and pass them on to the grieving families, while also resolving their own family issues.
It's Okay to Not Be Okay, tvN (2020)
It's Okay to Not Be Okay is another popular K-drama romantic drama that follows the lives of Ko Moon-young, a well-liked children's book author with an antisocial personality disorder, and Moon Gang-tae, a kindhearted health worker.
Gang-tae is a caregiver for his older brother Sang-tae, who is autistic and carries the trauma of witnessing their mother's murder which forces them to move towns every spring.
In one town they meet Moonyoung and the trio develops a special bond as their overlapping past comes to light and they help each other find comfort and move forward.
OTHER FOREIGN LANGUAGE SHOWS ABOUT AUTISM
Life After Death, TVB Jade (2020)
The non-Korean first foreign language series on the list is Life After Death, which hails from Hong Kong.
The 25-episode melodrama series revolves around a deadly car accident and the events that occurred as a ripple effect of it. This includes the widowing of both main characters, Yuksing and Laura.
As they encounter each other again 7 years after the accident, they are each still trying to repair the broken shards of their lives – including Laura's rekindling relationship with her sister through a doctor with Asperger syndrome.
Eventually, the truth of the accident also comes to light.
The Victims' Game, Netflix (2020)
Netflix's Taiwanese original crime drama The Victim's Game follows Fang Yijen, a brilliant forensic scientist with Asperger's syndrome, as he is driven to find the truth after his daughter is linked to a murder case.
His exceptional capacity to spot details that others might miss becomes a valuable asset as the investigation progresses, although he faces difficulties interacting with others due to his lack of social and emotional skills.
The show combines Fang's personal struggles with the intricate details of the murder mystery to create a compelling picture of an autistic detective's unrelenting search for the truth.
Ataru, TBS (2012)
In the Japanese crime drama Ataru, the protagonist is the eponymous Ataru, an autistic genius with exceptional memory and deduction abilities.
He is a forensic investigator for the police who specializes in resolving cold cases.
Despite his extraordinary talents, Ataru finds it difficult to communicate and interact with others.
Ataru takes on challenging cases and unearths critical information with the assistance of his coworkers, including the sympathetic detective Shunichi Sawa.
As the series progresses, it explores Ataru's mysterious past and his personal journey of self-acceptance, showcasing the fortitude and tenacity of an autistic investigator in the face of difficulty.
On the Spectrum, yes TV/HBO Max (2018)
As mentioned earlier, On the Spectrum is an Israeli TV series that aired locally in 2018 before being picked up by HBO Max for streaming in the United States in 2020 – an unsurprising international move considering this original series had garnered a huge following, explosive popularity, and a slew of awards.
The show follows three adult roommates who are all on the autism spectrum: an aspiring actress in pursuit of her dreams, a computer whiz who struggles with social cues but seeks romance, and a musician starting his career.
Through their personal journeys, they discover meaningful relationships with each other as well.
Antara, Zee TV (2009 – 2010)
Antara is an Indian drama centered on the life of the titular Antara, a 5-year-old girl with autism.
The show follows Antara's life as she is raised by Aditya, her father, and Vidya, her stepmother, as a result of the tragic death of her mother.
The family has a hard time accepting Antara's condition and making a connection with her, but Antara develops a close relationship with her adoring grandmother, as her unique perspective continues to challenge social norms.
The series examines the challenges of raising a child with autism as well as the influence of love and acceptance on her life.
Astrid et Raphaëlle, France 2 (2019)
Astrid et Raphaëlle is a French crime drama that centers around the dynamic duo of Astrid and Raphaëlle, two women working in the police force but with contrasting personalities.
Raphaëlle is a police detective, described as impulsive but brilliant, while Astrid is an archivist for the judicial police.
They eventually cross paths on a case investigating the suicides of doctors, and a unique but highly effective dup is formed.
Astrid brings structure and methodology to the duo while Raphaëlle helps Astrid with behavioral issues that occur as a result of her autism.
The Bridge, SVT1/DR1 (2011 – 2018)
Scandinavian crime drama The Bridge follows the investigation into a string of murders that take place on the Øresund Bridge, which connects Sweden and Denmark.
Martin Rohde, a Danish police officer, and Saga Norén, a Swedish police officer, are the detectives in charge.
Saga, a brilliant but socially awkward detective on the autism spectrum approaches the investigation with extraordinary attention to detail and logic.
As the series progresses, Saga's unique viewpoint proves to be a valuable tool in solving the horrifying crimes, and her personal journey involves learning to manage her emotions and build relationships with those around her.
ANIMATED SERIES WITH AUTISTIC CHARACTERS
Dead End: Paranormal Park, Netflix (2022)
Moving now into the realm of animated shows, we start with Netflix's 2022 series Dead End: Paranormal Park.
A mix of dark fantasy and horror comedy, it is based on the DeadEndia series of graphic novels and follows two teenage employees at the local theme park, Phoenix Parks (similar to Dollywood, but is themed after the fictional celebrity Pauline Phoenix).
Barney is a gay and transgender boy while Norma is an autistic and bisexual Pakistani-American girl, and the two become fast friends when they discover the world of the paranormal within the theme park.
Hero Elementary, TVOKids/PBS Kids (2020 – 2022)
Hero Elementary is an animated educational series that follows a group of diverse superhero students attending a school for superheroes, and they call themselves The Sparks' Crew (after their teacher, Mr. Sparks).
AJ Gadgets, a brilliant inventor and problem-solver who is autistic, is one of the main characters.
Not only does he always keep his inventions handy in his backpack, but he also has the power to project his thoughts in front of others.
The team is fortunate to have AJ's special talents and attention to detail, and they thrive under the leadership of Lucita Sky, a young girl who can fly.
REALITY SHOWS ABOUT AUTISM
Love on the Spectrum, ABC TV (2019 – 2021)
The journeys and stories of young adults on the autism spectrum as they navigate the dating and relationship world is front and center in the heartwarming Australian reality TV program Love on the Spectrum.
Their interactions with potential partners, feelings, and difficulties are all explored in the series.
The series provides a window into these people's lives with an emphasis on authenticity and understanding, highlighting the need for love and companionship.
Viewers get a special perspective on the ups and downs of dating while on the autism spectrum.
Love on the Spectrum US, Netflix (2022)
After the second season of the original Australian series mentioned above ended, an American adaptation was created through streaming giant, Netflix.
Love on the Spectrum US follows the same premise in that it features several individuals on the autism spectrum who want to put themselves out there to explore the world of dating and romance.
As they navigate the complexities of the world of relationships, viewers are really able to better understand what it takes to date and find love on the spectrum.
Inside Our Autistic Minds, BBC Two (2023)
Inside Our Autistic Minds is a documentary series hosted by Chris Peckham, himself an autistic person, that was produced in collaboration with The Open University.
Chris understood what it was like to live with autism and since revealing his diagnosis to the public, was flooded with correspondence from others about their own struggles.
Thus, he put together a leading team to help him reach out to other people with autism to create short films that will help them tell their stories and hopefully, also help those around them understand what's really going on inside their minds.
The Autistic Gardener, Channel 4 (2015 – present)
Alan Gardner, an accomplished garden designer who has autism, stars in the touching reality television program The Autistic Gardener.
The show follows Alan as he transforms unused outdoor areas into gorgeous gardens and shares his love of horticulture and the outdoors.
Alan's imaginative designs and gardening know-how stand out thanks to his unique perspective and attention to detail, captivating viewers and showcasing the healing power of gardening.
The show celebrates and embraces neurodiversity in the gardening industry while also showcasing Alan's extraordinary talents.
Leave it to Geege, Lifetime (2022)
Last but not least is Lifetime's Leave it to Geege, a heartwarming documentary that gives a real-life look into the reality of raising a child on the autism spectrum.
The titular Geege Taylor is a single mother of two living in Atlanta, who relies on her mother Puddin', daughter Harper, and best friends George, Nicky, and Tyler to help her raise her 19-year-old non-verbal, autistic son Pootie.
Through the struggles of her own personal health issues, Geege fights for autism acceptance in the community and strives to be a source of that acceptance for her son.