The Medieval period certainly isn't known for its peaceful atmosphere – quite the opposite actually.
Whether lords are feuding for thrones, swordsmen are dueling in tournaments, or pursuing forbidden romances, the Medieval landscape is littered with abdicated titles, dearly departed knights, and the slow decline of the Western Roman Empire in the background.
These 1000 years in history are packed to the brim with stories and fables that need to be seen to be believed!
Therefore we dug in and found the best TV shows set in Medieval times that shine a light on these days of yore.
So sheath your swords, unbuckle the armor, and settle in to tour the 5th to 15th century on the small screen.
The Legend of El Cid, Amazon Prime Video (2020 – present)
Starting off in Spain, we begin with The Legend of El Cid, an action drama rooted in history.
Follow Rodrigo Díaz de Vivar, a young page in the court of the future King of León and Castile who has his loyalty called into question when he becomes inadvertently embroiled in a plot to overthrow the King.
Consequently, he finds himself torn between two worlds, as he tries to untangle the web that is being woven while trying to remain true to his values and the values he was raised with.
The show has been described as a Spanish Game of Thrones, without the fantasy element, but with plenty of feudal drama.
Knightfall, History (2017 – 2019)
The Knights Templar are certainly some of the most famous historical figures to emerge from the Medieval Age.
In Knightfall we follow the last days of this prestigious group of warriors, as a veteran knight rises in the ranks to become the master of the Paris Temple, and with that title, he discovers an alarming secret.
In his new duties, Landry de Lauzon learns that the Holy Grail is now in France and this reinvigorates him for one last crusade, as he and his fellow Templars set out to recover the relic and investigate the death of his mentor.
Without spoiling the plot, the show is packed with revelations and secrets and will enlighten quite a few viewers to the birth of the Friday the 13th superstition. Watch and see.
Medici, Rai 1 (2016 – present)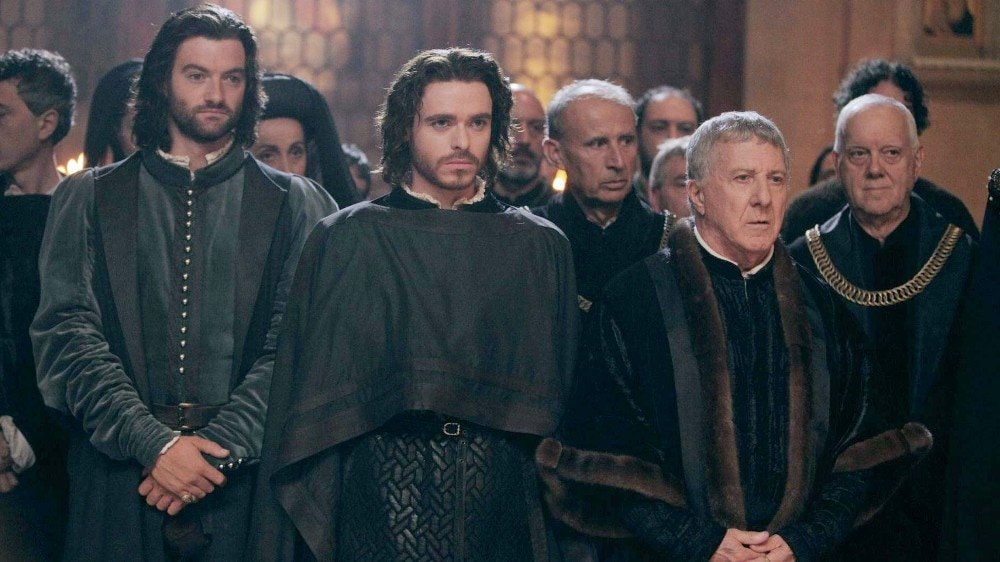 Starting in 1492, Medici follows Cosimo de Medici as he takes the reins of his family's banking dynasty following the death of his father.
As one of the richest banks in Europe at the time, there is an immediate power vacuum as he transitions into the role, while the hounds come calling looking to bring the family down.
Especially since Cosimo harbors a dangerous secret that could impede the growth of the family business.
Each season of the show follows a different member of the family, and in season one the seeds are planted for the tone of the show which is a mix of drama and a slight political thriller in between.
Marco Polo, Netflix (2014 – 2016)
Another historical figure that left an indelible mark, Marco Polo was an Italian merchant, explorer, and writer who certainly made a name for himself.
In this retelling of his life, we take a fictional look at his early years where he finds himself as a guest in the court of Kublai Khan, the Khagan of the Mongol Empire in the 13th century.
Following his abandonment by his family, specifically his father, as a young man, his travels lead him to Mongolia, where Kublai sees value in the young man, allowing him an unfettered look at life in Mongolia – unheard of for the time!
Young Marco is soon drawn into not only the brewing war with China but also a litany of family scandals and sexual intrigues, all while growing and coming of age in this foreign court.
The Pillars Of The Earth, Starz (2010)
Based on the 1989 novel of the same name by Ken Follet, The Pillars of The Earth miniseries is based around the construction of a fictional Cathedral during The Anarchy – a very troubled time in English history around the 12th century.
Mourning the death of King Henry I, England is in anarchy as heirs battle for the throne and a Bishop tries to leverage the new cathedral as a means to grab power for himself.
All the while, many love stories brew in the background, and the question of faith is brought to the fore.
These stories are all told as the cathedral is slowly erected, acting like a metaphor for the rise of anarchy, corruption, and greed around it.
World Without End, Channel 4 (2012)
Another masterful tale from author Ken Follet, World Without End is an 8-episode miniseries based on his novel.
It serves as a sequel to The Pillars of The Earth, taking place 140 years after the events that unfolded there.
As Edward III leads the country, the Black Death spreads throughout Europe and the Hundred Year's War begins, we are introduced to ordinary folks trying to maintain a sense of community under an unjust rule and authoritarian church.
Expect a darker tone than its predecessor as the show takes on modern themes of sexuality and faith as Caris, a woman far ahead of her time and her lover Merthin try to eke out a life away from the coming plagues and war.
Isabel, La 1 (2011 – 2014)
For those who enjoy a more biographical take on medieval TV shows, there is Isabel – a show focused on the rise of Isabella, Queen of Castile who was also called Isabelle the Catholic.
Starting with the end of her marriage and her subsequent journey to the wearer of the Crown, the show is an ode to the passion the Spanish people have for telling the story of their history.
The 39-episode show spans 3 seasons and is packed with stunning visual details, and nods to famous historical figures – like Christopher Columbus himself!
However don't expect a boring history lesson here as we see Isabel navigate the intrigues of life in the royal court, war, and her fair share of betrayal.
The Hollow Crown, BBC Two (2012 – 2016)
William Shakespeare is one of the most celebrated authors in history, and though many think of his works as more modern (if only because of their relevance to this day) the worlds his characters populated were mostly medieval.
In The Hollow Crown, a masterful cast of thespians and creators come together to create one of the definitive adaptations of his tetralogy of historical plays: Richard II, Henry IV: Parts 1 and 2, and Henry V – three kings fighting for survival on the throne.
In these stories, we follow the story of the British monarchy from the end of the 14th century until the Battle of Agincourt.
The series is wonderfully crafted and pays beautiful homage to the words of Shakespeare through breathtaking visuals and enchanting sound design propping up deeply passionate actors and directors.
Dark Ages, ITV (1999)
At the end of 1999, the world was consumed by the idea of the millennium and the end of the world, and comedy writers at ITV decided to take a comedic look at what the panic may have been like at the previous turn of the millennium.
It is the year 999AD and a group of English villagers in Sludgwicke find themselves uncertain about the new coming millennium.
Among them is Gudrun, who finds himself in an unwanted position of power – when all he wants is a pint with his friends and time spent with his best friend, his cow Dolly.
Cadfael, ITV (1994 – 1998)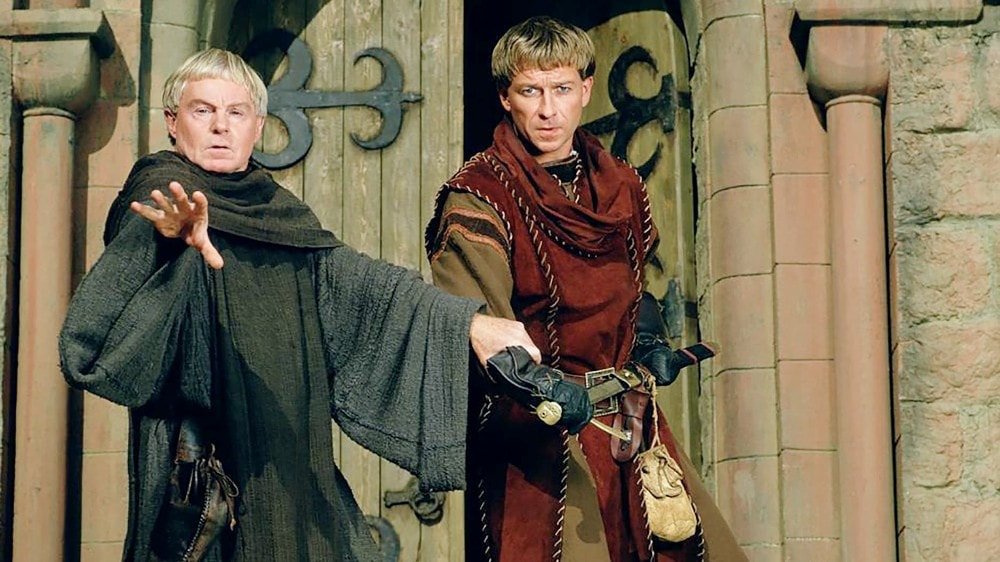 Based on The Cadfael Chronicles by Ellis Peters, this adaptation follows Brother Cadfael, a crusader who became a monk, who moonlights investigating mysteries in the small town of Shrewsbury.
Cadfael is an endearing show that plays on TV private detective tropes and draws in the audience with lovable characters.
Though he would rather spend his days contemplating his faith, mucking about the garden, or making herbal remedies, our beloved monk is constantly drawn into crimes and mysteries because of his uncanny ability to connect the dots and solve puzzles.
Brother Cadfael is a modern man often at odds with the archaic sensibilities of those around him but ultimately gains respect through his tenacious devotion to the right thing.
The White Queen, BBC One (2013)
Based on the series of novels by Phillipa Gregory, it is the year 1464 and England is going through an immensely turbulent time as young Edward IV steps up the throne through a series of manipulations and strings pulled by Lord Warwick – known historically as The Kingmaker.
With a new monarch, the position of Queen is up for grabs and three women find themselves embroiled in a conflict for the throne.
Elizabeth Woodville, Margaret Beaufort, and Anne Neville each have their own motivations for power and the show follows their attempts at manipulation.
As the show likes to tag itself "men go to battle and women wage war", the show masterfully explores themes of vengeance, power, and the responsibility of the Crown.
The White Princess, Starz (2017)
Acting as a follow-up to The White Queen, The White Princess is another adaptation of a Phillipa Gregor novel.
The show effortlessly picks up where its predecessor left off, as the Wars of The Roses finally come to an end when Henry VII and Elizabeth of York, daughter of the White Queen, unite in marriage.
This also marks a historic moment for the Tudors.
However, with a lot of personal drama and schemes behind the scenes, their unity is threatened and so is the stability of the Kingdom.
Can these two put their differences aside and will their respective families be able to lay down their animosity for the sake of the country?
The Spanish Princess, Starz (2019 – 2020)
Another in a series of Phillipa Gregor novel adaptations, in The Spanish Princess we meet Princess Catherine of Aragon on her journey to England to meet her long-betrothed husband, Arthur, the Prince of Wales.
Her arrival sparks quite the controversy as her presence itself and her court of diverse followers are unwelcome in some circles due to their inability to seamlessly adjust to English customs.
A twist presents itself when young Catherine discovers that all her romantic correspondences were not with her husband-to-be but actually with his brother!
As this union is pivotal to the peace between England and Spain, what is a young princess to do when her intended suddenly passes away?
The Letter for the King, Netflix (2020)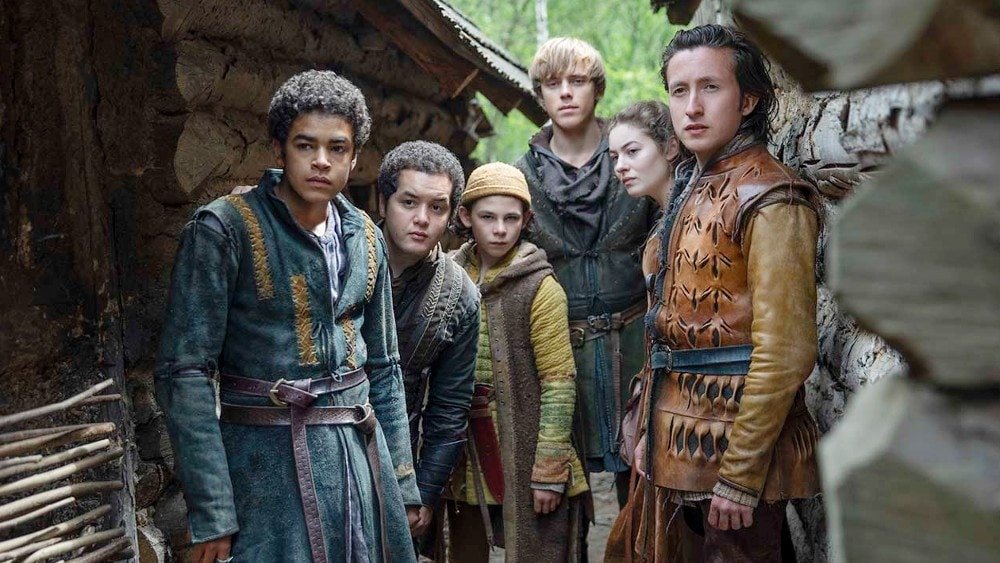 Based on the 1962 novel l De brief voor de Koning by Tonke Dragt, this fantasy adventure tells the story of a young knight in training Tiuri, who is tasked with a mission to deliver a mysterious letter to the King.
This takes him on an epic journey across the Great Mountains stretching through three Kingdoms.
Along the way, our protagonist joins forces with a colorful cast of allies and gets drawn into a prophecy that talks about a hero who will defeat a ruthless prince.
Could this hero be Tiuri? Can he save the realm of Dagonaut and deliver The Letter for the King?
The Last Kingdom, Netflix (2015 – present)
From the talented mind of author Bernard Cornwell, comes a beautifully adapted series in the form of The Last Kingdom.
Meet young Uthred who is orphaned and subsequently adopted beyond enemy lines following a battle between the Saxons and a Danish army.
He is happy in his new home, but faces tragedy once again when another attack obliterates his family life – this time setting him on a quest for vengeance.
However, Uthred is torn between his loyalty to his lineage and adopted culture and finds himself drawn into the war between the Vikings and the Anglo-Saxons – ultimately being forced to choose a side.
This is a deeply emotional show that asks meaningful questions about identity but is set in an unforgiving medieval world that is about to catch fire.
Merlin, BBC One (2008 – 2012)
No medieval figure has sparked more creative stories than the great mage of the Arthurian tales, Merlin.
Perhaps known as one of the most famous wizards to ever grace the pages of literature, history and of course the small screen, Merlin normally occupies the space of a sage old man with wit and wisdom.
In this iteration though, we meet a young Merlin in his early days in Camelot, as he learns to use his magic and fulfill his destiny despite the magic being outlawed by the ruthless rule of King Uther Pendragon during an event known as The Great Purge.
However, when Merlin hears the call of an imprisoned dragon, his destiny starts unfolding.
Camelot, Starz (2011)
In another take on the Arthurian legends of the medieval years, the great sorcerer Merlin steps up and presents Arthur as the new King following the death of King Uther.
As Arthur has a claim to the throne by birthright, despite being unknown until that point, he is also challenged by his more ruthless and ambitious half-sister, Morgan – who may have just been responsible for the death of her father.
As Merlin, Arthur, his birth mother, and loyal friends and followers settle into Castle Camelot they set out to rebuild Britain into a more just and peaceful country.
However, Morgan plots to steal the crown and takes up residence at Castle Pendragon from where she begins her assaults and schemes against Arthur.
Kaamelott, M6 (2005 – 2009)
As serious as the legends of King Arthur may be, it is wise to take a jab or two and have a laugh.
In the French comedy series Kaamelott, we take a lighter look at the days of King Arthur and his round table of noble knights – or are they?
The offbeat nature of the show and its anachronist language makes it a unique gem among a sea of Camelot shows.
The premise takes on the traditional adventures of the Arthurian legends such as the famous quest for the Holy Grail – of course, in the tradition of comedy, things do not go according to plan.
The knights often succumb to their hubris, cowardice, or even greed as they get sidetracked on their "noble quests".
Imagine a mix of Black Adder and Monty Python, with King Arthur, added to the mix.
Arthur of the Britons, ITV (1972 – 1973)
Pivoting back to a more serious tone, we take a look at Arthur of the Britons, a more historically based take on King Arthur.
Instead of the glamorous and chivalrous King surrounded by a court of noblemen, we meet a normal Celtic leader who is tasked with creating a Celtic alliance against the rising tide of Saxon invaders.
Here you won't find a fantastic premise of round tables and wise wizarding advisors, instead, the show focuses more on the political ramifications of Arthur's actions and his skills as a mediator and fighter.
The show has been praised for taking a more realistic look at this time in history instead of leaning heavily into the legends that we grew up with.
It is well worth a watch for those who want to know more about medieval times.
The Winter King, ITV (2023)
Another adaptation of a Bernard Cornwell novel, The Warlord Chronicles, we are once again transported to the legendary take on King Arthur in The Winter King.
Set in a Dark Age Britain, where Arthur is a warlord on the run and Merlin is nowhere to be found, the Saxons take advantage of this power vacuum to attack the sitting king – a mere child.
Noble intentions do not have a seat at this table, as Lancelot and Guinevere prove less than kind, and Merlin is more of a charlatan than a mystic.
The show sets out to tell this darker take like a story, as a warrior who gave up a violent life to become a monk, retells the legend of King Arthur and his illegitimate rule.
Robin Hood, BBC One (2006 – 2009)
Coming home after 5 years fighting in the Crusades, we meet Robin of Locksley as he tries to return home with his loyal servant Much.
However, he soon discovers that his town has been taken over by the Sherrif of Nottingham, a very shady character despite his title.
In order to restore the balance of his home before he left, Robin becomes the leader of a group of outlaws known as The Merrymen who reside in The Sherwood Forest.
Earning his title as the prince of thieves, Robin, and his gang steal from the rich, and give back to the poor while evading the Sherrif and his lackeys.
Robin Of Sherwood, ITV (1984 – 1986)
Another take on the legend of Robin Hood, Robin of Sherwood is set on the cusp of the 13th century, during the reign of King Richard I and subsequently King John.
The show takes on a more fantastical premise, as Robin of Loxley is chosen by a mystical forest presence to be the champion of the downtrodden and underdogs.
In order to do so, he establishes his band of merry men and sets out to fight against the dictators in power at the time, especially the dastardly Sherrif of Nottingham and his deputy.
What makes the show unique is that it combines magical and religious themes into a legend that is normally only a tale of underdogs doing their best.
Vikings, History (2013 – 2020)
A surprise hit when it started airing, Vikings has proven itself to be an iconic tale of familial love, war, and ambition.
It quickly garnered critical acclaim after first airing and now viewers are all familiar with the story of Ragnar Lothbrok.
Across 6 seasons, we follow him and his family and see his rise to power from humble farm hand to fearsome Viking leader.
Young Ragnar yearns to explore the world beyond his village but finds himself hampered by the choices of his Chief, Earl Hadalson, who does not listen to his suggestion of looking West for opportunities.
Thus Ragnar begins constructing his own ship and garners a following by claiming to be a descendant of the great God Odin himself. An absolutely riveting visual medieval feast.
Vikings: Valhalla, Netflix (2022 – present)
100 years later, we once again meet with the Vikings on the small screen.
This time, Vikings: Valhalla we are introduced to a new group of Norsemen who now find themselves at odds with the English.
As their Pagan beliefs clashed with new Christian sensibilities, the tension rises and will ultimately culminate in the Battle of Stamford Bridge in 1066 – a day famously marked as significant to the decline of the Vikings.
It makes the show interesting and bittersweet to watch as we know where these men and women are headed, and yet we still want to root for their success.
Maximilian, ZDF (2017)
If you're interested in lavish costumes, and political intrigue while taking a look at how the lives of knights were tumultuous in 15th-century Rome, look no further than Maximilian.
The show follows the story of Holy Roman Emperor Maximilian I, and his quest for power, love, and legacy in his life.
Prepare to be enthralled by this medieval drama, and see first-hand Maximilians rise to greatness in a world of power struggles and medieval splendor.
The Name of the Rose, Rai1 (2019)
Not all medieval TV shows are about grand battles and power struggles for the throne.
Enter The Name of the Rose, a medieval murder-mystery story that follows William of Baskerville, a Franciscan Friar, and his apprentice Adso as they investigate a series of mysterious deaths that took place in an isolated monastery.
This show perfectly blends the setting of a medieval world with a detective story.
Quentin Durward, ORTF (1971)
Based on the 1823 novel by Sit Walter Scott, this swashbuckling adventure is a sweeping French-German adventure.
Meet young Quentin Durward, a Scottish soldier who finds himself in service of the French King Louis XI.
However, there is more to Quentin than being a loyal soldier, he has a history that travels with him; before running away to France, he was set to become a monk and take a vow of celibacy.
His road to peace was quickly closed when the violence that took his family from him as a child reared its head once again.
Will Quentin be happy in France? Will he find love? What adventures lie ahead for him now that he is no longer bound by his oath?
Resurrection: Ertugrul, TRT 1 (2014 – 2019)
Moving the lens from England, we take a quick trip to Turkey to focus on the life of Ertuğrul, who fathered Osman I, who founded the Ottoman Empire.
Set in the 13th century, in Resurrection: Ertugrul (Dirilis: Ertugrul in its native Turkish) we follow this Turkish Muslim and his tribe as they seek out a place to call their own.
However, with the Mongols continuously pushing the tribes further West, the pressure mounts on Ertuğrul to strike a deal for land.
He then agrees to take up arms for a wealthy Sultan in exchange for a place for his tribe to settle.
On top of all that pressure, he also has to balance his own love for his family and the cost of destiny.
Heirs to the Land, TVN (2020)
Set in 14th-century Spain, we meet Hugo Llor, a young man determined to make a name for himself.
He spends his days toiling in the shipyards, learning to craft while harboring his own dreams of becoming a renowned shipbuilder.
His life has been marred by tragedy as we learn that after his father died he was effectively raised and helped by Arnau and Mar Estanyol during his growing years.
However, as time passes, old enemies come back and Hugo is soon caught in a war between loyalty to his saviors and his own desire for success.
As his successes continue to grow, he never forgets the promise he made to the Estanyol family – to seek vengeance by killing the Puig family.
Cathedral of the Sea, Antena 3 (2018)
Staying in Spain, we pivot to 14th-century Barcelona and follow the life of Arnua Estanyol (from Heirs to the Land) – a serf child who was saved from the brutality of life under a feudal lord thanks to the efforts of his father Bernat.
As they settle down as free men in the county capital, things take a darker turn and Arnua is left to raise himself.
Later in life, he finds himself working as a laborer on the construction of the Santa Maria del Mar cathedral, quickly rising in the ranks and finding love – much to the suspicion of the nobles he is surrounded by.
The Black Arrow, La Freccia Nera (1972 – 1975)
A story of revenge set during the famous War of The Roses, The Black Arrow is based on the famous 1888 Robert Louis Stevenson novel.
Meet Richard Shelton, a knight on a quest to avenge his father's death all while contending with a group of friends and allies harboring many unknown enemies.
Donning his black hood and steed, he uses his tell-tale black arrows to send his message as he avenges the poor and takes on outlaw gangs and evil landowners – a bit like a darker Robin Hood if you will.
Interestingly this is not the first adaptation of the novel, as it was briefly done as a two-part mini-series in 1951 and even enjoyed an Italian take with a seven-part series in 1968, although the adaptation we're talking about has enjoyed the most longevity with a cult following for its CGI-free folly and real stunts.
Da Vinci's Demons, Starz and Fox (2013 – 2015)
Leonardo Da Vinci is probably one of the best artists and minds to come from the medieval ages, and it makes sense that writers would want to delve into his life, even if it is only to create a fictionalized version of the man.
In Da Vinci's Demons, we take an imaginative look at what his early life may have been like during the Italian Renaissance.
As is often the case with brilliant men, they are plagued by inner demons and Leonardo is no stranger to this as we see his overactive imagination creating problems for him.
While trying to mend his relationships, he also finds himself embroiled in a scheme between two families, a Catholic scandal, and a quest for a mystical book with possible ties to a cult.
So much intrigue for one man to contend with!
Rise of Empires: Ottoman, Netflix (2020)
Taking things in a more historically accurate direction, this docudrama is a combination of reenactments and documentary footage to tell the story of the reign of Sultan Mehmed II and the rise of the Ottoman Empire following the fall of Constantinople.
Learn about the political and military strategies that made this empire such a juggernaut, as well as the key figures who shaped these events behind the scenes.
The Shadow of the Tower, BBC 2 (1972)
The Shadow of The Tower is a set of dramas that showcase pivotal moments during the rule of Henry Tudor and lead to the establishment of the Tudor Dynasty.
As history knows, he was a devious and ruthless leader, and James Maxwell manages to convey that with a hint of humanity belying his performance.
The series acts as a prequel to the shows The Six Wives of Henry VIII and Elizabeth R, and is an entertaining feast showcasing historical events like The Battle of Bosworth, and the coming invasion of an Irish-German army.
The Bastard Executioner, FX (2015)
Meet Wilkin Brattle, a Knight who finds himself no longer fueled by the thrill of bloodshed, violence, and war.
This leads him to take on a new identity and become a journey executioner, or rather The Bastard Executioner.
On his new journey, he hopes to live a more peaceful life, but continuously finds himself drawn back into the violence that he so longs to stay away from.
Additionally, the anonymity of the executioner's hood forces him into political situations that no normal citizen would be privy to.
As he continues on this path, he slowly finds himself torn between his duty to fulfill his job and his own sense of justice as a knight.
Labyrinth, Channel 4 (2012)
Alice Tanner is a young archaeology student who discovers a hidden labyrinth in a hidden cave in the French Pyrenees, which drives her curiosity to find out more and make a name for herself in the academic world.
Subsequently, she gets entangled in a centuries-old mystery involving non-other than a medieval legend staple: The Holy Grail.
A parallel storyline develops in the 13th century as we meet Alais Pelletier du Mas, as she finds herself in possession of a secret that could explode the location of the Holy Grail.
Both women encounter cryptic symbols, dangerous adversaries, and long-forgotten secrets.
The show features breathtaking landscapes and not only captivates with its visually stunning portrayal of the era but also offers a thrilling narrative that keeps viewers on the edge of their seats.
Disenchantment, Netflix (2018 – present)
Moving to something more light-hearted, Disenchantment can be thought of as Futurama but in a medieval fantasy setting known as Dreamland.
This animated show shares the same creator as Futurama and The Simpsons, Matt Groening.
Meet Princess Tiabeanie, a rebellious youth with a penchant for alcohol who finds herself bored by life as a royal.
To combat this, she and her friends Elfo and Luci set out on numerous adventures that see this atypical princess subvert the classic ideas of fairy tales and fantasy.
Instead, viewers are treated to an animated romp through the middle ages peppered with wit and offbeat laughs.